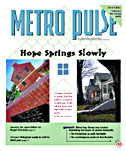 The rush to move poor families out of College Homes to demolish the Roosevelt-era housing project has turned into a crawling endeavor to relocate at least some of the former residents into the subsidized HOPE VI single-family residences that are being built in the project's Mechanicsville neighborhood. Matthew T. Everett chats with a few of the evictees who miss their old neighborhood but are far from sure they want to return to rent or buy the slowly materializing new "project" houses, however charming they seem. Jesse Fox Mayshark focuses the all-seeing lens on the Valleyfest film festival, and Jack Neely turns up the %[email protected]#&? in NooKaBooCa.
Plus: Seven Days, Meet your City, and Knoxville Found.

Joe Sullivan pens an open letter to the axe-grinding Regal Cinemas chief Mike Campbell in Insights, Scott McNutt puts Knoxville's "destination destiny" in pith-free perspective in Snarls, and Jack Neely chronicles the luck of Knoxville's Irish in Secret History.

Author Wendy Lowe Besmann delves into her own book, A Separate Circle, due from UT Press on April 1, to retrace the steps of the Jewish merchants who graced the doorways of Gay Street businesses only a few decades ago.

John Sewell gets his hands dirty with Ann Beretta's Robbie Huddleston in the Music Feature, while Eye on the Scene spins Southeast Exports 2 and Scott Miller's Are You With Me?. The Fantasticks at the Bijou charms Paige M. Travis right out of her cynical socks with its catchy vocals and vaudevillian whimsy in Backstage. Jeanne McDonald checks out the family "values" and familial angst in Waiting byHa Jin and Plainsongby Kent Haruf in Pulp. The irrepressible Ms. Carte stirs the sauce of sameness at The American Cafe in Restaurant Rover.
©1996-2001 Ian Blackburn
Portions ©1991-2001 Metro Publications Inc.
No part of Metro Pulse Online may be reproduced
without written permission, etc., etc., blah, blah, blah.
Metro Pulse Online is best viewed with some sort of web browser.