Seven Days
Wednesday, March 7
A Chancery Court ruling describes the Knox County schools disciplinary policy of "zero tolerance" as unofficial. Good thing, too. The school folks seem to have forgotten that it's axiomatic that zero minus zero equals zero.
Police Chief Phil Keith's forthcoming pension of nearly $7,000 a month raises eyebrows, including Keith's. He was heard to mutter that he wished now he'd gone to work for TVA where the real pension benefits reside.
Thursday, March 8
The city holds its public listening on the rolled-back-but-still-expansive Renaissance Knoxville plan. The mayor says such a forum was formerly called a hearing, but is now termed a listening in keeping with his own perception that he is, really, doing that.
The Postal Service announces that mail allegedly stolen by a former postal worker and an accomplice before last Christmas is being held as evidence. Does that mean it will be delayed longer than usual?
Friday, March 9
The UT men's basketball Vols fade from the SEC tournament. Their success or failure now resides in the NCAA Tournament, called the "Big Dance." Jerry Green is seen herding the team into an Arthur Murray studio.
Monday, March 12
Evidence mounts that a Rockford police sergeant may have swerved his patrol car in front of a motorcyclist, who died when he slammed into a guardrail. Hey, isn't pulling in front of motorcyclists an established Blount County tradition?
Tuesday, March 13
Schools Superintendent Charles Q. Lindsey is quoted as saying he thinks his new communications chief's military background as an army lieutenant colonel will serve him well in his new role. Knox County commissioners respond by advertising for a general to handle their side of the budget combat.
---
Knoxville Found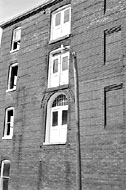 (Click photo for larger image)
What is this? Every week in "Knoxville Found," we'll print the photo of a local curiosity. If you're the first person to correctly identify this oddity, you'll win a special prize plucked from the desk of the editor (keep in mind that the editor hasn't cleaned his desk in five years). E-mail your guesses, or send 'em to "Knoxville Found" c/o Metro Pulse, 505 Market St., Suite 300, Knoxville, TN 37902.
Last Week's Photo:
The anchor and chain, located on the grounds of Bleak House, a.k.a. Confederate Memorial Hall, is reputed to be the legendary "iron cable boom." During the Confederate siege of Knoxville in late 1863, the rebels were rumored to be assembling a nautical battering ram to float downstream and smash the Union army's pontoon bridge across the Tennessee River near what's now the Gay Street Bridge. To prevent that possibility, Union Capt. Orlando Poe ordered that a heavy, hand-forged chain be installed to protect the bridge by snagging the battering ram. The floating-ram idea was apparently scrapped, but according to some sources, the chain was used to catch supplies floated down the river by Union sympathizers. About 99 years later, the Oliver King Sand and Lime Co. dredged up this heavy chain, which historians were somehow able to identify it as the lost "iron cable boom." Because the old Unionist-descendant groups had long since disbanded, the company donated the chain to the United Daughters of the Confederacy, who keep it at their headquarters for the public to see. Several readers correctly identified the object, but none faster than Rebecca Franklin, who wins this week's prize, a book of scripts from the first season of the popular TV series "Buffy the Vampire Slayer."
---
Meet Your City
A calendar of upcoming public meetings you should attend
EMPOWERMENT ZONE ADVISORY COUNCIL BOARD CAUCUS
THURSDAY, MARCH 15
6:30 P.M.
VINE MAGNET SCHOOL
1807 MARTIN LUTHER KING AVENUE
Members of the neighborhood advisory councils for Knoxville's Empowerment Zone funding will elect a member from local business to the board of each Zone Advisory Council. For more information call Bob Booker at 522-5935.
KNOXVILLE CITY COUNCIL
TUESDAY, MARCH 20
7 P.M.
CITY COUNTY BUILDING
400 MAIN STREET
City Council is expected to vote—finally—on a proposal to ban all new billboards in the city.


Lights, Camera, Action
Knoxville's Valleyfest enters its third year
Lianne Klapper McNally is on a cell phone somewhere on a California freeway, trying to get to the airport in time for her flight back to New York. She is a happy woman. This past weekend, her documentary film Artists and Orphans: A True Drama won the audience award for Best Documentary at the Santa Barbara Film Festival.
"It's just a really good sign," McNally enthuses. "People really, really responded from the heart, because it's so uplifting. People were walking out crying. It was amazing."
Next stop, Knoxville. McNally's 40-minute movie about a troupe of New York actors who went to Georgia (in the former Soviet Union) on a cultural exchange and ended up working to save an orphanage is one of the 68 films on the schedule for this year's Valleyfest. The five-day film festival kicked off Wednesday night with a party at Patrick Sullivan's in the Old City and continues through Sunday. All screenings are at Regal Cinemas' Downtown West theater (Regal has been a sponsor since the beginning).
McNally will be here along with 37 other filmmakers from across the country and even overseas, each of them shepherding their low-budget works like anxious parents accompanying children to the first day of kindergarten. For many, this three-year-old festival in an obscure corner of Tennessee will mark their official premieres.
The 2001 Valleyfest is the biggest yet. The festival's three organizers—director Donna Maxwell, programmer Glen Glover and public relations manager Melinda Wolfe—had to sort through more than 100 entries to select the slate of features, documentaries, and assorted shorts. Sitting at an office conference table just two days before the whole thing starts, Glover and Wolfe seem slightly harried but surprisingly sanguine about the festival's growth.
"We're about on track," says Glover. "It's expanding at a manageable rate right now."
Compared to the first year, when they put out a call for entries before they even had a screen secured, this year's program came together smoothly.
"Every year we get nervous at the same time," Wolfe says. "Two weeks before the deadline, [we wonder] are we going to have enough films? But everybody waits until the last minute."
Valleyfest seems to have quickly earned itself a place on the growing roster of mid-level festivals, places outside the coastal poles of culture and entertainment where first-time or non-commercial filmmakers can find audiences and publicity. Some of this year's entries came from Mexico, Canada and Israel; Wolfe recently fielded a query about the festival from France.
Consider, for example, aspiring director Lawrence Schechter. He lives in L.A., where he's worked on assorted TV shows and projects, and he filmed his 30-minute dark comedy One Hit Wonder there. But he's coming to Knoxville for its first public screening.
"I had heard about it online, through a site I like called Film Threat," he says. "I wasn't terribly familiar with the film festival. But I wasn't really applying too much in that part of the country, so..."
He sounds genuinely excited about making the trip east with his film, an edgy satire about an actor who contemplates committing murder as a route to celebrity-hood. Schechter (who says he mostly knows Knoxville for its cable TV production) knows his chances at getting a distribution deal or other industry attention aren't as high as they might be in California or New York. But that's OK.
"What I hope for more than anything else, the reason I got into this business to start with, is to entertain people," he says. "I love telling stories."
If the past two years are an indicator, he should get some people to entertain. Wolfe and Glover say they've been surprised at the range of Knoxvillians who come to the festival. There are the hard-core film buffs, but there are also curious mainstream crowds willing to invest a little time and money in movies they're unlikely to ever see anywhere else. Glover says the explosion of mass media and the prominence of independent films in America over the past decade have created more sophisticated audiences.
"There's a lot more awareness and exposure right now," he says.
The festival will wrap up Sunday night with an awards presentation at Fairbanks Roasting Room (judges include Linda Parris Bailey of Carpetbag Theatre, local TV producer Bob Deck, Betsy Pickle of the News-Sentinel, and Metro Pulse's own Adrienne Martini).
For a full schedule of films, see this week's Movie Guru.
—Jesse Fox Mayshark
Trouble Brewing
Investor in-fighting doomed New Knoxville
Last Saturday night, a bluegrass band from Pennsylvania called the Pinetops were playing to a crowd of about 60 at the Tomato Head. Between songs, the guitarist offered an unsolicited testimonial. He'd never been to Knoxville before, but already he liked two things: our weather and our local beer. "I have to say you have a really great beer here," he said, flourishing a bottle of New Knoxville India Pale Ale.
A cheer came up from the crowd, but no one had the heart to tell him that three days earlier, the bank had foreclosed on New Knoxville Brewing Company and padlocked its small brewery on East Depot Street.
It happened last Wednesday, but officers of the company say there's more to it than that; they're uncertain about how much to tell of it right now.
New Knoxville opened in 1996 and knew they had a good product—early on; they were winning regional and national awards. (They've won more recently.) However, the fact that they were admittedly undercapitalized from the beginning has been an albatross. "We've never been able to get over that bump," president Ed Vendely says.
But after the first two years, even with no advertising budget, the hoppy brew caught on; last year, NKBC was brewing about 170 barrels a month (the equivalent of 340 kegs), and selling every bit of it.
Last summer, NKBC suffered a serious blow when bills came due and they asked their many fans to pony up as investors. To some, like NKBC creditor John Parrott, a retired Oak Ridge technician, the decision to lend them money was simple. "I've traveled around a lot, and have felt lucky that the best beer in the world is right here," he says.
They refinanced through an unusual strategy called Small Corporate Offering Registration (SCOR), which allows a large number of investors to pitch in. Vendely says the approach has been employed successfully by at least 15 other microbreweries across the nation.
They had no trouble rounding up interest in the plan, raising $1.7 million in a few weeks, mostly from consumers. They even turned some small investors away as they began brewing again. NKBC's IPA, Pale Ale, and Stout have been on grocery shelves and on tap at many restaurants for the last few months. "We were just getting back on track again," Vendely says.
However, by midwinter, something went sour. According to Vendely, one investor, who had initially been agreeable to the SCOR idea, failed to follow through with some of the steps necessary to make the switch to SCOR system. The inaction stalled the process and, by the time of last week's deadline, made the whole SCOR effort moot. Without his participation, the other shareholders' $1 million-plus in investment couldn't brew a pint.
Vendely thinks the stalling tactic was deliberate, but he doesn't claim to know why, calling it "bizarre....Your major shareholder wants you to go out of business. A minority, who wants us to fail."
Though Vendely declines to name the monkey wrench in the works, other creditors say the investor in question is Grady Regas. The scion of the restaurant dynasty had been NKBC's savior and major investor, with contributions representing about 38 percent of the company.
One of Regas' other projects, incidentally, is City Brew, the restaurant opened in November, which also brews beer and employs one of NKBC's former brewers. Contacted this week, Regas had no comment for the record.
NKBC's board of directors is meeting Thursday night to consider options. The foreclosing bank—First State Bank of Jacksboro—is strongly encouraging them to reorganize and keep brewing; after all, since NKBC was the only bottling brewery in Tennessee, its assets might not sell quickly, or well. Vendely won't rule out the possibility entirely, but says they'd need an investor of $250,000 to $500,000, preferably one connected to the restaurant business. "We'd need to be re-permitted," he says. "It would take three or four months." He doesn't sound optimistic.
Some creditors, angry about the unexplained inaction that doomed the company, are considering lawsuits, but it's unclear whether they have legal grounds.
In the meantime, NKBC's products are still on store shelves, and brewer Bobby Krusen expects it will be a few weeks before they're out. Krusen, whose brother Al co-founded NKBC, is especially melancholy about what's still locked inside the East Depot Street brewery. "There's still beer in the tanks," he says. "Eight hundred gallons of IPA. It's ready."
—Jack Neely

March 15, 2001 * Vol. 11, No. 11
© 2001 Metro Pulse