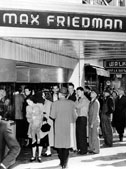 Editor's Note: In 1996, local writer Wendy Lowe Besmann wrote a cover story for Metro Pulse about the history of Knoxville's Jewish community. What she found intrigued her enough to pursue it further, and she eventually had the material for a book. A Separate Circle: Jewish Life in Knoxville, Tennesseea will be published next month by The University of Tennessee Press. This article is adapted by the author from portions of the text.
A Separate Circle is due to be released April 1 and will be available at Barnes & Noble Booksellers and the Arnstein Jewish Community Center, among other locations. Additionally, the book will be on sale and Wendy Lowe Besmann will sign copies at these events:
Sunday April 1, from 1-2:30 p.m. at Barnes & Noble Booksellers, 8029 Kingston Pike. Wendy will do a reading from the book and lead a discussion of Knoxville Jewish history.
Tuesday, April 3 from 3-3:30 p.m., at the East Tennessee Holocaust Conference Room 221, Carolyn P. Brown Memorial University Center on the University of Tennessee campus, 1502 West Cumberland Avenue. Immediately following, Wendy will lead a panel discussion on the vanished days of the downtown Knoxville Jewish community (Shiloh Room, 3:30 to 5 p.m.)
Saturday, April 7 from 11 a.m. to 5 p.m., at the First Annual Dogwood Arts Literary Festival, East Tennessee Historical Society/ Museum of East Tennessee History, 600 Market Street.
Sunday, May 6, from 1 to 2 p.m. at IsraelFest, Arnstein Jewish Community Center, 6800 Deane Hill Drive.

Fifty years ago, Knoxville's Jewish community was at the heart of the city's business and politics.
by Wendy Lowe Besmann
A featured stop on City People's most recent walking tour of downtown apartments was the red-brick Friedman Building near the corner of Summit Hill and South Gay Street. I joined the admiring crowds who browsed through a spacious, ultra-contemporary law office, connected by stairs to a living suite where arched doorways and large picture windows tastefully framed the lawyer's collection of country antiques. The place was drop-dead gorgeous. Still, I couldn't help missing the sleek, 1940s wraparound sign for "Max Friedman, Jeweler" that hung across the front of the store for decades after it was vacated. It was the emblem of a time when this block was the thriving center of Knoxville's Jewish life.
Max Friedman's grand old building once anchored the busy neighborhood around South Gay Street and Vine, heart of Knoxville's Jewish business district. Not long after Friedman's death in 1967, urban renewal created multi-lane Summit Hill Drive as an access road to Interstate 40 and the huge new Civic Coliseum complex. Crooked old Vine Street was completely paved over, except for a tiny, narrow lane that now branches off Gay Street. Downtown business began a slow decline, as the population shifted to West Knoxville and its new shopping centers. Today, most of the area's some 2,000 Jews live in the sprawling western subdivisions between Bearden and Oak Ridge. As in much of the South, locally-born Jews are now vastly outnumbered by transplants from other regions who came here for jobs in the last 30 years. These days, about 90 percent of Knoxville Jewish households contain a doctor, lawyer, scientist, university professor or some other kind of professional.
At noon on a sunny weekday, most of the sparse foot traffic on the 200 block of South Gay Street is headed toward the only surviving downtown Jewish business, Harold's Kosher-Style Food Center. Across the laminate diner tables of this narrow little restaurant, Harold and Addie Shersky have dished out a copious menu of traditional Jewish goodies for more than 50 years. I pop inside the door, greet Harold at the cash register, and buy a wedge of my favorite marble halvah, the crumbly sesame candy that shows up in every Jewish deli from Brooklyn to Banff. Maybe it's that mega-boost of sugar, calories and cholesterol that melts away the drab veneer of 21st century reality. Suddenly, I can almost walk right into those days when America was flexing its postwar muscles, Harold and Addie were just starting out, and everybody in Knoxville agreed that Gay Street was the place to be.
Noon on a weekday, October 1949: As the clock strikes 12, between 60 and 75 Jewish heads-of-households begin to emerge from their shops in an area that stretches roughly from Green's Hardware at 321 N.W. Gay Street to Blaufeld's cigar store at 616 South. Most of the Jewish business people cluster in a dense mass around the 100 and 200 blocks of South Gay Street on either side of Vine. They're coming out to eat lunch, deposit funds at the bank, check on the daily stock prices, maybe stop in the street for midday schmooze. Out of the many pawnshops along Gay and Vine Streets come Milton Gourse of Uncle Sam's Loan, Isadore Brody of American Loan, and various members of the big Slovis family. There's Diftler coming out of his Credit Jeweler's Shop at #200. I see the two Busch brothers, Harry and George, walking out from one of their several jewelry and loan companies in the 200 block of Gay. Business is pretty good. The crowds of shoppers in this fashionable part of downtown are so thick at times, you have to get off the sidewalk and weave your way through the stalled traffic. Gas rationing is a memory, and autos are everywhere. Two years ago, the last streetcar ran down Gay Street, carrying a Knoxville High School band that played "The Old Gray Mare." Luckily, the streetcars still run east up Magnolia Avenue and north to the Fourth and Gill area, two neighborhoods where most of the Jewish community now lives. These days, a housewife who wants kosher meat can phone in her order to the butcher, who hands the wrapped package to a streetcar conductor. The housewife collects it at the other end, paying the conductor a nickel for the meat's fare.
Harold's father Robert Shersky is now the town's kosher butcher, managing to do a brisk business despite the relatively tiny population. A 1948 census survey done by the Jewish Community Center showed just 766 Jews in Knox County, out of 221,212 citizens listed in the U.S. Census for Knox County.
Ten minutes after noon I finally spy the genial smile of Max Friedman, who comes out of his shop already deep in conversation with a City Council crony. He was elected to Council for his first two-year term in '48. Behind him is C.B. ("Buster") Brown, whose Tennessee School of Beauty is housed in an upstairs suite adjoining Max Friedman's building. Not far away is Friedman's son-in-law Herbert Smullian, owner of Duchess Beauty Supply. Brown and Smullian dominate the fast-growing "beauty" business in Knoxville. Buster's beauty school has actually been open since 1930, after his Austrian immigrant mother Jean went to a New York salon and paid $25 a curl to learn the new machine method for making permanent waves. She brought back the latest equipment, and the school managed to keep afloat through the long Depression. Now the whole beauty industry is poised for a take-off, fueled by American women's eagerness to buy products they couldn't get during the war.
In fact, the market for luxury goods has never been better. Jewish businesses run by the immigrant generation—pawn shops, used goods, and small groceries—are slowly being outnumbered by more upscale concerns that deal in fine jewelry, shoes, and retail clothing. Half a dozen upscale, Jewish-owned dress shops appear on the fashionable end of Gay Street. One block west on Market, Morris Levison's Sterling House offers the classiest ladies' wear in town. Jewish shops are also clustered along Market Square, where Deitch and Rosenblatt both operate small department stores, while Goldberger sells hardware and plumbing at Square Supply. Max Weinstein's shoe store is here, bordered by several Jewish-owned clothing shops. The two Lippner brothers—Knoxville merchants since the 1880s—still have their meat and fish stand in the big, smelly indoor environs of the Market House. One block down Market, I can follow my nose to the fresh kosher pastries at Max and Ann Wolf's Quality Bakery. Isadore "Major" Millen has a shoe department at Sterling House, as well as a popular sandwich shop over on Gay and Jackson. He and his wife—both staunch members of Heska Amuna's Orthodox synagogue—hold an annual Easter Egg Hunt, which is quite popular with the area's Jewish children. .
There are subtle signs of big changes to come. A handful of professional men, such as optometrist Harold Winston and accountant Harold Leibowitz , came to Knoxville during the war. Hundreds of Jewish scientists descended on the Federal installation at Oak Ridge for the top secret Manhattan Project, and several dozen have settled there to staff the new postwar research center. The Oak Ridgers have just chartered their own synagogue—perhaps signaling a slight cultural divide between this young, mobile population of job-centered Jewish professionals and the older Jewish merchant families of Knoxville. Granted, Knoxville has men like UT Professors William Shaw, Simon Marcovitch, and Salo Engels, as well as attorneys Ben Winick and Max Morrison. A few blocks down the street is Joe Levitt, respected city editor of the Knoxville News-Sentinel. Still, on this fall day in 1949, you could probably fit all the Jewish doctors, lawyers, architects, engineers and college professors in Knoxville around a single lunch table at Harold's.
For such a tiny group, the downtown Jews of this era had a notable impact on local government. Ben and Frank Winick, sons of Heska Amuna Synagogue's Orthodox rabbi, were heavily involved in the political scene during the Depression and wartime. Frank's involvement with Mayor George Dempster was so close that local newspapers took to calling their association the "Dempster-Winick machine." Winick's brother-in-law Charles Siegel was a long-time City Councilman and vice-mayor from 1944-45. Later on, Max Wolf of Quality Bakery held a Knox County Commissioner's slot for decades, while Amelia Strauss served as a juvenile court judge. However, the most political Jew in Knoxville from the early 1930s onward was jeweler Max Friedman. With his perky bow tie, wide smile and sharp eyes behind wire-rimmed glasses, later photos of this Eastern European immigrant show a strong resemblance to Harry Truman. The jeweler was said to admire this up-by-his-bootstraps merchant who became president. According to one story, Max Friedman was one of very few businessmen in Republican Knoxville who not only supported Truman against Dewey in 1948, but also bet a large sum of money on him in the downtown election pools.
It was through his work as a state committeeman for the Democratic Party that Max Friedman made an enduring mark on national history. The tale was told by his close friend Robert ("Uncle Bob") Smith that Max and he visited Franklin Roosevelt at the Albany governor's mansion in August of 1932, just before FDR's ascent to the presidency. In their presence, the candidate opened a wire from party leader Jim Farley, who urged the immediate adoption of a strong campaign slogan. "FDR declared we would hold an election then and there," recounted Smith. "He asked us for suggestions. I came up with 'Shareholders of America.' FDR nodded, but Max said he would have to disagree. He announced that what the American people wanted was a New Deal." The next day, medallions were struck with the phrase that would carry FDR to the White House.
Max Friedman served nearly two decades on the City Council, as well as terms on the County Court, County Election Commission, and Knoxville Housing Authority. When reasoning with an opponent, he often began with a disarming smile, followed by the phrase—announced in his heavy European accent—"I'll be frank with you." Not long before his death, Friedman ran for re-election to Council during a heated debate over a referendum to repeal the local ban on liquor sales. Candidate Friedman was cornered at a civic club luncheon by a group of prohibitionist ministers who demanded to know his views. "I'll be frank with you," he told them. "I think it's a greater sin to tell a lie than to take a drink. And I'm not going to tell you a lie. I am going to vote for legal liquor."
About two miles east of the Heska Amuna Synagogue and Temple Beth El buildings on Kingston Pike, you can find a bronze plaque to Max Friedman on the Cumberland Avenue overpass named in his honor. Fittingly, this overpass connects downtown with a highway to the airport. As Councilman, Max Friedman reportedly insisted upon paving the dirt runways of Knoxville's new airfield, because he predicted the town would someday attract jet airplane traffic.

March 15, 2001 * Vol. 11, No. 11
© 2001 Metro Pulse