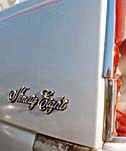 Media

The TV News Hole
Just when you thought it wasn't possible, local TV news got even fluffier this year, with both Channel 6 and 8 making apparent efforts to outschmaltz big dog Channel 10. It didn't have much effect—WBIR simply does schmaltz better, cleaner, and more likably than anyone else. Action 10 News registered some of its biggest ratings victories in history in 1998. (Fox 43's new 10 o'clock newscast varied from the fires 'n' floods 'n' cute kids formula only in its time slot—and in its pastel-colored set, which looks kind of like the bridge of a Klingon warship). Channel 10's dominance was small consolation, however, to anchor Kim Stephens, whose contract was pointedly not renewed in the early summer. There were apparently concerns that Stephens' personal appeal wasn't strong enough to carry a news show whenever grand old man Bill Williams decides to retire (which probably won't be any time soon—he renewed his own contract this year). Stephens eventually landed at Channel 8, although she won't go on the air there until February. Her arrival is part of a major shake-up at the cellar-rated WVLT, which began with the firing of well-respected news director Dave Winstrom (now working in Atlanta, where they may appreciate his straightforward, earnest approach to news more than Knoxvillians apparently did). Winstrom reportedly cringed at promotions like Channel 8's relentless "I'm All Vol" campaign. So do we, Dave, so do we.
Hard Copy
When the old Knoxville Journal folded, the News-Sentinel benefited with a healthy boost in circulation—and jumped into the country's 100 largest circulation papers at number 88. However, since 1992, the Sentinel has lost more than 10,000 subscribers, according to Editor and Publisher, the newspaper trade journal. Circulation now stands at 115,000. The Sentinel seems to be scrounging to find something to hold its readers and suck new ones in. Cosmetically, the paper's looking better—more big page-one packages, fewer bizarro layouts. The East Tennessee page has been refashioned as State/Local, but if you can tell a difference beyond the name you have better eyes than us. There has been a move toward more detailed packages. A special eight-page section on changes at College Homes touched on nearly every aspect of the project. A week-long series on race was ambitious but went for breadth over depth: issues were touched on and quickly passed by. The paper doesn't lack talented reporters; Jamie Satterfield, John North, David Keim, and Jacques Billeaud, to name a few, continue to shine. If only their editors could figure out what to do with them—or at least stay out of their way.
Radio Waves
Knoxville rock radio wars heated to the boiling point as perennially low-rated modern rock station 94.3 WNFZ (bought out last year by South Central Communications, owner of classic rock stalwart WIMZ and several others) targeted Dick Broadcasting upstart 98.7 "The X" WXVO by programming a similarly raucous mix of rock (read: no more Jewel) and adding syndicated morning show "personality" Mancow. Presumably, the move is in response to 98.7's nascent move into territory formerly owned wholesale by 94.3's fellow South Central station, WIMZ.
Now, amidst the clangor of Metallica and Pearl Jam cuts, the X and the newly-christened "Extreme Radio" are doing battle for the soul of Knoxville's radio rockers. Stay tuned....