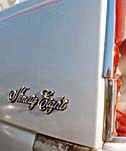 Business

Sinking Ship?
The press release was certainly innocuous enough: "CyberFlix to Separate Studio Division and Concentrate on DreamFactoryª Technology." And if you were to read the News-Sentinel headline two days later, you'd think the news was just another ho-hum business story: "CyberFlix spinning off computer games unit." Well, there was indeed a lot of spinning involved, but it didn't have much to do with moving around "divisions." What really happened a few weeks ago was the sudden firing of most of CyberFlix's employees (that would be the "Studio Division"), which means probably more than 20 of the celebrated multimedia company's 30 staffers. The upshot? The nationally known creators of Titanic: Adventure Out of Time were out of the video games business. Although many rumors abounded over the reasons why, the most believable is probably founder Bill Appleton's realization that his DreamFactory 3D technology was becoming less competitive and needed a serious retooling. Unfortunately, this decision took a serious chunk out of Knoxville's growing multimedia community. "We had been espousing to the entertainment staff that the future of the company was in technology," insisted Erik S. Quist, vice president and general manager, at the time. But pink-slipped employees say that the move came as a surprise, particularly to those with new house and car loans. Some of them are forming a new company, Atomic Digital Studios, hoping to tap into some of CyberFlix's former contract clients, such as Disney. The success or failure of this endeavor will probably determine Knoxville's multimedia future, and not just in Market Square's "Digital Crossing."
Regal Cinemas Takes Over the World
Knoxville-borne theater empire Regal Cinemas claimed the title of World's Largest Theater Chain last spring when a massive movie merger (a buy-out that included financial firms Hicks, Muse, Tate and Furst, Inc. and Kohlberg Kravis Roberts and Co., owners of Act III Theatres out of Portland) put the nine-year chain in control of more than 3,000 screens nationwide.
The financial players made double sure they kept Regal head Michael Campbell, however; considered by many to be the King Midas of the theater biz, the Knoxville native and former grocery store manager will continue to shepherd his brainchild through an unprecedented wave of change in the exhibition industry.
How buy-outs like Regal's will affect movie-goers, in terms of both price and selection, remains to be seen; some predict the consolidations will limit audience choice, while others believe the upheavals are necessary growing pains. What is clear is that the corporate trend has birthed an ever-more lavish group of movie halls, including the Regal FunScape in West Town Mall, a combination movie theater, snack emporium, and gaming hall. What comes next? Right now, only Campbell knows.
Terrace Woes
While Regal Cinemas celebrated its world domination, things seemed bleak over at the old-fashioned, two-screen Terrace Theatre art house. In November, the latest management firm to give the Terrace a go finally gave up, saying that not enough people were buying tickets to support the theater's operation. Art film fans across Knoxville were dazed: How could this possibly be? Well, with no real marketing of the theater and little improvement of the facility's dreadful projection equipment, it was no wonder that many patrons were opting for Blockbuster nights at home. But never fear, movie fans: Homberg Place landlord Robyn Askew reports that she has signed a letter of intent with a regional theater chain to assume management of the Terrace. Expect an announcement next month.
Restaurant Ups and Downs
It was a year like any other on the local restaurant scene. Which is to say, lots of places closed, lots of places opened, and a few old favorites returned. Among the casualties were two Old City staples: Hoo-Ray's, which went out in style with an auction of all of its sports memorabilia, mounted game heads, and assorted oddities; and Tjaarda's, which owner Mike Tjaarda closed after years of coping with declining Old City crowds, parking problems, and the strange tendency of Knoxvillians to get bored of good restaurants after a few years. But the Old City's loss was West Town Mall's gain, as Tjaarda opened Soup Heaven in the mall's food court and immediately took the whole concept of mall food up several notches. Other new notables included Lula, the latest Market Square eatery from Tomato Head's Mahasti Vafaie and her partner Scott Partin; Harry's, in which the Regas folks brought more sophisticated dining to Kingston Pike; the Blackhorse Pub and Brewery in Western Plaza, which combines homebrewed ales with gourmet pizzas; and the just-opened Barley's Taproom in the Old City, which also combines microbrews (albeit other people's microbrews) with gourmet pizzas. The year's most notable encores were the Sunspot, the Cumberland Avenue eatery that reopened with new management (courtesy of Farragut's Aubrey's) but, thankfully, a very similar menu; and Manhattan's, which is not only back but—at least from a food and beer standpoint—better than ever. Meanwhile, amidst all the comings and goings, one Knoxville institution celebrated a landmark—Harold's Kosher Deli on Gay Street turned 50 this year, proving that some good things do last.
The Robertshaw Factory's Dissolution
Ironically, it was 100 years ago this Christmas that a brilliant young meteorologist named Weston Fulton arrived in town with some interesting ideas about how to use electricity to understand the world around us; within five years, he had invented a promiscuously useful device he called the sylphon, which spawned an industry of its own, stretching from automobile thermostats to submarine depth charges, and gave Knoxville a claim to having a high-tech heritage decades before the Manhattan Project. Fulton's legacy the Robertshaw factory was once among Knoxville's biggest employers; as 1998 opened, the 70-year-old plant, purchased by British automotive-parts manufacturer Siebe, still employed 400. However, after layoffs and removal of other jobs to Mexico, Siebe has dissolved most of the local operations, leaving little reason to hope that Weston Fulton's old plant will be around in the 21st century.
Already, UT—which since October has been pushing plans for a big bridge over Robertshaw/Siebe to the Ag Campus—is discussing ways of acquiring the 70-year-old site at the main campus's western frontier, an industrial site that has rarely been coveted in the Superfund era.