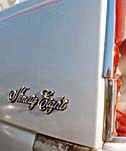 Our Boys in Blue

The Andre Stenson Affair
Last Jan. 8, Alando Murphy got off work at Calhoun's on the River and asked his friend and co-worker Andre Stenson to show him around town. So Stenson dressed up in the new black wind suit he got for Christmas and took the wheel of Murphy's car, even though he didn't have a license, because he knew the territory. They had dinner at Sarge's Barbecue where Stenson's wife Marcie worked. Later, they were pulling out of a market on Chestnut when a police officer waved them over. Stenson, who was on parole and had no license, panicked and ran, pursued by four officers. What happened when they caught him in the dark lot on the corner of Chestnut and Selma is the subject of litigation. Some witnesses say he was tackled and beaten and knocked down and had an officer sitting on his chest even though he surrendered and offered no struggle. The officers were cleared by two outside investigations, and the medical examiner ruled Stenson's official cause of death was a rare heart condition aggravated by stress: "Literally scared to death." His gashes and lacerations and bruises were ascribed to the struggle to arrest him.
Tensions between the city's African American residents and the Knoxville Police Department came to a boil, particularly after KPD sources spread false reports that cocaine had been found in Murphy's car and that Stenson had died of a cocaine-induced heart attack. The day after the medical examiner announced that Stenson had no trace of cocaine in his system, Mayor Victor Ashe, who had theretofore opposed creation of a citizen's review board, did an about-face and said he'd changed his mind and urged City Council to approve the review board.
Longtime KPD spokesman Foster Arnett said someone told him a drug dog had "alerted" on Alando Murphy's car, and that, he said, was the reason he told reporters they'd found dope in the front seat. Maybe that was also the reason local media cited unnamed police "sources" who said Stenson died of a cocaine-induced heart attack, a story that fell apart when Stenson's toxicology report came back clean of cocaine. Arnett was reprimanded (made to wear a dunce hat and sit in the corner, or whatever "reprimanded" means in KPD bureaucratese). A few nights later, his Kingston Pike home was vandalized and spray-painted "Pig" and other strange things. The crime is still unsolved. This summer Arnett spoke to a national public information officers' organization about what happens when the PIO becomes part of the story, making mention of a local "rag." (Is our Ear burning?) His co-presenter was Margie Nichols, news director at Channel 10, who vouched for his believability.
KPD—and PARC
In trying to repair its lousy image, the KPD's top brass kept touting its initiatives: video cameras in patrol cars, extra mental health training, business cards for officers. Important measures, to be sure, but administratively the department marched on business as usual.
Throughout the year, several residents demanded added oversight and insight into police affairs. They envisioned a civilian review board as the first important step toward that. The so-called Bernstein Commission—appointed to study the department—agreed by recommending the city appoint a Police Advisory Review Commission and hire a trained investigator to serve as its executive director.
Despite polls showing the majority of residents want a review board, Mayor Victor Ashe was unable to muster the votes for it on City Council. So he appointed PARC on his own. However, critics both nationally and locally say PARC lacks the muscle to be a truly independent board because it is associated too closely with the police department and is restricted in what it can investigate. Still in its infancy, it remains to be seen how effective PARC will be.
One O'Doul's Too Many
This year had been plenty tough enough for Officer Scott Coffey, who had been one of the cops involved in the apprehension of Andre Stenson, whose death while being taken into custody aggravated tensions between the city's minority population and the KPD. Coffey, who was cleared of Stenson's death by two investigations, had been transferred to the Fountain City area, far away from East Knoxville, where he had become unpopular. Months passed uneventfully, until one night when Coffey noticed a car pulling out of the Litton's restaurant parking lot and swerve into the oncoming lane. Coffey fell in behind, and turned on his blue lights. The car in front of him continued a block or two, stopped, and Chief Phil Keith stepped out. The ensuing action, captured by a video camera installed on KPD cruisers after Stenson's death, included Keith passing a field sobriety test and Coffey saying he didn't look like he'd had "that much" and suggesting Keith get a ride home. The following day, Keith told a reporter he'd been drinking O'Doul's non-alcoholic beer, thus giving rise to months of bad jokes (even the mayor has cracked a few O'Doul's funnies). Not laughing is Coffey, who keeps applying for transfers.