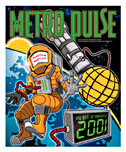 ...da...daah...daaaAH...da-DAH! bom-bom bom-bom bom-bom... And the people looked up and saw a looming obelisk towering over them. (Or maybe it was a towering obelisk looming over them, whichever.) And they gasped. And they were dazzled and amazed. Yep, that's right—it's the Eighth Annual Best of Knoxville issue! With more votes than ever and winners galore, it's a fast-paced, breathtaking tour of the things all y'all love best about our metropolis. Plus some of our own staff picks. Who is Knoxvillian of the Year? What's the best restaurant in town? Who serves the best beer? And who would you vote right out of the 'burg if you could? All is revealed within. If you don't like the results, sorry—you'll just have to write Antonin Scalia. Joe Tarr reports on North Carolina's fight with TVA, Barry Henderson scrapes the dirt off UT's new master plan, and Matthew T. Everett catches up with a local Sahara marathoner.
Plus: Seven Days, Meet your City, and Knoxville Found.

Joe Sullivan discovers New Urbanism in West Knoxville in Insights, Jesse Fox Mayshark goes to Quebec City and hears echoes of Knoxville in the streets in Editor's Corner, and Jack Neely uncovers the dog days of local baseball in Secret History.

Matthew T. Everett trades some tasty licks with the bluegrass wunderkinds of Nickel Creek in the Music Feature, while Eye on the Scene listens to Balboa and The Faults. Heather Joyner is all aflutter about the aviary artistry of Tomato Head's Birdhouse Show in Artbeat. Donna Raskin checks out two new books about the Civil Rights Movement, and Dale Bailey listens to Stephen King's advice On Writing in Pulp. In a special-edition extended Yikes! section, Donnell King, Lucy Mohr, and Mark D. Harmon air their thoughts on subjects ranging from TV to airports to the magic of working in your pajamas.
©1996-2001 Ian Blackburn
Portions ©1991-2001 Metro Publications Inc.
No part of Metro Pulse Online may be reproduced
without written permission, etc., etc., blah, blah, blah.
Metro Pulse Online is best viewed with some sort of web browser.