Seven Days
Wednesday, April 18


Knox County Commissioner Wanda Moody expands her expansive lawsuit against a host of past and projected expenditures by Sheriff Tim Hutchison. Hey, they don't call her Moody for nothin'.
Thursday, April 19


The General Assembly approves and sends to the governor a measure meant to hold down gas prices. Before signing, Gov. Don Sundquist calls for a study of the cost of maintaining the General Assembly to see if the price of all the gas produced by that body can be held down as well.
Friday, April 20


State Rep. Keith Westmoreland, a Kingsport Republican, advances a tax reform plan that would put a 3 percent tax on all exchanges and transactions, including paycheck distribution. His slogan is: "Tax It All—Let Don Sort It Out."
Monday, April 23


County Commission votes 13-6 to support the Universe Knoxville planetarium and museum project's planning, but only if the developers can figure ways to keep the county from paying for any of it. Thankfully, none of the opponents make good on their threats to moon the assemblage; that kind of stargazing is best done in private.


UT holds a series of forums for students, staff and the general public for review of its draft plan to make the campus more pedestrian-friendly and rid it of most car traffic. Eight of 10 attendees polled admit they drove to the forums, which were held on campus.
Tuesday, April 24


TVA announces there is a waiting list of people wishing to pay more for electricity from its promotional program called "green power," meaning electricity from renewable resources such as wind and solar energy. The agency attributes that delay to the demand exceeding the supply. In the fine print it admits it has produced virtually no supply.
---
Knoxville Found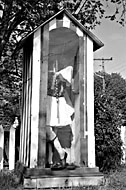 (Click photo for larger image)
What is this? Every week in "Knoxville Found," we'll print the photo of a local curiosity. If you're the first person to correctly identify this oddity, you'll win a special prize plucked from the desk of the editor (keep in mind that the editor hasn't cleaned his desk in five years). E-mail your guesses, or send 'em to "Knoxville Found" c/o Metro Pulse, 505 Market St., Suite 300, Knoxville, TN 37902.
Last Week's Photo:
Hey, it's the Road to West Knoxville! These silver screen streets—Hope, Crosby, Lamour, and Hollywood—date from the era when subdivisions were named for particular passions of the developer rather than vague notions of Anglicized gentility. They can be found in a neighborhood between Papermill and Lonas, near Pond Gap school. They were correctly identified by Penny Brooks of UT Creative Services, who writes, "My husband and I used to live in the Raillery Apts. and we walked that area all the time. A very "unglam" place to have such names don'tcha think?" Our Ms. Brooks wins a copy of Way to Go, Smith!, a memoir by Bob Smith (also the author of Openly Bob
---
Meet Your City
A calendar of upcoming public meetings you should attend
KNOX COUNTY BOARD OF EDUCATION
MONDAY, APRIL 30
5 P.M.
ANDREW JOHNSON BUILDING
912 S. GAY ST.
Work session.
KNOXVILLE CITY COUNCIL
TUESDAY, MAY 1
7 P.M.
CHRISTENBERRY ELEMENTARY SCHOOL
925 OGLEWOOD AVE.
Council will take a second—and probably final—reading of the mayor's proposed city budget for 2001-2.
KNOX COUNTY BOARD OF EDUCATION
WEDNESDAY, MAY 2
5 P.M.
CITY COUNTY BUILDING
400 MAIN ST.
Regular monthly meeting.
MAYOR'S NIGHT OUT
WEDNESDAY, MAY 2
5 P.M.
RICHARD LEAKE RECREATION CENTER
3511 ALICE BELL ROAD
Come see the mayor. Ask questions, offer comments and suggestions, get free refreshments.


Smoke on the Mountains
North Carolina points the finger at TVA
The pressure for TVA to clean up its power plants is growing, with the North Carolina state Senate asking President Bush to clean up the public utility's coal-fired electric power plants.
North Carolina is in the process of cleaning up its 14 coal-burning power plants, says Michael Shore of North Carolina's Environmental Defense Fund. But much of the air pollution in the state is produced outside its borders.
"We know that we can't solve our air quality problems alone," Shore says. "We need the states that are upwind from us to clean up their plants." All 50 of the state's senators signed a letter to Bush, which says, "The time to correct this problem is now, and the primary culprit is the TVA system of power plants owned and operated by the federal government."
The move may be seen by some as a reverse of the Pigeon River clean-up dispute. Tennessee filed a lawsuit against North Carolina and Champion International Corp. to force the paper company to reduce waste water pumped into the river just before it flowed into Tennessee. Settled in 1998, the case nevertheless created bad blood between the states, with some North Carolinians boycotting Tennessee products, including Jack Daniel's.
"Certainly there's a residual effect," says Stephen Smith of the Southern Alliance for Clean Energy, which has been pressuring TVA for years to cut emissions. "But if you put all that stuff aside, the reality is a number of folk are basically saying, 'We're going to clean up our air, and we want other people to clean up theirs.'"
"The underlying premise is accurate. North Carolina is getting hit by pollution outside of the state. How much of it is TVA is arguable," Smith adds.
Smith says that TVA does create a great deal of North Carolina's air pollution, but there are other power companies who are to blame as well. According to the Raleigh News & Observer, 80 percent of pollution in Western North Carolina comes from out of state, much of it created by TVA.
TVA spokeswoman Barbara Martocci says the utility has done a lot to clean up its emissions, cutting two main pollutants—nitrogen oxide by 40 percent since 1995 and sulfur dioxide by 65 percent since 1976. It plans to cut nitrogen emissions 75 percent (from '95 level) and sulfur emissions 80 percent (from the '76 level) by 2005, she says. "We know our air emissions can cause regional problems...But air quality problems are not the sole concern of the utility industry. We need to look at other contributors," says Martocci, pointing to automobiles and other industries as culprits.
Shore says TVA is a target for symbolic reasons. "Something that's motivating to senators is that TVA is a government entity," Shore says.
The North Carolina Senate is not alone in pushing TVA to reduce emissions. The Environmental Protection Agency is negotiating with TVA to cut pollution, and the National Parks Conservation Association and the Sierra Club filed a lawsuit earlier this year claiming that TVA is violating the Clean Air Act.
—Joe Tarr
Change is Good
UT maneuvers to shift campus emphasis from driving to walking
The updating of the University of Tennessee's campus master plan with the idea of making the campus more "pedestrian-friendly" is getting plenty of support—and engendering only a bit of controversy—as it winds its way through the comment phase.
A year-old planning process has produced an ambitious set of proposals for a 25-year plan that is just now becoming specific. If all were put into practice, they would profoundly change the character of the campus. Marleen Kay Davis, the UT dean of architecture and design, who is chairing an advisory committee of students, faculty, staff, trustees and a lone city official (the mayor), repeatedly refers to the glossy maps and descriptions as "a draft" or "tentative."
So the forums at which the committee is explaining its proposals are wide open for suggestion and criticism. A public forum this past Monday produced relatively little negative response from among the 40 or so in attendance, and even those who had reservations about items on the long-term agenda voiced endorsements of the fundamental concept—keeping private motor vehicles off much of the core campus.
William Lamberth II, a political science senior who is leaving the committee as he graduates, says, "People are picking this plan apart in the details, and I think that's great....What sets this plan apart from the 1994 Master Plan is the broad participation." He says the interest in the details indicates to him that the plan will move forward. He's enthusiastic. "We hope that the students can relate to each other, to the faculty or to something other than cars," Lamberth says.
Scott Meriwether, the freshman and newly elected student senator who is taking Lamberth's place on the committee, says the students who took part in a separate forum earlier Monday recognized "the entire change of culture" —from an automobile-dominated to a pedestrian campus— "and found it worthwhile." Meriwether says students saw the potential for problems as "growing pains" and concentrated most of their concerns on safety issues attendant to removing cars to parking garages on the campus periphery and using an internal system of transit, including buses or vans, to get students across the widest expanses between parking and classes or other activities.
Although little attention has been paid to the likely growth of bicycle traffic on such a car-free campus, UT vice president for operations and committee leader Phil Scheurer says a bike-use study and plan should be forthcoming. He also says he's ready to meet with such groups as the Sequoyah Hill residents who showed up to protest the light and noise they anticipate if UT relocates its intramural athletic fields to stretches of riverbank along Cherokee Farm, the agriculture school's property across the Tennessee River from the main campus.
Scheurer drew mostly smiles and murmurs of approval when he told the public forum that the university wants "to turn 'the [Cumberland Avenue commercial] Strip' into an area we can be proud of." He conceded that such a goal is contingent on private business cooperation and could be "25 years away."
—Barry Henderson
The Toughest Foot Race in the World
Knoxville's Larry Brede hangs tough in a run across the Sahara Desert
The Marathon des Sables—that's French for the Marathon of the Sands—is widely regarded as the toughest foot race in the world. Over six days, racers run 151 miles across an inhospitable expanse of the Sahara Desert in Morocco, covering up to 50 miles in a single day while carrying their own food and supplies in 30-pound packs, facing temperatures that reach 135 degrees, and fighting off fatigue, dehydration, personal doubt, and the isolation of the desert.
So Larry Brede's finish in the 16th running of the annual race, held April 1-7, was a considerable accomplishment. Brede, a 34-year-old Knoxville resident who works as an engineer in Oak Ridge, was 43rd overall, out of 547 finishers. He was the first American male and second American overall, behind Tania Pacev, a Romanian-born woman who now lives in the U.S.
The Marathon des Sables consists of six stages—25 kilometers (just under 15 miles) on the first day, then 34, 38, 82, 42, and 22 kilometers on successive days. The terrain is grueling, ranging from soft, shifting sand dunes to hard-packed sand to boulder fields and tracks of gravel-sized rocks. "I thought, 'It's a desert. A desert's a desert,'" says Brede, a Gulf War veteran. "But I hadn't run on it."
Brede, 34, started running as a teenager, and has finished nine or 10 marathons. He'd done several triathlons and completed a 50-mile ultra-marathon to prepare for the Morocco race. But none of that fully prepared him for last month's experience.
"At one point on the 50-mile day, the sun was going down and it was cool, or relatively cool, and everything seemed perfect. It was like I was running with God," Brede says. "But on the next to last day, my body was physically ready to collapse. I was running in hell. The race had those two extremes, and everything in between."
—Matthew T. Everett

April 26, 2001 * Vol. 11, No. 17
© 2001 Metro Pulse