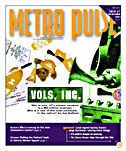 You may think that college athletic programs are bastions of easy cash and university profits. In fact, even most big-school programs lose money. But the University of Tennessee is an exception. All those orange hats and shirts add up, as do the sky boxes and season tickets. Joe Sullivan determines why the Big Orange is one of the most profitable operations around. Plus, he tracks down former UT Coach Bill Battle and finds him at the head of the biggest collegiate merchandising outfit in the nation. As proposals multiply for the future use of Market Square, Jack Neely reports on efforts to protect it with historic zoning; and Matthew T. Everett seeks the elusive truth behind Home Federal's decision to empty its buildings at Union and Walnut.

Joe Sullivan wonders why there are no new bookings for the new convention center in Insights, Attica Scott ponders the alleged new "Black Mafia" in Color Conscious, and Jack Neely finds unexpected goings-on beneath the interstate in Secret History.

His name is James, but everyone calls him Sparky Rucker. He grew up here in Knoxville, but his blues and folk recordings are known around the world. Jack Neely catches up with the writer, musician, political activist and family man prior to a rare hometown gig.

Joe Tarr discovers that swirling rockers The Essex Green aren't really from the 1960s—they just sound that way—in the Music Feature, while Eye on the Scene takes a brief hiatus. Heather Joyner previews the A1LabArts Spring Show and finds that art doesn't have to stay put in Artbeat. Our crew of highly trained and opinionated critics sits down with the latest from Dieselhed and Low, plus a Soft Boys re-release in Platters.
©1996-2001 Ian Blackburn
Portions ©1991-2001 Metro Publications Inc.
No part of Metro Pulse Online may be reproduced
without written permission, etc., etc., blah, blah, blah.
Metro Pulse Online is best viewed with some sort of web browser.