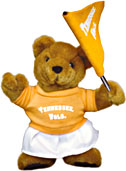 Bill Battle Then and Now
How getting fired from UT led a losing coach to become the kingpin of collegiate licensing.
Except for his silver hair, Bill Battle doesn't look much older than he did in 1970 when, at age 28, he became the youngest head football coach at any major school in the land. During his seven seasons at the helm, Tennessee's football fortunes waned, and the pressures for Battle's ouster mounted to the point that some fanatic dispatched a moving van to his home.
Now, a quarter century later, Battle can recount with equanimity how he got from deposed football coach to owner and CEO of the nation's dominant collegiate sports licensing business.
Seated in a well-upholstered office at his company's suburban Atlanta headquarters, Battle recalls that, after leaving Tennessee, he went into the management of a construction materials company in his native Alabama. The company was owned by the man who'd been his little league football coach, Larry Strickland. His college coach at Alabama—none other than the legendary Paul "Bear" Bryant—served on its board of directors.
Strickland was very acquisition minded, and among the companies he bought was a maker of golf putters. It didn't fare very well until it obtained a license from Jack Nicklaus that extended to Golden Bear gloves and socks and then to eyewear.
"I'd never heard of licensing at that point, but I thought that's a pretty cool way to make money," Battle recollects. "Then, as luck or fate would have it, Coach Bryant came in and said that he was going to change agents. This wasn't for Alabama; it was for him personally. I talked him into letting us manage his business, and we started a licensing program around him. This was in 1981, and then I saw that there was no collegiate licensing, so that led to getting Alabama as our first school, which led to several other SEC and ACC schools coming into our program."
By 1983, Battle says, "I saw that collegiate licensing could be a very good business, but it didn't need to be in Selma, Ala., because nobody wanted to come there. So I bought it out and moved to Atlanta."
From a start with four people, Collegiate Licensing Company has grown to 65 employees and represents more than 180 colleges and universities, conferences, bowl games and the NCAA itself. Battle won't reveal CLC's revenue but claims it's paid its member institutions over $300 million since inception. "Our goal was to create a significant revenue stream for colleges and universities, and I felt that if we could do that, then it would be good for us as well," he says.
Tennessee signed on as a client in 1985—just in time to catch a huge surge in sales of tee shirts and other Vol wear following the 1986 win over Miami in the Sugar Bowl. Battle takes no credit for that but believes CLC helps it clients and licensees move merchandise over time in a variety of ways.
"What we thought we could do if we could get 40 or 50 of the right schools together, we could attract manufacturers into the collegiate market that had distribution and all retail channels, and that's really what has happened. You had the Champs and the Foot Lockers. You had J.C. Penney and Sears mid-tier stores. You had the Wal-Marts and the K-Marts, and then you had the upscale department stores and by '94 or '95 collegiate wear was in every one of them."
Retail sales, by Battle's estimate, grew from $250 million in the mid-1980s to $2.5 billion in the mid-1990s, and then came a downturn. "The licensed products category from a fashion perspective has cycled down over the past few years. Polo and Hilfiger and Nike and Timberland and those brands have become popular among kids, and licensed has not."
How come? "Well, if anybody knew what makes kids wear things..." Battle's sentence ends with a perplexed shrug.
In addition to promoting their products, CLC administers contracts with some 2,000 licensees, each of which is subject to university approval. It also collects the royalties and audits licensees to make sure they're being paid. Then there's the enforcement arm of the business that tries to root out counterfeiters.
"They basically fall into two categories," Battle says. "There are the students with little screen printers that go out on the streets the day of a game and take a shot at it. Then, there are the really serious counterfeiters who are well-organized and put people with backpacks on the streets and have a mother lode of a van circling to resupply them. Over the years we have developed great relationships with the law enforcement officers and have developed an ability to deal with that pretty effectively."
"John Doe" court orders enable CLC's agents to seize the contraband. "The schools basically call the shots as to how we proceed, so it can range from us telling you to leave, to seizing, to coming along with an officer serving you with a warrant."
Battle's son is now the president of CLC and his daughter works in the marketing department. There won't be any rogue moving vans pulling up to their homes.
—J.S.

Whether its teams win or lose, the University of Tennessee can count on one thing from its athletic program—money. Unlike most of its cash-strapped peers, the Big Orange turns millions of dollars in profit each year. And the receipts come from (and go to) some surprising places.
by Joe Sullivan
All is not well in Voldom these days. UT's once high-flying men's basketball team has gone into a tailspin, and the wolves are out howling for the resignation of Coach Jerry Green and blaming Athletic Director Doug Dickey for picking a string of losers as basketball coach.
But losses on the field or court are not nearly as important an issue in collegiate athletic circles these days as financial losses that are impinging on precious academic resources. According to the National Collegiate Athletic Association, 275 of the 318 universities in NCAA's Division I ran deficits last year. As the association's president, Cedric Dempsey, told its annual convention in January, "The tough question of course is how much longer institutional funds can support increasing deficits."
By these standards, UT has one of, if not the singularly most, successful athletics programs in the land. Neither the NCAA nor the Southeastern Conference will divulge financial data for individual members. But extensive soundings suggest that Tennessee is one of only four schools, along with Michigan, Ohio State and Texas, whose athletic departments are generating revenues in excess of $50 million. Among SEC schools, Florida ranks second at around $45 million, and Louisiana State is believed to be the only other SEC school with an athletic budget in excess of $40 million.
What's more impressive is the financial contributions that UT's athletic program is making to the rest of the university. Where two other behemoths of collegiate athletics, Michigan and Ohio State, have both acknowledged that they are running in the red, Tennessee is in the black and then some.
Associate Athletic Director David Woodall estimates that UT Athletics contributes about $7 million a year to the academic side of the university. A recently announced $1 million-a-year athletic department commitment for academic scholarships is in addition to a longstanding $600,000 commitment for the Neyland scholars program and band scholarships. The scholarship money is outstripped by $2 million in licensing fees from the sale of Vol merchandise and $3 million in contributions for "priority" in obtaining the 16,000 seats at Neyland Stadium that are controlled by the university. If the $4 million that the men's athletic department contributes to support the separately-administered women's program were counted as well, the total would rise to $11 million.
"We probably give the most of any school to the academic side," ventures Anne Mayhew, an academic who chairs the university's athletic board and is also its faculty representative to the NCAA. After a distinguished career as a history professor, the doughty, silver-haired Mayhew now serves as acting vice provost and dean of the graduate school.
Some may ascribe that success to the prodigiousness of Volmania rather than the prowess of the athletic department administration. After all, UT fills the second largest football stadium in the land and ranks number one in combined men's and women's basketball attendance. But ticket sales only account for about $19 million of the $50 million total take. Even after taking into account $5 million in television revenues received from the SEC under its share-the-wealth distribution formula, that still adds up to less than half the total.
So where does all that $50 million come from? How does it get spent? And why has UT been so successful in running its athletics business when so many other schools are running up deficits?
The Athletics Business
With 276 employees, including 56 coaches, and a $12 million annual payroll (men's and women's combined), the UT athletic department could be considered one of the larger businesses in Knoxville. It's entirely self-sufficient operationally. And while the university is contingently liable on the $75 million of outstanding debt that's gone toward paying for $105 million in new facilities built since Dickey became athletic director in 1985, the $7 million in annual debt service is well covered by football seat rights revenues.
One reason UT's been able to stay in the black is through holding down its costs by limiting the number of non-revenue-producing sports it offers. The eight men's and 10 women's teams it fields is in line with the rest of the SEC but well below the 30 or more offered by most Big Ten schools as well as the perennial winner of the prestigious Sears Cup for overall athletic achievement, Stanford. UT's budget for the 141 men and 117 women on athletic scholarship totals $3.2 million, far below the $10 million cost of athletic scholarships at high tuition Stanford. (But Stanford has an unrivaled $210 million athletic endowment that covers them.)
Dickey and Women's Athletic Director Joan Cronan would like to add two new sports: men's soccer and women's lacrosse. The $500,000-a-year cost of each would seem affordable, but the rub, according to Dickey, is that $5 million in new facilities would be required. These rank behind $20 million for a new swimming pool and millions more for a new indoor track in the athletic department's never ending quest for capital funds over and above its operating budget.
"Swimming is probably our immediate need," Dickey says. "It's the oldest facility we're competing in, and the problem with it is not only the water depths and so forth, but we can't hold an event based on NCAA standards. So we need a facility that the coach says, 'Well, I can draw the national meets and conference meets, and I need to feel good about my place. I don't feel good about my locker room. I don't feel good about my meeting rooms.' Our coaches do as good a job as they can, and we can't expect them to do much more until we do something for them."
As for the operating budget, Dickey says, "Every year you've got to find $2.5 million more money if you allow for 5 percent inflation. You've either got to save it, or it's got to come from somewhere. So you measure what you're going to get from increases in television contracts that are managed by the SEC. Then, it's up to you to create whatever new revenue streams you can find. Sports marketing is one of those areas where we've been able to maximize our performance with licensing agreements, with the shoe companies, with Gatorade, with Verizon, with all the various things. The other source is to develop new donors, and we've already taken annual donations from $700,000 when I came here in 1985 to $12 million today, not counting one-time gifts for new facilities."
Adidas currently pays $2 million a year (half in cash and half in kind) to get Vol athletes to wear its gear exclusively. Other corporate "partners" and advertisers at Neyland Stadium and Thompson Boling Arena fork over $1.6 million. The Vol Network radio contract with Host Communications yields another $2 million; concessions net very close to that, and the list goes on.
On the expense side, Dickey says, "All of the support services have significantly increased because of sports marketing and compliance. They've caused us to add a significant number of people. The business office, the development office, the ticket office all have more people, and football support staffs are bigger than they used to be." He doesn't mention coaches salaries.
His favorite target for cutting costs: Reducing if not eliminating the 13.25 percent in taxes (sales plus amusement) on ticket sales. "We are the highest taxed intercollegiate athletics program in America. At Florida, they don't pay any taxes on the tickets, so that's $2.5 million we have to make up from some other source."
What's a Name Worth?
TENNESSEE, VOLUNTEER, VOL, LADY VOL, UT, BIG ORANGE. These are just the most obvious of the names—along with its own—on which the University of Tennessee has trademarks. When assorted logos and insignias are thrown into the mix, there are more than 100 such marks in all. And what are they worth to the university?
"About $3 million a year in licensing fees," says Brian Beardsley, coordinator of licensing. He goes on to stress that the marks have been obtained co-equally to protect against offensive uses of UT's names. That means Big Orange condoms and Big Orange Sucks T-shirts won't get sanctioned.
More than 600 licensees produce a seemingly boundless array of apparel and paraphernalia that bear a licensed mark. They typically pay a fee of 8 percent of a product's wholesale price. Since retail mark-ups typically double the price, that adds up to $75 million in Vol merchandise sold annually—almost all of it sports driven.
However, the athletics departments by no means get all the fees. Only about $500,000 each year goes to men's and women's athletic scholarships. The balance of $2 million stays with the university for academic scholarships, and the university itself controls the licensing. All that stands in contrast with the majority of the 160 colleges and universities for which Atlanta-based Collegiate Licensing Company acts as licensing agent.
"Of our top 25 now, about half of them are in the athletic department, and the revenue splits are generally on a 50/50 basis," says CLC's CEO Bill Battle. (For more about this former Tennessee football coach who founded and presides over the nation's dominant collegiate sports licensing business, see the sidebar to this story). In 1998-99, the year Tennessee won the national football championship, it ranked number one in licensing fees, Battle says. Last year it dropped to number three behind Michigan and—suprisingly—North Carolina.
The athletic department maintains a long-standing retail outlet of its own, Tennessee Traditions, in Stokley Athletics Center. While it offers a regalia of Vol wares ranging from "Home of a Future Vol" maternity shirts to a UT-monickered hound dog that looks a lot like a Beanie Baby, the bulk of the sales have migrated to the likes of J.C. Penney and Wal-Mart, plus specialty stores like Hound Dogs.
"Back in the 1970s we were the only game in town," recalls Jim Bletner, who oversees UT athletic concession and souvenir sales. "We'd come up with a product idea and then go out and get someone to produce it for us. Then, in the mid-1980s, it just exploded and everybody and his brother started getting in on the act. But now there's something of a shake-out going on."
How can UT possibly stake a claim on sweatshirts that simply bear the name of the state Tennessee? "It all depends on the color scheme," says Beardsley." "If it's green and gold we've got no claim, but if it's orange and white, we do." How about orange shirts with white numerals on them? "It all depends on how much it looks like a Tennessee football jersey."
The Big Orange Squeeze
Football ticket sales bring in $15 million a year, only 30 percent of UT's athletic budget. But that figure doesn't begin to tell the full story of what football seats are worth to the athletic department—or the rest of the university.
In order to acquire season tickets that might cost $380 a pair, you've got to initially pony up for seat rights. The going rate for a pair of seats ranges from $15,000 a year on a 10-year contract for the west side lower deck to $1,500 a year for south end zone uppers. And that's before you get to skyboxes. Neyland Stadium's 116 skyboxes with 16 seats each go for $30,000 a season, but contributions to the university of at least $100,000 are a prerequisite to getting one.
How can UT justify such charges? "Supply and demand has a lot to do with it, along with the needs of the athletic department," says Senior Associate Athletic Director Gary Wyant.
One reason the market will bear it is that seat right payments take the form of contributions to the Volunteer Athletic Scholarship Fund, which are largely tax deductible, whereas ticket purchases are not.
Dickey initiated priority seating for donors, as the program is euphemistically known, soon after he became AD in 1985. Existing season-ticket holders and their spouses were grandfathered, so it typically takes a couple of deaths to put a pair of seats in play. Dickey hastened the process along a bit by limiting the number of seats anyone could hold to six. That mainly hit businesses and caused a lot of consternation, but Dickey has repeatedly said that, "Companies aren't going to do business with Tennessee tickets. Tennessee is going to do business with Tennessee tickets."
Contributions to the scholarship fund have grown to $12 million this year, and Woodall reckons that 95 percent of them are ticket-rights related. They represent the single biggest reason why UT's athletic program is in the black and Michigan's is in the red.
At Michigan, there are no such things as seat rights, skyboxes or even signage at Michigan Stadium. (Signage brings in another $600,000 a year at Neyland Stadium). But the former banker that Michigan brought in as athletic director last year, William Martin, is reportedly looking at instituting them.
At the same time, seat-right revenues are making a meaningful contribution to the university as well. According to Woodall, about 16,000 prime seats in Neyland Stadium are "controlled" by UT's fund-raising apparatus, and he reckons they are generating about $3 million a year in academic revenues.
How do seats get divvied up between the university's academic and athletic arms?
"Usually in an annual meeting with Doug Dickey," says Jack Williams, UT's vice president for development. "Doug has been very, very good to work with."
One-Upping the Joneses
When the Thornton Student Life Center opens on March 26, UT athletes will be entering a new era of support for their academic endeavors. The center's marble-floored, skylighted entrance hall leads to the Peyton Manning Study Area and points beyond. There's a computer lab with 48 Internet-connected PCs, a lounge area that includes kiosks with touch-screen monitors featuring the accomplishments of student athletes as well as numerous tutoring rooms. Then there are private offices for the center's director, the head of its special needs program, and the nine full-time counselors to whom each scholarship athlete is individually assigned.
Accessible only to athletes, the $4.3 million center is much more than just a showcase, but it's certainly that as well.
"Both academically and athletically we have probably not had a facility during my 16 years as athletic director to do what the Thornton Center is going to do for us," boasts Dickey. "It's going to allow us to recruit to a different level of academic athlete than we've probably been able to, because it's going to make the athlete feel good about what he's got to do academically here."
Yet the new center manifests the concerns of higher education overseers nationally over athletic impacts on two accounts. For one, it exemplifies what's often referred to as the athletic arms race in which schools with the financial might of a Tennessee may force others into a worsening financial bind in order to remain competitive. True, most schools probably have alumni like Chattanooga-based real estate tycoon John "Thunder" Thornton who made the $1 million anchor gift and the 53 other donors who contributed the balance. But the hard fact is that more and more schools seem headed the way of Duke, which is now reportedly subsidizing its athletic program to the tune of $5 million a year.
At the same time, the center raises questions about how far a university should go in pampering student athletes. Athletic dorms with lots of amenities were once the rage, but the NCAA managed to get them banned. Now cometh a new type of facility which faculty wags have dubbed "the school of plagiarism."
There are many other ways in which the athletic program's extra resources give UT an edge. The Lady Vol basketball team takes more charter flights than most of its competitors, according to Cronan. "That saves a lot of class time," she says—not to mention the convenience. "The Lady Vols also have one of the finest locker rooms, which is their home away from home where they can watch film or study calculus," Cronan adds.
Work is due to start this fall on a $10 million expansion of the Neyland-Thompson Sports Complex, which already houses an indoor football practice field and state-of-the-art training and weight lifting facilities. The expansion will enlarge the football field from 60 yards to 120 yards, making UT one of only a handful of universities with full-sized indoor football fields.
Doug Dickey's Legacy
Doug Dickey is the athletic director that many Vol fans love to hate. For old-timers, the animosity traces back to 1969 when Dickey deserted Tennessee for the head football coaching job at Florida. Never mind that he had played quarterback for the Gators and grew up in Gainesville, the son of a Florida speech professor. Then there's his sometimes brusque manner and occasional bouts of foot-in-mouth disease. Dickey's lack of public relations flair manifested itself again just recently when he convened a news conference to blast News-Sentinel sports columnist Gary Lundy for calling hoopster Tony Harris a "punk."
But if Dickey doesn't always talk the good talk, there's a broad consensus in athletic circles that he's played a very good game during his 16 years as AD. The most visible signs of his accomplishments are the more than $100 million of enhancements to UT's athletic facilities erected on his watch. Thompson-Boling Arena, Lindsey Nelson baseball stadium, the Goodfriend tennis center, the renovation of Tom Black track, and new women's rowing, softball and soccer complexes all go on the list. Neyland Stadium skyboxes and the north end upper deck have cost more than $40 million but promise to yield a substantial return that will also contribute toward covering the costs of non-revenue-producing sports. While one can question placing the $10 million expansion of the Neyland-Thompson indoor football complex ahead of a much-needed new aquatic center, it should be borne in mind that the $4 million lead gift for Neyland-Thompson didn't come from a swimming-minded donor.
The escalating costs of college sports are evident in an increase in the UT athletic department budget from $11 million when Dickey took the helm to $50 million-plus at present. But he has maintained the department's self-sufficiency—and then some—throughout. And he's done so, in partnership with women's AD Cronan, during a period when the gender equity requirements of Title IX of the Civil Rights Act have compounded the financial pressures. Cronan praises Dickey's dedication to achieving equity.
The academic qualifications and performance of athletes—especially men's football and basketball players—remain suspect. But despite the charges of plagiarism leveled by ESPN, and several other flaps, UT has never been sanctioned by the NCAA during Dickey's tenure. Nor has it been penalized for recruiting violations, unlike the majority of the SEC's 12 other member schools.
Asked what he considers to be his most significant and satisfying accomplishment, Dickey responds, "I don't think you can do this job at all if the success of the individual athlete is not your most demanding responsibility.... About a hundred a year, men and women, come here. It's my responsibility to support the coaches and to see to it that the academic support people, the counselors, the trainers, the sports psychologists, or whatever—that all of those people are in place so that we are maximizing the performance of the athlete both academically and athletically."
Athletic board chair Mayhew is a hard-nosed academic administrator, the antithesis of a shill for the athletic program. Indeed, her first involvement with it came as a plaintiff in a faculty lawsuit to prevent any university funds from going into Thompson-Boling Arena. So her assessment of the athletic directorate comes with some detachment. "Both Doug and Joan have run enormously successful and well managed programs, and they are both keenly aware of the broader issues," Mayhew says.
But as he pushes up on his 69th birthday (Cronan is 57), Dickey's regime can't go on much longer. Asked about his retirement plans, Dickey says, "I have a contract that runs through June 2002. That's where I am, and we'll see where I go from there."
It's a safe bet that Dickey will announce his retirement in about a year and that his successor will come from the ranks of athletic directors with a track record of success at another school who are looking to step up to the highest level. Despite his unpopularity in some quarters, Dickey will be a hard act to follow.

March 8, 2001 * Vol. 11, No. 10
© 2001 Metro Pulse