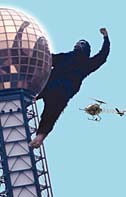 Directory
Introduction
Goods & Services
Arts & Entertainment
Food & Drink
Music & Clubs
Media
Alien Abduction
Staff Picks
Best Sports Bar
Bailey's
If you ever thought Windsor Square was boring, you thought wrong, and your pre-conceived notions on the subject just might get you into hot water if you live on the wrong end of town. That's right, West Knoxville has become vocal and almost militant in its support of Bailey's. And why not? This place is HUGE. With over 30 television sets, it would certainly be a rare occurrence if there was ever a big league game anywhere that Bailey's couldn't pick up. If you ever get hungry at the same time that you have that sudden urge to watch six hockey games at once, there couldn't be a better place in all the world to go than Bailey's. Aside from offering more beer, wings, fish, beer, wings, and ribs than you would ever dream of, Bailey's also has plenty of pool tables, dart boards, and other sport-oriented recreation. Truly a sports fan's dream come true.
Runners Up: Rookie's, Julio's Between the Buns
Best Restaurant Pizza
Best Salads
Best Sandwiches
Best Lunch Spot
Tomato Head
To downtown businesses who say they're failing because they don't have free parking, Tomato Head is the single biggest embarrassment. They don't have parking; they have pizza. Tomato Head doesn't need extra asphalt to stay packed from 11:30 to 2:00 every weekday and for several hours on weekend nights. They're proof that even Knoxvillians will find a way if the place is different, interesting, and perfect enough. It doubles as one of the funnest art galleries in East Tennessee and one of the most interesting nightclubs. Add that it has a comfortably renovated Edwardian-cool interior and a sunny patio in one of the most picturesque parts of town. Some predict that Market Square will someday be known as Mahasti Square, with a marble statue of Tomato Head's beloved founder in the middle.
They'll put anything tasty on your pizza—and that includes salmon, capers, walnuts, scallops, pineapple, and asparagus—but before you go off on an adventure, at least try their specials. They have pepperoni, too, we hear; it's just that we've been too charmed with everything else to try it. That's why no one came close to Tomato Head in the pizza category; the Head scored nearly three times as many votes as either of the nearest contenders, Black Horse and Stefano's. The other categories were, at least, a fair race.
* In salads, Silver Spoon came in second, with Calhoun's close behind at third.
* As for sandwiches, Nixon's and Subway were tied for second, with Harold's just one vote away from joining them.
* In the Lunch Spot category, Crescent Moon, Lunch Box, and Silver Spoon were tied for a distant second.
Best Delivered Pizza
Papa John's
Other pizza chains have tried in the last few years to emulate the formula of relative upstart Papa John's: crusts made on site rather than frozen, generously portioned pies, fresh toppings. But really, Papa J. just does it better, as evidenced by its narrow win over the Donald Trump-endorsed Pizza Hut. The crust is flaky and chewy at the same time, the sauce is tartly sweet, and the cheese is neither too greasy nor skimpy. And of course, there's the coup de grace: the garlic dipping sauce. Don't forget the breadsticks to go with it.
Runners Up: Pizza Hut, Stefano's
Best Middle Eastern Restaurant
Falafel Hut
There's no two ways about it—a falafel from the Falafel Hut is the best way to spend $3 in Knoxville. But you could select any number of other inexpensive favorites, like a creamy hummus, snappy baba ganouj, or a filling moussaka. Why stop there? This Fort Sanders institution has all of your Middle Eastern favorites.
Runners Up: King Tut's, Ali Baba's Time Out Deli
Best Seafood
Chesapeake's
Crab cakes and salmon and bisque, oh my! Chesapeake's is all you could want in a seafood eatery and more. With its tasteful and upscale environment, complete with nautical-themed chairs and fish tanks, this restaurant beats the pants off a generic Red Lobster any day of the week.
Runners Up: Red Lobster, Bayou Bay
Best Coffee House
Java
You can find a pretty good cup of joe almost anywhere in K-town, but the neo-bohemian ambiance of Java just can't be beat. Plus, the counter help wins points for being the friendliest and the funniest in a 10-mile radius, promising that your coffee experience will be a happenin' one. While you can no longer slip around the corner of this Homberg Place establishment to catch an art film at the Terrace Theatre, you can still hear the rhythmic pulses of passing trains as you enjoy your java (and cake, pie, sandwich, or salad) on the outdoor deck.
Runners Up: JFG, 195 Degrees
Best Mexican Restaurant
Chez Guevara
Even a name change can't get true lovers of Mexican food away from this West Knox fiesta for the mouth. The restaurant formerly known as La Paz is an intimate place, with a mammoth bar dominating the front room and closely-packed tables dominating the back. And it has changed its nom de chalupa but not its great eats. On any given night, a line-up of burrito- and queso-starved customers snake out of Chez Guevara's door, proving that this town knows a good place when it tastes it.
Runners Up: Cancun, El Charro
Best Asian Restaurant
Stir Fry Cafe
The all-time champ in this category continues its reign of culinary victory. The Stir Fry's menu spans the gamut of Asian cuisine, from mild Chinese standards to spicy Thai specialties (and even a few unique creations, like the Asian burritos). Combine the great food with a rockin' atmosphere, a cool bar, and snappy service, and you've got all the makings for a great night. It's also worth noting the strong showing made by the ever-dazzling Korea House, whose exotic dishes have inspired a loyal following of adventurous diners.
Runners Up: Mandarin House, Korea House
Best Diner
Sullivan's
We throw in this category to give one moment in the limelight to those humble restaurants that are named after the old lady in the hairnet who has thanklessly kept her grease scalding hot for 38 years. But upscale Sullivan's Diner in the Old City keeps winning, so that's what we report. It does have diner in its name, and it's the only place in town that actually looks like an old-fashioned railroad-car-style diner. Try the spinach.
Runners Up: Litton's, Long's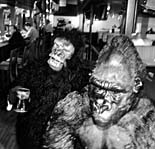 Best Brewpub
Great Southern Brewing Co.
Where's the domestic beer better than all the imports? Right here. The beer at Great Southern is so domestic, it has never even been across the street. The beer you drink is brewed in the basement and in the huge copper kettle behind the bar, and it actually outsells—by a long shot—all imports. Including Budweiser. With its gorgeous long mahogany bar in the middle, even Great Southern's architecture seems to demand the best beer, and the best company. Downtown it's just known as "the brewpub," and it's the most sociable public place in Knoxville, where you're likely to see nearly anybody. There we've encountered a major country star, a genuine British knight, and at least half a dozen nationally known authors. Heck, we even see the managing editor of the News-Sentinel in there on occasion. You can also meet Brewer Bob, who hangs out here, enjoying the compliments.
Runners Up: Black Horse Saloon, Hops Grill & Bar
Best Bagel Shop
New York Bagel
If you like bagels, chances are you don't mind the fact that the place is named after New York. Located downtown and in the Bearden area (where they do the baking), New York Bagel is Knoxville's most prodigious bagelry, with bagels baked fresh every day in every flavor you have any legal right to demand.
Runners Up: Alpine Bagel, Best Bagel
Best Wings
bw-3
Is it really bw-3's wings or the fact that you can enjoy them on one of Knoxville's best patios? Given the way this category's winners rotate year by year, we're never quite sure if our ever-egalitarian poll has zeroed in on the true "muggy summer evenings spent sipping ice cold beer and snackingon this favorite of bar foods" zeitgeist. All we do know is that when it comes to the classic, bw-3 is this year's establishment to beat. Cheers!
Runners Up: Hooters, Spicey's
Best Deli
Harold's
Founded in 1948 and still run by the mom and pop who were its original proprietors, Harold's Deli celebrated its 50th anniversary last year with a huge cake and a klezmer band. Its origins as a genuine delicatessen, with kosher foods for sale as well as groceries, survives in the display case of cheeses, various beefs and pickled delicacies up front, but its tables are often crowded at lunch and on Saturday morning for kosher breakfast. It's the only kosher delicatessen in the world that has a country-music heritage, and the only place in this galaxy where you can get the meaty Gilbert sandwich. Harold's outscored all five of Nixon's Knoxville locations, and the three stores that share the venerable name of Sam & Andy's, which were collectively third.
Runners Up: Nixon's, Sam & Andy's
Best Caterer
Rothchild Catering
Rothchild is the place to call if you are feeding four or 400. This super catering shop can handle all types of events all across the Southeast, from a casual dinner party to a large corporate shindig. This may be why Rothchild is Knoxville's favorite for the second year in a row.
Runners Up: David Duncan & Lord Lindsey (tie)
Best Wine List
The Orangery
For us ordinary mortals whose knowledge of wine pretty much begins and ends with the Gallo Brothers, the Orangery's wine list might seem a bit on the epic side. With literally hundreds of vintages to choose from, it can be confusing. But once again, there's no better place for the epicurious to get started or for aficionados to appreciate than this venerable establishment's encyclopedia of offerings. Oh—and they serve food, too
Runners Up: Naples, Regas
Best Beer Selection
Barley's
We're actually blessed in Knoxville with a number of taverns that offer a wide diversity of brews, both kegged and bottled. But it's hard to beat the novelty, variety, and overall good taste of the hand-crafted beers at Barley's. The Knoxville branch of the Asheville-based pizza pub has everything from lovely mocha stouts to all manner of ales—along with, of course, the fine offerings of our own New Knoxville Brewing Company. And may we just add that the company's willingness to invest in the hulking Spaghetti Warehouse building deserves the thanks and support of a grateful citizenry. For the sake of the city, go have a beer there.
Runners Up: BW-3, Sunspot
Best Bakery
Rita's Bakery
First-time winner Rita's took the baking crown from reigning champ Blue Moon, which went out of business (though it continues on now as Hogan's). Naturally, we had to investigate. Upon arriving at the Tazewell Pike establishment, our tastebuds immediately tingled with excitement: treats, and lots of them. While the cakes and various cookies looked tantalizing enough, it was the stop-thinking-about-the-calories-and-just-go-with-it choices that inspired undeniable pastry lust: fudge turtle tarts, strawberry cream cheese croissants, Key lime chess pies, rocky road cream cheese brownies...and more, more, more. Owned by siblings David and Monica Patterson, the five-year old bakery has inspired a legion of devoted followers with its ever-popular yeast cinnamon rolls (for the record, they do also bake bread). And, yes, there is a Rita—David and Monica's mom, who comes in every afternoon to bring her experienced touch to the goodies.
Runners Up: Fresh Market, Old Mill Bread Company
Best Buffet
Mandarin House
It takes age to appreciate a buffet. Most kids—with stomachs more geared toward certain tastes (say, a cheeseburger and chips) than large amounts of hearty food—simply don't get the thrill. It isn't until you're first on your own, scrimping for cash and with no parents to stock your kitchen with all you can eat goodies, that a buffet starts to entice you. Most people start with your standard Ponderosa or Shoney's buffet, stocked full of mashed potatoes, turkey slices, butter rolls, chicken wings, maybe a taco bar. Whatever you want—it's yours for the picking. And keep picking until your stomach is bloated. But after a while, your standard American buffets start to get a little boring. Which is probably why Mandarin House always seems to win this category. Its offerings are both tasty and inventive, as well as hearty and inexpensive. Try some General Tso's chicken along with piles of steaming rice and vegetables. Yum.
Runners Up: Great American Steak & Buffet, East Garden & Wong's Palace (tie)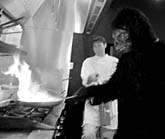 Best New Restaurant
Best New Business
Lula
Lula, Lula, Lula. How many ways can we celebrate this new Market Square eatery from Mahasti Vafaie (the mastermind behind the yummy and popular Tomato Head) and partner Scott Partin? Let me count but a few: the minimalist interior design makes the inventive Tex-Cal combinations the main focus of your dining experience and the wine list exquisitely matches the season's selections. The waitstaff is impeccable and the salsa's delectable. Burritos, enchiladas, quesadillas, and more tantalize your every sense, as do the post-modern outhouse-style restrooms. Thank you Ms Vafaie and Mr. Partin for giving us a new place to love.
Runners Up: New Business—Westwood Antiques, Barley's; New Restaurant—Don Pablo's, The Cooker Bar & Grille
Best Vegetarian Menu
Sunspot
The re-emergence of the Sunspot following a troubling shutdown was one of the salutatory events on the Knox dining scene last year. Retaining favorites from the old menu while adding some delicious new twists, it quickly re-established and even enlarged on its old clientele base. Among them are many relieved herbivores, who had lamented the loss of platters like the Orion's Belt tofu sandwich and the heavenly vegetarian lasagna. Add to that daily veg-friendly soups and specials, and you have a veritable oasis in a desert of bar-b-q and roast chicken joints.
Runners Up: Tomato Head, Lula
Best Steak
Ye Olde Steakhouse
This favorite South Knoxville tavern has been illustrating the simple elegance of a well-cooked steak for more than 30 years. Then again, these obviously aren't just well-cooked steaks. Make that perfectly cooked steaks. You don't get to be the best by just doing things well. Not that the steak has to be well done, though. The folks at Ye Olde Steakhouse might be persuaded to prepare one medium rare. Whatever the circumstances, a steak from Ye Olde Steakhouse is a rare pleasure indeed. Unless you want it well done...
Runners Up: Outback, Butcher Shop
Best Italian Restaurant
Best Romantic Atmosphere
Naples
What is it about Italian cuisine that brings out the Romeo, the Cupid, the Fabio in us all? The smells, maybe, rich with herbs and plump tomatoes. Or the textures, smooth but firm, succulent and saucy. Or maybe it's just the red-and-white checked tablecloths. Whatever, Naples puts the whole package together in a way that ensures they win both of these categories year after year. Small enough to be intimate, big enough to give you your own space, and with lighting just low enough to heighten your seclusion, Naples is a little corner of Italiana right in the heart of Bearden. The food's good enough to go there by yourself, but why would you do that?
Runners Up: Italian Market & Grill (Italian), The Orangery (Romantic)
Best Hamburger
Best Desserts
Litton's
Litton's is the quintessential favorite for that most quintessential of American foods. Big, man-sized and delectably juicy, a Litton's burger is always perfect. Always. Witness our own Les DuLunch's five bone rating. Tucked quietly away in charming Fountain City, far from West Knoxville's maddening crowds, Litton's is like Michael Jordan. There's simply no competition.
And then there are the desserts: The ubiquitous red velvet cake. Saucer-sized cookies in a tempting array of varieties. Pies from heaven. These homemade lovelies reach out from the old-fashioned dessert counter at Litton's and implore you with their eyes. "Forget about fat grams. Surrender to pleasure," they seem to whisper with sirens' voices. "Take me home with you." Unable to withstand the visual assault, you breathlessly comply, powerless under their spell. You must have them, in the worst way—right then and there. Each tender nibble is sealed with a kiss. Bodice-ripping indeed, but well worth every sumptuous, calorie-laden bite.
Runners Up: Bel Air Grill, Old College Inn (hamburger); Grady's, Java (desserts)
Best Ribs
Calhoun's
Artful arrangements aside. Presentation be damned. Sometimes everybody needs food that arrives on the table in a slab. I'm talking about luscious, messy, down-in-it barbecued ribs. This is food that demands a wet napkin and bib. Food that leaves behind carnage. There's something so wonderfully primal about gnawing meat off a bone. It makes you want to thump your hairy chest, club an innocent member of whatever gender you're attracted to over the head and drag the secretly pleased victim back to your cave. Thank you Calhoun's for connecting us once again to the infinite pleasures of our inevitably primitive past.
Runners Up: Corky's, Sarge's
Best Ice Cream/Smoothie Shop
Baskin Robbins
Ice cream is a dessert of childhood—more event than food item. Most of us grow up and leave the messy cones and melting bowls behind for more even more decadent and less temporal treats. For those who don't, however, ice cream remains practically narcotic. But it's an addiction best satisfied in public rather than the privacy of your own home. With 32 flavors and then some, this perennially pink favorite makes you wonder if growing up was such a good idea after all. There's no more selfish a pleasure than surveying all the pretty pastel vats, pointing to a particular flavor while licking your lips and saying, "I want that one."
Runners Up: Planet Smoothie, Fountain City Creamery
Best Barbecue
Buddy's
Let's face it. Barbecue almost surpasses rock 'n' roll as the South's most important cultural export. A little bit funky, a little bit spicy, a little bit sweet. Always soulful and certain to get the party started—if not supply the reason for the party in the first place. And for the second year in a row, Knoxvillians claim that Buddy's does barbecue best. Beef, pulled pork or chicken, all prepared Memphis style with the tangy sauce squirted on top and served up with a side of cole slaw and hush puppies. They even do it with a drive-through. Why can't all fast food be this good?
Runners Up: Calhoun's, Sarge's
Best Sunday Brunch
Copper Cellar
Sunday brunch is a divine institution. Nestled between early morning breakfast and early afternoon lunch, it offers the best—and plenty—of both. And, after church, it's sort of an extension of the impulse to worship, only this time the altar is filled with food instead of cheap wine and communion wafers. Copper Cellar's West Knoxville location puts out Knoxville's most heavenly Sunday morning spread. Come Monday, you'll be counting off the "Hail Marys" but this is one indulgence that's well worth every moment of sinful pleasure.
Runners Up: Italian Market & Grill, O'Charley's