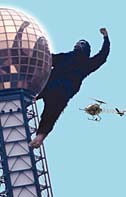 Directory
Introduction
Goods & Services
Arts & Entertainment
Food & Drink
Music & Clubs
Media
Alien Abduction
Staff Picks

Who is JoJo the Metro Pulse Prize Monkey?
A favorite among long-time Metro Pulse readers, JoJo the Metro Pulse Prize Monkey(TM) was created by our advertising department in 1953 as a purely promotional gimmick—but he soon became a regional fixture. For nearly 50 years, JoJo has brought smiles to thousands of readers lucky enough to cross his path and win special give-aways. Tales of JoJo's prize-giving antics have become legendary in these parts, while his popular catchphrase is music to the ears of unsuspecting shoppers. Every weekend, JoJo lies in wait at a Metro Pulse distribution point, such as a grocery or book store; then, when somebody finally picks up a copy of Metro Pulse, JoJo suddenly appears and declares, "Howdy—I'm JoJo the Metro Pulse Prize Monkey(TM)!" Over the years, only three JoJos have been killed as a result (including one in 1970 who was mistakenly clubbed to death by a KPD riot officer during a Richard Nixon appearance). Although Metro Pulse hasn't used JoJo for the last 15 years (he was retired in 1984 due to bad publicity resulting from his arrest and incarceration for selling cocaine at an Adam Ant concert), our marketing department thought it was time to finally bring back the famed monkey for the last Best of Knoxville Readers' Poll of this millennium. So join us now to celebrate JoJo's return as he presents awards to some of our BOK winners (as seen in the following photos).
Now, a new generation of Metro Pulse readers will be able to say, "I love JoJo the Metro Pulse Prize Monkey(TM)!
—Ed.