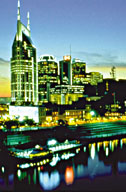 Nashville: Open City
In the past decade, Nashville's local politics has moved from backrooms to front yards.
Bohos and SoBro and Really Big Shows
Capital-ism
Being the seat of state government has some advantages for Nashville
Noise in the 'Hood
Nashville neighborhoods are growing stronger— and so is their political clout.
Profit and Loss
The rapid growth of the Nashville entertainment scene over the last 10 years has been beneficial. But what has been lost?
---
Other related articles from this issue:
MUSIC FEATURE
They're From Knoxville
Do they find fame and fortune or lose their souls in the Music City?
ARTBEAT
Artfully Done
Nashville's Frist Center doesn't just house art— it is art.
SECRET HISTORY
Nashville vs. Knoxville
Reflections on a near-forgotten inter-city rivalry

Downtown Nashville is still reinventing itself, but it has come a long way.
by Jack Neely
Downtown Nashville is the sum of some very disparate parts. On the north side is Capitol Hill, an Acropolis of marble buildings, the classical War Memorial and the Capitol itself. One of the oldest capitol buildings in the nation, it seems to serve a purpose nobler than this state Legislature. The classical War Memorial, with a temple of Greek statuary in its cloister, and the sweeping new Bicentennial Mall tells the history of Tennessee since the dawn of time: it's beautiful, educational, and, on a recent lunch hour on a balmy weekday, nearly empty. A few of the people you do see are white-haired lawyers just old enough to have been raised with the idea that Nashville was the Athens of the South. They walk differently from their contemporaries in Knoxville, slowly, with long strides, as if somehow beneath their dark suits they're wearing togas.
Here is where you'll find noble statues of heroes like Jackson and, even more prominently, CARMACK, who needed no first name when this memorial went up 90 years ago. Edward Carmack was the young, charismatic, progressive senator and prohibitionist who, just around the corner one Monday in 1908, was shot to death by political enemies.
All day Carmack gazes with some concern toward busier parts of town—like, hardly four blocks away, lower Broadway and Demonbreun, a district of honky tonks and hockey and huge, loony new buildings, where garish tour buses disgorge chubby people in cowboy hats and boots to wade in and out of Tootsie's, the Hard Rock Cafe, the Country Music Hall of Fame, and Robert's Western Wear, the Home of BR-549. And, of course, there's the Ryman Auditorium, the old Victorian brick home, off and on over the last 77 years, of the Grand Old Opry.
In between are skyscrapers modern and postmodern, like the whimsical new BellSouth Tower, better known as the Bat Building, the tallest building in Tennessee, and maybe the weirdest. Built mainly to be seen from the interstate, they form Nashville's famous skyline, but most don't do much for the sidewalk.
Downtown Nashville, in short, is a challenge. It has kept the city's Metropolitan Development and Housing Authority busy with architectural fixes for the last several years. Since 1995 the MDHA has coexisted with the Urban Design Forum, an elite group of experts in architecture, planning, and renovation that has inspired new ways of thinking about downtown Nashville. Last summer, thanks to the support of Mayor Bill Purcell, the Forum opened the Civic Design Center. UT-Knoxville is responsible for one third of the CDC's funding, and the man in charge of design is Prof. Mark Schimmenti. The sometime Knoxvillian who ran UT's short-lived Urban Design Studio on Market Square is now design director of the CDC. He lives upstairs in this 1927 building on the corner of Church and Seventh, but he still refers to Knoxvillians in the first-person plural. He's still a UTK employee and still owns a condo on Gay Street. It's just that Nashville seems more receptive to his ideas than Knoxville did.
On the table are thick notebooks. "That's 10 proposals for a $75 million symphony hall," he says. They're assessing these proposals for recommendation. The project came as the result of an anonymous donor of $30 million for the purpose. Some of the folks at CDC have a hunch about who it is, but they're not saying. Another mystery is the project's siting; on the surrounding walls are large maps of Nashville based on several different kinds of historical, architectural, and demographic research. They've just discovered that Nashville's seemingly haphazard layout of streets do have something of a pattern, based on 200-year-old trading routes.
Schimmenti is complimentary of both of Nashville's most recent mayors. Purcell, who made the CDC part of his mayoral platform, is known as the Mayor of Neighborhoods. His predecessor, Phil Bredesen (1991-99) presided over several astonishing new developments in the downtown area, including the arrival of a pro football team just across the river. "It's not just that things happened," says Schimmenti. "Bredesen made sure things happened in a good way."
He also says Nashville's Metro government is a strength from an urban-planning perspective. A couple of progressive, civic-minded mayors who apparently believe in urban planning on a Periclean scale doesn't hurt, either. Nor does deep-pocket philanthropy, as the $50 million post office refurbishment now famous as the Frist Center for the Visual Arts attests.
Not everything works, though. Nashville, like Knoxville, has witnessed several downtown redevelopment projects over the years, and some failures. The Church Street Mall, an expensive, modern, enclosed downtown shopping mall, opened to great fanfare only 15 years ago, designed with enclosed Habitrail-style connections to parking on other blocks. It was an utter failure, and Nashville owned up to it. When urban planners were casting around for sites for a new library, they discovered the best place was on the site of a relatively recent project. They tore down the mall and built something far more remarkable: the Nashville Public Library, which Schimmenti calls "drop-dead gorgeous."
For those who want to see the handiest example of New Urban Nashville versus the Nashville some of us remember, look at the former main library. Hardly more than 30 years old, it's a square, modernist concrete bunker that might be more comfortable as an insurance building on an interstate exit.
The new main library that replaced it is just around the corner, but it has taken several evolutionary leaps past its predecessor—both forward and backward. The new Nashville Public Library is a large marble building like a Beaux Arts monument built in New York or Chicago circa 1910; its airy lobby (how many libraries have lobbies?) might remind you of a swanky big-city hotel, but bigger. A grand staircase leads up to a balconied second and third floor. Upstairs are huge, woody, Edwardian reading rooms, where you almost expect to encounter H.G. Wells working on one more novel, or John Maynard Keynes adjusting his theories—in all, there's seating for 1,200 readers. This one building also includes computer rooms, a courtyard garden, statuary, auditoriums, an art museum, historical exhibits, and a built-in parking garage. At $80 million, the public-private project was the most expensive building recently constructed in Nashville. It may be the most beautiful library in America. "A city with a great library is a great city," is their motto, and you get the impression they might even believe it.
"There's a disease in Nashville that I wish Knoxville would catch," Schimmenti says. "It's the idea that we're going to do this better than anybody else would."
Much of the new development is in the area called, in urban-design parlance, SoBro—which, of course, means south of Broadway. Once a blighted area perceived as dangerous, it was a pet project of Bredesen's. A large portion of SoBro's still awaiting a savior—parts closer to the river are still pretty shabby-looking—but the area around Fifth Avenue could send Disney World's planners scurrying back to the drawing boards.
The newest additions are designed to startle kids and bovine tourists. On Broadway is the six-year-old Gaylord Entertainment Center, home of the Predators. Huge and round, it looks like the capitol of Krypton. It outdid the adjacent Convention Center; though plenty wacky and postmodern in its time, it's 15 years old and beginning to look a little dowdy next to these bigger, newer post-postmodern monuments. Though it's still functional, it's already showing its age in its siting; when it was built, it turned its back resolutely on lower Broadway, which as late as the '80s was still seen as an embarrassing den of iniquity, cheap bars and porno shops. Now that lower Broadway's a respectable family place, the backside of the convention center just looks odd; Nashvillians are already talking about building a bigger, prettier one. Like Knoxville's, it wasn't meant to make money in itself, but to spin off other developments.
Nearby is the newer Country Music Hall of Fame, a $37 million postmodern fantasy built here last year to replace the tourist attraction's previous facility on Music Row. It was lured in by the city's redevelopment-district tax credits and land-acquisition help from the MDHA. Designed by the Nashville firm of Tuck Hinton to suggest a bent, upturned Dali-esque piano keyboard, with long windows where the black keys should be, it's a modern temple to pop culture. It will be difficult for civic historians of the future to contemplate that it was being built at exactly the same time as the classically styled library, which is just a couple of blocks away. Or another Tuck Hinton project, the art-deco Frist Center down the street, which opened about the same time and may be the most elaborate rehab project in Tennessee history.
Across town, of course, is something else Nashvillians have had a hard time getting used to, the huge Bicentennial Mall. Though underused and, despite its size, sometimes plumb vacant—some blame the park's fussy regulations banning bikes, skates, and skateboards—it's gorgeous, intelligent, and on a nice day with some curious kids, even fun. Tuck Hinton designed that one, too. Based in an old church in the SoBro district, Tuck Hinton has been a major influence on the shape of New Nashville.
Nashville's not far ahead of Knoxville in every regard, however. New urbanists speak of the "critical mass" of residential development that sustains a downtown, and Nashville's not there yet. Though a few high-profile Nashvillians do live downtown—among them the owner of the Nashville Predators and Steve Turner, the Dollar General Store philanthropist who runs Market Street Equities and heads the symphony project's building committee—Nashville hasn't been quick to resettle downtown. Several projects are in the works; MDHA is currently working with Affordable Housing Resources to develop 29 condominiums on a formerly blighted spot on Eighth Avenue.
Folks at the CDC say that when the Knoxville developer/architect team of David Dewhirst and Buzz Goss spoke at an Urban Design Forum in January, they were greeted as heroes. Nashville promoters were so impressed with the duo's Knoxville projects that they begged them to follow Schimmenti west.
Nashville's not too proud to take clues from smaller cities. They're frank about the fact that the Shelby Street Bridge project—behind schedule due to funding cutbacks, it is converting a former automobile bridge across the Cumberland River to strictly pedestrian use—is inspired by the success of Chattanooga's Walnut Street Bridge.
"We just have to get used to the fact that we're going to do stuff after Chattanooga," Schimmenti says. Chattanooga's still the regional leader in transforming a downtown through careful, coherent planning and millions of dollars.
Nashville actually began renovating its downtown in a big way long before Chattanooga did. Second Avenue started developing almost 30 years ago, when preservationists saved old Union Station, which eventually opened as a ritzy hotel, and developers began work on Second Avenue, the empty old steamboat-era warehouse district by the river.
In some respects Second Avenue currently resembles the Old City, not necessarily larger but flattened into two long, straight blocks; what were once brick Victorian-era warehouses are now restaurants and nightclubs. It even had a Banana Joe's, but that's now closed. Several of its addresses are quiet at the moment, and locals say it's not quite as thriving as it was several years ago, but, like the Old City, reports of its demise are exaggerated. Among its several businesses, besides Hooters, are a couple of especially durable ones: the Spaghetti Factory, the large restaurant that was nearly the only thing going on down here in the '70s, and the Market Street Brewery, which, at 13, may be the oldest brewpub in Tennessee.
Lumped in with lower Broadway, which has been a tourist mecca as long as anybody can remember, this part of Nashville is sometimes known as the District.
"Lower Broadway, Second Avenue, is all about tourism," says Schimmenti. "But it's good tourism, and a lot of fun." All's not well even with Nashville tourism. Planet Hollywood and NASCAR Cafe closed recently, after fairly short runs. Nashville's branch office of the Hard Rock Cafe still does business in the District.
Three historic theaters have been torn down in recent decades; Nashville currently has no historic theaters except for the Ryman. For the record, parking appears to be no more available, and a little more expensive, than in Knoxville. Schimmenti likes the bars in downtown Knoxville better than those in downtown Nashville.
But in most respects, downtown Nashville seems healthier, sustaining more of the basic amenities—convenience stores, drugstores, a bookstore, and the like—than downtown Knoxville does. Lunchtime sidewalks are just a little livelier. And, on the southern and eastern fringes, there are all those tourists, of which downtown Nashville will always have more.
The parts of Nashville that seem to work as a city, though, aren't either near the marble temples of the north side or the wacky palaces of the south side. The part that seems busiest at 3 o'clock on a weekday afternoon is on the dark old streets right in the middle, on Fourth and Fifth Avenues, where banks and old barber shops and smoke shops and Greek and Chinese cafes, and the roasted peanut shop in the glass-roofed alley known since 1903 as the Arcade, thrive—not just with map-toting tourists, or cellphone-accessoried bureaucrats, or nightclubbing bohos, but all of them, together, and more: the mix of people that makes cities interesting and worth the trouble.

January 31, 2002 * Vol. 12, No. 5
© 2002 Metro Pulse