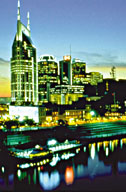 Introduction
Nashville: Open City
In the past decade, Nashville's local politics has moved from backrooms to front yards.
Bohos and SoBro and Really Big Shows
Downtown Nashville is still reinventing itself, but it has come a long way.
Capital-ism
Being the seat of state government has some advantages for Nashville
Noise in the 'Hood
Nashville neighborhoods are growing stronger— and so is their political clout.
Profit and Loss
The rapid growth of the Nashville entertainment scene over the last 10 years has been beneficial. But what has been lost?
---
Other related articles from this issue:
MUSIC FEATURE
They're From Knoxville
Do they find fame and fortune or lose their souls in the Music City?
ARTBEAT
Artfully Done
Nashville's Frist Center doesn't just house art— it is art.
SECRET HISTORY
Nashville vs. Knoxville
Reflections on a near-forgotten inter-city rivalry

To most Knoxvillians, Nashville represents one of about three things: the place where they keep trying to pass an income tax; the place where Chet and Roy (and those nice Everly boys, and a bunch more besides) ran off to; and the place where the Vols go to end their season on a happy note.
Nashville is all those things, of course. But even from across the Cumberland Plateau, it's been hard to avoid an awareness that things have been happening over there during the past 10 years or so. They got a football team. They opened a bunch of restaurants and clubs right in the middle of downtown. They started building a lot of big buildings. Even Music Row got all slick and spiffy.
There are some Knoxvillians who will never have much use for Nashville, because it's too flashy or snooty or just because it has too many Democrats. But for those who make the trip with open eyes and minds (and, ahem, wallets), the new, energetic Nashville can't help but seem impressive and a little daunting.
Curious about what exactly is going on in the "Athens of the South" these days, we set out to get some handle on where Nashville's been, where it's at, and where it's headed. Along the way, we ran into some familiar faces and some familiar concerns. One thing we discovered is that, despite the nickname, the "music" part of Music City is of secondary interest to most of the people who live there. Unless you're one of the people looking for a recording contract—or one of the much smaller number doling them out—the music industry occupies little more of your daily attention than, say, TVA does for Knoxvillians. Which is to say, you're aware of it, periodically concerned about its peaks and valleys, but as long as it keeps pumping out juice you don't give it much thought.
What Nashvillians do think about is the same stuff anyone does: where they live, where they work, where their tax dollars go, where they eat and drink and meet and play. With that in mind, we present our own best efforts at understanding the dynamics of our dynamic neighbor to the west—always with an eye to what our scruffy selves can learn from it. Next week, we'll go back to writing about our own backyard, we promise. (We'd also like to give special thanks to the staff of the Nashville Scene for their insight and assistance. Whatever's right owes a lot to them; whatever's wrong is our fault.)

January 31, 2002 * Vol. 12, No. 5
© 2002 Metro Pulse