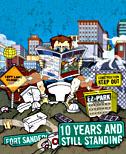 Insights
Joe Sullivan reflects on Metro Pulse's 10th Anniversary
Snarls
Scott McNutt listens to Metro Pulse's readers
Secret History
Jack Neely unlocks the mysteries of Metro Pulse mage Ian Blackburn
How Old Are You Now?
We asked some people what they thought about Metro Pulse turning ten
Through a Glass, Drunkly
A lot of people have worked at Metro Pulse over the past 10 years. Here's what some of them have to say about it.
Which Way Did They Go?
Metro Pulse alumni are scattered far and wide. And they never write us.
A Brief History of Metro Pulse
The 10-year timeline
Out of Context
Random bits of wheat and chaff from Metro Pulse, 1991-2001
Faces and Names
The Metro Pulse staff, 2001 edition (or the ones we could round up for photos, anyway)


We asked some people what they thought about us turning 10. Here's what they said. To our faces, anyway.
Is it just me, or does every southerner harbor a secret longing for cornpone? When I first encountered Metro Pulse I felt slightly annoyed without knowing why. I knew immediately that this was something new, something rare and important and necessary, but somehow the tone, the pose, the polish, the prose—and by extension perhaps even the very people—seemed slightly out of place, too good, tinged perhaps with a bit of the ultimate heresy: Them Metro Pulse boys...they ain't from around here, are they? Too much of the smart-ass. Too much trouble stirring around. Now, 10 years later, I revel in every barb and bite. Why? Partly because these Pulsers are from around here, it turns out. They're stuck here. They roll around in the grimy parts and get covered in dust and morons. The past ain't even past—that's the theme; these folks just say it with an acquired accent, that's all. They went away to college and came home talking funny. Surely by now we can see that they keep their southern drawls slinking around inside themselves, ready to pounce when the time is right, the way good southerners do. They know the joke. The paradox and the beauty goes like this: home from college, they'll remain perpetual outsiders in this town, even as they run their fingers across muscles we forgot we had. Isn't that a good thing? And isn't it so Southern it just makes you want to sing? Or puke? Or puke and sing? The cornpone has arugula in it. It's polenta now—done just right, so get used to it. Crave straight-up pone? Well, we still got the Sentinel, the Cracker Barrel, the Dogwood Arts Festival with all those pictures of cows and barns and abandoned plows. Knoxville's got it all, folks. Pass the molasses and smile real big for your momma.
—Brian Griffin, author,UT Writer-in-Residence
---
I consider Metro Pulse the beginning of my week. I like to take a fresh edition on Thursday afternoon along with a copy of the News Sentinel and the New York Times to Tomato Head and submerge for awhile. With this, coffee, and a few slices of tofu, I am sufficiently charged for another week in Knoxville. Metro Pulse digs much deeper to the things that matter to me: the grass-roots arts scene, the witty commentary, the usual that one gets from a good city paper. It tells me if I might end up on a dance floor on Thursday night, and I enjoy the ads, except the ones that feature "exotic" females, and love to see news of some new restaurant or music venue. Of course, I am just attracted to the basic attitude that reflects the staff. Metro Pulse has a great aura and a vibrant energy flow. My political and other opinions are often refined by reading Metro Pulse, and I just love it when the reviewer trashes some awful movie—Zak has made me laugh out many a time. I always sink into a Neely column because it appeals to my sentimental side, as I have been a downtown resident for most of the years beginning in 1972. And I am always eager for another dose of the McNutt guy.
—Cynthia Markert, artist
---
One of the things that Metro Pulse has fostered, indirectly, is a greater knowledge of and interest in Knoxville's history and architecture. It's a voice that, at least in part, looks at our past, with humor and pride.
—Ann Bennett, planner, Metropolitan Planning Commission
---
It's hard to imagine Knoxville without Metro Pulse. And of course, it's hard to imagine Metro Pulse without Knoxville. It's like a married couple where each partner tries to keep the other in line. Kind of like Bill and Hillary, with Knoxville playing the part of Bill. I'm not sure this makes any sense. In any case, happy birthday, glad you're still here.
—Todd Steed, musician
---
WOW! Metro Pulse...10 years old???! Don't blame me...Who would have thunk it? Congratulations to everyone for the blood, sweat, tears, and sheer ornery stubbornness that has brought Knoxville an alternative voice for a decade now. Thanks for all the laughs, the memories, the fun, the insight, the news, and all of the help in promoting our shows! May there be 100 more.
—Ashley Capps, music promoter (and Metro Pulse co-founder)
---
Metro Pulse is a highlight every week. I read most of it, and have been known to assign stories for students to read.
I travel a great deal and I've seen few newpapers of this type that are as good as Metro Pulse, even in much larger cities. You certainly won't find better writers. Metro Pulse gives the city a sense of place, a sense of its history and potential. I find myself clipping articles and saving them, or passing them along to friends. Metro Pulse is one of the best things about Knoxville.
—Paul Ashdown, acting director, UT School of Journalism and Public Relations.
---
Throughout the past 10 years, Metro Pulse has infused a unique perspective into the profile of our local media, some on which I have concurred. Of note, for example, is their endorsement of returning the current mayor to office in the 1999 elections.
Best wishes for your continued success, and thanks for making Thursday more than just the day before TGIF.
—Mayor Victor Ashe
---
I'm honored to give my blackest and most heartfelt congratulations on creating a very fine local forum. Your paper helps make this a much more tolerable and entertaining hell-hole. I mean, I'd love to bitch...I am a bitch. But here I can't. Like everyone else I know, I turn to your entertainment calendar to see what's going on locally. I also find well written pieces about interesting local concerns on a damned regular basis. As a newspaper you have more balls than most and you've given me the giggles countless times. You've been very very nice to my creepy-ass bands and I am truly grateful for your coverage and listings of local open mics and such. I particularly liked your review of Evil Twin's show with the Impotent Sea Snakes, and your putting us on the opposite end of the cultural spectrum from the Vols. That was too kind. You freaks. Hell. I could go on for hours if I had that kind of attention span, but oh well...I do poems, not novels.
All right...I do get a little uncomfortable when you guys call me a nice person. My dog Guinness knows better. She gets to hear me bitch about hillbilly Christians every drunken evening, but hell...like I said before, you guys give me the giggles. What the f—- more can a freak ask for?
Happy f——-n birthday, Metro Pulse!!!! You've made yourself a very vital part of this scruffy city. Thank you, freaks, and keep doing what you do. Cheers!!!!!!!
—Rus Harper, musician, poet, freak
---
If the Food & Drug Administration is going to regulate nicotine, it ought to regulate Metro Pulse as well. In my view, it's even more addictive. And there's no patch!
— Bruce Wheeler, UT professor of history and co-author of Knoxville, Tennessee: Continuity and Change In an Appalachian City
---
The alternative press has always interested me, wherever I travel—or live. I may not agree with every article or opinion, but it provides fresh viewpoints from which to discover nooks and crannies often overlooked in the more public records. Metro Pulse helps us understand that the major part of the word history is story.
— Wilma Dykeman, author and Tennessee state historian
---
There's two great things about Thursdays—Metro Pulse comes out and Fungi & Mold. One feeds your curiosity about what's happening in Knoxville, and the other feeds your soul.
—Terri Korom, owner Crescent Moon Café
---
For me, being a columnist (rather than a full-time writer) for Metro Pulse is like being an aunt instead of a mother. When the baby—our paper—has spit up or taken a spill, I've not always suffered directly. But I remember its first steps and have enjoyed watching it grow into a healthy, bouncing publication that I'm proud to be associated with. I'm there for it as long as it needs me.
—Heather Joyner, art critic, sophisticate, globe-trotter
---
In 1997, the Metro Pulse began covering the goings on of the Actors Co-op. Through coverage and support of Metro Pulse, the Co-op has been able to grow tremendously. Thanks Metro Pulse for all you do for the little guy. Happy Birthday!
—Amy Hubbard, artistic director, Actors Co-op
---
To our companions in armed struggle in Knoxville, men and women who continue their pitched battle against poverty, injustice, the geniuses at the daily paper, various and sundry low-rent hack politicos and S.E.C. teams who dare tread upon Knoxville soil, we hereby wish you a happy 10th birthday.
We at the Nashville Scene have been in business 12 years now, a tad longer than you. We know where you've been. Hangovers, fights, flare-ups, upset advertisers, libel threats, angry-mayor-on-line-three, the rush of breaking a story, the thrill of knowing the daily is watching you...These are the things that have made our lives. We have an inkling they've filled your lives too.
What romance! What instability! If it weren't for the high wages, we'd all do something else.
In conclusion, let me come clean. When we first started getting your paper, many of us here were stricken with envy. Your design was startlingly first-rate. And your writing was absolutely prosaic.
Keep the faith.
—Bruce Dobie, editor and publisher, Nashville Scene
---
Congratulations and best wishes to Metro Pulse on its 10th anniversary. You are a vital contributor to the quality of life in our community through your sharp, enlightened, succinct, sometimes irreverent and controversial ( characteristics I appreciate) writing. The diversity of your coverage of areas such as history, politics, education, statewide issues, the arts, entertainment, and juicy insights are both informative and enjoyable. Keep up the good work, and may you have many more birthdays in the future.
—Bill Snyder, Chancellor Emeritus and professor of engineering, University of Tennessee
---
Congratulations on your 10th anniversary. Knoxville wouldn't be the same without Metro Pulse. Those of us who have been privileged to be sometimes scorned and sometimes praised know first-hand Metro Pulse's impact.
—Mike Ragsdale, former county commissioner
---
Best wishes on your 10th birthday. A copy of your cover story, "Ben Atchley and the 10 Commandments," is framed on the wall of my office in Nashville and serves as a constant reminder of how much Metro Pulse means to me.
—State Sen. Ben Atchley
---
Thanks for giving us 10 years of well-researched, in-depth and comprehensive coverage of our local issues and culture. If it's Thursday morning—I'm reading Metro Pulse.
—Madeline Rogero, executive director of Knoxville's Promise
---
The first word that popped into my head was "courage." It has taken a lot of courage, first of all, to maintain a presence as a weekly paper in town. A lot of people would have just folded up their tents and gone home. And sometimes the kind of things you write about, it takes courage to go after them. The other word would be contemporary. Sometimes a bit controversial, sometimes classy. But I'm glad Metro Pulse exists, because it does something different.
Happy anniversary.
—Hallerin Hill, host of "The Hallerin Hill Show" on WNOX
---
I always read the "Ear to the Ground," even if I don't read anything else. I really like it because usually it is about the story behind the story, which a lot of times is more interesting than the actual event. I also love "Secret History." In general, Metro Pulse is important to Knoxville because you report on neighborhoods and preservation, and seem to be aware of why neighborhood preservation is important, and you're focusing on the quality of life in Knoxville.
—Randall Deford, president of the Historic Fort Sanders Neighborhood Association
---
It's been a viable and vital part of our community for the last 10 years. It's delved into issues that the other papers don't deal with...It opens it up to different voices, gives their views. I can't think of anything off-hand [in terms of] disgruntlement. I'm sure there is some. But it's an important part of our community. I pray and wish it has 10 more years.
—Umoja Abdul-Ahad, local activist
---
I never thought a newspaper would be one of my best friends. In some weird, alternative universe sort of way, though, Metro Pulse is just that—a good friend. When I'm gone, I miss it. I can't imagine life without it. Metro Pulse is a big part of what connects me to the community and keeps me here. Just like my people friends. Happy 10th anniversary, MP!
—Robert Loest, maverick investor
---
Happy Birthday Metro Pulse! Knoxville would have been lost without your guidance the past 10 years! Thanks for providing East Tennessee news that matters. I still have some of the first copies of Metro Pulse, and it is fun to look back and reminisce. May you continue to thrive for many precious and lovely years to come.
—Knox~Belle, www.easttngothic.com
---
I want to congratulate Metro Pulse on its 10th anniversary. Community newspapers such as Metro Pulse have played an important role in our nation's history since its birth. I have heard for many years that 80 percent of all small businesses fail within the first five years. For Metro Pulse to grow and prosper as it has, especially in such a tough business, is quite an accomplishment.
As a former newspaper reporter and journalism teacher, I greatly admire and respect the lively, attractive and informative product you publish. I especially enjoy the articles on Knoxville's history written by Jack Neely.
The Knoxville area, to me, is one of the best places to live in the entire world, but we should always try to help make our community a little better. I believe Metro Pulse and I share this goal, and you certainly have my best wishes for a future which outshines even the accomplishments of the past 10 years.
—Congressman John J. Duncan, Jr.
---
Metro Pulse is refreshing and informative. It is feisty and calls a spade a spade. I appreciate the attention it gives to issues that the other media are apt to ignore.
—Bob Booker, author, music authority, and erstwhile politician
---
Congratulations! I think you are doing a great job. You touch on things the other newspaper doesn't, and I enjoy reading it. You do some great research.
—Gus Regas, restaurateur
---
It was obvious to us 10 years ago that Metro Pulse was different from the other fledgling alternative weeklies of the time. The issues covered were broader, writing smarter and focus sharper. That remains true today, except that you are now competing with our only daily. Metro Pulse is an irreplaceable community asset which is as responsible for the current level of civic activism as anything we have done, including k2k. Thanx for your commitment to making Knoxville better, and here's to many more years.
—buZZ goss and cherie piercy-goss, co-founders of K2K and Goss Piercy Goss Architecture
---
For 10 years, Metro Pulse has been the voice of conscience and concern around issues that impact lives in Knoxville. We needed a voice that presents information from the citizens' perspective, and Metro Pulse meets that need.
—The Rev. Harold Middlebrook, pastor, Canaan Baptist Church
---
Metro Pulse is a big community asset, especially when it's positive.
—Jim Haslam, man behind the curtain
---
Every community the size of Knoxville/Knox County needs alternative viewpoints on the news. In Knoxville this vital service has been performed by Metro Pulse. Probing, in-depth investigative journalism, lively commentary on the cultural and entertainment scene, wrapped in a package of inventive and clever graphics, have been the hallmark of Metro Pulse for 10 years. Knoxvillians would be poorer without it.
—Mike Moyers, Knox County Law Director
---
We appreciate the Metro Pulse fostering a dialogue on issues of importance to the community. As a nationally accredited law enforcement agency, working with the citizens through community policing is the cornerstone of our efforts to make neighborhoods safer.
—Phil Keith, Knoxville Chief of Police
---

August 2, 2001 * Vol. 11, No. 31
© 2001 Metro Pulse