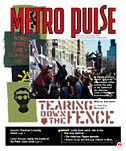 Last month, a small group of Knoxvillians joined thousands of other protesters from across the Americas in street demonstrations against free trade in Quebec City. Jesse Fox Mayshark rode along with some of them to find out what the fighting's all about. There are, as it turns out, no easy answers. Matthew T. Everett catches up on new things happening in the Old City
Plus: Seven Days, Meet your City, and Knoxville Found.

Joe Sullivan finds TennCare still in critical condition in Insights, Scott McNutt gets some French lessons in Snarls, and Jack Neely visits the home of Knoxville's most prestigious literary award in Secret History.

Yes, people in South Knoxville know the rest of you make jokes about them. They don't care; they know they've got plenty to be proud of. And just to prove it, they're having an arts and culture festival this weekend in Vestal. Jack Neely reports on the very first Vestival.

Matthew T. Everett finds there's no cure for The American Plague in the Music Feature, while Eye on the Scene checks in with the WDVX Camperfest. Paige M. Travis gets all choked up at the mom-friendly Mother's Day Matinee in Backstage. Speaking of moms, Jeanne McDonald finds plenty of them—along with the rest of the family—in new books by Southern writers William Gay and Tim Parrish in Pulp.
©1996-2001 Ian Blackburn
Portions ©1991-2001 Metro Publications Inc.
No part of Metro Pulse Online may be reproduced
without written permission, etc., etc., blah, blah, blah.
Metro Pulse Online is best viewed with some sort of web browser.