Show me a unique nuclear tribe
by Jeanne McDonald
"All happy families," Tolstoy wrote in Anna Karenina, "resemble one another; every unhappy family is unhappy in its own fashion."
Have you ever received a duplicated Christmas letter from a happy family? All the news is good: Their son is training for the Olympics; their daughter is a rocket scientist married to a movie star; and Daddy is flying the whole family to Paris for Christmas. On the Concord.
Mom, who doesn't work outside the home, spends her year writing the fiction that annually appears as the happy family Christmas letter.
Once in a blue holiday, there's a twist on that kind of news. One year I actually received an unhappy family Christmas print-out. An old friend reported that her son had just attempted suicide; her second oldest daughter had left home and hadn't called for two years; and her husband had suffered a life-threatening heart attack. The news was upsetting, but at least it was honest.
Except for Fleming, the 17-year-old protagonist, nobody, I mean nobody, is happy, successful, or even very nice in the Bloodworth family, portrayed in Hohenwald, Tenn., author William Gay's new novel, Provinces of Night (Doubleday, $23.95). In an interview with Beth Dickey in the Spring 2001 Arts Tennessee, Gay confesses that his inspiration to write Provinces sprang from loneliness after his wife decided she wanted some time away from the marriage. So he was left with nobody to talk to and nothing to do but write the novel. In long hand. In eight months.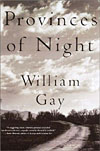 If Fleming Bloodworth had sent out a family Christmas card, it would have sounded like this: "Christmas, 1952, Ackerman's Field, Tennessee: Grandpa has returned home after a 20-year-absence, when he escaped from deputies' guns by using Grandma as a human shield. Raven Lee Halfacre, the girl I love, is pregnant by my cousin Neal, and Warren, his alcoholic daddy, spends most of his time frequenting honky-tonks. Uncle Brady is a religious fanatic who puts hexes on people. Mamma left home with another man, and Daddy has gone looking for them with the intent to kill.
"Oh. And I burned our house down. Merry Christmas. Fleming."
Despite all this violence and destruction, Gay shapes a superb novel, demonstrating flashes of the kind of literary panache that characterizes the work of Cormac McCarthy. In fact, it was a line from McCarthy's novel, Child of God, that provided Gay's title: "Were there darker provinces of night he would have found them." Gay has even been compared to Faulkner, and though his prose occasionally borders on the flamboyant, he is a wonderful detailist who seduces his readers directly into his intricately constructed scenes, fulfilling Faulkner's charge to write about "the problems of the human heart in conflict with itself."
There is also both beauty and violence in Tim Parrish's succinct collection, Red Stick Men (University Press of Mississippi, $22), in which most of the nine stories touch on the lives of an unhappy blue-collar family as seen through the eyes of sons Jeb and Bob. The disillusionment of their hard-working father, the bitterness of Vietnam veteran Bob, and the bravery of their terminally ill mother are all reflected through Jeb's attempts to make sense of what is essentially a basic middle-class life. Parrish's terse prose addresses the rawest aspects of life in Baton Rouge, historically called "Red Stick" because of the bloodstained tree used by Indians as a tribal boundary.

If you've ever been to Baton Rouge, you can appreciate how perfectly the author captures its environmental essence—incessant humidity that hugs your body like a damp second skin, refinery pollution that paints the air an acrid yellow, and the arrogant attitude of the Mississippi River, which periodically leaps its banks to overwhelm the city with its devastating floods. But it's mostly man's devastation that permeates the rough-hewn lives in this book. Racism and bigotry, incest, domestic violence, and a general hopelessness are stitched into the stories with a precise hand.
Parrish, who lived in Baton Rouge for 27 years, worked as a roustabout on an offshore oil rig, a counter man in a post office/hardware store, and a laborer in a chemical plant. Now director of creative writing at Southern Connecticut State University, he still uses those blue-collar memories in his stories, proving that the impressions we gather growing up are often more vivid than the lives we lived only yesterday.
Happy or unhappy, the families in both these books are, after all, merely people trying to make the best lives they can. Just like the rest of us.

May 10, 2001 * Vol. 11, No. 19
© 2001 Metro Pulse