Illustration by Bob Clouse
Photographs by Ed Richardson

Mega-Bests
Movers of Merchandise and Services
Purveyors of Arts and Entertainment

Mega-Bests
Knoxvillian of the Year
DANNY MAYFIELD
A lot has been said and written over the past month about the legacy of City Councilman Danny Mayfield, who died in March at the age of 32 after a long, recurring bout with cancer. But most of the talk has been surprisingly vague, invoking his "dream" and his "legacy" in broad, undefined terms.
So what did Danny Mayfield mean to Knoxville? The best answer probably comes from Danny himself. When he was running for City Council in 1997, in a race against an entrenched incumbent that almost nobody thought he could win, he said, "I'm naive enough to think I can make a difference." He never really got the chance to deliver on that belief—he was hampered at first by Mayor Victor Ashe and his lockstep Council marionettes, who were outraged at Mayfield's upset victory, and then by illness. But his youth and enthusiasm, even when they led to windmill-tilting (e.g. his 1999 mayoral campaign), left a mark. In a city where most of the voting population seems to have surrendered to cynicism or apathy, Mayfield showed there were other ways to do things.
He was naive, and he reminded us that naiveté is an underrated quality. He thought he could make a difference, and he did. And for that, our readers named him Knoxvillian of the Year.
(Runners Up: Bill Williams of WBIR, Bob Krusen of New Knoxville Brewing Co.)
Best Local Music
Best Rock Band/Best Male Vocalist/Best Website
SURFACE/TRAVIS CARDWELL/SURFACEROCK.COM
And this year's award for best local music act goes to...Surface, a band that none of us here at MP has ever heard of before. But win they did, sweeping the Best Rock Band, Best Male Vocalist (for lead howler Travis Cardwell) and Best Website (for their band-page at www.surfacerock.com) to boot. What this says...we don't know. But the Surface-rs won nonetheless and we've since gleaned that they're an apparently very dedicated four-piece local heavy rock outfit, and that they've recently done well in the O'Charley's Restaurant Battle of the Bands Contest. Special mention should be given to Gran Torino in Best Music, as Knoxville's chief funk export technically received the most votes; due to our three-year moratorium on winners from that particular category, however, Torino wasn't eligible this year. Other notable faves who ranked highly in our music polls include jazz piano maestro Donald Brown, lovely swing 'n' country chanteuse Robinella and her CC String Band, and poet/roots rocker R.B. Morris.
As for the website victory, we must admit that the Surface site features some nifty design and splashy "flash" graphics, but several of us had technical difficulties in our attempts to access it. Try to work out those bugs, guys.
(Best Local Music Runners Up: Robinella and the CC String Band, Donald Brown.
Best Rock Runners Up: Left Foot Down, Gran Torino.
Best Male Vocalist Runners Up: Kenny Chesney, R.B. Morris.
Best Website Runners Up: Salon Visage, Ipix.)
Best Restaurant
Best Desserts
MELTING POT
There's just something decadent and downright sexy about plucking morsels of hot food off of the tips of tiny spears. It's nice to know that it is not just us who shiver with delight at the prospect of descending into this delightfully dark den in the Old City; the rest of Knoxville loves the Melting Pot, too.
Try the Big Night Out, a nightly special that includes an opening cheese fondue—either cheddar or Swiss, a green or mushroom-topped salad, a main course hot pot—usually chunks of meat and veggies that can be cooked in hot oil or court bouillon and dipped in a dozen different sauces, followed up by everyone's favorite dessert, a chocolate fondue.
This finale fondue can be dark or white, with liquor or without, but always features fresh fruit, cheesecake and brownie hunks, and the smallest marshmallows you've ever seen—ready and willing to be poked and dipped. Mmmmmmm.
(Best Restaurant Runners Up: Bistro by the Tracks, Naples;
Best Desserts Runners Up: Litton's, Naples)
Best Local Store
Best Thrift Store
Best Casual Clothing Store
PLANET X CHANGE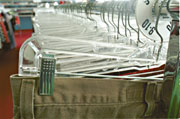 OK, say, you like to look sharp, whether it be by wearing the latest fashions or (even better) by creating your own look out of a mishmash of styles past, present, future and never. But you've also got something like a conscience—you don't like the way our society obsesses over cheap, consumable goods (most of which wind up in a landfill in short order) and grossly exploits Third World workers to satisfy those greedy desires. Plus, you hate the mall and don't have a lot of money. What are you supposed to do? You do like the readers who voted Planet X Change tops in three categories. Planet X Change doesn't just offer great threads at dirt cheap prices, it pitches a way of life that's kinder to the environment (forego a bag, and Planet X Change will donate to one of three charities). More philosophically, it's an approach that doesn't view the world as cheap and disposable. And it gives you a place to take the clothes you've outgrown, to trade in for fresher duds. Planet X Change's concept isn't unique. And they're certainly not the cheapest used clothing store in town. But, you know the things you'll find here are high quality.
(Best Store Runners Up: Green Earth Emporium, Westwood;
Best Thrift Runners Up: Goodwill, Repeat Boutique, Smart Cents;
Best Casual Clothing Runners Up: Gap, Old Navy.)
Who Would You Vote Out of Knoxville?
MAYOR VICTOR ASHE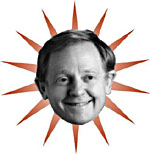 We expected this result, really. But even the Ashe-bashers here at Metro Pulse were stunned by the magnitude and decisiveness of our long-long-longtime mayor's, uh, triumph in this category. He didn't just win the dubious distinction of virtual expatriation—he got 10 times the votes of any other finishers, including such quasi-contenders as Sheriff Tim Hutchison, ex-UT basketball coach Jerry Green and downtown developers Worsham and Watkins.
What can account for the depth of antipathy toward a guy who has been elected four times, most recently by overwhelming margins? Well, there is the old saw about familiarity breeding contempt. There's also Ashe's famous petulance, prominently displayed at City Council meetings, on the K2K Internet forum and pretty much everywhere else—the guy lets no slight go unreturned. He doesn't hold grudges so much as collect them. For example, when we asked him for a response to the poll, he wisecracked, "How many times did you let Betty Bean vote?" (Metro Pulse contributing editor Betty Bean is a well-documented critic of the mayor. As far as we know, she didn't vote.)
Voters themselves offered an array of reasons: "Lack of vision and leadership," "Knoxville needs a change," "The man runs a good-sized city like it's Mayberry," "He's a bored old white man," "My cat would be a better mayor." Most common was some variation on "For obvious reasons."
Coincidentally, we're bestowing this honor on his honor the same week a group of citizens has started a petition effort to recall him from office. The mayor appears sanguine about the threat. Maybe he wouldn't if we forwarded him the ballots...

April 26, 2001 * Vol. 11, No. 17
© 2001 Metro Pulse