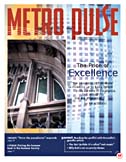 When J. Wade Gilley assumed the presidency of the University of Tennessee, he proposed major investments to make it one of the top public universities in the nation. With the announcement of funding for nine Centers of Excellence last month, he seemingly took a major step toward that goal. But as Mike Gibson reports, the amount and manner of funding for the programs is still problematic. Is UT moving in the right direction, and is it moving fast enough? Barry Henderson sniffs out the latest developments in the Humane Society saga, and Jesse Fox Mayshark follows the rocky road of the Coster Shop redevelopment.
Plus: Seven Days, Meet your City, and Knoxville Found.

In a special guest appearance, Mayor Victor Ashe tells us why he's not a pussyfooter in Insights, while Jesse Fox Mayshark talks with Gene Patterson about the politics/journalism revolving door in Media Blitz, and Jack Neely explains how to pronounce Krutch—and why— in Secret History.

When you want to see art, you go to a museum or a gallery, right? Well, maybe. Or maybe you go to a railyard or an interstate overpass, where Knoxville's graffiti artists leave their spray-painted marks. Joe Tarr talks with some of our resident taggers and assesses their work.

Matthew T. Everett finds reasons to love rock again with the Get Up Kids in the Music Feature. Eye on the Scene finds a local Sundance kid. Theatre Central hasn't necessarily built a better Mousetrap, but Paige M. Travis says it's good enough in Backstage. Jesse Fox Mayshark and Joe Tarr give a listen to new releases including Bright Eyes, Jay-Z, and the soundtrack to O Brother Where Art Thou? in Platters. Brand-new Metro Pulse food fanatic Ally Carte makes her debut with a visit to China Noodle (It's good!) in Restaurant Rover.
©1996-2001 Ian Blackburn
Portions ©1991-2001 Metro Publications Inc.
No part of Metro Pulse Online may be reproduced
without written permission, etc., etc., blah, blah, blah.
Metro Pulse Online is best viewed with some sort of web browser.