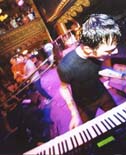 Who:
The Get Up Kids, opening for Green Day
When:
Thursday, Jan. 18 at 8 p.m.
Where:
Civic Coliseum
How Much:$25 at Tickets Unlimited Outlets or 656-4444

The Get Up Kids grow up
The Get Up Kids play punchy three-minute chunks of power-chord guitar pop, with lyrics mostly about love and romantic relationships. If their music's not exactly inventive, it's cathartic, a swath of guitar fuzz and baldly heart-on-sleeve vocals. The music's grown over the past four years, as the Get Up Kids have become adults and bought houses and, at least for frontman Matt Pryor, gotten married. But if their last release, 1999's Something to Write Home About, is more polished than their first homemade single ("Shorty," from 1996) or their full-length debut (Four Minute Mile, from 1997), it still has the bounding adolescent energy of those earlier releases.
It's that combination of pop-punk and just plain pop sensibilities that's propelled the Get Up Kids—Pryor, guitarist Jim Suptic, bassist Robbie Pope, drummer Ryan Pope, and James Dewees on keyboards—to their spot as the unofficial standard-bearers of American indie rock, at least of the nebulous emo variety. A year and a half after its release on the band's own Heroes & Villains imprint on Vagrant Records, Something to Write Home About has sold more than 70,000 copies, and still sells well, a remarkable tally for an independent album. "Everybody at Vagrant is wondering, 'Who doesn't already have this record who wants it?'" Pryor says.
Press for the Get Up Kids has been almost unanimously positive, playing them up as romantic alterna-heartthrobs and saviors of a desultory indie scene. But their status as critical favorites has also led to unavoidable backlash from fans who feel the band has strayed too far from its punk beginnings.
"We were getting that five years ago," Pryor says. "After our first 7-inch came out, everybody said it was awesome, and then when the first album came out, some people said the 7-inch was better. I do this because I like it. I don't do it for anyone else. If it helps you get further in life to say you don't like us, more power to you."
In the next few months, the number of both their fans and detractors is likely to increase. They've just set out on a two-and-a-half week stint opening for Green Day, and they'll support a leg of Weezer's tour in February and March before returning to the studio this summer to work on a long-awaited new album.
"They'll be the biggest shows we've ever played on a consistent basis," Pryor says from his home in Lawrence, Kansas. "We did some festivals in Europe that were along the same sort of capacity, but it'll be weird. I don't really know what to expect...We've never played these kinds of places before."
There have been ugly incidents playing at big shows where the Get Up Kids' not-quite-mainstream music wasn't fully appreciated—like a radio station-sponsored festival in Boston, where the crowd threw food and change at the band members while they were onstage. "I got hit in the head with a pretzel," Pryor says. "But we did get about five dollars in change out of the deal. That's enough for a couple of packs of smokes."
At least the Kids are used to being on the road. In 1998, following the release of Something to Write Home About, the band played more than 200 shows, whizzing across the U.S. and Europe as headliners and in support of bands like Jimmy Eat World and Rocket from the Crypt. But that's not a schedule Pryor wants to keep up.
"One of the things when we started this band was that none of us had anything to do," he says. "Now we enjoy being at home. I got married this year, and James got engaged, and the other guys have serious girlfriends, so home's not so bad."
But he is in a rock band, so there's no way to avoid the timeless calendar of the recording artist: "Record, tour, tour, tour, record, tour some more," Pryor says. "That's it. I keep telling people, I've accomplished everything I set out to do with this band. Everything else is gravy. My main goal was to get out of Kansas City and play music and eventually do it for a living."

January 11, 2001 * Vol. 11, No. 2
© 2001 Metro Pulse