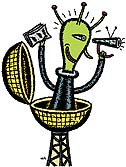 Goods & Services
Arts & Entertainment
Food & Drink
Music & Clubs
Media
Knoxvegas


Best Local Release
Superdrag, Head Trip In Every Key
While it's not exactly a local release, the sophomore major label effort from Knoxville's Superdrag is certainly worthy of the accolade. a sprawling amalgam of winsome power pop, toked-up head music, and tough, hooky modern rock, Head Trip is easily the best of the band's three exceptional releases.
Runners Up: Gran Torino, V-Roys, 30 Amp Fuse
Best Dance Club
Best Club DJ
The Underground, D.J. Stormboy
The dance cavern at the corner of Jackson and Gay once again proved the favorite among Knoxvillians with happy feet. With its appealing combination of cutting-edge techno beats and ever-changing stylishly freaky decor, it easily outdistanced downtown's swank Lord Lindsey and country dance warehouse Cotton-Eyed Joe's out west.
Of course, it's only fitting that the city's best dance club should have the city's best club DJ, and long-time local favorite Stormboy successfully defended his top-jock crown for yet another year. This one was a runaway, as the lanky spinner vastly outpaced fellow Underground knob-twiddlers Slink and Statik.
Runners Up: Dance Club—Lord Lindsey/The Closet, Cotton Eyed Joe's, Electric Ballroom; DJ—Slink, Statik
Best Blues Band
Hector Quirko Band
Hector's been playing da blues in these parts for more years than we care to remember now, and he carries off the title one more time, beating out past winners Crawdaddy (which, sadly, broke up last year) and blues/jazz/groove quintet the Boogeymen. His band is rock solid, and his vocals are smooth and blues-approved. But the real star of the Quirko band is Hector's axe-slinging. Terse, nimble, and full of verve, it's the real deal.
Runners Up: Crawdaddy, Boogeymen
Best Rock Club
Barley & Hopps
B&H shoots right to the top after only a year in business. Of course, the closing of last year's winner, The Mercury Theatre, didn't hurt. But B&H has plenty going for it on its own, what with a great sound system that all the bands dig, an impressive list of performers (from Superdrag to the Bad Livers, Boy Genius to Matthew Sweet), a wide beer selection, and—this might have been the clincher—clean bathrooms with a full range of amenities like doors and sinks. Porter, the bar's mascot of a black lab, doesn't seem to like all the rockin' upstairs, but the rest of Knoxville does.
Runners Up: Neptune, Flamingo's
Best Dive
Toddy's
Precariously balanced atop a Kingston Pike liquor store, Toddy's offers a refreshingly low-key atmosphere along with its surprisingly deep (and pretty cheap, too) beer selection. The popcorn and peanuts add some authenticity, and the jukebox is among the best in town (Patsy Cline and Frank Sinatra alongside The Stones' Hot Rocks). Friday and Saturday nights are packed with a post-collegiate white-collar crowd, and football weekends are even more crowded. To truly appreciate Toddy's, visit on a Sunday afternoon to catch a baseball game—and don't miss all the pictures of former bartender Deana Carter.
Runners Up: Longbranch, The Spot
Best Bluegrass Band
Back Porch Rockers
Here in the town where Flatt and Scruggs kept their home office, it's a little sad that relatively few people voted in this category. We're sure it's at least partly because since the unnatural death of Marcus' Pizza, bluegrass venues have been scarce in town. But those that did vote picked some old Marcus-era favorites, the Back Porch Rockers. Their interpretations aren't always orthodox, specializing in sometimes loony, sometimes lovely bluegrass takes on pop songs—think of them as a hillbilly Chronos Quartet—but they do it well enough that we doubt the Rockers are losing any sleep contending with Bill Monroe's ghost. Try their 1997 CD Come On Around Back!, which includes standards but also a startling version of the Jackson 5's classic, "I Want You Back."
Runners Up: One Way Track, Blue Highway
Best Jazz Band
Donald Brown
Pop quiz: What Knoxvillian has the most internationally released CDs? Superdrag? The V-Roys? Actually, it's pianist/keyboardist Donald Brown. And our readers' answer to the question of "What's Knoxville's Best Jazz Band?" was, resoundingly, any band with Donald Brown in it. It's a big deal when Brown plays in New York or the south of France, but here in town he shows up almost everywhere, from Lucille's to the KMA to Baker-Peters. His enthusiasm for the music he plays is infectious, and is almost certainly a big part of the revival of interest in jazz in the decade or so he has lived here. Take him for granted if you want to, as long as you take every chance you get to hear him play.
Runners Up: Jazz Liberation Quartet, Marcus Shirley
Best Rock Band
Best Country Band
Best Male Vocalist
Best Songwriter
The V-Roys, featuring Scott Miller
Steve Earle's favorite Tennessee rock band is ours, too. Once again, the V-Roys (formerly, and as far as we're concerned, forever, the Viceroys) won best rock band and best country band. four guys who wear ties maybe because they all actually had real jobs before they were rock stars, the V-Roys play turbocharged country-influenced pop and rock 'n' roll that has an appeal well beyond the usual nightclub demographic—proof that grown men can still rock just like they can race stock cars. watch for the V-Roys second national-release CD this summer on the Warner Brothers label, the follow-up to their thoroughly great 1996 release Just Add Ice. (We've nearly worn out our copy and haven't gotten tired of it yet.)
Horny soul/funk big band Gran Torino came in second in the rock-band category, with national heartthrobs Superdrag in third—though, to be fair, our balloting was just before their new release.
The V-Roys' Scott Miller is also your favorite vocalist, with Superdrag's John Davis second. Known for his hard-edged, often quirky lyrics, Lonesome Scott's also your favorite songwriter (he writes about two-thirds of the V-Roys' songs), with folk-rock poet/performer R.B. Morris (whose debut CD, Take That Ride, was released to national raves last summer) close on his heels.
Best Female Vocalist
Nancy Brennan Strange
She's been around. She's one of the very few whose names were inscribed on the Treble Clef monument who are still alive, not to mention still in Knoxville. She's sung folk, blues, rock 'n' roll, and country over the last 25 years or so, but singer Nancy Brennan Strange seems to have found her niche with jazz and torch songs. Her 1995 CD Les Etoiles Mysterieuse (recorded with Best Jazz performer Donald Brown) is a collection of easy-going jazz and pop standards.
Runners Up: Sara Jordan, Jacqui Alexander (of Tumble Kings fame)
Best Gay Club
Carousel II
Despite the all-too-prevalent attitude that caused one respondent to write "you should be ashamed for asking" in the space for Best Gay Club on her ballot, there is a substantial gay and lesbian community in Knoxville, and the second incarnation of the Carousel on White Avenue might be its epicenter. Other Knoxville gay clubs have come and gone over the last 16 years, but the Carousel has been keeping it real the whole time with its sunken dance floor, drag shows, and beer busts; thereby making the Carousel the oldest gay club in the state and a legend on the national gay and lesbian scene. The doors are open seven nights a week from 9 to 3 to shake your booty, no matter what sexual preference your booty might hold.
Runners Up: Electric Ballroom, Ivana's/Trumps
Best Jazz Club
Baker-Peters Jazz Club
Located in a tragically haunted antebellum house (site of a Civil War murder) at Kingston Pike and Peters Road in West Knoxville, the suddenly popular Baker-Peters Jazz Club won this category handily, besting perpetual winner Lucille's, which made a strong showing in second. Perhaps it's due to the B-P's nightly jazz parties on the patio, its full menu, and cigar-friendly atmosphere. The best news is that there are several good jazz clubs now; and to think that just 10 years ago, you could say "meet me at that jazz club" and not worry about missing your date.
Runners Up: Lucille's, Ivory's
Best Concert Venue:
Tennessee Theater
The Tennessee Theater hits 70 this year, and such an auspicious anniversary couldn't have come at a better time—the Tennessee is finally being used to its full potential after years of neglect. Over a year ago, the grand movie palace was placed in the hands of the Historic Tennessee Theater Foundation, who turned to Ashley Capp's A.C. Entertainment to manage it. Good choice. Since then, we've seen live music performances by everybody from Johnny Cash to the Squirrel Nut Zippers; and, most importantly, classic movies returned to the theater's silver screen. With planned renovations in the works, the Tennessee Theater will surely be our favorite concert venue for another 70 years.
Runners Up: World's Fair Park, Bijou Theatre