Gay Street Cinema: The Sequel
Movies were a big part of this venerable avenue's past. Will they be a big part of its future?
For more than a quarter century, the downtown Knoxville movie theater has existed only in the province of nostalgia; it's one of the handiest memories that older folks bring up when trying to convince their skeptical juniors that downtown used to be a lively place. Many folks now over 60 can remember when there were several of them, large and small, within walking distance of each other, especially on Gay Street.
Today when people talk about the Gay Street cinema, they're not likely to be old-timers evoking a half-remembered past. A proposal to build a modern cineplex downtown first emerged about four years ago. Developers to push it have come and gone, but the idea has such momentum that many downtowners are counting on it. The Gay Street cinema is, in fact, at the top of the agenda of Knoxville's new mayor, Bill Haslam. The Haslam administration is considering a theater of about 40,000 square feet, eight to 12 screens, to be located on the east side of the 500 block of Gay Street. There remain questions of how soon it will happen, and how costly it will be.
Surprisingly, no modern multi-screen cineplex has ever been built in central Knoxville, or within five miles of the largest university in the region. Mike Edwards, chief of the Knoxville Area Chamber Partnership, endorses the cinema project with matter-of-fact figures. "Within two miles, there are 35,000 people. Within three miles, there are 72,000 people. Those are great demographics!"
This latest push for a downtown cinema started with the hyperambitious Renaissance Knoxville proposal, the grandiose scheme announced in 2000 to redevelop about a quarter of downtown with a skyscraper hotel and a huge conservatory. Erstwhile developers Worsham Watkins International drew a picture of a 16-screen cineplex down near Walnut and Wall, incorporated into a large parking garage. By WW's plan, the theater/garage would have cost nearly $40 million, and the city would have paid for more than half of it.
Some hated the idea. Most prominent among them was Regal CEO Mike Campbell. In February 2001, Campbell wrote a letter to then-Mayor Victor Ashe—widely publicized, it was tantamount to an open letter to the city of Knoxville—strongly objecting to the theater plan on the grounds that downtown theaters were not a good risk. Meanwhile, other developers began pursuing the theater idea while talking to Carmike, Regal's major rival in Knoxville, which has successfully operated an urban cineplex in downtown Chattanooga for the last several years. Three years after throwing cold water on the whole idea, skeptical Regal finds itself on center stage of the project, enjoying most-favored-operator status in a plan that has political will behind it.
To some, especially lifelong Knoxvillians under 35 who don't travel much, Gay Street may seem an outlandish place to propose building a movie theater. It's not at a mall, and it's not along Kingston Pike. As far as they know, those are the only two places movie theaters are ever supposed to be.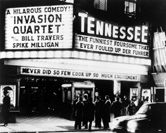 There hasn't been a first-run movie theater anywhere downtown since 1977. For 70 years before that, though, Gay Street was illuminated with marquee lights of movie theaters, usually several at once. To this day, there have been more movies shown on Gay Street than on any other street in East Tennessee.
By some accounts, a few of the first movies shown in Knoxville were shown outdoors in parks; Chilhowee Park, in East Knoxville, and the long-defunct Turner Park, which was northeast of downtown, both have claims on being the spots where Knoxvillians saw their first movies. The Turner Park film, which one old-timer later recalled was a short silent comedy involving a kiss in which chewing gum got passed between two lovers, showed around 1892.
But the movies were inevitably bound for Gay Street, downtown's main commercial corridor since before the Civil War. Its status as an axis of entertainment goes way back, before the invention of movies, even before the opening of Staub's Opera House at Gay and Cumberland in 1872. For about four decades, Staub's was Knoxville's main auditorium; if actual full-length opera was rare, it did bring in singers, symphony orchestras, gymnasts, vaudevillians, comedians, lecturers, minstrels, wrestlers, and, eventually, movies.
Literalists are quick to point out that the street was allegedly named for Baltimore's Gay Street, which was, in turn, named for an early Baltimore planner. That's how Gay got its name. But it's easy to get the impression that the street kept its unusual name all these years because it was indeed gay, in the original sense of the term. On Gay Street people had lots of reason to be gay, frivolous, giddy, happy. It was sometimes called Knoxville's "Great White Way."
From the beginning of short novelty silents of horse-and-buggy days to the era of Technicolor, Gay Street was East Tennessee's place to see movies. One six-block segment of South Gay, from Main Street north to Commerce (now Summit Hill), contained most of the theater seats in Knox County—more than 6,000 of them, at one time—and the highest concentration of cinemas in East Tennessee.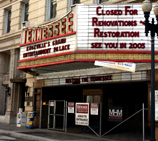 By some accounts, the first film ever shown in an indoor Knoxville theater was The San Francisco Five, which flickered in a room above a restaurant on the 400 block of Gay; the film is now utterly forgotten, but it was probably making the rounds in the 1890s.
Short films were sometimes shown at Staub's as part of a vaudeville show, but historians believe Knoxville's first theater to specialize in movies was the one named, if briefly, for the inventor of the motion picture: the "Edison Theatorium" opened in 1907 on Gay just south of Church. Later known as the Marvel, and later the Grand, it employed a house band, Jackson's Grand Theatre Orchestra.
In the decade after 1907, downtown cinemas proliferated rapidly, at a rate of a little better than one new one per year. For a city suddenly bereft of legal saloons, movie theaters were a welcome distraction. Some, like the Theoto and the Columbia and the Bonita, didn't last more than a year or two. The Crystal, at 425 S. Gay, would soon be run by the Italian-immigrant Bricchetto Brothers. In 1908, another small theater first known as the Lyceum opened at 315 S. Gay.
In 1909, the Bijou Theater opened. Built into the rear of an antebellum hotel building, it wasn't quite as big as Staub's, but in its early days, using both balconies, it somehow seated 1,600. Though it did much of its early traffic in vaudeville shows, the Bijou often showed motion pictures. It also hosted vaudevillians such as, in 1913, the Marx Brothers, who would later star in movies shown on Gay Street.
By some accounts, the first new building built expressly as a movie theater in Knoxville was known as the Queen. Erected in 1914 on the 500 block of South Gay, it featured a horseshoe balcony, an elaborate sound-effects machine, and an unusual entrance: the audience entered on either side of the stage.
By 1915, Knoxville boasted nine movie theaters. All of them were downtown; seven of them were on Gay Street. For more than 20 years after that, Gay Street would be the address of most of Knoxville's theaters.
The reason that two downtown theaters weren't on Gay in 1915 is an old, familiar story. But it's worth noting that one of the first movie theaters in Knoxville was a brief experiment on Central in 1908—when entrepreneur Cal Johnson turned a freshly banned Bowery saloon into a movie theater. It seems significant that one of the first movie theaters in Knoxville was run by a black man; it also seems significant that it couldn't have been on Gay Street. Though black cinemas thrived over the next 50 years, they thrived entirely down the hill from Gay, on Vine and Central, in the black and immigrant part of town. The legendary Gem Theater on Vine reportedly held 2,000 seats; some are skeptical of that figure, but if it's accurate, the Gem was one of the two largest theaters in Knoxville.
The history of movie theaters on Gay Street is mostly the history of white people watching movies on Gay Street. Though vaudeville houses like Staub's admitted both blacks and whites in the late 1800s, for more than 60 years beginning around 1900, Gay Street's theaters admitted only whites. The chief exception, a significant one, was the Bijou. It allowed blacks, but only in the second balcony, via a separate side entrance. Folksinger Sparky Rucker, who grew up attending movies in the Bijou's balcony, tells a story that questions the logic of sequestering an oppressed minority in a balcony above the heads of the favored whites. Rucker and his pals expressed their opinions about segregation with popcorn and Coke.
One hard-to-nail-down story from circa 1915 holds that a Southern gentleman watching Birth Of a Nation, his first feature movie, was incensed by the appearance of a black rapist, and unloaded his pistol into a Gay Street screen.
Nonetheless, that unpolished era inspired some influential young Knoxvillians. Clarence Brown, who would go on to be a major director at MGM, discovered movies on Gay Street. He would later tell an interviewer that he'd been watching a movie at the Bijou when he witnessed a lynch-mob riot, probably the one in 1919, which influenced the sensibility of his own film, Intruder in the Dust.
Joseph Wood Krutch, who would later be a major author and prominent New York drama critic for The Nation, recalled frequenting all four of the theaters on Gay, around 1910. He and his brother Charlie were such familiar characters in the movie houses that when one manager went on vacation, he left the teenage Krutch boys in charge of the joint. The precocious teenagers sometimes wrote about cinema and other entertainments for the local papers. Krutch, who claimed he watched movies almost every day, was so passionate about the new form that he sent a letter to a trade publication. "The first time my name appeared in print in a national magazine," he later recalled, "it was signed to a letter to The Dramatic Mirror. The subject was movie censorship, already vigorously advocated, and I was thrilled to find that the editor called particular attention to my letter. I have completely forgotten what I said except that, as a budding liberal, I was against it."
After he left Knoxville 1915, Krutch lost interest in movies altogether. As an old man, Krutch claimed he had seen more movies before 1915 than in the half-century afterward. "Though I have some firsthand knowledge of what might be called the prehistory of the art of the film," he wrote in the 1960s, "I know almost nothing about its later developments."
James Agee had a very different experience. He was much younger than Krutch, but the two probably would have recognized each other at the movies. A Death In the Family, the most-read novel ever written about Knoxville, and the chief reason many people around the world have heard of this city, opens with a visit to a Gay Street cinema—the long-gone Majestic. Contrary to its name, it was a relatively small storefront-style theater just north of Wall Avenue. Agee, who also discovered movies on Gay Street, would go on to fame as an Oscar-nominated screenwriter (The African Queen) and even greater fame as one of the first literary movie critics and film historians.
Sometimes the theaters played a role in communicating local events; long before television, films of Tennessee Vols football games were shown at local theaters. And when the grand Imperial Hotel shriveled in flames in 1916, an enterprising entrepreneur filmed the blaze and showed it to crowds at the nearby Queen.
Early motion-picture theaters prefigured the modern day in one way: they were comparable in size to the modern multiplex screening room. Some were even smaller. But in the 1920s, theaters rapidly got much larger, more in keeping with the scope of Cecil B. DeMille's epics.
The Riviera was one. Built in 1920 into an existing Victorian building, it stood on the east side of the 500 block of Gay Street. It featured a Wurlitzer organ and the apparently innovative "Typhoon" ventilation system, seated over 1,000 and was hailed as "a shrine of the silent art." It christened what would be more than half a century of movies with DeMille's silent, Conrad In Search Of His Youth.
For some years the Riviera carried on an across-the-street rivalry with the Queen, which no longer seemed quite as big as it did when it astonished visitors in 1914. Like most theaters, the Riviera featured its share of live entertainment, from dancer Ginger Rogers to early jazz bands like the popular local orchestra Maynard Baird's Southland Serenaders.
The Riviera showed, in 1927, what was almost certainly the only big-studio film shot in this area during the silent era, Stark Love. The star of the controversial film, which included a brief nude scene, was Helen Mundy, a reluctant actress whom the director had discovered in a downtown Knoxville soda fountain. The movie was a national sensation for about a week, hailed by some critics as one of the great films of the year; then, like its ambivalent star, it was forgotten.
Though a theater occasionally popped up down on Central or over on Market Square, most of Knoxville's movie theaters were on Gay Street, and, moreover, along one three-block stretch of Gay Street. Exceptions didn't tend to fare well. The Rialto, which opened on North Gay (near Regas) in 1927, was one.
By then, Knoxville was taking the next step. The Riviera was big, but the jazz age was the era of the motion-picture palace.
The Tennessee, which opened in 1928, fit the bill. Built into the back of a turn-of-the-century "skyscraper" office building, the Tennessee was the most extravagant thing constructed in East Tennessee. It was also very expensive, and not necessarily a sure thing. The Riviera, one block away, was competition enough.
It was such a huge investment that the owner minimized his risk by buying the Bijou and closing it. With the Bijou out of the way, the relatively venerable Queen, just yards from the Tennessee, would have been, at 14, one of the oldest movie theaters on Gay Street; but just days before the Tennessee opened, it closed forever. The effect of new movie theaters on the competition is an old theme central to the discussions today.
The same year the Tennessee opened, an equally surprising development showed on the horizon. In deep East Knoxville, in the McCalla Avenue shop area known as Burlington, the Rivoli opened. The Booth opened the same year, on the western part of Cumberland Avenue, near Fort Sanders. It must have seemed astonishing to moviegoers to see theaters pop up in quiet residential neighborhoods. They were small theaters that hardly affected the business of downtown theaters much at the time, but they presaged major changes to come. After 1928, no more new movie theaters would be built on Gay Street—for more than 75 years, at least.
But it's interesting that East Knoxville's pioneering suburban theater, the Rivoli, later took the name of what was still the most popular place to see films: for years Burlington's cinema was known as the Gay Theatre.
Downtown cinema wasn't dying yet. When Gone with the Wind opened in late 1939, one of the first theaters in the nation to show the blockbuster after its Atlanta premiere was Knoxville's Riviera. For decades, suburban theaters would remain second-class.
Beginning in 1936, the S&W Cafeteria, a swanky, moderne, art-deco cafeteria like we saw in the movies, became an essential part of the night-at-the-movies experience. It opened near the Riviera, and a few steps away from the Tennessee. The dinner-at-the-S&W, movie-at-the-Tennessee-or-the-Riviera evening downtown became the prototypical urban memory shared by three generations of Knoxvillians.
The extravagant glow of the theaters of Gay Street and the poverty of the surrounding area was striking to visitors, as Swiss journalist Annemarie Schwarzenbach noted in her essay about Knoxville in 1937. One author knew Gay Street cinema more intimately. David Madden set his 1974 novel Bijou in a thinly disguised Knoxville. The nationally reviewed book, based on his own youth as an usher at that theater, is crowded with references to movies shown on Gay Street in the 1940s, and details the rivalry between the teenaged usher fraternities and the contrast between the bright images on the silver screen and the often dark lives of working-class Knoxvillians who watched.
In the 1930s and '40s, new theaters would open on Broadway, on Washington Avenue, on Western, on Magnolia, and finally on Kingston Pike. In the postwar years, suburbanization helped push some smaller downtown theaters out of business. Several, like the Strand, closed in the late '40s and '50s. But throughout that period, the Tennessee remained the grand dame of all Knoxville cinemas, the prime theater for launching a new movie well into the suburban era. It hosted several movies billed as "World Premieres"; they were gala occasions.
In 1953, Merv Griffin and Kathryn Grayson visited for the premiere of So This Is Love, the biopic, now nearly forgotten, of East Tennessee opera star Grace Moore. (Griffin stayed at the nearby Farragut Hotel, and reportedly complained about the lack of air-conditioning.) Though it has been available on video, the movie is hard to find today.
All the Way Home premiered at the Tennessee in 1963. Though it was called a "World Premiere," the movie, based on Agee's A Death In the Family and shot in Knoxville, had already been screened, and reviewed, in New York. Still, Robert Preston, one of Hollywood's biggest stars, arrived at the Tennessee in a 1915 Mercer to promote this film that featured one of his relatively few non-musical roles, as did producer David Susskind and an emotionally overwhelmed child star Michael Kearney.
Anthony Perkins attended the premiere of his peculiar historic-horror film, The Fool Killer, in 1965. By then, the Tennessee and the Riviera had undergone a major change. Lunch counters desegregated fairly easily with sit-ins in 1960. Movie theaters were a little slower. Demonstrations led by students at Knoxville College in 1963 led to the desegregation of the Tennessee. Among the demonstrators you can pick out in old photographs of the scene are local black leaders like Avon Rollins, Bob Booker, and a young Marion Berry, later to become the controversial mayor of Washington, D.C.
Though the Tennessee continued to thrive, the 1960s did not turn out to be a dignified time to be a Gay Street movie theater. The Bijou survived, but as the "Bijou Art Theatre": a porno house.
The nearly forgotten Edison Theatorium was torn down in 1965, almost half a century after it showed its last film, for a Chamber of Commerce headquarters—which was never built. The former Grand's demolition was announced with a tinge of mild regret, but with three other old theaters on Gay Street facing uncertain futures, there wasn't a major sentiment for saving it. Today, its site is a surface parking lot.
The Riviera burned in 1963, sending an audience who had come to watch the special-effects adventure film Jason and the Argonauts fleeing into the street. Except for the facade, it was considered a near total loss but, remarkably, was restored, less grandly, in a matter of months, with the Audrey Hepburn/Cary Grant thriller, Charade. It kept showing films until Adios Amigo in early 1976, followed by a series of second-run films the following summer; after that came a dozen years of broken dreams, as one developer after another proposed reopening the Riviera as a performing-arts center, a dinner theater, an "ultramodern" office building—or, briefly, a Krystal restaurant. Though there was a sentimental effort to restore it in the 1970s—its back bore, for years, a large black-and-white mural of Charlie Chaplin, clearly visible from the new James White Parkway—it never took off. The building was torn down around 1988 with little comment. The site was paved for a parking lot, a purpose it has served ever since.
There was a time when many expected the fate of the Riviera's jazz-age sister, the Tennessee, to be similar. It underwent an extensive remodeling effort in 1966, modernizing it to suit new safety codes. But for moviegoing it was never quite the same.
In 1969, when Ingrid Bergman came to Knoxville for the world premiere of A Walk in the Spring Rain, a film partly shot here, it was hard to overlook the fact that the showing she attended wasn't at the Tennessee, on Gay Street—it was at the Capri, on Kingston Pike. That theater began to have so many famous visitors that it prepared a concrete walk for autographs and handprints. The success of that duplex theater, not yet Knoxville's first multiplex, was a sure sign that the suburban multiplex would soon eclipse the downtown motion-picture palace.
Much of the decline of downtown in the '70s was blamed on suburbanization. But perhaps more than Knoxville's shift away from downtown, the Tennessee and the Riviera were victims of Hollywood's changing demands. Because studios began requiring a high percentage of the take up front, it no longer made sense to show movies to large numbers of people for just a few days, then switch to another main feature, as the Tennessee and Riviera had always done. The only way theaters could turn a profit would be to show a variety of films, each to small numbers of people, over a period of several weeks. Large theaters across the country, even those in still-thriving downtowns, closed. The cineplex was born.
The Tennessee, with its 1,500-plus seats, was a dinosaur—as a first-run cinema, at least. Some were predicting that television had ended the movie era when the Tennessee showed its last first-run feature in 1977. It closed, and the manager of the new theater at West Town predicted it would soon be a parking lot.
It would show one more new movie, a World's Fair special: the premiere of Kenny Rogers' now-forgotten Six Pack, in 1982. But by then, the Tennessee, built mainly as a cinema, had become chiefly a performing-arts space. However, it never wholly gave up on the movies. One manager after another has seen fit to show classic movies on short runs. Some showings of classics in recent years have been sellouts, even at first-run movie prices.
However, the multiple-screen cineplex, now considered standard and the only way for a movie theater to make a profit, has never been attempted downtown. There has never, in fact, been a modern-style, multi-screen theater within five miles of downtown—or within five miles of the University of Tennessee area, which is the highest-density residential area in East Tennessee.
A cinema is good for a downtown in several respects. It brings people downtown and, moreover, brings people downtown at nights and on weekends, when office workers aren't there. Parking lots which would otherwise sit empty for 15 or 16 hours are used more efficiently. It increases traffic to local restaurants and bars and coffee shops, both before and after the picture. It gives stores the walk-by traffic proprietors say they need. It makes downtown more appealing for residents. In property taxes and sales-tax recapture, it would seem to add up to a long-term windfall for the city.
At first blush, a movie theater looks good for downtown and downtown looks good for a movie theater. But joining the two seemingly complimentary motives together won't be a cinch. Theater developers are used to building cheap buildings on cheap land, with parking lots spreading out like wheat fields. Downtown, land is expensive, and standards for architecture are higher. Building a cineplex on Gay Street will require considerable inducement from the city on the front end.
To several downtown developers and, for a time at least, Mayor Victor Ashe, a downtown cinema looked promising as a key to making everything from Market Square to the convention center work.
And to preservationists who were involved in the discussions, siting such a theater on the 500 block of Gay seemed a way to save the embattled S&W and adjacent Victorian brick buildings. A cause celebre in the late '90s when it was condemned to be torn down for the Justice Center project, the 1936 art-deco cafeteria, or at least its unusual facade, bears some resemblance to the retro Hollywood golden-age architectural styles of some new suburban cinemas; the front of the old cafeteria would serve as the lobby for a modern cineplex. So hopeful developers sited the project on the east side of the 500 block of Gay, between two historic corner buildings: the old Farragut Hotel, now a multi-tenant office building; and the Fidelity Trust building, which houses a convenience store and the headquarters of grocery distributor H.T. Hackney. In the middle of the site is a large open space which was once the site of the jazz-age legend, the Riviera.
Regal Cinemas, the world's largest cinema chain, is headquartered in Knoxville. But it was Carmike which had been the successful operator of the handiest example of a successful new downtown multiplex, the Bijou in Chattanooga. After hearing that developers might be discussing the prospect of a downtown theater with rival operators, in February 2001, Regal CEO Campbell sent the mayor a strongly worded letter discouraging the prospect, calling it "a risk financially for both the city and private development.... The success rate of these downtown cinema projects has, in general, been poor." He added, significantly, that Knoxville was already oversaturated with theater screens, many of them operated by Regal. While a few downtown Regals were successful, like one in Portland, Ore., Campbell mentioned disappointing theater projects in downtown Indianapolis, Cleveland, and Tampa which required public subsidy to stay afloat.
In 2001, as Mayor Victor Ashe prepared to nix the whole Renaissance Knoxville project, a couple of downtown property owners, David Dewhirst and Brian Conley, had a beer at the brewpub and agreed that one part of the Renaissance Knoxville plan could be salvaged. Conley called former Chattanooga Mayor Jon Kinsey, who had encouraging success with the Carmike cineplex in downtown Chattanooga. Kinsey came to Knoxville and, impressed with the figures and the lay of the land, grew convinced a downtown movie-theater complex might work even better here. Note: Brian Conley owns this paper. He is not directly involved in the cinema effort today, but supports the effort, as do many other downtown landowners and business owners.
However, Regal has since been through a few changes since Campbell's anti-downtown-cinema manifesto, as has the city. Like some other theater chains, after a period of overexpansion, building too many screens in too many places, Regal went through bankruptcy in early 2002; Regal is now majority-owned by an entrepreneur in Denver (a city that, incidentally, supports a downtown cineplex operated by Regal). Things are reportedly going much better for the company now.
Meanwhile, downtown theaters are no dying fad. Cities around the nation are luring theater chains into participating in downtown cinemas; Cinemark is involved in a 14-screen project in downtown Yuba City, Calif., and R/C Theaters are building another 14-screener in Wilkes-Barre, Pa. And Chattanooga's Bijou is reportedly the most popular cinema in that city.
Also, the city of Knoxville has a new mayor.
Ashe had been working with the Kinsey/Carmike model in Chattanooga: a cinema project that earned federal and state funding by virtue of being a "transit center," though it was really little more than a parking garage with a transfer station for Chattanooga's fleet of free electric buses.
Throughout the Ashe administration, the cinema proposal was coupled with a federally funded transit center of a larger, somewhat burlier nature than the one in Chattanooga. It made sense until many downtown developers realized that waiting for the federal bureaucracy to move could delay the cinema for many months or even years. Ashe's insistence that the two had to be paired, and subsequent lack of movement, left some with the impression that the mayor wasn't committed to the project—which, after all, couldn't have been completed during his administration in the best of circumstances.
However, after his inauguration in December, Mayor Bill Haslam decisively put the cinema issue on the front burner. "Downtown is, by far, the best opportunity to grow the tax base," he says. He compares "painful" budget adjustments, such as layoffs, to "non-painful" ones, like filling a downtown building. One downtown building, fully occupied, he says, can balance out two or three salaried employees.
And his discussions with downtown developers have convinced him that the single best way to build business downtown may well be a modern cineplex. "It's the next step downtown," he says, matter-of-factly. "The big issue is attracting people downtown beyond the eight-to-five hours. The theater is a logical attraction for people living south, north, UT, near east, near west. It makes all the sense in the world. Several developers tell me, 'I'll fill this space if there's a theater downtown.'"
He adds, "If you're making bets on what can make downtown work, that's a good bet."
One of Haslam's first announcements was that he was going to proceed with the cinema and transit center separately. Partly because of the likely delay—"We need to move it forward as fast as we can," he says—and partly because KAT executives expected that they would need more expansion room than the 500 block allows.
Surprising to some, Haslam began talking with those who had been most critical of the project: Regal Cinemas.
His reasoning sounds simple. "In anything, we'd rather do business with a hometown company if we can," Haslam says. "We're having parallel discussions with Carmike, but we're further along with Regal." He says he is also considering other operators, but Carmike and Regal "are probably the two leading horses." The two control the Knoxville theater market, but there's no law against others entering the fray. Some close to city government expect the project will have to go through an evenhanded "request-for-proposals" process, with competition from other interested theater operators. Other leading theater chains include Loew's, Cinemark, and AMC, which have all been involved in building downtown multiple-screen cinemas elsewhere.
Regal is now at least interested enough in the idea to make an estimate on the project's cost; Haslam expects to hear from them next month. "We've told them keeping the facades or keeping parts of the buildings is the preferable alternative. We'd very much like to see them stay. Anybody would agree, keeping the facades would be great.
"My job is to do it at a cost that makes sense," he says. Incorporating the facades into the design of a new building is likely to cost more than building from scratch. You get the impression that, given a choice between building the cinema at an affordable price and keeping the historic facades, he'd favor the new cinema.
Randall De Ford, an architect who is president of the preservationist group Knox Heritage, has an alternate proposal: to use the blank Riviera site as the entrance and build the bulk of the theater in the rear of the site; then develop the historic buildings separately.
Mentioning the heritage of the buildings that may be affected—besides the unusual S&W, sometimes described as the best example of Egyptian-influenced art deco in the state, there's the relatively plain 1940 drug store building that was scene to some pioneering, nationally reported desegregationist sit-ins in 1960, and a Victorian building that served during a musically fertile period in the 1930s as WROL's studios—De Ford says these facades "absolutely" should be saved. And, preferably, more.
"Seeing the inside of the buildings and learning more of their history convinced me that we should find a way to save them, or at least as much of them as possible," De Ford says. He notes that, contrary to some assessments of the S&W's plundering over the last few years, it still has some unusual characteristics, like the golf-club-and-ball ceiling ornamentation in the once-extravagant basement rooms.
"It is important to save the facades, because they are so important to the streetscape of Gay Street, and maintaining as much of the historic context of downtown as possible," he says. "I know that there are plenty of challenges to overcome, but there are so many benefits to saving the historic buildings, or most of them, and shoving the theaters to the back, that it is worth doing. Theaters are typically big, windowless boxes, so we don't want them right on Gay Street, anyway—they need to be at the back of the site, so we have active storefronts on Gay."
Come to think of it, the two venerable existing theaters on Gay, the Tennessee and the Bijou, were built long before Knox Heritage was founded, but were designed the same way: built in the rear of historic buildings, preserving the existing storefronts.
Haslam is interested in the idea and says it's one of several options they'll consider. He says convincing a theater chain of the idea's merit, and finding a way to finance it from the city's end, is going to take some doing. To Regal and other operators, Haslam says, "a downtown theater isn't the no-brainer it seems to us, that an 18-screen theater in the suburbs is.
"By its nature, the city's going to have to help with it," he says. "Hopefully, the operator is going to participate" in building the theater. He pictures the city paying for a substantial part of construction and earning money back from the operator through rents and gaining additional revenues from the sales and property taxes generated by the project. Details of how the public/private ratio will work are uncertain at this time.
How the city, financially strapped by the so-far disappointing convention-center project, will deal with this opportunity remains to be seen. The convention center, meant to be a revenue booster, isn't yet, and may never be. From the beginning, though, it had more skeptics than the cinema project does.
Chamber head Mike Edwards says taxpayers should welcome the prospect of helping fund a downtown theater. "The fact is that right now most of Knoxville's taxes are borne by the residential areas. When you ask the question of what taxpayers will put up with, people who live in subdivisions pay more here because of the burden of their downtown, which is woefully underproducing."
Edwards compares government investment in a downtown theater, a little surprisingly, to government investment in an industrial park. He thinks the theater's likely to be easier. For a suburban industrial park, he says, "you have to build roads, utilities, infrastructure. That's an investment. Downtown, the roads are already there, the utilities are already there."
"It's my priority," Haslam says of the theater project. "It's at the top of my list. We have some momentum going downtown, but it's remarkably fragile."
That's good news to downtown developers like David Dewhirst, who says he has potential restaurant/retail tenants for his extensive properties on the west side of refurbished Market Square, who are only waiting to hear that the cinema is a sure thing. "It's fair to say it wasn't a priority project for the city" during the Ashe administration. "I'm glad that Haslam has made this a priority project."
Developer Wayne Blasius, who promoted downtown as an Ashe administrator in the '90s, has been in the private sector for the last several years as co-owner of InSite Property Associates, which is developing the large Phoenix Building on Gay as mixed-used retail, office, and residential. He calls the prospect "incredibly important. The new residential growth downtown has generated life on once-lonely streets, and demand for a limited number of new restaurants, bars, and retailers," he says. "But what we need is a destination that will routinely bring greater numbers of people in."
"I've never believed that any one development would be the big fix for downtown," Blasius says. "But at the same time, coupled with other successful projects, the cinema is a critically important catalyst right now. It's also one of the least expensive, short-payback investments that the city could make to increase the tax base and help encourage other development and convention traffic. Sales and property-tax increases pay this deal off in no time."
The Phoenix Building, formerly home of Fowlers Furniture, is one block away from the proposed cinema site. Though Blasius already has some retail tenants, he's trying to land the big kahuna, a restaurant. When he adds a potential cinema into the mix, he says, his prospective tenants typically shift from "somewhat interested" to "we definitely want to be down here right away."
Dinner and a movie may be the classic American date, but in Knoxville you can't do both in one place except at the shopping malls. But what makes the cinema appealing to restaurauteurs may make it less so to cinema operators. Cinemas make a large portion of their profits on food sales, and some of those sales may be dependent in part on the fact that they have a captive audience. Suburban moviegoers would have to drive somewhere else to eat. So they just get an expensive hot dog at the theater.
"Unless it's done right, it's not worth doing," says Haslam Director of Economic Development Bill Lyons. "We can't afford to not do this right. We don't want a third-rate structure downtown. But it's got to be affordable."
Developer Dewhirst has been impressed with the success of the Chattanooga theater project, but not with its looks. "We could do something better," he says. "We could build a beautiful, stunning theater on Gay Street—not put a neon sign on extruded concrete and call it a theater." He strongly favors using the existing facades in the theater design.
Blasius would rather save the fronts of the buildings discreetly and open them up to development separately, by De Ford's plan. He believes that alternative would be both cheaper and faster because it would require neither demolition nor immediate renovation, would prevent preservationist controversy, and make on-street space available for spin-off development.
Regal declined to comment on the current prospects for an agreement to build or operate a Gay Street theater. The cinema giant is reportedly skeptical about keeping the facades. Some believe Regal is a reluctant partner in the project in general, now involved only to keep rival Carmike out of the picture. Either one may have a deleterious effect on ticket sales at other theaters in the area—but so would other, larger theaters, like those contemplated for Turkey Creek and the proposed Northshore Towne Center project.
For now, the city's waiting for Regal's preliminary estimate. Kinsey-Probasco's estimate, a couple of years ago, was $6 million. But, development director Lyons says, "I don't think we're going to be able to do it that cheap."
Lyons says the city has no maximum figure in mind. "We haven't had a ceiling amount, this and no more. Let's see what the proposed estimate is. We do not have a line in the sand." He expects the city should be able to announce something this summer. "I don't see why not," he says, but then admits, "We have a history on missing things. Market Square was ready for the Dogwood Arts Festival. We just got the wrong year.
"The changes downtown are obvious to everybody," Lyons adds. "Downtown is now seen as having opportunities it didn't have just five years ago. Residents, Market Square, more businesses. It's not everything we want it to be, but a corner has been turned."
Parking is an issue with all downtown projects, and most agree that for a cinema to succeed, its parking would have to be free or very cheap. As it's working out, though, parking is probably not one of the tougher problems. The city-owned, 800-space State Street Garage is right across the quiet street from the proposed cineplex site. It's usually empty at night, and for years the city has made it available at no charge to patrons of Tennessee Theater events. "We'll see a way to make that free or low-cost," says Lyons. "There's plenty of parking." Also nearby are 285 slots in the so-far underused county-owned site just to the north. And along the streets are more than 100 metered spots, effectively free at night, within a couple of blocks. Thanks to the huge commuter demand, there are thousands of parking spaces downtown, most of which are empty at night, during peak theater-going times. An estimated 10,000 people found places to park to get to the Bela Fleck concert on Market Square last week; but even at the peak of the show, there were still empty spaces on the street within three blocks of the square.
Talking about the cinema prospects, politicians and developers alike seem to believe it's not a question of whether, but rather who, how, and how soon. But it seems likely that, more for practical than nostalgic reasons, Gay Street may once again be where many of us go to see movies.

April 15, 2004 • Vol. 14, No. 16
© 2004 Metro Pulse