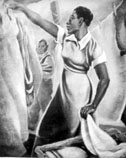 What:
A Century of Progress
Where:
The Knoxville Museum of Art, 1050 World's Fair Park Drive
When:
Through April 27. Call 525-6101 for information.

Celebrating 100 years of works by Tennessee painters
Art in Tennessee has come a long way in the past one hundred years or so. Although a Nashville art association was established in 1893 (followed by the Knoxville Art Circle in 1898), our state hardly provided fertile ground for artists at the beginning of the last century. Without formal art schools, museums, or galleries, exposure to art—let alone art instruction—was extremely limited. Venues like Knoxville's Appalachian Expositions of 1910 and 1911 allowed many people to see nationally recognized works for the first time, but aspiring painters had to move to cities like New York or Paris if they sought education beyond private lessons. Luckily, some of those artists returned.
East Tennessean Lloyd Branson was one of the first such artists to study elsewhere—in Europe and at New York's National Academy of Design—and bring his experience home. Teaching students at his South Gay Street studio after returning to Knoxville in 1876, Branson mentored a generation of regional painters, among them Adelia Lutz and Catherine Wiley. As leader of what became the Nicholson Art League, he inspired female artists in particular—at that time largely excluded from academy training. Despite his somewhat conservative style, Branson proved to be a Godsend, nurturing art appreciation and local talent at the brink of a new era.
Twentieth century paintings by Tennessee artists reflect that era, and they are what the KMA is presenting for another 10 days. That's not much time, but it's well worth the effort to find a few hours to see the show before it's gone.
Comprised of 67 works by 50 artists, A Century of Progress offers traditional figurative and landscape painting, Regionalist canvases from the 1930s, Abstract Expressionism, and a range of modern-day pieces. The scope of the exhibition is truly remarkable. Many works could have been produced by people living in other states, but they weren't. They are ours, so to speak. Furthermore, Century includes paintings by numerous women as well as significant works by African Americans (i.e., Aaron Douglas and the Delaney brothers), acknowledging our diversity and consequent vitality. Art created by individuals drawn to Tennessee college and university programs after World War II adds even more excitement to the mix. Alongside contemporary pieces, they form a considerable collection.
Curated by the Cheekwood Museum's Senior Curator Celia Walker, A Century of Progress opened in Nashville last July and will travel the state throughout the next year. Some artists of works drawn from both public and private collections are well known—Beauford Delaney, Robert Ryman, Red Grooms, and Dean Cornwell, for instance; others may be less familiar to museum visitors. Whatever the case, their achievements are,
for the most part, quite memorable. Technical refinement is a given, but specific pieces either epitomize the period during which they were created or impress us for other reasons.
At first, one might find William Gaul's Barbizon-inspired "Homesteading in Tennessee" overly dramatic. Presumably painted around the turn of the century, the scene of a cabin, a cow, laundry fluttering in the breeze, etc., initially struck me as being bucolic in a bulimic sort of way. Yet in "Homesteading," the longtime Van Buren County resident created a striking image of agrarian isolation on canvas slathered with rich oils. Having won acclaim for his Civil War battle paintings, Gaul was undeniably accomplished. So, too, was Anna Catherine Wiley. Her "Girl With Red Bow" from 1910 is a typical portrait in terms of composition, but its straightforward gaze and almost electric color smack of Modernism. As an art reviewer for the Knoxville Sentinel, Wiley did much to call attention to local artists in the early 1900s.
Eleanor Dickinson, Virginia Derryberry, Carrie McGee, Pam Longobardi, and Elliott Puckette are but a few women in the Century show who have been widely exhibited. In "Faith Healers" (oil on velvet, 1975), the Knoxville-born Dickinson employs usually kitschy material in an altogether new way. The gathered fabric, dark behind rendered figures, lends them a mystical quality. An untitled 1998 piece by Puckette (who was raised in Sewanee) is like a divertimento translated into abstract line. Once a professor at UT, Longobardi brings to images painted on pieced-together copper a printmaker's attention to detail. Like Puckette, she has chosen an oval substrate for her "Degrees of Separation" (2000) perhaps in order to suggest infinity. From the same year is Vanderbilt-educated Derryberry's "The Seven Deadly Sins," a grouping of six canvases above and below a central image of a giant hand holding a house. Apocalyptic scenes flanking the big hand are painted in scalding colors, and they present a mysterious narrative...a glimpse of a surreal suburbia.
Nashville resident McGee also serves to remind us that there's far more to Tennessee art than scenes of Cades Cove. In her construction titled "Conversation" (2001), she has suspended painted—or otherwise treated—clear plastic blocks along wires hung inches from the gallery wall. "Conversation" is as much about space, reflected color, and transparency as it is about overall form. It seems to transcend time period or culture and is, quite simply, breathtaking.
Other knockouts are Burton Callicott's luminous "Homage to the Rainbow #2" (1973) and Joseph Delaney's "Marble Collegiate Church" (1974-75). Unfortunately, better examples of works by hometown heroes Kermit Ewing, Andrew Saftel, Walter Stevens, and Carl Sublett could have been selected (although what's on view is nevertheless terrific). And many deserving artists are excluded from the Century exhibit. But no one show can be everything to everyone. A Century of Progress comes close, however, and it reminds us of what can be achieved in our own backyard.

April 17, 2003 * Vol. 13, No. 16
© 2003 Metro Pulse