We find some notable celebrities from the past
We tracked them down, and it was hard work. The greatest kicker in UT history; Knoxville's most famous New Wave band; the owner of a memorable sports bar; a high-flying member of Jake Butcher's business machine; a Tennessee Supreme Court Justice ousted by the far right; and the woman whose accusations marked the beginning of the end of the Ray Blanton era. In this, our third such look back, we have begun to notice a trend about the people who were formerly famous. They blend in well with the rest of us. So be considerate to that stranger that you meet on the sidewalk. It may be someone you used to love, admire, hate, or root for.
How Do You Spell "PHOO ODD?"
There are two syllables that sound like "Phoo Odd" that were the repeated and reverberating shout of nearly 100,000 Tennessee Vol football fans on fall Saturdays in the early '80s, each time Fuad Reveiz ran on the field to attempt a field goal.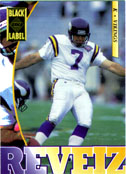 The resilient and reliable place kicker was successful on field goal tries an unprecedented and still unequaled 71 times in his Vol career as a four-year starter from 1981 to '84. His field goal percentage of 74.7 and his 18 in a row are also still Vol records.
After distinguishing himself as a pro kicker, he brought his colorful name and his pleasant personality back to the Knoxville area to build his post-football career. Reveiz, who was an unsuccessful candidate for Farragut alderman four years ago, is still here and has a construction firm with offices in Lenoir City.
This week, he is on location with the Do-It-Yourself Network, taping segments of a series of television shows as a "weekend remodeler." Reveiz and a DIY crew from the Scripps-owned network are at work in the basement of a home in Powell, with the series set to begin airing after the first of the year.
He's never been busier, Reveiz says. That's pretty amazing in itself. He spent 11 years in the National Football League pressure cooker as a place kicker for the Miami Dolphins, the San Diego Chargers, and the Minnesota Vikings, where he established team kicking records before his 1995 retirement from the pro game.
Since then he's been a commentator for the Spanish-language broadcasts of 16 consecutive Super Bowls, working for several different networks, including ESPN. "I also do the Sunday night [NFL] games for ESPN in Spanish," Reveiz says.
His construction firm, Reveiz & Co., does residential building exclusively, concentrating on the West Knox and Loudon County areas. He and his wife, Gail, a native Nashvillian he met at UT, live in Farragut. Gail is an affiliate broker for Heath Shuler Realty, a firm founded by that former UT and NFL quarterback, who came along about 10 years after Reveiz starred as a Vol.
Born in Bogota, Colombia, Reveiz's family moved to the Miami area when he was 11. Already a soccer player used to kicking a ball competitively, Reveiz turned to football in junior high and high school, and earned a scholarship at UT.
Still competitive as ever, one of Reveiz's regrets is running for the Farragut Board of Aldermen. "I got talked into it by a friend," he says of the campaign and subsequent election loss. "I don't why I even agreed to it."
That loss may smart yet, but Reveiz talks about it the way he talks about almost everything else, with a permanent-looking half-smile on his lips and his dark eyes sparkling with anticipation for his next challenge.
— Barry Henderson
The Wet Dream
About 20 years ago, Candy Creme and the Wet Dream was the most popular band in Knoxville. They played for an audience that wasn't necessarily punk, or even musically daring, but modern, stylish, and eager, in the infancy of MTV, to be part of the newest thing.

It started as a trio known as the Resisters, formed by local guitarist Jeff Comas in 1980. Since none of them were comfortable with lead vocals, Comas enlisted cheeky singer Candy Herron to lead. Classically trained in voice and piano, Candy wasn't much of a punk to begin with, but the liberal application of mascara and hairspray transformed her persona. Eventually, they picked a name they claimed was banned on the local airwaves: Candy Creme and the Wet Dream.
They played mostly covers in the early days, especially Pretenders, Joan Jett, a little Blondie. Punk purists hated them for that, but their shows on Cumberland Avenue, in joints like the Place, Hobo's, and the Library, drew hundreds.
Comas is the guitarist whose blond pomp makes him look like Brian Setzer in the old pictures. His hair's missing now, but he's pretty easy to find; he teaches guitar at Rik's Music Garden, the all-purpose music store in West Knoxville of which he is co-owner.
"We were a much bigger show than the other punk bands," says Comas. "Not to say anything against them. Of course, the punks gave us a lot of guff." Comas admits that style was a big part of their persona. "We wore flashy clothes, had a fairly substantial light show," he says. "We had our hair all jacked up, and we were wearing makeup." When a Daily Beacon reporter asked him what distinguished them from the other punk bands at Bundulee's, he responded, "We use a lot more hairspray."
Candy made up in audacity what she lacked in height. "Candy was a little racy sometimes," Comas says. "She never got naked onstage, but she would say provocative stuff." Before most folks had cable TV, it was part of their appeal.
But, he insists, they were also serious musicians. "We had really, really good vocals. Candy had perfect pitch—she was never off key. And we worked hard on our harmony vocals," he says, in ways that no other bands were bothering with. He remembers doing Beach Boys covers with Ramones backgrounds. Their original drummer, Cliff Adams, was killed in a car accident here in August 1980; they hired Steve Housewright to take his place. Guitarist Kevin Pugliese suspects they stayed together as long as they did partly as a tribute to Adams.
Well-practiced as they might have been, they always played top-40 covers, a fact which annoyed the punks. They may also have resented Candy Creme for the fact that they were making money. At their height, they were getting $1,600 in a night from the door, an unusual sum for a local band in those days.
Candy Creme and the Wet Dream toured in the Southeast, especially in Nashville, Charlotte, and repeatedly in Myrtle Beach. At Big Mama's on Chapman Highway, they made a 45 with their two singles, "Please Leave Me Alone," and "Prisoner," both written by Comas. There is an unproveable legend that the recording was big in Japan.
Their biggest publicity came in a non-musical forum: in the August 1982 issue of soft-core Oui magazine. In their revealing feature about the Girls of the World's Fair, Candy Creme and the Wet Dream posed with local nude-model Crystal McTaggart (some remember that she also appeared in Playboy), pretending they were ripping her clothes off. "It was pretty cool," remembers Comas. "We were very much into getting that kind of publicity."
"All are native ObKnoxians," wrote Oui, "and the band has the distinction of being the only local group whose name has been outlawed from the airwaves. Their rep as bandits and misfits has given them a considerable cult following."
New Wave wasn't that new anymore in 1984, when they dismantled the band. But the following year, Comas, Herron, and bassist Dave Nutzell moved the band to Kansas City. "We had another run there," says Comas, playing on the road in the Midwest. They finally broke it up in 1987.
Candy married the drummer from another band, had a baby, and moved to Charlotte, where she became a consultant at a hairpiece business called Hair Club for Men. As of last week, that's all most of her former bandmates knew about her.
We despaired of finding Candy; no one in her old band had spoken to her since 1992, and the staff at her last known Charlotte employer didn't recognize her name. One former bandmember thought she was in Atlanta.
However, with Comas's help and through the wonders of e-mail, at the last moment we got in touch with the real Candy Creme.
"I fortunately survived the rock 'n' roll lifestyle," she says. "When I got pregnant, I quit." She still sounds pretty young at 41, and talks rapidly. Now known as Candy Malinowski, she's a "licensed aesthetician," and runs the Sona laser hair-removal clinic in Charlotte. She sings for a rock 'n' roll band that sounds pretty different from the Wet Dream: the Southbrook Gig Band is, in fact, the house band at Charlotte's Southbrook Community Church. "I still sing, but now I sing for God," she says.
Having divorced her first husband, she has been married for six years to Bo Malinowski, who works for Duke Energy. Her son, Jon, is now 13.
She's been in Charlotte for all of her son's life, but says the city's getting too big for her. "The older I get, the more I want less," she says. She and her husband plan to move someday to a cabin in the mountains near Asheville.
Unlike some who find religion in mid-life, she doesn't look on her past disparagingly. "That was the hardest and most wonderful time of my life," she says of the Candy Creme years. For her, the high point was opening for the Romantics on one very hot night at the Place. "Those were the real glory days," she says. "I made some of the best friends and worst mistakes of my life."
Some of those friends, though she hasn't been in touch with them recently, include her other Wet Dreamers, some of whom have landed in surprising places.
Drummer Steve Housewright is a professional musician in Las Vegas; he has a band with the New Wavey-sounding name The Remedy (theremedyrocks.com) that plays casinos. Bassist Dave Nutzell is an audio man for music theaters in Branson, Mo. Lead guitarist Kevin Pugliese splits his time between Knoxville and Barcelona, Spain, his wife's home; since Candy Crème, he formed an acoustic trio that performed for some years in Spain, and has done session work in Nashville, Boston, and New York. He teaches guitar in Spain, but has hopes of forming a blues combo, perhaps based in Knoxville.
Maybe the most successful veteran of Candy Creme shows wasn't in the band; it was Candy's own nephew, Billy Mercer, who is the bass player for singer/songwriter Ryan Adams. She says he grew up going to Candy Creme shows with his aunt.
—Jack Neely
'Captain' Hugh Ray Wilson
Known as Hooray to many, Hugh Ray Wilson dropped dramatically from sight after his Old City landmark, Hooray's Sports Bar, closed down in bankruptcy more than four years ago.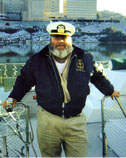 Since that time, you might not have caught sight of the reinvented "Captain Hugh Ray" unless you spent a lot of time on the Tennessee River around Knoxville. More as a hobby than a profession, Hugh Ray has been serving as captain, conversationalist, and floorshow, for the cruise boat "Enchantress," a 58-foot multi-decked catamaran owned by Oscar Wise that plies the Tennessee along the length of Fort Loudoun Lake, hosting parties, business meetings and retreats, bridal showers, recruitment cruises, and plain old tours of the lake.
When the sports bar closed down, Hugh Ray says, he made a deal with his wife, Cheryl, who hated his cockatoo, "Dugan," and his Macaw, "Big Bird." He says, "If I'd sell the birds, I got to go to a Coast Guard-certified school in Panama City to get my master's papers. And that's exactly what I did.
"When I retire [more nearly fully], I'd like to end up in Florida, running a fishing charter and guide service," says Capt. Wilson, who has pursued boating and fishing as lifelong avocations, along with bird-hunting and bullshitting.
Hooray would have to laugh at that last point, a raucous but accurate reference to his sales career in sporting goods before the sports-bar bug bit him.
"I spent 20-plus years as a manufacturer's rep for several companies, including Russell Athletic, Adidas, Easton, Johnson & Johnson, and Bike, for a time," he says. "At our peak, we managed $8 million in sales," Hooray says.
"I can tell anybody how to make a small fortune," he says. "You take a large fortune and open up a sports bar."
The bar was just short of incredible. It was 36,000 square feet of display space for his enormous collection of sports memorabilia. Open eight years, it never made money except during UT football seasons. "Basically, I was a jockstrap salesman, not having a clue how to run a bar business," Wilson says.
The bar's attractions included the late Knoxvillian Big John Tate's heavyweight boxing championship belt, seats from the original Yankee Stadium, an incredible number of autographed items, and record-book trophy mounts from Alaska to Africa. "I should put in, here, that not only did I not personally kill any of them, I never even spoke harshly to them," he says.
There's no listing of all the collectibles, which were auctioned off to satisfy debt to the Small Business Administration and the Internal Revenue Service. He says he doesn't even remember what the auction brought in, but it broke his heart at the time. "How do you put a value on an L.A. Kings jersey, signed by Wayne Gretzky, 'Merry Christmas, Hooray, see you soon,'?" he asks.
Through it all, Wilson says he stayed a South Knoxvillian, living in the same modest house for 32 years. "I grew up in South Knoxville and never left, even when it was high on the hog.
"A guy asked me the other day," the irrepressible Hooray chortled, "if I'd lived in South Knoxville all my life, and I said, 'Not yet.'"
—Barry Henderson
Don't Barr Another Comeback
It's lunch time at Dean Stallings Ford. The boys out back in the service department have fired up an oil drum barbecue grill, and they're throwing down the ribeyes. In the conference room some of them have already started eating their way through a lunch of steak, baked beans, and baked potatoes slathered with butter and sour cream. They are watching the latest Martha Stewart update on the big screen TV, and somebody jokes that she'll probably be redecorating cells in a federal facility soon.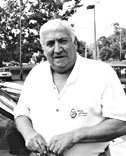 Just then the commercial accounts manager takes a seat at the head of the table. He has a shock of white hair, a pugilist's nose, and a glint in his blue eyes. He looks at the television and takes in the gathering storm over Stewart's seemingly shady financial dealings and her failure to cooperate with a Congressional investigation. He smiles just a little before he speaks: "People love to see the mighty fall."
The lunch crowd nods. After all, who has more knowledge of such matters than the behind-the-scenes architect of the 1982 World's Fair, the mastermind who transferred millions from one end of the Butcher financial empire to the other with a telephone call, the guy who went from the penthouse to the penitentiary and came back again stronger than an onion sandwich? Who could know more about what happens when the mighty fall than Jesse Barr?
At 65, Barr is maybe a step slower and a few shirt sizes bigger than he was on the fall night in 1982 when he and the once-and-future Knoxville mayor Kyle Testerman shared a drink of whiskey and watched the fireworks marking the closing of the Fair. They commiserated about how neither of them had gotten the credit they deserved for making Knoxville's big party happen, and they figured they never would. But they sure didn't figure on what happened the next day, when the bank examiners marched into one Butcher bank after another while the brothers Butcher (Jake and C.H.) slept. Typically, Barr was in his office on the 23rd floor of the former United American Bank tower when the phone calls started coming in. He knew very quickly that no sleight of hand could save them this time, because the examiners were an invading hoard, not one or two at a time as had always been the case before.
Less than a year later, he reported to prison after a much-publicized seven-day party that included a Monday Easter egg hunt, Fourth of July fireworks on Tuesday, a Labor Day picnic on Wednesday, trick-or-treating on Thursday, Thanksgiving dinner on Friday, Christmas on Saturday, and a New Year's Eve bash on Sunday night. Then he lowered the flag and went off to spend the next six years in 12 federal prisons and nine county jails. There, he roomed with a Mafia chieftain, read more than 2,000 books, "fought more fights than Mike Tyson," and commanded a level of respect because, in the prison pecking order, "the bigger the scam, the higher you are on the list."
Barr came out on the other side unbowed; the knack for telling a story undiminished, and that earthy Southern charm still stout as the scent of a Mississippi magnolia.
Here's his abridged version of his personal history: "Started broke, made a million. Went broke, made a million. Now I'm starting on my third million. I don't think I'll make it."
—Betty Bean
The Yellow Rose
It was November 1996, and Tennessee Supreme Court Justice Penny White was fighting for her political life. A well-organized coalition of ultraconservatives had branded her "soft" on the death penalty and started a "Just Say No" campaign to oust her from the bench. By election eve, the numbers looked grim. That's when the yellow roses started arriving at her Johnson City office in bud vases, one rose at a time.

"The flowers came in from lawyers, both men and women, and it was very touching," says White, who lost the election.
Earlier this month, a guest lecturer in Professor Penny White's ethics class at the University of Tennessee College of Law showed up with an armload of yellow roses. As he distributed a flower to each of the 58 students, he asked them if they knew the significance of the yellow rose. No one did.
"He just left that question hanging out there," White says. "After class they researched the topic, and about an hour later a student came to me, and was so excited because they'd found out what the rose means."
White's personal experience isn't the only reason she's partial to yellow roses. A student of history and the first woman elected Circuit Court Judge for the First Judicial District, she knows that yellow roses were the symbol of the suffragists who fought to pass the Nineteenth Amendment, which gave women the right to vote.
Since leaving the bench in December 1996, White has given speeches—mostly to young women lawyers—telling the story of how women got the right to vote, and updating it with anecdotes about the glass ceiling phenomenon, an invisible barrier that keeps women from breaking through to the top. Her talk is called "Yellow Roses, Glass Ceilings, and Ally McBeal."
"It took a hundred years to get the right to vote, and it will take a long time to gain full equality," says White, who uses the anorexic TV sitcom lawyer to illustrate "the way society may want women to be something different and inconsistent with gaining full equality. If we want to gain full equality in the legal profession, we have to be lawyers in the full sense of what it means to be a lawyer, not in the Ally McBeal sense that emphasizes the superficial Madison Avenue stereotypes of women—that you have to be small and blonde and gorgeous and clean and not get out into the field and investigate your cases."
A Kingsport native whose parents C.A. and Jean White still live in that city, White's goal was always to come back and teach in Tennessee. But she had a four-year professional odyssey before she secured a full-time position at UT, her alma mater, in 2000. She'd been an adjunct professor here for a year before receiving a one-year appointment at Washington & Lee, a one-year position in West Virginia, and a visitorship in Denver. In Colorado, she started teaching a multidisciplinary course called "Media's Impact on Justice," which she has continued here at Tennessee in conjunction with the College of Communications.
She has been invited to speak to 35 state judiciaries on the topic of judicial independence, and she says her experience has made her message "so much more profound: 'Do the right thing, even if you're going to lose your job.' It gives me a great sense of making something good out of something bad. And I love to teach."
As for the experience of being made a poster child for death penalty advocates looking to make a point, she describes it as "horrible... There's no way to make it any better, but the opportunities I have been given by what seemed to be the darkest of days have been incredible, and 90 percent of them I wouldn't have had without the experience of the election of '96."
—Betty Bean
The woman played by Sissy Spacek
People who lived in Tennessee in 1979 will never forget what it was like to see governor-elect Lamar Alexander sworn in three days early because of the scandal that engulfed Gov. Ray Blanton. And many people still remember the name Marie Ragghianti, the chairman of the Tennessee Board of Pardons and Paroles. Blanton fired her because of her refusal to release certain prisoners (some of whom had allegedly bribed members of the Blanton administration). Ragghianti's image is also permanently tied to Marie, the movie about her experiences on the Tennessee parole board that starred Sissy Spacek, Jeff Daniels, and Fred Thompson.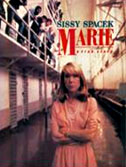 Marie bombed at the box office, but changed the face of Tennessee politics because it made Thompson famous. Thompson, a Nashville attorney who represented Ragghianti, played himself in the film and did such a good job of it that he was asked to star in other movies including In the Line of Fire. Fifteen years later, Thompson's acting career helped jump-start his political career when he successfully ran for U.S. Senate.
So whatever happened to Marie Ragghianti? Since the 1970s, she has lived in many places and held several jobs in the area of criminology. She has taught at a community college in Florida, studied for her doctorate in New York, and worked as the chief of staff of the U.S. Parole Commission in Washington. Two years ago, President Clinton nominated Ragghianti to be a member of the five-person U.S. Parole Commission. However, Congress did not act on that nomination, and President Bush has not renominated her.
Today, Ragghianti lives in Chevy Chase, Maryland, and works as a consultant for the state of Maryland, focusing on a program to control and prevent crime. She comes to Tennessee at least once a year to visit her brother or old friends. And she still thinks a lot about the series of events in her life that led to the downfall of a Tennessee governor. "When Blanton died in 1996, I felt nothing but compassion for the family," she says. "I think he was a great man who was ill-served by a few people around him, and he paid the ultimate price for his mistakes." She also says only good things about Tennessee's current Board of Paroles and its chairman Charles Traughber. "My understanding is that the board has been run well for quite some time. And it appears to be even an example for other states," she says.
—Bill Carey

September 26, 2002 * Vol. 12, No. 39
© 2002 Metro Pulse