Seven Days
Wednesday, Jan. 9


Greg Isaacs, the surviving attorney for Thomas "Zoo Man" Huskey after Criminal Court Judge Richard Baumgardner ousted Herb Moncier from further proceedings in the case, quits the case as well. None of this seems a surprise after the first "Zoo Trial" in the "Zoo Court" lo' these many years ago.
Thursday, Jan. 10


TennCare, the state's long-at-the-brink-of-foundering medical care program for the uninsured, is described as a "failed experiment" by a federal judge. Wonder what was his first clue?


The Sons of Confederate Veterans chides the Ku Klux Klan for disgracing the Confederacy's battle flag, the "Stars and Bars." Has either group noticed that it's the "Stars and Stripes" that is gracing this country and flying ever more proudly since September 11?
Friday, Jan. 11


The Metro Pulse "Empiricist of the Week" medal goes to the as yet unnamable holdup artist who refused to take an explosive dye pack of bills from a teller at a Cumberland Avenue bank branch just two days after a similar dye pack popped in his hands, causing him to discard a stack of bills, after he robbed a Market Street bank branch. Dude catches on quick.
Saturday, Jan. 12


Georgia's men's basketball team clips the Vols with a three-point shot at the buzzer (not "The Buzzer" who coaches UT) in what is becoming an almost unbelievable string of defeats in the waning seconds. Who's scripting this season? Could this be Jerry Green's revenge?
Monday, Jan. 14


It's disclosed that Gov. Don Sundquist has been staying part-time in his family's new home at the edge of the Great Smoky Mountains National Park in Blount County. It's so far back up there in the ridges that the anti-income-tax crowd will never find him when his term is up.
Tuesday, Jan. 15


Perpetual enfant terrible Brad Renfro, 19, is arrested near his North Knoxville home on a charge of public intoxication. Hey, you can take the kid out of Knoxville, but you can't take the Knoxville out of the kid.
---
Knoxville Found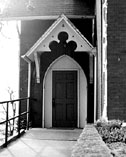 (Click photo for larger image)
What is this? Every week in "Knoxville Found," we'll print the photo of a local curiosity. If you're the first person to correctly identify this oddity, you'll win a special prize plucked from the desk of the editor (keep in mind that the editor hasn't cleaned his desk in five years). E-mail your guesses, or send 'em to "Knoxville Found" c/o Metro Pulse, 505 Market St., Suite 300, Knoxville, TN 37902.
Last Week's Photo:
It's not a bird, it's not a plane, it's a, it's a...well, what the heck is it? "It doesn't mean anything," chuckles Charles Pipkin, the retired former head of Pip's Iron Works on Ebenezer Road in west Knox County (his son, Paul, is the company's current president). Pipkin says the ad hoc sculpture at the company's entrance is made up of spare equipment that was lying around at the venerable plant. "We had a surplus saw blade, and we had a surplus vice, and we had a big red anvil that we weren't using," he says. A former employee, Keith Dees, suggested assembling them for display. Dees also painted the various pieces red, white and blue, a color combination that took on added significance after September 11—especially when Pipkin placed a flagpole with an American flag nearby. Pipkin says many local residents have commented favorably on the sculpture, and many have asked what it means; one even speculated that it was some sort of Masonic emblem. Nope. Nor is it meant as an advertisement. "I guess if we put our name on it, we'd have to get a sign permit," Pipkin says. In any case, of the many correct identifications we received, the first came from Sam Seat, who wrote, "I enjoy this sculpture on a regular basis." We hope Sam will also enjoy The Brotherhood of the Wolf, a new thriller that will have an advance screening on Thursday, Jan. 24 at Regal Knoxville Center 10. A free pass for Sam and a guest is on its way to him in the mail.
---
Meet Your City
A calendar of upcoming public meetings you should attend
UT PRESIDENTIAL SEARCH ADVISORY COUNCIL
Thursday Jan. 17
5 p.m.
University Center, Ballroom
1502 W. Cumberland Ave.
Update on search, with comment sought from interested parties.
CONCERNED SOUTH KNOXVILLIANS
Saturday Jan. 19
9 a.m.
Fi-Shock, Inc.
5360 National Drive
Discussion of proposed Wal-Mart Superstore along Gov. John Sevier Highway and its potential impact on wetlands.
KNOXVILLE CITY COUNCIL
Tuesday Jan. 22
6:30 p.m.
City County Bldg., Large Assembly Room
400 Main Ave.
Regular meeting.
KNOX COUNTY SCHOOLS
Wednesday Jan. 23
6 p.m.
West Valley Middle School
9118 Geo. Williams Road
Forum to gain public comment on the World Class Schools concept.


Flare Up
A new ruling puts the mayor's Fire Department troubles back on the burner
The efforts of members of the administration of Mayor Victor Ashe to block the promotion of a disabled firefighter who did not support Ashe's last two re-election bids cost city taxpayers more than $70,000 per month in unnecessary overtime pay last year and was politically motivated. Those were just two of the findings released in a Civil Service Merit Board report Monday.
Hearing officer Bill Petty found that a July 2000 federal court order enjoining Ashe from violating the civil rights of members of the Knoxville Fire Department didn't stop Ashe subordinates from retaliating against Robert Crisp, a decorated Vietnam veteran with 29 years KFD service. Crisp has been assigned to the Fire Department training center since 1997 when he was diagnosed with Alpha One, a rare genetic lung disease that makes it impossible for him to work in smoke-filled environments. Petty found that the Ashe administration's desire to deprive Crisp of a promotion was so strong that it caused officials not to fill 22 vacant positions just to prevent Crisp from advancing.
"The failure to fill these vacancies was costing the city somewhere between seventy and eighty thousand dollars per month in overtime pay," Petty said, ruling that Crisp "was denied promotion for political reasons." Crisp supported Ivan Harmon in the 1995 mayoral race, and his wife Sheila supported Randy Tyree in 1999.
Petty ordered the city to promote Crisp and three other firefighters who filed grievances "retroactive to March 26, 2001, with all back pay and other benefits to which they would have been entitled."
This ruling could also open the door for Crisp's attorneys to return to federal court and ask that Ashe be found in contempt of the July 26, 2000 injunction put down by U.S. Magistrate Robert P. Murrian, who presided over a lawsuit in which Ashe was found to have violated the civil rights of another group of firefighters who supported Harmon in 1995. Murrian's order, in part, said that "Mayor Victor Ashe is hereby enjoined from taking any adverse employment actions such as transfers, demotions, refusal to hire, refusal to promote...firefighters on account of their political beliefs and associations or their choice to remain neutral in political matters."
Murrian retired last month, and has been replaced as magistrate by Cliff Shirley.
Although Ashe relinquished formal control of the KFD and transferred supervision of Fire Department matters to city Finance Director Randy Vineyard as a result of the injunction, Petty said the mayor's wishes were well-known: "Long before the issuance of the injunction...the powers that be within the city of Knoxville and its fire department knew that Mayor Ashe would not, if possible, promote Robert Crisp and this was not forgotten by the powers that be following the injunction and Mayor Ashe's transfer of power to Randy Vineyard...Had Robert Crisp not been a candidate for promotion, at least 22 promotions would have been made months before the March 26, 2001 date."
Petty ruled that the three other firefighters who filed grievances—Cecil Risden, Neal R. Maney and Steven M. Fowler—were entitled to be promoted.
Petty also found:

That Fire Chief Gene Hamlin "could not or did not make the promotions because of instructions from Michael Kelley, law director."

That Vineyard, without consulting Hamlin, "did on August 30 rescind the request for 22 positions to be filled and reduced the number to 12." Crisp was 23rd on the list to be promoted.

That a letter from Crisp's doctor saying that Crisp's lung condition meant he could perform a desk job in a smoke-free environment never found its way into Crisp's medical file.

That Hamlin and Kelley visited Civil Service Director Karen Day "for the sole and exclusive purpose of attempting to disqualify Robert Crisp from eligibility to be promoted."

That last March, Crisp was left off a list for promotions because, according to KFD documents, "...he did not meet the minimum physical qualification test for Fire Officer..." (A separate complaint charging violations of the Americans with Disabilities Act is also pending in this matter).

That Assistant Chief Robert Pressley told an interview panel "If Robert Crisp were promoted, [Pressley] would, within one year, place him in the most active fire hall in the city of Knoxville," despite the medical information that forcing Crisp to work in a smoke-filled environment would threaten his life.

That Hamlin had made statements "...to the effect that Robert Crisp was a thorn in the mayor's side and an embarrassment to the mayor," and called Crisp "unpromotable."
The city has 60 days to appeal this decision in Knox County Chancery Court. An appeal of the Murrian injunction is pending in the U.S. Court of Appeals in Cincinnati. Crisp's attorneys, Wanda Sobieski and Dianne Messer, who also represented the firefighters in the earlier suit, could use the Civil Service finding as evidence that such an injunction is necessary.
Last week, some 50 KFD promotions were unexpectedly announced as rumors rumbled through the courthouse that Petty's decision would not be favorable to the administration. Ashe said he does not "know the person who filed the complaint," and referred a request for comment to Kelley. Kelley's deputy, Debbie Poplin, says the city disagrees with Petty's decision and plans to appeal it.
—Betty Bean
Road Warriors
Complicated politics underlie South Knox Connector fight
It was gray and blustery last Thursday afternoon when six members of Knoxville City Council gathered with Mayor Victor Ashe on a bare strip of asphalt to discuss the future of the long delayed and debated South Knox Connector. When Ashe introduced Councilman Joe Hultquist, who had convened the meeting, the small crowd in attendance clapped enthusiastically.
"Don't applaud yet," Hultquist cautioned as he stepped up to the portable lectern. "We don't know what the outcome of this is going to be."
Indeed. While most of the South Knoxville residents who came to speak at the meeting opposed completion of the four-lane divided highway, and supported Hultquist's call for a year's delay for further study, there's no sign their opinions matter to state officials.
The connector, a.k.a. the "Road to Nowhere," peels off from the James White Parkway near the Women's Basketball Hall of Fame, rockets across the Tennessee River on the South Knoxville bridge, and careens to a screeching halt underneath the Sevierville Pike overpass. The highway's dead-end has become a favorite place for truckers to park overnight and sometimes even leave trailers unhitched for days at a time.
The project originally aimed to provide an alternate route to Seymour and Sevier County, taking projected congestion off Chapman Highway. But in the 20-plus years since its conception, it has limped along in partly funded stages. Meanwhile, the build-up of Highway 66 in Sevier County has absorbed much of the traffic bound for Pigeon Forge and the Great Smoky Mountains National Park, leading some South Knox residents to protest that the wide, fast road through their backyards is no longer necessary.
It's a brouhaha with state officials and lawmakers pushing for completion of the road, the city and its Council calling for a delay, and county commissioners with no firm opinion except that they want a decision the state will follow through on.
For their part, the Council members present at Thursday's special meeting (besides Hultquist, they were Mark Brown, Larry Cox, Rob Frost, Steve Hall and Vice Mayor Jack Sharp) unanimously approved Hultquist's resolution asking the Tennessee Department of Transportation for a further year's delay. They also called for the establishment of a task force to hold public hearings and study the issues related to the road.
Although many residents spoke opposing any further work on the highway, Hultquist emphasized that he personally neither opposes nor supports TDOT's plans to continue the road through three miles of rural land and connect it with Chapman Highway.
"One year more delay won't hurt anything," Hultquist said. "The need is obviously not there right now in terms of traffic projections...I'm trying to approach this in a reasonable manner."
But as it's a state highway, the Tennessee Department of Transportation, bolstered by a letter signed by six members of the Knox County legislative delegation, plans to push the project to completion.
"I think it's going ahead" regardless of any opposition, says state Sen. Ben Atchley, the Knoxville Republican who was a signer of the letter to TDOT and has shepherded the connector for decades.
Jamie Hagood, the Republican state representative in whose district part of the connector lies, likewise signed onto the proposal to complete it. Hagood says, "From experience, I know that [TDOT] Commissioner [Bruce] Saltsman will listen to anyone's suggestions to improve the project," but, she says, the final portion should be completed now. "It's time," she says.
Neither of the county commissioners from the district, Howard Pinkston or Larry Clark, has been contacted recently about the project, but both say that the state should make a firm decision and stick with it. Both explain that their concern is with the property owners in the path of the proposed routes to completion who have been "kept captive," in Pinkston's words, over the years the project has been in limbo.
Atchley says he expects the land acquisition to get underway this year, but he says he has yet to be informed which route the extension will take after it recrosses Sevierville Pike near its intersection with Island Home Pike.
The alternatives south of that point are both plagued by limestone sinkholes, says Hultquist, who questions TDOT's "technical credibility," because "they've ignored major sinkhole issues and disregarded environmental issues."
He says that, besides allowing for fresh public input into that part of the project to "step back and put it on hold for a year might allow for adequate resolution of the environmental concerns."
Mayor Ashe, meanwhile, has used the road project as exhibit A in his ongoing public fight with TDOT. A former supporter of the project, Ashe came out last fall in opposition to any further work on it. Subsequently, he has lobbied for taking away some of TDOT's dedicated road funds—which come from the state's gasoline tax and federal matching money—and putting them toward other needs. His verbal assaults on the road builders' lobby, one of the most powerful in Nashville, have raised the ire of Saltsman and Gov. Don Sundquist.
Some have speculated that TDOT's renewed determination to finish the South Knox Connector is fueled by personal antipathy toward Ashe. That impression was reinforced at Thursday's meeting by the comments of Jack Barnes, a city employee and Republican party operative with close ties to Sundquist.
"I can tell you one thing," he said defiantly to the crowd, "the road is going to be built!" Responding to environmental concerns raised by other speakers, Barnes said, "You can sit here and say, 'Well, we got these pretty flowers and these pretty trees.' Well, those pretty flowers and pretty trees are going to have to go, 'cause we need roads!"
—Barry Henderson and Jesse Fox Mayshark

January 17, 2002 * Vol. 12, No. 3
© 2002 Metro Pulse