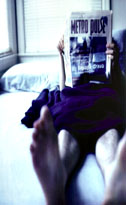 Photo by Ed Richardson
Business


Ipix and Pans
Rags-riches-rags-riches might be the best way to sum up the roller coaster fortunes of Ipix, the Oak Ridge company that is Tennessee's contribution to Internet visual technology. The 10-year-old company was seemingly on the rise some three years ago when new investors enabled a sizable expansion, sold on the potential of its 360-degree Internet visual software. But then April 14 of 2000 happened, and the Black Friday of NASDAQ saw tech stocks fall like raindrops from a somber gray sky.
Layoffs, suffering, and general belt-tightening ensued. But Ipix persevered, and in 2001 acquired the Pictureworks company out of California and gained new funding from Paradigm Partners of Memphis. The company's new structure will see its 360 immersive-imaging program continued in Oak Ridge, with the California outpost focusing on the former Pictureworks' digital imaging software.
Says senior vice-president of operations Dave Southard, "We should see profitability either this quarter or the next. We're a survivor."
Not So Regal
Knoxville-based theater chain Regal Cinemas, on the other hand, the nation's largest movie exhibitor, saw its fortunes bottom out in October when the company filed Chapter 11 bankruptcy, a move that ultimately left the chain under the control of Denver billionaire Phillip Anschutz.
It was big plunge for the company, which seemed on top of the world in 1998, when a pair of New York and Dallas buy-out firms engineered a merger that left it the largest of the nation's chains. But due to an onslaught of building-and-consolidating, the industry found itself with too many movie houses and in the depths of a recession. Anschutz, who also owns United Artists theaters, began the aggressive maneuvering that would give him control of Regal late last year.
Former local grocer and Regal founder Mike Campbell will remain at the head of the company's management team, however. One of Knoxville's five area Regal locations closed in '01, the East Towne Crossing on Millertown Pike. But Campbell said the others will remain in operation, and that all of the Crossing employees were offered jobs at other local Regal locations.
New Eats
For every closed eatery, a new one popped up like a mushroom after a spring rain. Downtown saw the rebirth of the original Regas, which closed last year after its 81st anniversary and has now reopened to the pleasure of Red Velvet cake lovers everywhere. The Klonarises (Klonarisi?), whose Kalamata Kitchen has been the place to eat in Farragut, opened their Little Kalamata in Western Plaza, much to the delight of those who live closer to the central city. Chinese buffet lovers meet sushi-addicts at West Knox's China Bistro 1. Knoxville's favorite sushi place, Tomo, moved from its tiny Old City location to the shopping plaza across from Stir Fry Cafe. Speaking of which, Kenny Saio, Stir Fry's owner, launched Cha Cha, a tapas restaurant in the heart of Bearden. Also in Homberg Place, chef Bruce Bogartz tickled our tastebuds with his new eponymously named, Southern-inspired gourmet nook. Cuban restaurant Havana Spice hopes to succeed where others have failed, moving into the former home of the End Zone, which was formerly known as the much beloved Hawkeye's. And down in Maryville, Italian-themed Luce has been drawing pasta lovers from far and wide.
Off and Running, Running Off
The Trex Co., a synthetic lumber producer using recycled products, announced early in the year that it would build a manufacturing plant on 100 acres in Knox County's Eastbridge Business Park. It would have been the first new plant of any size to be established there in recent years, and it attracted a state and local property, job-training and utility package, potentially worth millions of dollars.
About a week after the September 11 tragedy, the company abruptly canceled the deal, citing business considerations and costs. The Knox County Development Corp.'s chairman, Hank Bertelkamp, said the pullout was no big deal because it leaves a valuable hundred acres available for other development. Uh, yeah, whenever...
Don't Get Mad, Get Even
Speaking of available acreage, the H.T. Hackney Co., a major wholesaler with headquarters in Knoxville, vainly leapt through zoning hoops a couple of years ago to develop a Washington Pike site for a warehousing and distribution center. Bowing to neighborhood opposition, the County Commission said nay.
So this December, saying he wasn't angry about the earlier failure, hackney mogul Bill Sansom took up a Roane County offer to place his 312,000-square-foot, $15 million warehouse and office complex, with its 320 expected jobs, in a business and technology park near Kingston. Well, it's still in the Knoxville neighborhood, regionally speaking, and it has friendlier neighbors out there who need the work.
No Joy In Beerville
In 2001, beer lovers had two major reasons to grieve:
New Knoxville Brewing Company, the only beer bottler in Tennessee—and the first brewery in Knoxville since its namesake predecessor was closed by prohibition—called it quits when the bank seized their Depot Street brewery after the unexpected failure of a last-ditch financing arrangement. For five years, NKBC—which took its name from a famous Victorian-era brewer here—brewed award-winning stouts, porters, pale ales, and—our favorite, and much missed—an excellent India pale ale we'd put up against anybody's. Stores were sold out by the end of spring.
Then the most recent incarnation of the city's flagship brewpub, CityBrew, closed in early July. It's the third time this space has closed since the Smoky Mountain Brewing Company introduced the brewpub idea to the Knoxville area with this large, handsomely renovated space on Gay Street in 1994. Since then, the brewpub had been more than a bar and restaurant; for the better part of seven years, it was a community gathering place, the birthplace of the Internet forum k2k, the most likely spot to run into random celebrities, from BBC reporters to Garrison Keillor, to Mayor Victor Ashe, who once held a Mayor's Night Out here.
The brewpub's last incarnation, a Regas-based venture, hardly lasted more than six months. Though often crowded, CityBrew was also often empty, and never quite seemed to click on all cylinders despite a peerless lager served up by braumeister T. L. Atkisson.
The two previous times it closed, it was gone for only a few months before it came back again, and the second incarnation, Great Southern Brewing Co. (1996-2000) was reportedly profitable. But this time we fear the worst.

December 20, 2001 * Vol. 11, No. 51
© 2001 Metro Pulse