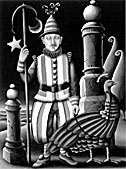 What:
Holiday Show
Where:
The Hanson Gallery, 5607 Kingston Pike (call 584-6097 for hours or visit their web site)
When:
Through December 31

Another holiday season at the Hanson Gallery
I will not go into how I recently ended up a WalMartyr on the same day I went to the Hanson Gallery. Let's just say that visiting the latter reminds me of the pleasure I've had discovering small galleries in Paris' tonier arrondissements, whereas Wal-Mart just gives me a crashing headache. Not that shopping is the only reason to drop by Hanson (although it's hard to not want what they've got in your very own home); in fact, pressure to buy seems nonexistent—the consistently good fine art offerings likely sell themselves. It's also enjoyable seeing what's been newly created by Hanson's ever-revolving roster of talent, and this year's holiday show rivals exhibits past.
In the spotlight this time around is painter Cynthia Tollefsrud, whose work was present last December but far less evident. Now, after what must have been one helluva prolific year, she dominates the walls with her distinctive brand of Neo Pop-Su-Realism. Her paintings are full of odd, often perplexed-looking people with crisp blue eyes. Besides evoking the Northern European precisionism and obsession with detail her name suggests, she indulges fantasies that would keep a therapist busy for quite a while. In "The Courtesan of Kumquats," Tollefsrud presents us with a voluptuous vixen posing with a moon cradled in her palm as a rocket shoots skyward. Glancing sideways at a lunar-surfaced bowl of fruit, she's a space-age temptress contemplating her own temptation.
Various "lunatics" and other moon references tie Tollefsrud's astonishingly colorful canvases together. They may not be everyone's cup of tea, but one can't help but admire their boldness. Says the artist, "They are quirky. They are whimsical; whether my paintings have a message in them or not depends on how deep my thoughts are at the time. Sometimes, there's no thought at all. Sometimes there is. Overall, I try not to take them too seriously." Born in Oxnard, Calif., in the '50s, Tollefsrud appears to have absorbed that state's insouciance and theatrical flair. Her art may be intense—even garish at times—but dull it is not.
New to the gallery is Elizabeth Johns, another Realist painter-of-sorts. But unlike Tollefsrud, she woos rather than wows her viewers. Having previously exhibited in places as distant as Seattle, Johns produces work that owes a great debt to Marc Chagall. Even if they're not floating, her figures hold onto things as if they're about to drift away. And like Chagall, however fanciful Johns might seem in her approach, her scenarios are essentially autobiographical—especially with titles like "Talk Over Coffee" and "The Gardener." Johns' "The Driver" shows a standing girl gripping a small, detached steering wheel. With a basket of what appears to be cotton slung over one shoulder and a red car perched on her head, the girl gazes steadily out of the picture as if to link her nonsensical scene with reality. Like hearing about someone else's dream, we have an idea of what's happening, even if we can't define it in our own terms. Given Johns' intriguing narrative bent and Tollefsrud's "Lunatic With Purple Flower" (looking a lot like Harry Potter), I'd say some of Hanson's artists could make it big illustrating books—something Chagall certainly enjoyed.
Photography enthusiasts should find Robert Batey's large black and white prints of downtown Knoxville interesting, and fans of artist Sammie Nicely will be delighted with his ceramic fish-faced masks. Somewhat of a star on the national craft show scene, Nicely was chosen to create art for the Hartsfield International Airport in Atlanta (where he now lives). Maine-based Mary Bourke paints simple shapes on panels in vibrant colors reminiscent of Milton Avery. She says, "I know that we cannot foresee or choose our future, but we can search through our past and collect our treasures. These are mine." Lisa Weiss, who presents four small mixed media pieces, remarks, "The images are influenced by eclectic sources, an awareness of the cyclic form of nature, culturally diverse images and the pure unencumbered process of painting itself." Now living in Portales, New Mexico, Weiss incorporates fragments of delicate things into her work yet avoids fussiness.
Last but absolutely not least, we have an opportunity to revel in the work of Jean Hess, Cynthia Markert, and Robin Surber, amongst other Hanson familiars. Hess' "Gaia.com 14," with its smoke hued grid and central square made up of brownish bits of petals and leaves is an exquisite little world unto itself. Markert's Art Deco-tinged images of women are always intriguing, and her fetishist red shoes on a rectangle of black are striking. Surber, as usual, offers technical proficiency you can sink your teeth into without feeling emotionally cheated. Her assemblage, titled "Peace" in response to September's New York City tragedy, is simply lovely.
If you can't do your Hanukah and/or Christmas browsing in Paris, you can soak up some of the luster at the Hanson Gallery. For Knoxville, it might be the next best thing.

December 13, 2001 * Vol. 11, No. 50
© 2001 Metro Pulse