Nancy Milford probes the dark heart of Millay
by Jeanne McDonald
It was Miss Reina Puckett, my high school English teacher, who introduced me to Edna St. Vincent Millay. Not to the poet herself, of course—Millay had been dead for years—but to her poetry, only a few samples of which were printed in our English literature textbook. Being 17, incurably romantic, and already a writer (I had just received honorable mention in a Seventeen magazine competition in which a girl named Sylvia Plath won first place), I was both shaken and thrilled by Millay, who showed me, after a semester of universal themes from Tennyson and Wordsworth, that a poet's emphasis on her own life could also have broad appeal. How dare she have written "What lips my lips have kissed, and where, and why,/ have forgotten, and what arms have lain/ Under my head till morning; .../ I only know that summer sang in me/ A little while, that in me sings no more"? Wasn't this brazen? Wasn't it naughty? Yes. But it was also stirring, and true, and exciting.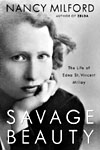 Miss Puckett, who was among the more revolutionary of my teachers, was forever stretching my consciousness. "You didn't ask to be born, did you?" she asked the class one day. Looking back, I am surprised that she did not reveal how Millay had died, though somehow I had it in my mind that she had killed herself. And in a way, she did, or her excesses did, because in reading Nancy Milford's marvelous new biography, Savage Beauty: The Life of Edna St. Vincent Millay (Random House, $29.95) I learned at last that "Vincent" routinely overdosed on drugs and alcohol. A chart she made in the last decade of her life chronicles her addiction. Before lunchtime on one particular day, she injected herself hourly with morphine, drank a martini, a beer, two gin rickeys, and smoked 10 cigarettes. Eventually she was adding Nembutal, Demerol, Seconal, Benzedrine, luminal sodium, codeine, Phenobarbital, nervosine, and insulin. She admitted that the intake was excessive, but "not discouraging, considering how many different kinds of pain I have."
Finally, through the loving care of her husband, Eugen Boissevain, she was able to give up drugs, but alcohol continued to be her nemesis. And when Eugen died of lung cancer in 1949, Millay slid into depression. On the evening of Oct. 18, 1950, she drank some wine, took a sleeping pill, smoked a couple of cigarettes, and worked on her poetry. The next morning the caretaker of her estate, Steepletop, found her at the bottom of the stairs, her neck broken. In her notebook, the last three lines of a new poem were circled: "I will control myself, or go inside./ I will not flaw perfection with my grief./ Handsome, this day: no matter who has died."
Milford's biography, 30 years in the writing, is a labor of love, intuition, and dogged research, incarnating the poet on its very pages. To her family, she was both goddess and genius, yet fragile enough to warrant constant protection and affirmation. The publication of her best known poem, "Renascence," when she was 20, earned her celebrity, benefactors, and a scholarship to Vassar. Though willful to the point of arrogance ("I shall forget you presently, my dear,/ So make the most of this, your little day,/ your little half a year,/ Ere I forget, or die, or move away"), she continued to be treated delicately by friends and family. Her husband called her his "child" and was so indulgent he invited her lovers to visit on weekends.
At first the darling of the critics, Millay later came to be labeled as difficult and self-absorbed as her personal life became indiscriminately tied to her work. Undeterred, she wrote: "My candle burns at both ends;/ It will not last the night;/ But ah, my foes, and oh, my friends—/ It gives a lovely light." Despite her shocking affairs with both sexes and her mercurial personality—or perhaps because of them—her books were snatched up by the thousands, even during the Depression, when Fatal Interview sold 50,000 copies.
To lyric poetry Millay brought an intensely personal shape. She wrote at an immense price, sacrificing health, family, husband, and friends for the raw experiences that were brilliantly articulated in her work, yet it was the passion she was born for. Although some of her poetry is now labeled old fashioned, many of her poems remain timelessly resonant. She would have loved Dorothy Parker's tribute: "We all wandered in after Miss Millay. We were all being dashing and gallant, declaring that we weren't virgins, whether we were or not. Beautiful as she was, Miss Millay did a great deal of harm with her double-burning candles...made poetry seem so easy that we could all do it. But, of course, we couldn't."
Miss Puckett would have loved it, too.

October 18, 2001 * Vol. 11, No. 42
© 2001 Metro Pulse