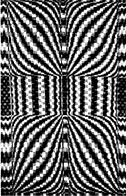 What:
Regional Textile Art
Where:
At UT's McClung Museum (1327 Circle Park Drive) and at the East Tennessee Historical Society Museum (600 Market Street)
When:
This Saturday, Oct. 6, through Feb. 3, 2002. Call either 974-2144 or 215-8824 for information.

Two Knoxville museums team up to exhibit regional textile art
One of my grandmothers was a wizard with the needle, capable of crafting clothing in all shapes and sizes. My other grandmother was no seamstress, but having been a nurse in France during World War I, she could stitch up a wounded soldier in minutes flat. Both grew up in an era when girls learned to sew and women were expected to sew well—or knit, quilt, embroider, weave, crochet, what-have-you. I do none of those things, and I feel disconnected from a tradition that has provided females with a creative outlet and sense of accomplishment for thousands of years.
Whether it has been primarily in women's nimble hands because they're more patient or have been confined to the home, loom and needle work have been handed down through generations, strengthening family ties and regional identity. Called "the quiet work of women" by exhibitions curator Kathleen Curtis Wilson, handmade American textiles are now being recognized as an important art form. Beginning this weekend, selected Southern Appalachian textiles will be exhibited jointly by the McClung and East Tennessee Historical Society Museums. Other than marking a collaborative effort between institutions dedicated to preserving our cultural heritage, the two shows acknowledge the significance of such 19th and 20th Century art. Many of the more than 40 coverlets and other items are on display for the first time, and together they form the most extensive presentation of woven art from this area yet assembled.
The term "coverlet" may sound frivolous, describing something tossed on a bed rather than hung with pride on the wall. According to Wilson, "In layman's terms, the word coverlet means any cover, including quilts and counterpanes, used on a bed for utilitarian or decorative purposes; but in practical usage, a coverlet [is]...woven on a handloom (without power) by individuals not working in a factory setting." A real coverlet is therefore not a three-layered quilt. It is composed of single-thickness woven pieces sewn together, the width of each determined by the loom used. Nor is a coverlet something one whips out in a few sittings. Most coverlets require a month or longer to weave, even if one spends countless hours each day at the loom. An "overshot" coverlet is named for its overshot weave structure—one in which a series of weft threads are superimposed or raised and appear to float above a flat woven ground.
Wilson has stated that "Nineteenth Century Southern Appalachian hand weavers relied on the accepted cultural traditions of their society to create objects of beauty and functionality, yet many pushed beyond the norm to create graphic designs that defined their personal aesthetic. It is not the musician's F sharp or the architect's use of a Doric column that differentiates the creative talent of one over the other, but rather the way the entire piece is constructed. For the musician, architect, and overshot coverlet weaver, proportion, repetition, rhythm, and attention to detail determine a truly creative work of art."
Descriptions of the coverlet constructing process—with its pattern drafts, mathematical variants, threaded warps, picks per inch, and occasional multiple shuttles—make quilting with already existing fabric sound easy. Like quilts, coverlets exemplify an experimentation with color and pattern that preceded contemporary graphic design. Yet they are prized for reasons beyond their complexity or aesthetic value. They serve as reminders of familial continuity and our region's connection with Scotland and Ireland. They represent your Granny's (or Mom's/Sister's/Aunt's) time and love in palpable form. Many are deemed too valuable to be removed from the home and photographed.
"Coverlets were rarely used on a daily basis...the owners considered them to be art," says Wilson. "And as such they were displayed only on special occasions and otherwise carefully preserved. Certainly some women used and wore out their coverlets, especially when multiple pieces were available to choose from, but more often families slept under plain woolen blankets woven in abundance, saving their coverlets for the next generation to appreciate." This notion is contrary to the perception that mountain crafts have been produced for survival; that poverty and isolation have been the impetus for creativity. Wilson has asserted, "[Given the] sentiment—expressed in movies, magazines, and books—it is not surprising that modern Americans continue to marginalize Appalachian people in general and the region's coverlet weavers in particular as being unworthy of extended research...their handwork undeserving of artistic validation."
Our woven art legacy is celebrated, however, within the next few months. "Textile Art from Southern Appalachia: The Quiet Work of Women" reflects almost two decades of research on Wilson's part, and numerous coverlets and other textiles are accompanied by the intriguing family histories of their creators. Wilson will lecture at both museums, and a companion catalogue is available. Children may not appreciate the intricacies of more subtle pieces, but the overall impact of bold color and pattern should appeal to most museum-goers. Well-entrenched, textile art is a legacy that should survive for many years to come.

October 4, 2001 * Vol. 11, No. 40
© 2001 Metro Pulse