Seven Days
Wednesday, June 20


University of Tennessee officials announce they're "dissolving" the interdisciplinary center headed up by departed administrator Pamela Reed. Which is the only time the words "Pamela Reed" and "discipline" have appeared in the same sentence.
Thursday, June 21


Acting UT President Eli Fly says the university won't be retaining departed prez J. Wade Gilley as a "consultant." Pity—seems like his successor could learn a lot from him.


In related news, Gilley assures a reporter he'll still root for the Vols. Imagine their relief.


The Knox County Election Commission certifies 29 candidates to run for City Council. Just goes to show—you have to be certifiable to seek public office in this town.
Friday, June 22


Legislators trying desperately to resolve the state's budget crisis fail to muster the votes for a sales tax increase. "Nobody up here knows what the answer is," a Memphis lawmaker says. In other words, everything's normal.
Saturday, June 23


A Fort Sanders property owner demolishes six Victorian homes despite the city's attempt to protect the neighborhood via historic overlay zoning. Don't worry, though—he faces up to a $100 fine for every single one! That'll show 'em.
Monday, June 25


County Commission puts on hold a proposal to send the Universe Knoxville project to a public referendum (which almost certainly would have killed it). But boosters still fear a possible black hole emanating from the vicinity of Commissioner Frank Leuthold.
Tuesday, June 26


The Legislature edges closer to a "flattened" state income tax. The state Constitution requires the governor to sign some kind of budget by this Saturday. Tune in next week...
---
Knoxville Found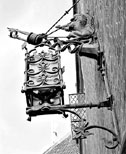 (Click photo for larger image)
What is this? Every week in "Knoxville Found," we'll print the photo of a local curiosity. If you're the first person to correctly identify this oddity, you'll win a special prize plucked from the desk of the editor (keep in mind that the editor hasn't cleaned his desk in five years). E-mail your guesses, or send 'em to "Knoxville Found" c/o Metro Pulse, 505 Market St., Suite 300, Knoxville, TN 37902.
Last Week's Photo:
Tricky, this one was. A little obscure, hard to identify, even impressionistic (nice photo, Kim). It is, in fact, the head of the spring in Fountain City Park that eventually feeds into the duck pond there. Or, as Fountain Citians insist on calling, into the "lake." (Hey, if the Tennessee River can be a lake, so can a duck pond.) And it wasn't too obscure or impressionistic for Jack Mitchell of North Knoxville—our first and only correct respondent. For such astute observation, Mitchell wins his very own copy of the vital tome Revelation, a handsome hardcover published by the Jehovah's Witnesses and featuring chapters like "Abhorring the 'Deep Things of Satan'" and "Judging the Infamous Harlot." Don't miss the numerology chart on page 19!
---
Meet Your City
A calendar of upcoming public meetings you should attend
UT BOARD OF TRUSTEES
Thursday, June 28
9 a.m.
University Club, Rooms A, B & C
2704 Kingston Pike
The board will attend to various matters, including the current presidential search and discussion of a possible tuition hike, again.
KNOX COUNTY BOARD OF EDUCATION
Monday, July 2
5 p.m.
Andrew Johnson Building, 1st Floor
912 S. Gay St.
Work session.
Tuesday, July 3
5 p.m.
City County Building, Large Assembly Room
400 Main St.
Regularly scheduled monthly meeting.
METROPOLITAN PLANNING COMMISSION
Thursday, July 12
1:30 p.m.
City County Building
400 Main St.
MPC will consider requests for rezoning, subdivision plan approval, development plan approval and street closures.


Thumbing His Nose
A property owner ignores new zoning laws and demolishes six historic homes
It costs $40 to get a permit to tear down a two-story home in historic Fort Sanders.
The maximum fine for razing a home without a permit? $100.
Perhaps with that knowledge in mind, Jerry Hughes went ahead and razed six old early Victorian homes on Highland Avenue and 16th Street on Saturday, circumventing the neighborhood's new NC-1 overlay.
The demolition infuriated historic preservationists, neighborhood activists and city officials, who believe Hughes deliberately broke the law.
"The thing that really bothers me is it's a slap in the face to the Historic Zoning Commission (HZC), the City Council, and the neighborhood association," says Nic Arning, vice chairman of the HZC and president of Knox Heritage. "To just thumb your nose at [their] directives, I'm sure it's going to upset a lot of people."
Under the new NC-1 overlay that most of Fort Sanders falls under, any demolition or new construction must be approved by the Historic Zoning Commission. The houses Hughes razed had been condemned, but Arning says they were still salvageable. In the heart of Fort Sanders, neighborhood activists had worked hard to keep the six houses out of the hands of JPI, the apartment developer that built several complexes around the edges of the neighborhood—most visibly along 11th Street.
Developer Vedat Aboush, who has an option to buy Hughes' property, applied to the HZC a few weeks ago for both a demolition permit and building permit for a three-story residential building.
Aboush was informed that the requests would be denied, Arning says, and they were last Thursday. But the prior Tuesday, Hughes went into the city's development office and managed to get a demolition permit from the clerk (except in certain protected areas, like Fort Sanders or Forth and Gill, no special approval is needed for demolition permits).
Leslie Henderson, the city's director of development, says the clerk was disciplined for mistakenly issuing the permit. But, Henderson adds, Hughes knew razing the houses violated the neighborhood's zoning ordinance.
"He knew this was illegal," Henderson says. "We're certain he knew this was against the law."
Neither Hughes nor Aboush could be reached for comment.
Arning says a number of people have been negotiating with Hughes to buy some of the homes. However, Hughes wanted to sell them all as one property—his most recent asking price was reportedly $600,000.
Henderson said the city will fine Hughes the maximum it can—$100 for each house demolished, or a total $600. "The most anyone can be fined for violating any of the regulations of this department is $100. That's something we've been trying to get changed for a long time," Henderson says.
Arning says the plans that Aboush presented to the Historic Zoning Commission are exactly what neighborhood activists and preservationists have been trying to stop. "It was a long row of apartments, three stories tall, with very little decoration," he says.
Arning says that until now the NC-1 overlay—established after several months of meetings of the Fort Sanders Forum, which included city officials, property owners, developers, preservationists, University of Tennessee administrators and hospital officials—had been working.
"[The demolition] sets a precedent of thumbing your noses at the regulations," Arning says. Other property owners are probably watching closely.
—Joe Tarr
Arant
Back into banking to avoid retirement
Williams "Bill" Arant, whose name was practically synonymous with banking in Knoxville in the post-Butcher years of the 1980s and early '90s, is back in the business full-time at age 65.
"I never really cared that much about retiring," says Arant in explaining why he accepted the title of senior vice president of SunTrust Bank (of East Tennessee) and went back to work this week.
Arant says the industry has been changing rapidly, and that since his 1995 retirement from active banking, the continual merging and acquiring of banks across state lines and the growth in the technology of electronic banking has made banking more impersonal.
"Customer relationships get fractured" with such changes, he says, and though he has little hope of repersonalizing banking, "I wanted to stay involved with the people I know...No matter what takes place in technology, a certain amount of banking will always be driven by personal relationships."
That said, his role with the regional arm of SunTrust will include serving on its board and promoting the bank's "upscale, trust and commercial markets" here. Arant points to the rise in banking's "wealth management" services as a motivator for both him and the bank. The extraordinary growth of the economy over the past 10 years has created and dispersed wealth to the point where all banks are competing vigorously to secure investment and trust clients.
A Manning, S.C., native with that state's uniquely valued Low Country credentials, Arant went to Duke University and began his banking career at First Union National Bank in Charlotte, N.C., in 1961. He came here in 1980 as president of the old Park Bank. Shortly after its merger with First American, Arant went with 1st Tennessee in 1984 as regional president. In 1988 he became a founder of First National Bank of Knoxville, where he was president and CEO. He retired from that post, following an acquisition and a couple of name changes, the last to First Vantage Bank in '95, but remained board chairman there while becoming managing partner of the fledgling Venture Alliance, a venture capital organization.
Arant says the alliance, with such investors as TVA, Big Jim Haslam, Sam Furrow and Doug Horne, pulled together more than $20 million from a variety of mostly private sources and helped launch five companies, two of which were markedly successful and have assumed full management responsibilities for themselves.
Calling that 40 percent rate of survival remarkably high, Arant says, "That's the definition of success for a venture capital group" to go out of active management as companies spin away on their own. He also says that venture capital for "non-dot.com" start-ups here and elsewhere pretty much dried up in the rush to the dot.coms in the late '90s. The alliance had no dot.coms in its stable. In addition to that, he say, "It was just too hard. It's really hard to start up new companies. It takes more time and effort than we understaood at the outset."
As the alliance wound down, Arant in '99 bought Booneway Farms, a producer of up-market jams and jellies with a plant in Berea, Ky. He says that firm has recently acquired a joint-venture partner, Len Mar Corp. of Duluth, Ga., and that his son, Bill Arant III, has assumed more responsibility with the venture, freeing him up to return to banking.
As a banker, he was former president of the Knoxville Chamber of Commerce, chairman of The Downtown Organization, chairman of a United Way campaign and, for 13 years, chairman of the Knoxville Zoo's board of directors. His profile was so high here it could have been mistaken for the image on the quarter.
No wig and no pony tail, he says.
"I just really enjoy working with people and organizations here in Knoxville," he says. It beats retirement, he's decided.
—Barry Henderson
Do the Evolution
Newsflash: Knoxville invaded by Darwinists!
Massimo Pigliucci arrived on campus at the University of Tennessee back in the mid-'90s, just before the state Legislature made its most recent ill-fated attempt to restrict the teaching of evolution in public schools.
The experience was a shock for the Italian-born associate professor of botany, who thought that arguments about Darwinism had gone the way of the flat earth. Ever since, he has made an auxiliary career out of promoting science teaching at university and K-12 levels. For the past five years, he has helped organize Darwin Day events on campus each February (the month of Charles Darwin's birth). Darwin Day has since become a national celebration, spreading to nearly 20 other states.
And this week, Pigliucci helped bring to town the annual conference of the Society for the Study of Evolution, the largest professional organization of evolutionary biologists.
In addition to the normal kibbutzing and paper-presenting, the gathering of scientists and educators is sponsoring some events for the general public.
"I said, since we have 1,200 evolutionary biologists coming to town, how about we do some sort of outreach for the community," Pigliucci says.
First and foremost is a free lecture this Friday at 7:30 p.m. in the Grand Ballroom of the Convention and Exhibition Center adjacent to the downtown Holiday Inn. The speaker is Dr. Richard Lewontin, a Harvard geneticist whom Pigliucci says has "been involved in most the major advances in population genetics over the last 40 years." Among his books are It Ain't Necessarily So, a critique of the human genome project, and The Triple Helix, which analyzes the interplay of genetics and environmental conditions.
"He's a really eclectic character," Pigliucci says. "He's made some really interesting contributions to the philosophy of science."
There was also a workshop on the teaching of evolution for local school teachers on Wednesday. It's the kind of thing Pigliucci thinks scientists need to do more, rather than squirrel themselves away in labs.
"Evolutionary biologists have little incentive to do outreach," he says. "That attitude can lead to creationists making enough of a dent on Capitol Hill that they can affect funding for evolutionary research."
Several attendees at the conference are well aware of Tennessee's historic significance as an ideological battleground. Pigliucci organized a field trip for the scientists to Dayton in Rhea County, site of the 1925 Scopes trial. He sees the state's hosting of the conference as another step away from that history. But from his conversations with teachers across the state, many of them in rural and strongly religious counties, he knows there's still a way to go. Squeamishness about evolution in the state curriculum is a major factor in Tennessee's repeated low rankings in national science evaluations.
"There is still quite a bit of caution," Pigliucci says. "I think things change very slowly." You could even say they evolve.
—Jesse Fox Mayshark

June 28, 2001 * Vol. 11, No. 26
© 2001 Metro Pulse