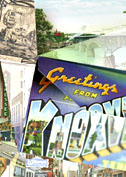 A Camp of One's Own
Or, what I learned by skipping swim lessons
Up and Up and Up
Tripping to the rooftops of the Biltmore Estate
Destination Attraction
Knoxville has had tourists for more than a century. But what it tells them about itself keeps changing.
Secret Summer Spots
A smorgasboard of local notables' favorite summer haunts

Calendar of Summer Events

Some local and regional summer-style happenings
Music in the Park
Ijams Nature Center
Food, great local bands, and the beautiful outdoors make this series one to treasure.
Call 577-4717.
Kuumba Festival
The largest African-American Cultural Arts Festival in the area.
Kick-off on June 28 at the KMA, followed by the Youth Theatre Festival at Knoxville College, the Junkanu Street Parade and a Reggae Beat Concert in the Old City starting at 6 p.m. on June 29.
For further information, call 525-0961.
Historic Jonesboro Days
Celebrating Tennessee's oldest town with food, crafts, clogging and fun.
Call 423-753-5281.
Anvil Shoot
Museum of Appalachia, Norris
The anvil will take to the air at 10 a.m., noon, 2 p.m., and 4 p.m.
Call 494-7680 for further information.
Festival on the Fourth
Chilhowee Park
Fireworks, picnicking and the KSO
Call 215-4248.
Eighth Annual Volunteer Bug Jam
Chilhowee Park
Not insects, Volkswagens.
$8 per day/$15 for the whole weekend. Kids 12 and under free.
Boomsday
Knoxville's waterfront
Music and explosions—fun for all!
Free. Call 693-1020.
Tennessee Valley Fair
Chilhowee Park
Tractor pulls and beauty queens.
Call 215-1470 for more.

March 1, 2001 * Vol. 11, No. 9
© 2001 Metro Pulse