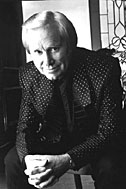 What:
George Jones
When:
Saturday, June 2 at 8 p.m.
Where:
Knoxville Civic Coliseum
Ticket info:
$28/$35 at Tickets Unlimited Outlets or 656-4444

He won't talk to us, but you don't need an interview to get to know George Jones.
I got drunk with George Jones last night.
Well, to be clear, I sat at home, alone, with a bottle of Jim Beam, a dirty glass and The Spirit of Country: The Essential George Jones in the CD changer. George couldn't make it. His booking agency decided that if he did an interview with me, he'd have to do an interview with everybody, and it's apparently much easier just to turn them all down.
So I slouched in my arm chair, the old tattered one my girlfriend left when she moved all her stuff out. The bottle sat open on the floor beside me while I ruminated with George about drinking, women, and then drinking some more. It felt like a George Jones song, one of those sentimental honky-tonk ballads that goes so far over the top, so deep into the pathos of alcoholic self-pity, that it's not sappy at all, but a documentary of despair, betrayal and willful self-destruction. Like "He Stopped Loving Her Today," which was actually written as a parody of the maudlin country music of the '70s, which George resisted recording, but which then became The Single Greatest Country Music Song Ever Recorded. Ever.
George and I start at the beginning—not the actual beginning, in East Texas in the 1930s, out in the flats of nowhere where he learned from local church singing and the Carter Family and Roy Acuff on the radio, or where his daddy sent him out to sing on street corners for tips when he was 12. Not even at the start of his professional career, after he ran away from home, got married and divorced for the first time, when he didn't sing like George Jones at all but in the high nasal tones of Hank Williams and Webb Pierce and Ernest Tubb. We don't start with "Why Baby Why," his first hit on the tiny Starday label out of Beaumont, Texas, or with his first appearance on the Grand Ole Opry in 1956, or "White Lightning," his first number one single.
No, we start at the true beginning, in 1960, when the real George Jones finally emerged on "The Window Up Above," revealing his pathological obsession with the unseemly details of domestic failure and his unflinching need to tell us all about it. On the surface, it's a song about a husband watching his wife and another man from his second-story bedroom window. But it's not just George looking out that window, watching his cold-hearted cheating wife and her lover; we're looking up through the same window, watching George watch them. It's not a pretty picture, but it provides us with a dirty, voyeuristic thrill.
It's gone on like this for the last 40 years. "The Grand Tour," "A Good Year for the Roses," "He Stopped Loving Her Today," "Golden Ring"—they may not be strictly true, may not accurately represent the facts of his many failures and his repeated descents into depression and drink, but the secret to him is that his songs, even when they're written by some hack Nashville songwriter, reveal his life more clearly than any amount of bare biographical detail can. A line like "I want to give up, lay down and die," from "These Days (I Barely Get By)," written by George and Tammy Wynette, with that Texas tenor wavering at first, then soaring, says more about George in the mid-'70s than any behind-the-scenes expose ever could.
"These Days (I Barely Get By)" is a good song, but it achieves special heartbreaking significance when you know that George left Tammy just two days after he recorded it, in December, 1974, five years after they married. It's a song about a working man overwhelmed by bills and back pain and a crumbling marriage; for us, though, it's a glimpse at the not-so-private pain of a man overwhelmed by even more than that.
The clearest example of George Jones singing his own autobiography is the 1980 album I Am What I Am, his only gold record among dozens of albums and greatest hits collections. This is, of course, the record with "He Stopped Loving Her Today," but it also has "I'm Not Ready Yet," written by Tom T. Hall, and "I've Aged Twenty Years in Five." "I'm Not Ready Yet" was written about a man threatening to leave his wife; George Jones turns it into a meditation on his mortality, pledging to stick it out down here no matter what comes along.
So we're sitting there, me in the armchair and George on the stereo, and we get to the end. It's late, and the whiskey's almost gone, but George has one last promise to make: "If Drinking Don't Kill Me (Her Memory Will)." George said after the 1999 car wreck that almost killed him and put him in a Nashville hospital for weeks that the bottle of liquor the police found in his floorboard was the first drink he'd had in 12 years. I don't buy that for a second. But even if it is true, whatever those memories are that have been haunting him for the past 40 years will finally catch him one day.
And George will make one hell of a record out of it.

May 31, 2001 * Vol. 11, No. 22
© 2001 Metro Pulse