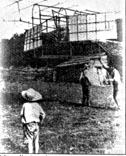 The tributes they heard at the house on the corner of Cumberland Avenue and Henley Street that warm Fourth of July almost a century ago were out of the ordinary. The site of the funeral was the gracious home of Lizzie Crozier French, the famous suffragist. The man in the coffin was Mrs. French's 55-year-old big brother, John. His body bore gunshot wounds.
Some of the eulogies were unusual, even at a Victorian funeral: "He was not what might be termed a gracious man," wrote one anonymous tribute writer who signed himself as "A FRIEND."
"Faults he had, open, unconcealed, but he was a stickler for truth, an iconoclast in practice, with a face of flint against all forms of oppression..."
"He disdained, always, the vain tawdry of society, the emptiness of things, and perhaps to an excessive and hyper-extreme..."
And, most surprising of all:
"He devoted himself and beguiled his time with the study of mechanics...especially as applied to the forceful navigation of the air...."
That day that they buried John Crozier, Jr., at Old Gray Cemetery, no one in the world had actually witnessed Crozier's goal, the forceful navigation of the air. That summer, the Wright Brothers were experiencing a series of frustrating failures with gliders at Kitty Hawk; success was still a quarter of a decade in the future. But by 1901, several East Tennesseans had experimented with manned flight. Crozier's design wasn't the first. In one hilly region of East Tennessee—an area with a radius of perhaps 40 miles—lived at least three 19th-century experimenters with flying machines, and at least one of them may have had a significant influence on the history of aviation. All were close to the same age, and all three lived within a few miles, as the crow flies, from each other. The funny thing is, there doesn't seem to be any evidence that any of the three even knew each other.
Maybe there was something about the topography of a few contiguous counties just east of Knoxville, the rolling hills and small mountains of this relatively small portion of East Tennessee, that lent itself to thoughts of flight. On some hillsides, on a windy day, you can watch birds in flight, observe how they use their wings, and how they rest and glide, more intimately than you can from the ground. On some cliffs, you almost feel as if you can take off yourself.

The amazing stories of East Tennessee's forgotten air pioneers.
by Jack Neely
Melville Murrell was a country boy, born in Panther Springs, in the rolling hills of Hamblen County just this side of Morristown.
His father, Col. Marcus Rufus Murrell, ran a general store. He was an officer in the state militia, and was a Unionist, as a rule, but he apparently knew what was good for business; he catered to whichever army happened to be marching through his neighbors' fields.
Melville was just nine when Union forces attacked the remainder of Confederate troops still hiding out in East Tennessee on October 27, 1864. The Murrell house was in the crossfire. While the bullets flew, Melville hid in the fireplace.
Young Melville hated farm work, so intimate with the ground; he daydreamed about the possibilities of human flight. According to a later interview with his daughter, Murrell got the idea watching a buzzard soaring near his farm. "He had a vision: if a buzzard can fly, why can't I?"
On Dec. 4, 1876, when he was only 21 years old, Murrell completed a model of his Great American Flying Machine and sent it to the U.S. patent office. It was, in the parlance of aviation, an ornithopter: a vehicle that flies by flapping its wings, in imitation of a bird. Though it was the fourth ornithopter patent the office had issued, it was allegedly "the first airplane in America built to carry a man."
It had some unique features, including elaborate wings, wood-framed with intricate canvas-covered louvers which closed, creating resistance, only when the wings were in a down-stroke. The flapping was accomplished by a strong man repeatedly flexing his legs.
What happened next is unclear. The letter he wrote makes it sound as if he's about to change his life, and the world. "I have been working on the invention for several years and finished it on Saturday night. I can now say, 'Eureka, Eureka,' for it works like a charm.... There is a great deal of excitement about my Flying Machine...."
Exactly what Murrell meant when he said it "works like a charm" has been interpreted differently by different readers. Several written sources imply that Murrell flew the ornithopter on test flights as early as the 1870s. At some point, an impressed investor remembered only as "Mr. Fisher" offered Murrell $60,000 for the patent, an offer he rejected, thinking he might do better.
By 1882, though, Murrell was contemplating the heavens as a Methodist circuit rider. In photographs, he looks like one: his square jaw clamped resolutely shut, he's nearly a dead ringer for John Brown. But according to his daughter, thoughts of flight "still haunted him."
He also got married and had five kids. Years slipped away, and Murrell let his patent lapse. Beyond a critical commentary on Murrell's design in noted aviation pioneer Octave Chanute's 1894 book Progress In Flying Machines, Murrell's experiment was largely forgotten.
For reasons of his own, 35 years after applying for his flying-machine patent, Murrell pulled his old drawings out, made some alterations, and built a new flyer. It was 1910; perhaps Murrell had been among the thousands who, that same year, had witnessed several flights by one of the Wright Brothers' flyers at Cal Johnson's racetrack in East Knoxville.
Though Murrell's new model bore some resemblance to his original ornithopter, he'd apparently been doing some reading. This time, he gave his plane a fixed wing; his louvered flapping wings were still a part of the design, but this time they supplied forward thrust.
Murrell rigged it to a cable along a hillside and hooked it up to a mule to launch it into the air. The cable had some sort of a trip such that, when the plane had gotten to a certain speed, it hurtled out into the air.
A slight man of 55, Rev. Murrell didn't care to be the test pilot. When a prospective pilot didn't show up, he turned to his family's farmhand, a strong man named Charlie Cowan, who agreed to do the honors.
We have these reports about those later flights thanks to the 1978 film, "Genius Of the Hills," a short documentary film made by ETSU students Phil Hardison and Bob Mabry, who interviewed Murrell's then-surviving daughter, among others. On the documentary, Rebecca Murrell Weesner remembers the events of 60 years before:
"The crowd yelled, 'Flap your wings, Charlie, flap your wings!'" she recalled. "But Charlie was too frightened. He didn't flap his wings."
Cowan's son, Claude, interviewed on the same documentary, said his father's own account was different. "He said he pumped on that till he completely gave out." Then, like Icarus, he fell.
The first one to reach the wreck was Murrell himself. "I declare, Charlie, are you hurt?"
"No, I'm okay," the farmhand replied. "But I tore your plane all to pieces."
Rev. Murrell consoled him. "That's all right," he said. "I can see now what's wrong. I can make it fly."
They say there were more successful flights, one of which took Cowan over 300 feet. Aviation experts tend to agree that Murrell's experiments probably weren't true man-powered flight as much as catapulting and gliding—human-propelled flight wasn't proven to work until the late 20th century.
In 1911, Murrell probably didn't have any delusions that he was making history. By then, Louis Bleriot had already crossed the English Channel in a monoplane, Glenn Curtiss was trying to break his own speed records—and, even here in the area, a gasoline-powered Wright Brothers' flyer had raced an automobile and a dirigible in East Knoxville. Piloted by Wright associate Phil Parmelee, it beat them both. (A Michigan native, Parmelee returned in 1911 for another Knoxville show; a few months later, he became one of aviation's early fatalities, when he crashed at a Yakima, Wash., air show.)
Murrell may not have made aviation history in 1911, but testing his Victorian-style flier was definitely an interesting way to spend an afternoon.
In 1912, apparently recognizing that his main problem was lack of sufficient sustained power, he strapped his son's motorcycle engine onto one of his ornithopters. That experiment was reportedly unsuccessful.
In 1928, for reasons of his own, the 73-year-old Murrell and an assistant hauled his planes out of the shed and burned them. Some speculate that the preacher was unhappy with how airplanes had been used for making war. Still, Murrell is said to have prayed that, before he died, he would get the chance to see Morristown from the air. He did so, as a passenger, on at least three occasions before his death in 1933.
In his purge he apparently overlooked a few aeronautical relics; parts of his plane are reportedly in the possession of the Smithsonian Institution, and those louvered wings were recovered in 1964 for display at Wright-Patterson air museum in Dayton. They've returned to Hamblen County, and are now on permanent display at the Rose Center, a museum in a handsome brick Victorian building near the courthouse in downtown Morristown. The canvas-covered wings are gray with age; some of the louvers are missing. But altogether it's in surprisingly good shape for an Edwardian-era flying machine.
Murrell's house, featured in the 1978 documentary but since destroyed by fire, still stands on a hillside in a rapidly suburbanizing section on the west side of Morristown. Nearly surrounded by new housing developments, it stands there as a stark roofless ruin, partly covered with ivy; except for the graffiti, it's the sort of thing Wordsworth might have written about.
About the same time Murrell was applying for his patent, a young, disillusioned Knoxville lawyer named John Crozier was moving to the countryside across the Holston River from the Murrells' place, to the tiny mountainside hamlet of Thorn Hill. The two were nearly neighbors, as real country people count neighbors—but there's no evidence that Crozier and Murrell ever met.
There's an item about Crozier in an interesting book called The Aviation History of Tennessee, published in 1996, a bicentennial project by the aeronautics division of the Tennessee Department of Transportation. "Little is known about John Crozier, Jr., or about his background in aeronautics..."
Crozier was about nine years older than Murrell and had a very different sort of childhood. He was the closest thing you could find in East Tennessee to a city kid: grandson of an immigrant merchant, son of an erudite congressman and scholar, John Crozier, Jr., had grown up in a house at the corner of Gay Street and Clinch, a mansion then famous for the most extensive library in East Tennessee.
The Croziers were an intellectual family. John, Sr., was known as "an orator of uncommon brilliancy and a conversationalist of rare powers," devoting his latter years to literature and scholarship. In 1860, when young John was about 14, his father was the most articulate of a handful of astonished witnesses to the low-flying late-night "meteor" that swept over Gay Street. Whether that bizarre aerial occurrence somehow inspired the teenager is unknown.
When Gen. Ambrose Burnside came to town in 1863, the Union general had his pick of accommodations, and chose the home of the pro-Confederate Croziers, partly because of its extensive library. By that time, the teen-age Crozier had already enlisted with the Confederate army. He served without the sort of distinction that shows up in the Official Records, and returned home and took some classes at the battle-scarred university.
Three of John's younger sisters would be educators with the East Tennessee Female Institute; his sister Lizzie Crozier French would be a famous feminist. A downtown street was renamed in honor of the family; for most of the Victorian era, Central Avenue was known as Crozier Street.
Young John followed his father into the legal profession in 1869; it might have seemed a propitious time for a young lawyer to make a place for himself in a rapidly growing city. He and his father kept an office together on Gay Street, not far from their old home. Young John married a woman named Alesta Lafferty and they had three daughters.
However, something disappointed him. A friend later recalled, "Without assigning why—his friends then and now will tell you no reason for the change—he suddenly quit Knoxville."
Some diehard Confederates had a hard time in postwar Knoxville, dominated as it was by former Unionists. Moreover, Crozier was a different sort of character from his outgoing father, perhaps not suited for the legal profession or even for city life; some sources suggest he felt he didn't measure up in his accomplished family.
Friends watched Crozier's career with regret. He might have been a successful man, they said, if only he had been ambitious. But, as an acquaintance recalled, "He was a theorist. In spite of the world's opinion to the contrary, his theory that ambition was a cheat...was eminently right."
Crozier also "deemed it cowardly to carry a gun." In Victorian Knoxville, that was a minority opinion.
Vague obituary tributes also suggest Crozier had something of a dark side.
"He was a much misunderstood man. Faults he had, open, unconcealed...." wrote the unnamed eulogist. "His views of life were just, but an imperious willpower oft erratic, enthroned his every action.... He erred. Who has not?"
Just how Crozier erred is not clear. Whether there was some scandal attached to John Crozier's leaving his hometown, he left, probably in the 1870s, when he was around 30—and went to live with a bachelor uncle in Thorn Hill, on the north side of Clinch Mountain, in rural Grainger County.
Out there, Crozier thought less and less about law and more and more about mechanical wonders. In 1891, he applied for, and soon received, a patent for a device called the "Hot-Air Evaporator or Drier," a machine that could be used to quickly dry tobacco, fruit, or even beef. It was apparently Crozier's only patent, but within a few years, he had joined the national rush to invent a powered airplane.
Sometime in the 1890s, he completed his prototype. One photograph of it survives. Unlike Murrell's ornithopters, it has a fixed wing, with paddlewheel-style propellers. In the photograph (shown on our cover), Crozier, a gray-whiskered man in a dark suit and a fedora, is standing in the midst of the plane, on a pedaling mechanism.
He returned to his hometown to exhibit his flying machine at at least one Knoxville carnival in the 1890s. He gave some the impression that, by 1900, he had nearly perfected it.
There are a few stories about what happened on the second of July, 1901. The Crozier family's version was that John Crozier was in Thorn Hill helping a widow settle a claim with a bankruptcy cheat named R.B. Bundren. Crozier, there purely in the capacity of lawyer, had stood aside when, on that hot July afternoon, Bundren argued with another man named Holland about the attempt to settle a judgment against Bundren by seizing some of his lumber.
The 55-year-old Crozier, unarmed and with no personal interest in the argument, stayed clear of the insults. When Bundren began firing his pistols, Crozier somehow evaded him. But later in the evening, Bundren, now wielding a rifle, found him. "There is Crozier," he said. "I will finish him now."
"Don't shoot," Crozier said. "You have the advantage. I am not armed."
When Bundren raised his rifle, Crozier ran, and fell on some logs. Bundren's "reply," the newspaper reported, was "two reports of the rifle." Bundren fired directly at him, hitting him twice from behind.
Reached by telephone, his brother Etheldred Crozier, a Knoxville publisher, took the train out to retrieve his body; the funeral was held at the home of their sister, feminist Lizzie Crozier French, on Cumberland Avenue near Henley.
The previous day's Knoxville Sentinel had noted that Crozier had "given much time to the study of aerial navigation, and a few years ago, conceived a flying machine which he declared would solve the aerial navigation problem...."
Crozier's sudden death marked the beginning of a Grainger County feud that lasted for four years, resulting in a violent conflagration in 1905 known to generations as the Battle of Thorn Hill; Bundren was arrested for the murder, but soon went free. His friends alleged that Crozier had been in some illegal cahoots with the Holland family.
Both Crozier's paddlewheel and Murrell's louvered flappers had been eccentric inventions even for their time. As imaginative as they were, they were evolutionary dead ends. But another country neighbor of theirs was much closer to aviation's mainstream.
In July, 1901—the same month they buried John Crozier at Old Gray—a Greene Countian was on his way to Kitty Hawk. He had with him some unusual luggage: namely, a full-sized, human-carrying glider. It was made mostly of paper.
A year younger than Murrell, Edward Chalmers Huffaker was born in 1856 near a bend in the French Broad River in what's now East Knox County (then, for reasons not worth going into here, it was West Sevier County). There's still a Huffaker Ferry Road near his childhood home.
His youth sounds very much like Murrell's: a dreamy kid in the hills, watching birds and wondering how they get away with it.
Showing an early talent for mathematics, Huffaker graduated from prestigious Emory and Henry, in Virginia, in 1880, and then got a masters from the University of Virginia. Somewhere along the way he began building model gliders and flying them off mountainsides in Greene County, where he had settled. He somehow befriended the great Octave Chanute, the French-born elder statesman of experimental aviation in America. Chanute was known for his multi-wing gliders that would later become the basis for the first airplanes. Chanute visited Huffaker in what was then known as Chuckey City in 1893 and was awed by Huffaker's theories and mathematical calculations. Chanute and Huffaker worked together to build an improved glider; it first flew in May 1896.
Huffaker got work at the Smithsonian, where he worked closely with the famous proto-aviator Samuel Langley and wrote an early pamphlet called "On Soaring Flight." He was especially interested in wing design, and among the would-be aviators of the 1890s, he developed something of a reputation. Some believe Langley's successful launches of powered "Aerodrome" gliders over the Potomac in the 1890s were mainly of Huffaker's design. If not for some costly accidents, Langley might well have launched the first manned flight there.
Huffaker lived and worked in Washington, where he sometimes made use of the Smithsonian's famous tower for his gliders, as his wife took care of the kids back in Chuckey, in Greene County, where he had settled as a young man. When she died, he was compelled to move back home.
However, in 1901, the 69-year-old Chanute, who was advising a couple of bicycle mechanics from Ohio, persuaded Huffaker to spend part of the summer working on the team on a North Carolina beach not 400 miles due east of Chuckey, a place called Kitty Hawk. In 1899, the Smithsonian had sent the Wright Brothers a copy of Huffaker's treatise, "On Soaring Flight." Huffaker was, according to Wright biographer Tom Crouch, "one of the most experienced and best educated aeronautical experimenters in the United States." That didn't mean he was easy to get along with.
Orville Wright later described Huffaker's arrival: "Mr. Huffaker arrived Thursday afternoon, and with him a swarm of mosquitoes which came in a mighty cloud, almost darkening the sun. This was the beginning of the most miserable existence I had ever passed through." The omen didn't bode well for their relationship.
He unpacked his peculiar luggage: a full-sized glider, made mostly of lightweight paper tubing. The glider purportedly could vary its wing curvature automatically with changes in the wind; the Wrights were skeptical, but Chanute was anxious for them to give it a try. Unfortunately, it was destroyed in a rainstorm before it was ever flown. Looking at a photograph of the wreckage, Wilbur Wright sneered, "I took it as a joke on Huffaker, but afterward it struck me that the joke was rather on Mr. Chanute, as the whole loss was his."
"He is intelligent and has good ideas," the Wrights said, "but little execution." Huffaker impressed the Wrights even less with his personal habits. He seemed lazy. He chewed and spat tobacco. He rarely bathed. He borrowed things without asking. He used the Wright's box camera for a footstool.
He wasn't all that crazy about them, either; to Huffaker, the Wrights seemed prissy and arrogant. He said they put on a new celluloid collar every day just so they'd look good for the pictures, if that day turned out to be the historic one. More than a decade older than the Wrights, Huffaker may have had a hard time taking their experiments as seriously as they would have liked.
Huffaker's visit wasn't a complete waste; he apparently helped identify a center-of-gravity problem in the Wrights' gliders. But for the most part, he and the Wrights more or less just put up with each other for about a month of that experimental summer. Wilbur claimed that, alone, they "could do more in a week than in two weeks after Mr. Huffaker's arrival." The Wrights' sister Katharine later remarked that "They can only talk about how disagreeable Mr. Huffaker was."
The Wrights didn't like Huffaker, and it's not surprising that he has a terrible reputation among Wright idolators. In his book Wilbur and Orville, biographer Fred Howard dismisses Huffaker's previous scholarship as "pretentious," and describes Huffaker himself as "shiftless," as pesky as Outer Banks insects. "In spite of Huffaker and the mosquitoes," Howard wrote, "work proceeded on the new glider."
Huffaker left Kitty Hawk in August 1901, exactly a month after he arrived. Wilbur noted, "He looked rather sheepish on departure, which I attributed at the time to the fact that he was still wearing the same shirt he put on the week after his arrival in camp."
A little more than two years later, on the beach where Huffaker worked, or didn't work, the Wright Brothers flew the first self-propelled, human-carrying airplane known to man.
Huffaker returned to Chuckey and continued his work on wing design. During a 1909 lawsuit in which the Wrights accused Glenn Curtiss of patent infringement, the elderly Chanute was quoted in interviews that the Wrights' ideas weren't all their own, and that they had borrowed much from Huffaker and others. Wright apologists protest these assertions, but some, like local pilot and aviation historian Bob Davis, believe that Huffaker made real contributions to aviation. He and his wife Lynne wrote an article about Huffaker, Murrell, Crozier and others in a 1999 issue of Soaring Magazine. The Wrights didn't understand wing warp in the early days, he says. "But Huffaker's airfoil designs are almost like a modern Cherokee 140 wing." Comparing glider constructions, he thinks it likely that Huffaker's ideas of wing curvature influenced both Chanute and the Wrights' later designs. Davis calls Huffaker "the first aerodymamicist."
Another local aeronautics expert concurs. H. Joe Wilkerson, who helped design and test the Boeing 747, is now a retired professor of aerospace engineering. He believes aviation history has neglected this significant player.
"Huffaker developed a way of building an airfoil that was way ahead of its time," Wilkerson says. Describing the now-standard contoured laminer airfoil, which minimizes drag and maximizes lift, Wilkerson says, "Huffaker's design was one of the earliest ones that I know of."
Far away from the cheering crowds familiar to Curtiss, Bleriot, and the Wrights, Huffaker retired to Oxford, Mississippi, to live with his daughter. He died there in 1936, just as large passenger airliners were becoming popular.
Today, these three would-be fliers remain more footnotes than chapters in the history of aviation. They may become better known when a projected Tennessee Aviation Museum planned for Sevierville is completed. Huffaker, who was born just a few miles away, will likely be among the first honorees in a Tennessee Aviation Hall of Fame.
Edward Huffaker's name appears in some, if not most, histories of early aviation; some show him in photographs, hanging out with the Wrights at Kitty Hawk. His 1890s treatise, "On Soaring Flight," is now difficult to come by.
Morristown's small airport is named Moore-Murrell Field, partly for the Genius of the Hills, whose hillside experiments took place hardly more than one mile north of the modern airfield. His successes and failures were outlined in a 1979 book called Man-Powered Aircraft. A fancifully illustrated children's book, Our Neighbor Is a Strange, Strange Man, was published in 1998, and is a rather liberal retelling of the Murrell legend.
John Crozier, Jr., the errant Knoxvillian, is the oldest and least well known of the three. The fate of his experimental airplane is unknown, and Crozier himself is nearly forgotten, buried at Old Gray on Broadway. In the tradition of his family, his grave is not marked.

May 24, 2001 * Vol. 11, No. 21
© 2001 Metro Pulse