First time writers with interesting stories, little style
by Donna Raskin
You are young—in your 20s—and you are just beginning to define yourself. Your job helps. It's one of those cool jobs, the kind of opportunity your high school friends wish they had lucked into after graduating from college. So you'll do whatever it takes to do the job well. And, since you're not yet clearly defined, it's easy to blur the boundaries between you and another person. Especially if that person is the subject of your latest story—a dead girl, about your age, and yes, you kind of look alike.
This is the situation Leah Stewart creates in her first novel, Body of a Girl ($23.95/Viking). Olivia Dale, a just-starting-out crime reporter in Memphis, isn't bothered by danger, dead bodies, or the ethical dilemmas of reporters who insinuate themselves into the families of the recently murdered. Dale is just concerned about getting enough interesting facts to land her next story on the front page.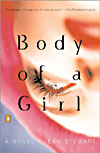 That's one reason Olivia can't stop thinking about Allison Avery, a 24-year-old nursing technician/wanna-be singer from an upper-middle-class family who may (or may not) have had some secrets. Allison was killed, violently, and left crumpled in a parking lot. Olivia Dale wants to know why, so she begins to interview the family and friends of the victim, inserting herself into Allison's life.
"According to the surveys, no one likes a reporter. No one is supposed to want to talk to me. The secret I know is that almost everyone does. They're on their guard at first, until they realize what they have in me. I'm a rare thing, a listener so interested she writes down their rambling sentences word for word," Stewart writes.
Ultimately, Olivia manages to convince many of Allison's circle that she's their friend. In fact, she becomes more entwined with Allison's life than she is with her own, neglecting her boyfriend and roommate. Instead, Olivia spends her time wearing Allison's wig and kissing the men (and boys) in her life while hanging out in the bars and smack galleries the dead girl frequented.
It's a good story. The details feel right, the characters believable, but the writing is so flat, so without style that it's difficult to keep reading. There wasn't one moment where I wondered who did it and why. And I never developed enough sympathy with Olivia to care about why she was doing this to herself. It all seemed kind of ho-hum. Not quite absurd or dramatic and never compelling.
Oddly, even though the subject matters couldn't be more different, the stories in Thisbe Nissen's collection, out of the girls' room and into the night ($12/Anchor), also suffer from a lack of depth. The characters are well-defined and recognizable: A video store clerk who falls in love with a musicals-obsessed young woman, sick and elderly parents, a schizophrenic woman, and more than one anorexic, but the writer has no style about them, no ironic distance or intimate passion. She tells the stories, so you listen only as closely as you would to a boring co-worker, the kind who tells a five-minute anecdote and your only response is "oh."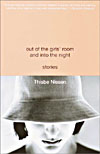 The rhythm of the book itself is off, too. Some stories are long (up to 19 pages), some very short (five paragraphs), but they add up to 16 stories and almost 200 pages, which is a lot of short stories to read as a whole.
Nevertheless, there are some magic moments, the kind of moments every writer should rely on to reach her reader. Here's one of my favorites:
"The very first day of nursery school, when David Rogosin finds out that Addie Farber doesn't know how to read and makes fun of her, it's Kirsten Grand who comes to Addie's defense. Later, at naptime when Mrs. Hauser turns off the classroom lights, in that midday darkness sun slicking at the edges of the window shades, the kid's fingers sticky with juice and Fig Newton crumbs, Kirsten and Addie are too keyed up to sleep. They've lain their sleeping mats one beside the other, far away from stupid David Rogosin, and as Mrs. Hauser settles into her chair across the room and sticks her nose into some papers, Kirsten reaches across the patch of cold, linoleum floor and takes Addie's hand. They lie like that until Mrs. Hauser turns the lights back on."
The story does go on successfully from there, possibly because its one of the few pieces with a plot, however thin. This piece and a few others are enough to insure that when the author's first novel (scheduled to be released soon) appears, I'd give it a try to see if she's perfected her craft enough to realize her promise. And the same is true for Leah Stewart—they're almost there; they're just not quite there yet.

March 29, 2001 * Vol. 11, No. 13
© 2001 Metro Pulse