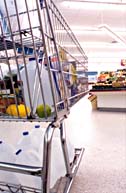 Photo by Ed Richardson
Because It's There
Grocery shoppers choose a store for lots of reasons — and they change by the day.
Ask a bunch of grocery customers at different supermarkets how they decide where to shop for food, and you'll get an earful of answers. There are not quite so many reasons as customers, but there are a lot. There also a few common responses.
Convenience may be the most common, especially among male shoppers, and there is usually a thread of price among the other preferences.
There are those who lament the loss of "The Beef People"—Winn-Dixie stores—from the Knoxville area, and there are those who are worried that Wal-Mart Supercenters are going to drive the rest away. Some shoppers go to BI-LO specifically for the produce; some head for Kroger to hit their bakery, bank and pharmacy; some shop Food City for their Angus beef specials and Food Lion for their prices on canned goods.
And there are some hardy shoppers who do all of those and still slip into the Wal-Mart grocery section while they are waiting to have their oil changed.
This sampling of comments from shoppers at a number of area stores tells why they were where they were to get what they wanted that day, and whether they shop there regularly.
George LeCrone, a fiber-optics engineer at the University of Tennessee, was watching his wife, Anna Marie, a pharmacy technician, squeezing the vegetables in the Food Lion on Kingston Pike at the Lovell Road intersection out west. He replied readily, almost as if he'd been thinking about it.
"It's clean and it's neat and it's close to the house. The prices are fine, too," LeCrone said.
"I like the meats in here, and the meat cutters are really helpful. They look for me when I come in. The service is generally great, and that's important to me. We just like it," he said, his wife nodding in agreement. They live in Deep Woods subdivision nearby. "This place isn't going to close, is it?" she asked, "I mean with the new supercenter at Turkey Creek."
Couldn't answer that. The reporter's supposed to be the one asking the questions.
Pat Stallings, a Farragut High School math teacher who resides near the school, was packing her car with several sacks from Ingles, the one on Kingston Pike. She said she doesn't usually shop there, more often goes to Kroger, but "some of their prices are pretty good." She came by today, she said, to pick up some steaks. "I like their sirloin." Then, reflecting for a moment, she added, "and the convenience of their parking."
The lot was nearly empty, but there was Chris Chandler, a finance officer for the Knoxville office of a German firm, filling the trunk of his car with Ingles sacks. "The convenience," he said, "It's closer than the others." He lives farther west, in Wentworth subdivision, "and I figure the prices aren't that much different. I watch the newspaper ad specials." He said his wife usually shops the Kroger or the BI-LO down the pike, closer to town but farther from the house. Score one for the first store to come into view.
Across town, Dave Powell, an environmental scientist from Powell, was shopping at the Kroger on Clinton Highway at Merchant Drive. Just picking up a couple of things. "They're open," he said, explaining that the 24-hour convenience drew him there, where his wife usually shops. He said he usually shops at Food City nearer the house, but they weren't open at the time, early one morning. Why the Food City for him? "Believe it or not, it's the price of beer," he said. "It's about a dollar more [per 6-pack] in here, and that irks me." Why does his wife shop the Kroger then? "Some of the brands she likes are at Kroger. They bring her here."
Helen Patterson, a day-care operator, and her husband Gerald, who live in Lincoln Park, were waiting outside the Food City in Northgate (the Broadway K-Mart shopping center) for the doors to open the same morning. "We always shopped at the Winn-Dixie," Patterson said, motioning with his thumb, "but Food City bought them out and put the store here." When he said they like the Food City all right and his wife chimed in that "price is what we shop for," Patterson added, "She claims they're cheaper than Kroger or BI-LO." He snapped off a couple of price comparisons. OK.
Across the river, at the BI-LO on Chapman Highway at Woodlawn Drive, Juanita Ownby of Seymour, another schoolteacher, was stuffing her truck cab with sacks. She works in Knox County, she said, and shops the Kroger, the BI-LO and the Food City, all clustered around the Young High Pike-Chapman intersection. "I pretty much buy the bargains," she said. "I like Kroger and BI-LO because they double my coupons." Who said teachers need a pay raise?
Heading east, the Food Lion failed to loom up along Washington Pike, but it's still there, lurking beyond the Home Depot, and Frankie Hood, a retired nurse, was waiting right outside the door for her husband Charles, a retired pastor. They live in Halls and, she said, usually shop the Food City in Halls, but were picking up rolls at the Food Lion because it was conveniently situated on their way to church.
Why does she prefer Food City? "I just like it. I can get around in it well, the way it's laid out, and the employees are so friendly." Doesn't anybody shop where they shop any more? Nope.
Except for Dr. Bill VerPlanck, chairman emeritus of the UT psychology department. He goes to Kroger in Knox Plaza—that venerable, recently expanded old West Knoxville Kroger. He goes there every day for his New York Times and the day's grocery purchases. He has gone there virtually every day for 20 years or more. Why that store in particular, even now, when other supermarkets are in the vicinity, near his Sequoyah Hills home?
"I don't care much for these new places with the smiling kids who know nothing about their store or its contents," said VerPlanck at the checkout. "I want a stable staff that knows what they're doing and preferably knows the customers," he said, as the clerk greeted him as "Dr. VerPlanck." What else? "That and variety." Of course.
—B.H.
Supermarket chains are slugging it out to increase their shares of Knoxville's billion-dollar food market.
Daryl Massey, the Knoxville district manager for the BI-LO supermarket chain, is wide-eyed and ebullient about the Knoxville market's present and future for his stores, despite the number of chains doing business here and the sheer numbers of their outlets and their total square foootage, already more than 30 percent above the national average.
"There are a lot of grocery dollars in this area," he says.
He's not kidding. The annual December-to-December figures in the Shelby Report, which assesses the grocery business in the Southeast, show a total volume of more than $1.2 billion worth of commodities passed through 97 grocery stores in the Knoxville area. That represents an increase of about $90 million from the year ending in December of 1999, a healthy growth rate in any book. The area includes Knox, Anderson, Blount, Loudon, Sevier and Union Counties. The report doesn't break it down further. But it's safe to say that the bulk of those goods is sold through supermarkets in Knoxville and Knox County, where competition for grocery dollars is at a fever pitch.
That competition, primarily among Kroger, Food City, BI-LO, Food Lion and, to a somewhat lesser extent, Ingles and Wal-Mart, makes for good prices and convenient locations, two of the most often cited requirements of the Knoxville area grocery shopping public.
So how are the big chains competing, and what do they think the future of supermarketing will bring? The answer to those two questions is "vigorously" and "online shopping with home delivery, but not now, and how soon depends on when someone can show a profit with them." And third and most importantly, what does that mean to the grocery shopper here today?
"Good deals," says Albert Davis, a Winn-Dixie manager for 30 years here until the Jacksonville, Fla.-based chain pulled out of East Tennessee last year as part of a general downsizing that saw the company selling or closing 114 stores across the Southeast. "I think it was a matter strictly of profitability," Davis says. The company's regional distribution center at Charlotte, N. C., was "just a long, long haul." Much of the potential profit was expended in meeting those distribution costs.
"People don't realize how much is at stake," Davis says. He says he wants the big players to survive and thrive here out of self-interest, since he lives and buys his own groceries here in retirement. "If two more chains pulled out, I'd say grocery bills would go up at least 6 percent." Davis doesn't make such an assertion idly. He says that in his experience, supermarket chains use regional pricing that reflects the level of competition. "An increase or reduction of 1 percentage point regionally makes a huge difference in profit," he says, as well as correspondingly affecting the chain's competitive position.
In Kroger's case, 1 percent fluctuations amount to about $4 million a year. Marketwide, a similar adjustment would mean about a $12 million difference. In Knoxville, the head-to-head-to-head chain-store fight has kept overall prices several points lower than in many other comparable markets that are dominated by two or three grocery chains, Davis says.
Hunter McWilliams is the district manager for Kroger here. He appears to have an easy-going, almost laid-back attitude under fire from the other chains. And well he may. Kroger had just 17 of those 97 Knoxville area stores in the Shelby Report (recently increased to 19, 12 of them in Knox County), but the company did 36 percent of the business, a whopping $405 million last year. It showed only a modest increase over the year before, but the company is instituting a variety of plans for maintaining its competitive edge.
Kroger has been in this market the longest of the existing chains, having opened its first store here in 1956, when its competition was mostly local, long gone grocery chains like White Stores, Cas Walker Stores and the Cox & Wright IGAs, plus a scattering of A&P markets.
Not only has Kroger—now the nation's largest grocery company—dominated the competition, it has been responsible for many of the innovations in the market. Kroger stores were the first to include pharmacies. The company brought branch banking into its stores—a move that also gave Memphis-based NBC Banks a foothold in the Knoxville area. Before that, Kroger introduced in-store bakeries and an assortment of deli items that now includes fully prepared meals. It was the first with a salad bar with per-pound pricing, and it boasts the biggest inside spaces, with its newest stores running 60,000-plus square feet. Lately, Kroger has brought "U-Scan" checkout counters, where customers can dodge long lines by running their own items over a barcode reader and bagging the goods themselves.
One or more of the other chains has felt compelled to follow the Kroger lead in many of those areas to retain its customer base or gain more. The improvements have been expensive, but necessary, in the view of supermarket managers.
Other requirements of maintaining competitiveness have been reflected in the newest stores of all the major chains. Sparkling cleanliness, bright lighting, wider aisles, more elaborate displays and more accessible shelving have been included at a considerable cost. The old, dingy, storeroom, permission-only restrooms have given way to bright new ones at the front of the stores. Customers choose stores for such amenities. Disregarding such ideas is risky business.
McWilliams admits Kroger fell behind technologically at one point in its ordering and distribution scheme, but he says it has caught up with the other chains. The Kroger philosophy, McWilliams says, has been to put location first on its priority list. A close second, he says, is customer service, which is now referred to, in the Kroger training domain, as "outrageous customer service."
The rap on Kroger from its customers and those who shop elsewhere is that, except for its "specials," it sometimes seems pricey in comparison with other stores. In fact, it recently rolled out a new "top-of-the-line" array of house-brand foods called "Private Selection" that are upscale in price. McWilliams' answer is, "I want to talk total value in terms of variety, price, service and community participation."
In that last category, McWilliams says his store managers are no longer called managers but "community leaders," who are encouraged by the company to involve themselves heavily in schools, churches and other organizations around their stores. That's in addition to money donated to organizations and charities in the community.
All of the chains have some form of community participation, and BI-LO, which is considered the new kid on the block, is particularly ambitious with its "BI-LO Booster" program, flagging more than $1 million a year for awards to schools and other organizations. Regular BI-LO customers can earmark a portion of those funds, based on their own purchasing, for specific charity purposes, Daryl Massey says.
Those "Booster" donations are based in part on the BI-LO Bonus Card program, through which special prices are offered and participating customers record their purchases. Such cards, introduced into the Knoxville area by Food Lion's MVP cards and quickly followed by BI-LO's, Food City's ValuCard and Kroger's Plus card, are somewhat controversial in that they build a data bank of individual buying patterns, which could be marketable to other retailers.
Massey says his company's data is strictly confidential. It is used by BI-LO and the other chains in various ways, including stock and price decision-making and target marketing. Sending out blanket coupon offers can be a waste without the card information, Massey says. For example, if a person has been buying diapers with the card at BI-LO, the company can mail a diaper-special coupon directly to that customer, making coupon delivery much more efficient.
BI-LO, which had a small presence here many years ago, re-entered the Knoxville market in 1994 when it purchased Red Food Stores of Chattanooga. It has moved up to fourth spot in the Knoxville area, with $115 million in annual sales last year, a 3.4 percent increase over 1999. It has 11 area stores, seven of which are in Knox County, and is threatening third-place Food Lion, which posted $118 million in 2000 sales, dropping a couple of points from the previous year. Food Lion has seven of its 16 area outlets inside Knox County.
No. 2 in the area is Food City, with 27 stores, 13 in Knox County. Its $272 million in 2000 sales gave it almost a quarter of the area's total volume, and the six Winn-Dixie stores it acquired and converted to Food City outlets here gave it a healthy sales boost of about 5.8 percent for the year.
All other store chains in the area sustained fractional losses in sales volume last year, according to the Shelby Report. Together with the mom and pop stores, they made up less than 20 percent of the total sales volume, with Wal-Mart and Ingles each commanding market shares of around 6 percent.
Chuck Gilmer, editor of the Shelby Report, describes Wal-Mart's Supercenter grocery sales as "definitely a factor," but as a percent of market they are not yet threatening the big four inside Knox County. They passed Ingles a couple of years ago, though, and there are rumblings among the other grocers that Ingles is ripe for a buyout here. With no local spokesperson, Ingles' Asheville, N.C., headquarters officials failed to respond to any questions about its Knoxville area presence, which includes seven stores, two inside Knox County.
No one could be found in the industry who is predicting, for the record, a particular market shakeout, but such former insiders as Albert Davis are willing to point out that Kroger, Food Lion and BI-LO have much more extensive capital backing than do Ingles or Food City, and can therefore sustain lower profits longer if they wish. "It all depends on who wants to commit the resources to stay competitive," he says, "and for how long."
Viewed in somewhat the same way on a smaller scale, the individually-owned groceries and the mom and pop stores have been falling by the wayside for decades. If they continue, it is because of a blend of loyalty and locale, both of which are diminishing as the chains grow across the market. If there is no major chain store close by, they can survive until one appears within their purview. Then, as the return goes down, their choice is to specialize more or give up the ghost.
Perhaps surprisingly to their customers, the Asheville-based Fresh Market chain's two Knox County stores command less than 1 percent of the area grocery business, even though they are busy spots, seemingly at all times. They occupy an upscale market niche that provides specialty items ordinarily not found in the big chain stores. McWilliams says the Fresh Market in Western Plaza (a couple of blocks up Kingston Pike from his Knox Plaza store) actually complements the Kroger there, with shoppers picking up Fresh Market specialties and finishing off their more comprehensive grocery purchasing at his store.
Not so the BI-LO in the valley almost across the street from Knox Plaza. Although Kroger takes no specific position on the competition, it is obvious that BI-LO is setting many of its stores in high-traffic locations without regard to who was there first.
In general terms, BI-LO, which is Dutch-owned and headquartered in Greenville, S.C., is going straight at Cincinnati-based Kroger here, with upscale store ideas and aggressive marketing and advertising schemes. Both chains have tended to concentrate in urban/suburban environments. Food Lion, which moved into the market by buying four Giant stores in and around Knoxville in 1986, is competing more directly with Food City; each has gained a strong rural, smaller-town presence along with their city and suburban stores.
With several recent store openings but no new stores proposed, Amy Goff, director of store operations for Food Lion in this region, says, "I think Knox County is a little 'over-stored' right now."
Rough estimates of the number of square feet of supermarket space per person locally and nationally would seem to bear that out. Figures supplied through Trade Dimensions, a retail research organization, and Progressive Grocer magazine indicate that the Knoxville area has about 4.75 square feet of grocery space per person, where the national average is closer to 3.25 square feet per person. Yet more stores are opening than closing here.
The three Food Lion store openings in the county last year were to replace a couple of stores that were closed because of location problems. Goff acknowledges that there were some terrible location decisions early on in the Food Lion entry here. A new store built by the company between Kingston Pike and Sutherland Avenue in Bearden was practically invisible from either thoroughfare, and it closed quickly. Another on Asheville Highway was replaced to give it better visibility. Even now, its stores on Chapman Highway and Washington Pike get little in the way of drive-by notice. But the former benefits from its site in a non-Supercenter Wal-Mart-based shopping center, and the latter draws people from Home Depot next door.
"Our concept is to become a neighborhood grocery," Goff says, shooting for the consumers within a five-mile radius. "We don't have the size of some of the other stores, but we want to make up for that with enough convenience and speed of service to stay ahead."
Pricing is also a Food Lion priority. "We consider ourselves an 'everyday-low-price' operator, rather than a 'high-low' operator," Goff says, and explains that Food City fits the first pattern, while Kroger and BI-LO more nearly fit the second. By high-low, she means that a chain uses deep price cuts in some items in advertised or unadvertised specials, while keeping many of their other items marked slightly higher than her stores' prices. "We don't have as many 'specials' as they do, but we don't intend to," she says.
Goff says she feels Food Lion, which is part of a Belgian-controlled group and is headquartered in Salisbury, N.C., is well-positioned for an economic downturn, in which consumers become even more price-sensitive than in today's market.
Food City, which is run by a privately held Abingdon, Va.-based company called K-VA-T for the three states in which it operates, is very close-to-the-vest with its information. Jody Helms, operations chief for the company's Knoxville Division, says, "We don't give out information on what we're doing in the market." One thing they are doing, which Kroger and other stores have done elsewhere, is to set up Food City gas pumps on parking lots outside their stores to take advantage of the drivers' demand for low-ball fuel prices.
Some Food City managers, who declined to be quoted by name, are concerned that their stiffest competition in some rural areas is coming from Wal-Mart. Food Lion is also butting heads with the supercenters, but Goff says those centers draw from a much wider area than her stores, and groceries remain a Wal-Mart sideline. "Certainly when a supercenter comes in, it has an impact on the grocery business, but we want to serve our neighborhood, as I said, and serve it best with our grocery lines."
Goff says Food Lion customers rate cleanliness and speed of checkout tops among their concerns, with freshness of meat and produce right behind. Her stores are in the 32,000 to 42,000 square-foot class, about the same as Food City's, with correspondingly lower overhead and service costs than a 60,000-foot Kroger or a 50,000-plus-foot BI-LO.
At BI-LO, Daryl Massey says the company has stores in the 43,000-to-58,000-foot class, with the largest and busiest being in the Deane Hill Center across from West Town. All but one of his area outlets are new or have been extensively remodeled and expanded, he says, and the company is looking at several sites, some in Knox County, to bring the area's total up to the 18 or 20 stores that BI-LO believes it needs to be fully competitive. "We feel we can do well with both the rural, low-end, and the affluent, urban consumer," Massey says.
Along with Kroger, Food City and Food Lion, BI-LO runs weekly full-color advertising inserts in area newspapers. The chains frequently buy full-page ads later in the week to counter their competitors' special offers in the inserts. Radio, television and billboard advertising is also being used by all major chains.
BI-LO has a current billboard campaign to tout its fruit and vegetable lines as "Walter's Produce." Massey says that name comes from a former produce manager who "set the standard" for BI-LO produce, and the campaign is similar to its "Vince's" line of prepared meats and deli-bakery items. The name in that instance comes from a consultant who is actually named Vince, Massey says, explaining the attempt to personalize certain product lines.
"Our biggest problem here is still name recognition," Massey says. He says the newest advertising blitz, declaring that BI-LO is "Knoxville's favorite way to save," is part of the company's aggressive pursuit of recognition. "You have to be [aggressive] coming into the market the way we are," he says.
Massey says he believes his stores' greatest strengths lie in their experienced meat cutters and in their large and varied produce sections. Produce variety has become extremely important to all grocers, he says. "Ten years ago if it wasn't beans or potatoes, you couldn't sell it in volume," he says, adding that he used to order a single crate of broccoli to be divided among several stores. Now it's a major seller. "And people who didn't even know what a mango or a kiwi was back then are calling for them all the time."
Meats, almost all the grocery chains' supervisory people agree, are headed for off-site pre-packaging. Chicken and poultry products were first, but pork, beef and fish are following rapidly, meaning that the friendly, helpful butcher will be reduced to cutting a few specialty items within a few years.
Kroger's Hunter McWilliams says that's a natural progression because of the speed of refrigerated transport and the relative ease of quality control within one packing house staffed with inspectors.
Unlike BI-LO's Massey or Food Lion's Goff, who see their companies as "core grocers," McWilliams looks to the future of superstores, with the "one-stop" shopping concept, as a strong Kroger option.
He points out that Kroger bought Fred Meyer stores, the Pacific Northwest's major Wal-Mart competitor, two years ago, and says he's impressed with them. They market full lines of clothing, jewelry, hardware, electronics items and the like along with their groceries, and are so well-established there they are known simply as "Freddies."
McWilliams is also cognizant of the fact that Kmart has added food lines to its Big K stores and that Target is expected to expand into groceries here. He believes the idea, pioneered by Wal-Mart and Fred Meyer as well, to sell eyeglasses and hearing aids, tires and batteries, to grocery shoppers, and vice versa, is riding a wave that may be unstoppable.
As far as online buying and selling of groceries to be delivered to the customer's door, McWilliams says it may be inevitable "as soon as there's a demonstrated return on investment." Already, Kroger is doing some home delivery, in special cases, of food and drugs on a phone or fax-in basis, and BI-LO stores have established arrangements in some locales for phone orders and delivery to elderly-housing complexes. Neither company's stores here are set up for email ordering, or even for pickup at a specified time.
So food products have not yet gained the cusp of the technological revolution that has produced all manner of online commerce. But everybody buys food, and grocers ultimately will sell food any way people want it sold
Wes Ball, executive director of the Tennessee Grocers Association, says the industry is responding to consumer demands and wishes in rapid fashion. "Food is a very volatile issue right now," Ball says. "The public is very acutely interested in food safety and nutritional issues," he says, citing dietary trends that follow health issues and industry-wide efforts to prevent the kinds of diseases that can be transmitted through food products.
With those thoughts in mind, Ball says, grocering in its many forms is expected to remain among the most competitive of all businesses for the foreseeable future.

February 8, 2001 * Vol. 11, No. 6
© 2001 Metro Pulse