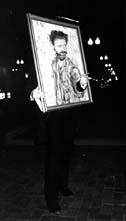 What:
Downtown Walking, photos by John Dominic Barbarino
Where:
The Old Watson's Building, 19 Market Square
When:
Opening Saturday, Feb. 10 at 8 p.m.; exhibit hours are Monday through Friday, Feb. 12-16, noon-3 p.m.; Valentine's Day: noon-3 p.m. and 7-9 p.m.
A walk or two provides ample material for a celebration of the city with photographs
Making my way this week through the cavernous space that was once Watson's Department Store, I experienced a range of emotions. It was in the presently chilly and barely electrified building strewn with mirrors and scrapped display cases that I bought my first designer oddities in the late '70's and snagged drastically-reduced Chanel cosmetics in the wake of Hurricane Andrew. Had you told me (when I was being subjected to "Jingle Bells" for the umpteenth time as a holiday employee) that years later, what was then Watson's would now host art exhibits and hip parties with dancers prancing about, I'd have peed in my discounted Guy Laroche panties. But as with much of downtown Knoxville, things have changed. Chronicling many of those changes throughout the past few years is Staten Island transplant and photographer John Barbarino, my guide as we inspected the site for this Saturday's opening.
Downtown Walking, featuring numerous images of the city and its happenings (shot on both color and black and white film), is based on a simple but intriguing notion: see what can be photographed without ever climbing into a car. Furthermore, assemble a show with prints made at the Clinch Avenue Thompson's Photo and one thousand Ullrich-produced invitations announcing its opening—all dropped off, retrieved, and distributed using nary a drop of gas. Striking when the iron is hot, get it all together in a matter of weeks. That's what Barbarino has done, and done well.
"Basically, this all came about when I was walking home [in mid-January] to my apartment on Gay Street after working out at the Y," the photographer remarks. "There were lights on in the old Watson's building, and I went past and told a nearby friend. We went back, and there were more than 200 people there for an art opening. It was fantastic." The space owned by entrepreneur David Dewhirst and his wife Tracy was first converted to accommodate sculpture, photography, and video by UT MFA candidates Leticia Bajuyo and Sarah Johnson. Sturdy display walls were erected and lights ingeniously positioned to illuminate installations. Says Barbarino, "I got to talking to students, and to one of Sarah's subjects about his participation in her efforts. It was open—accessible. As a resident of downtown, this was all available to me on foot." Later, Barbarino approached the Dewhirsts and an event was born.
A sequence of approximately 16 prints titled "A Walk With Angels" will document Circle Modern Dance's roaming performance from the Spring of '99. Directed by Mark Lamb, members of the troupe moved from the McClung Collection to places like the graveyard of the First Presbyterian Church on State Street, ending up on Market Square. One image shows a protest dance and musical ensemble in front of the gates to what was once Whittle's empire (financing many Watson's purchases) and a sign reading, "We wanted to dance inside the courtyard, but due to cost of security and bureaucratic red tape we were banished." Another features Vine Middle School students dressed as red starfish and holding hands. Shots from the graveyard, "Finding One's Place" and "Dappled Light," have an Edwardian feel and the appeal of Lewis Carroll portraits. In one, a sylph-like young woman kneels, arms raised, while a girl in the background hovers near a tree. Barbarino says, "When R.B. [Morris]'s daughter Francis was dancing with the others there, it was something you'd miss if you were driving—[these photos] are not so much about me as they are about everything. The point is to express that there's life downtown."
Other series of photographs include Dante's Inferno Halloween Party revelers at the Great Southern Brewing Company and people present at this past season's Paradisio Party in the Boiler Room (and are accompanied by Heaven and Hell dioramas created by Glen Glover and Yours Truly). Also on view are "Visual Poems," Barbarino's images of such things as the former S & W Cafeteria's sign and the "Carry-out Orders" sign at Harold's Deli. Echoing Walker Evans' fascination with signs, Barbarino has recently published many of the above pictures in Breathing The Same Air: An East Tennessee Anthology. He says, "I wasn't really going to get into this kind of work—I learned to stay away from words because I'm a man of words. I talk too much. But the idea came at Harold's, and I went with it."
Prints are available at reasonable prices, and proceeds will pay for the opening celebration. On Saturday, there will be live music, wine, New Knoxville beer, hors-d'oeuvres, a brief dance performance, striking photos, and spirited communion. So dig out your Watson's threads and join in. Because it's our town, and we can make of it whatever we wish.

February 8, 2001 * Vol. 11, No. 6
© 2001 Metro Pulse