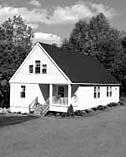 In Search of Postpostmodernism
Are you a sensual deconstructionist? Or a topological New Urbanist? Where does architecture go from here?
Feng Shui for the Masses
China has a very long history of architectural superstition
Architecture Straight from the Factory
Franchised Designs
Chains have nothing to lose but their sameness
Manufactured housing design can be a grassroots affair
There's no doubt that it's architecture, and there's not much argument that it's improving. Manufactured houses, the descendants of trailer homes and mobile homes, are developing an aesthetic appeal that was sorely lacking until lately. And one thing that sets this growing segment of residential design apart from more conventional techniques is that it's often drawn up without the consultation of professional architects.
That may be because it's employing old ideas. It doesn't take the creative mind of an architecture graduate to come up with the concepts that make for good housing fundamentals, especially in an industry that went for decades trying to cram the most into the least space. Now that space is expanding, and the industry is waxing expansive with its design options.
Rick Boyd, vice president for manufacturing operations for Clayton Homes, says the Alcoa-based company gets its ideas from its regional sales managers who, in turn, are listening to what customers and potential customers are asking for. "It's really a conservative approach," Boyd says, "There's not as much risk involved when you know you're designing features for people who have already requested them. We count on our sales and sales management people to translate for us. We don't try to create a market; we try to respond to a market.
"There are companies who take a more top-down approach to design, but we are comfortable working from the bottom up," Boyd says as he leads a reporter through Clayton's CAD (computer-assisted design) room. Men and women are clicking keys and swiveling mice to modify house plans on screens aglow with wiring charts, plumbing and mechanical schemes, window sizes, eaves lines and configurations, and framing and sub-frame components.
"We have a couple of engineers in this department. They work in code compliance. The rest of our designers are typically two-year graduates from technical schools where they specialized in CAD training," says Boyd, himself an engineer.
Fleetwood Homes, which vies with Champion Homes for the title of the nation's largest supplier of manufactured housing, maintains an approach to design that is somewhat similar to Clayton's. "We do focus groups," says Bill Graves, general manager of Fleetwood's Gallatin, Tennessee, plant, a double-wide production facility. "Our regional design manager has architectural training, but he's not an architect. In our organization, each manufacturing center is responsible for its own design work, and we have plants throughout the country, so we arrange for regional focus groups," Graves says. Fleetwood and Champion each account for about 20 percent of nationwide sales of factory-built houses, and Clayton is up to about 10 percent in the latest industry figures.
However derived, the developments in manufactured housing design over the past couple of decades have been extensive. The advent of 14- and16-foot-wide platforms—and the legalization of highway transport—has allowed for factory-built, "double-wide" house plans and their exterior features to grow closer and closer to the norms for site-built homes of 30 or even 50 years ago, except that the new factory-built house should be more efficient. A typical 1,500 square-foot double-wide from the factory need only be about 50 feet long now, departing from the Pullman-car look of those long, narrow single-wides.
Roof pitches are available at up to 5/12 or even 7/12 (the number of feet the roof rises in height for every 12 feet of span). Siding comes in vinyl lap panels or cedar boards or even brick facing. There are bay windows and window lights and even covered porches. The result is not at all unpleasant. It creates the appearance of houses that are very traditional in form and substance. And, in fact, they are using more substantial materials in more conventional ways. It's getting to be mostly the factory setting that sets their assembly apart from the "stick" houses built on site.
Clayton Homes' Boyd says the structural integrity of today's manufactured homes, at least those built in one of Clayton's 20 plants, is "fully comparable" to homes of similar size built on site.
"That's because we have HUD [U.S. Department of Housing and Urban Development] inspectors in our plants every day." Boyd says. "Even on-site builders are using factory-built components such as walls, windows and doors and cabinetry," he says, not to mention the trusses that hold up the roofs.
Boyd, a West Point graduate in civil engineering who spent 20 years with the Army Corps of Engineers and has six years of experience in Clayton's top management, says his company's homes and other factory-built structures exceed HUD's standards in several ways. A single ridge beam, for example, is not required, but Clayton uses them. Clayton also assembles its double-wide homes in the factory, bolting them together to assure proper fit when they are rejoined at the home site. HUD allows for them to be joined with screws, rather than more secure bolts, Boyd says.
He says the homes from Clayton are engineered to withstand such climatic variables as wind conditions and snow loads where they are to be located. Besides the single-wides, which are still the least expensive units, starting at under $20,000, and the double-wides, which can run from about $30,000 to past $75,000, there are purely modular units, meaning that they are built to be lifted completely off their travel frames and set on permanent foundations. Boyd says that most of the company's larger and more expensive units are placed—with their travel frames intact—upon permanent foundations nowadays to comply with lending requirements for joint home-and-land financing, which has become the rule in the case of bigger factory-built dwellings.
Those foundations are also taking on the more traditional look. Cinder blocks are often painted, stuccoed or faced with brick. And more of the larger homes are being set over basements, giving them room for expansion, workrooms or underhouse garages.
Among the features presently being sought by increasing numbers of potential buyers, Boyd says, are larger, even panoramic-sized windows, sliding-glass or French doors and "saddle roofs." The latter are roof extensions under which a porch is added at the home site. Fixture and appliance upgrades are also in current demand, as are higher-grade interior finishes and such extra touches as wood-burning fireplaces and Jacuzzis.
Fleetwood's Graves says his company tells focus groups to think of what they would want if money were no object and what they would pick from those options if money were the main factor. Out on the West Coast, where traditional housing costs have gone through the roof, there are some companies that are factory-building multi-module, two-story homes with nearly 5,000 square feet of living space, costing nearly half a million dollars. That's in response to a conventional housing market in which an ordinary 3-bedroom, 2-bath home may cost a million dollars or more.
"We can do practically anything anyone can think of, but the key to manufactured housing, the key to satisfying our market demand, is affordability," says Graves. He and Boyd agree that the future of affordable housing is in the factory. Graves says that day is actually already upon us. "When we can give you comparable square footage at half the cost of site-built homes, we are really offering the only affordable housing there is today for lower-income people," Gray says.
And when you look with an unbiased eye at the sheer attractiveness of the newest line of double-wides rolling out of the factories, and work out the economics, he may be right.
Throw in the fact that Clayton, among others, is beginning to turn out structures for bank branches, churches, lawyers' and doctors' offices, school classroom complexes and other reasonably compact social and commercial applications, and in the long-term view, on-site construction appears headed toward larger-scale structures, almost exclusively.
Boyd says Clayton has yet to be asked, as far as he knows, to do a factory version of a classic diner. To that, the obvious question, answered with only a shrug, is "Why?"

October 26, 2000 * Vol. 10, No. 43
© 2000 Metro Pulse