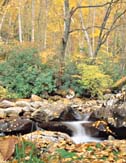 Back in the Saddle
Adrienne Martini gets on her high horse
Bicycle Blues
Coveting the Cove Why do automobiles dominate the Smokies' most popular haven?
Hiker Types
There are many types, but two main ones are the GEAR GUY and the MINIMALIST.
For those on two wheels, Knoxville's not a friendly town
by Jack Neely
Modern urban planners have long emphasized bicycling as an important alternative to driving. Bikes don't pollute, of course, and ideally could go a long way toward alleviating urban problems such as traffic jams and parking shortages. Some cities, like Portland, Oregon, have successfully lured cyclists out with streets redesigned to incorporate bike lanes for the convenience and safety of the cyclist.
It's a cinch that Knoxville's city planners weren't thinking much about bicyclists when they put the central business district on top of a steep bluff and laid out some very narrow roads. When bicycles came into vogue in the late 19th century, though, there were thousands of them on these streets, so many that the city had to clamp down strict 8 m.p.h. speed limits on them. They were frightening pedestrians and horses. (Cars came only later, introduced to Knoxville, ironically, by bicyclists. Cars also frightened pedestrians and horses, but somehow weren't subject to the same low speed limits.)
Knoxville's relatively recent push to build more bike trails has earned well-deserved praise. But how easy is it to ride a bike in Knoxville, really?
Well, it's probably easier to get around on a bicycle than it was 10 years ago. Pushed by greenway initiatives under the Ashe administration, Knoxville now has more than 20 miles in bicycle paths. Though few of them are linked together in routes that are very practical for many Knoxvillians, now you can get from residential areas such as Sequoyah Hills in the eastern Bearden area to UT or downtown entirely on a bike trail in about 20 minutes and hardly break a sweat. The trail is picturesque, relatively flat, and crosses streets with automobile traffic only three times.
Other, smaller bike trails in West, near North, and East Knoxville, plus a bike lane on Magnolia, are useful to some who live near them. The progress in the last few years has been so great that it may leave many non-bicyclists with the notion that Knoxville has become friendly to bicyclists.
"The recreational cycling around Knoxville is great," says Jon Clark, bicyclist and co-owner of the Bike Zoo, the bicycle sales and repair shop in Western Plaza. Go north of Fountain City, east of Holston Hills—leave the city in any direction except maybe west, he says, and you can find long, quiet country roads that are excellent for cycling. David Stinnett, president of the Smoky Mountain Wheelmen, Knoxville's oldest and largest bicycling club, backs him up there. "One of the great things about Knoxville is that there are so many great roads outside the city, almost an inexhaustible supply of good cycling."
In town, though, it's a different story. "From the standpoint of commuting, it's pretty disastrous," Clark says. "With some exceptions, like the bike trail, it's pretty frustrating." He says he's been hit by rear-view mirrors on three occasions. He's had glass bottles and bags of trash thrown at him.
He says the number of roads with high-speed traffic and no shoulders, as well as aggressive and plain stupid drivers, make such a lethal mix that after several years of gamely trying, he has given up on bicycle commuting. "A lot of motorists seem to think every bicyclist should be on a sidewalk," he says.
He sounds almost charitable when he attributes drivers' hostility to the narrow, shoulderless streets of the city.
"Knoxville's not a friendly town," he says. "You never see a bike lane except on Magnolia." Though bike trails have proliferated, bike lanes alongside major roads are nearly unknown in Knoxville. Part of Magnolia has a bike lane, and there's one small stretch on UT's campus that includes a bike lane.
"Knoxville's pretty weak," agrees Tony Gehl. Unlike most local cyclists, Gehl is a serious bicycle commuter. Most days for the last several years, Gehl has ridden the 15 miles from his home in Farragut to his office at Oak Ridge National Laboratory. That trip, he says, is not bad. He mainly sticks to back country roads on the way. He rides in all weather, and even after dark, with a headlight. But Knoxville itself, he says, is a frustrating ride. He cites the proliferation of high-speed roads with no shoulders. "Part of the problem is the lake and the interstates," he says.
When Pellissippi Parkway was completed across to Blount County, it changed the lives of many West Knox motorists. But not bicyclists, who are not allowed on the new part of highway. For purposes of federal funding and the laws that go with it, the parkway is officially an "interstate" and therefore off limits to bicyclists.
A bigger problem is the interstates themselves, which cut the city into several segments and can be tough for bicyclists to cross. "The bridges are horrible for bicycles to run—especially Lovell Road," Gehl says. He says the prospect of tearing down the Forest Heights bridge over I-40 is troubling for some cyclists.
David Stinnett, who lives in the Bearden area and commutes the couple of miles to work, seems a little more sanguine about urban cycling.
"I've learned a lot by commuting on Kingston Pike and Northshore," he says. "There are certain principles it's good to follow. There's a right and a wrong way to ride. A bicycle is a vehicle just like a car. A bicyclist has the same rights, and should obey the same rules as someone driving a car. Knoxville may not be a bike-friendly community like Seattle or Denver, but if you know how to ride, you can ride anywhere."
Steve Bacon, co-owner of the Bike Zoo, agrees. "For those who are comfortable riding in traffic, it's not that big a deal," he says. But he adds, "if you're just starting out, if you're not comfortable in it, it's pathetic. It seems extremely lame for a city this size to have the lack of alternative transportation that we have."
Stinnett says he's careful about selecting his routes. The bike trail's sometimes too slow for him, but he finds Sutherland a better option than Kingston Pike. For a bicyclist, slower, more congested traffic is a blessing.
Stinnett says he'd always assumed that smaller, trendier Asheville would be a better bicycling town than Knoxville. "They've still got a lot of the same problems we do," he says. "The roads are too narrow, the traffic's too fast." What makes Asheville even worse than Knoxville, he says, are some wide-caliber sewer grates. "They make it really dangerous for cyclists."
John Meyer has taken bicycle commuting to another level. For nearly 20 years, the Harper's Schwinn employee didn't even own a car. He was a bicycle commuter, rain or shine. The day in 1985 when the temperature plummeted to 24 below, he rode the couple of miles from his house to work and wondered why there was no one else in the shop. He remembers bicycling all over West Knoxville, back in the '70s, when riding miles down Northshore or Westland was much easier than it is today. Traffic has spoiled several of his old routes.
However, Meyer, a solid member of the Knoxville Greenways Commission, is proud of the city's work in multiplying the number of greenways from one and a half miles 20 years ago to more than 20 miles today. Acknowledging that most greenways are still small, disjointed segments, Meyer says he can see the day, 15 or 20 years in the future, when they'll all connect into one big route around the city. For the record, Meyer admits he now drives an Omni to a more-distant suburb in the county, a compromise that came with marriage.
In many cities, the local college leads the way in establishing bicycle paths, with a campus that's the safest and most pleasant place to ride a bike. To Jon Clark, UT's campus is one of the worst places to ride in the entire city. "The UT campus is horrible. There's only one section of bike lane, and it's on a one way street. You can't ride a bike safely on UT campus, even if you're a full-time student in a dormitory."
Worse, he says, "student motorists seem the most ready to get mad at you." One of his scariest moments in Knoxville was riding on campus, along Volunteer Boulevard. "Three guys in a car yelled and swerved at me." On another occasion, he was riding on Concord Street, detouring around the recent TDOT construction site in Tyson Park, when some college-age kids drove up beside him and blew a loud airhorn in his ear.
Clark has been mystified by the hostility. "A few times, I've been able to confront people in traffic." He's found they have little to say. "They don't want that at all. They wanted it to be an anonymous exercise."
Gehl says he's been fortunate not to have many hostile incidents in his riding around the area, but nearly every cyclist has war stories. People have thrown bottles and cans at him. "Most of the time, they miss," he says. "They don't do their physics calculations just right for hitting a moving target, and that's lucky for me." His worst experience was in the Hardin Valley area not long ago. He and a friend were riding along a country road with no obvious traffic. A solitary pickup truck drove by too close and returned to make a second pass. "They went out of their way to stalk us," he says. The driver shouted, "What do you guys think you're doing, riding in the road?"

September 28, 2000 * Vol. 10, No. 39
© 2000 Metro Pulse