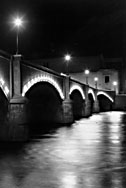 Where:
The Bearden Gallery of Fine Art Photography, 5122 Kingston Pike (924-1550)
When:
through Oct. 2, with a grand opening reception on Friday, Sept. 22, from 6:30-9:30 p.m.
Buddy Mayberry returns to East Tennessee and establishes a much-needed gallery
"Better late than never," you might say, and you'd be right. Entering the Bearden Gallery of Fine Art Photography, Knoxville's first exhibition space devoted entirely to (mostly) black and white work in that medium, I had to rejoice. Despite being dismayed that such an effort took so long to happen here, I'm pleased as punch. After all, Manhattan's first photography-only venue—Helen Gee's Limelight Gallery—only opened its doors to the public in 1954, putting us a mere 46 years behind the times.
Situated in an unassuming Homberg Place building, the Bearden Gallery is what owner/curator Buddy Mayberry calls a "classic" set-up. There are separate areas for group and featured artists' shows, and there will soon be a library where visitors can leaf through portfolios and catalogues of photographs available for purchase. Although it fronts Kingston Pike, the gallery is a place you might pass by unless you know it's opposite the Susan Key Gallery, tucked between a AAA travel office and the Ron Hall Beauty Salon.
The track-lit, white-walled and gray-carpeted milieu is not overwhelmingly unusual. But it's here. And the gallery presents an opportunity for us to see new images every six weeks and get our greasy fingers on "vintage" prints attainable through Mayberry's liaison with the Time/Life Photography Collection. That's right: you can stop at Panera for a baguette, then pick up the Walker Evans print you've ordered on the way home.
When asked about his past, Mayberry replies that he's from "way, way up in the hills." Yet he projects a somewhat cosmopolitan air, having left East Tennessee at the age of 17 for cities like New Orleans, Phoenix, and Sacramento. Mayberry's work as a construction contractor has led him far afield, but a daughter in Monroe County, his love of photography and Knoxville's potential for fine art photo sales have lured him back.
Mayberry remarks that, in addition to filling an apparent gap in the market, his new business provides "a museum atmosphere." He also says, "When you go into a place and there's a ton of art glass and kaleidoscopes and stuff, that's a shop, in my mind...I wouldn't call a lot of galleries galleries." He has a point. And of course profits matter, no matter how "pure" the presentation. Speaking of which, Mayberry acknowledges that the '90's surge of investment in photographic art has indeed motivated him—as did a particular San Francisco auction he attended this past June in which an Ansel Adams print sold for $12,000.
Still, one gets the impression that money is not necessarily what floats Mayberry's boat. Looking like a middle-aged hippie with his silver bracelet, sandals, and a small braid (still called a rat tail?), he is most animated when he talks about the photography itself. His eyes flash when he says, "I've never done something just to get by...I've made statements. I don't accept things easily that aren't 'right.' I want to set a standard; I want the people of Knoxville to have access to this."
In a field that's often snob-dominated and overly exclusive, Mayberry has made considerable progress establishing his gallery, and within a relatively short period of time, considering that he quit his contracting work only seven weeks ago. With the assistance of gallery publicist Dana Tate and Toni Duval (his "lady"), Mayberry recently managed to assemble a stable of photographers discovered through periodicals. He then connected via the Internet with individuals in Alabama (Bernd Billmayer), New Mexico (David Hoptman and Nathan McCreery), Michigan (the first featured artist, Brian Kelly), Massachusetts (Chris Miller), and California (Peter Myers, Herb Quick and Merg Ross).
Attending New York's show sponsored by AIPAD—an acronym for the Association of International Photography Art Dealers—next February should further expand Mayberry's options. To become an AIPAD member, however, one must run a gallery for at least five years. And to show as well as sell Time/Life images requires a minimum commitment of two years. Thus Mayberry's impressive start is only the beginning. "If this doesn't work out, I'm going to Central America," he says.
Humor aside, Mayberry has carefully researched the finer points of his business and clearly has his act together. Like comparable gallery owners, he markets work in limited editions (consisting of 30 prints each in the case of Brian Kelly) and retains a percentage of the proceeds. Images like Kelly's are priced in "tiers," depending on size and number already sold. Prices start at $400, and the cost of a Time/Life print currently hovers around $1,500. As members of a culture that long considered photography to be a medium linked with advertising rather than an art form (often deemed "unoriginal" due to reproducibility), we've come a long way. Furthermore, photography is for many of us the only art we can afford to collect.
Mayberry is currently seeking to represent more regional photographers, and he'd do well to include some women artists. The present show lacks portraiture, but we'll probably see some in the future. Eventually, Mayberry would like to relocate to Market Square ("I'm in love with [Lula's and the Tomato Head's proprietor] Mahasti's accomplishments," he says). If Worsham/Watkins and the condomesque-sounding Performa don't screw up that possibility, we may look forward to another fine-art presence downtown. For now, we have a long-awaited venue for photography fairly close in. Amen.
Note: If reception-hopping Friday evening appeals to you, you might also attend the UT Architecture faculty and alumni show opening at the Ewing Gallery and drop by to celebrate the Tennessee Valley Unitarian Universalist Church's Sisters' Keepers exhibit.

September 21, 2000 * Vol. 10, No. 38
© 2000 Metro Pulse