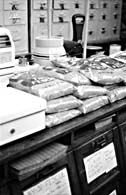 Photo by Ed Richardson
Things you won't find at Home Depot:
A little sign taped to the front counter at Colonial Hardware that says "Henways for sale." Owner Roy Garnett put it there to tempt newbies into asking the obvious question:
"What's a Henway?"
That's Roy's cue:
"About three pounds."
A home demonstration agent checking your pressure cooker lid at the beginning of canning season, and strawberry-rhubarb preserves. Both available at Mynatt Brothers.
Southern Gospel cassettes at Stormer's Hardware (The New Life Trio with Cecil Lee singing low harmony, and Won for All, featuring Dusty Lee at the piano). You won't find a "Dump the Dump" t-shirt commemorating the Carter Community's victory over BFI in the late '80s at Home Depot, either, although that probably shouldn't count, since Cecil won't sell you his.
An 8-inch stick with a $1.50 price tag with a note attached that says:
"This is a yardstick. I know it is a yardstick 'cause I found it in my yard. What good is it? You could use it to measure things like gas in your lawnmower or the depth of a mudpuddle. You could use it to play fetch with your yard dog, but whatever you do, don't put it back in my yard!!!"
A river rock like the one sitting on the counter at Colonial Hardware with the words "Please turn me over" written on top. It says "Gee thanks, that felt good" on the bottom.
Slamming the Big Boxes
Al Norman has made a career of fighting off Wal-Mart (and Home Depot and Lowe's and Target and K-Mart). His web site (Sprawl-Busters.com) is a guide for opponents of big box development all over the country. Chuck Lee of Parker Brothers has compiled a packet of information that includes excerpts from Sprawl Busters. Norman says he got into this line of work as a result of an effort to save his home town—Greenfield, Massachusetts, population 18,000.
"It was purely by accident," he says. "Wal-Mart came into my home town and applied to open up a store. They had selected 63 acres of prime industrial land, and I was asked to run a zoning campaign to keep them out. My job was to get the voters to agree that it shouldn't be rezoned. To me, Wal-Mart was a place you got cheap underwear, because like cheap underwear, they creep up on you."
The campaign caught fire, and after his side won, the Greenfield David and Goliath story got a lot of publicity, even making it to 60 Minutes.
"I started getting a lot of phone calls, so we started a monthly newsletter," Norman says. "Finally, we went to the web site full time."
Norman has written a book, Slamdunking Wal-Mart, and he works as a consultant to community groups who want to duplicate the Greenfield effect.
"When zoning laws were written, the people who wrote them never contemplated stores three times the size of a football field. Communities can set dimensional limits to deal with the issue of scale, and what some communities are doing is amending their zoning bylaws to put a cap on the size of buildings," Norman says.
"In part, they do this to create a diverse economy—so the economy won't owe its soul to one company store."
Local elected officials who welcome big box developments to their towns expecting to create jobs are misguided, in Norman's view.
"If local officials who welcome in a Home Depot says 'Yes, so we lost a few hardware stores. No big deal,' they couldn't be more wrong. These big stores don't represent economic development. When they say they're going to create 400 jobs, it's just not true. What they do is use their size to destroy the competition."
"If most of your sales come from other people's cash registers, the question is, what's the net impact of your coming here? When you minus out the jobs you kill elsewhere, the net effect can be zero or less. These small family-owned businesses are the most vulnerable, but even regional chains have been pulverized, the value sucked out and discarded. That's why these big stores don't represent economic development."
He is, of course, in complete sympathy with the struggling hardware store people.
"In the short run, Home Depot largely succeeds at the expense of existing merchants. Once Home Depot arrives, a Lowe's is sure to follow, and the marketplace is just not big enough to support all these big stores and the smaller ones as well. Even the regional home improvement chains have died, like Handy Andy, Grossman's, and Hechingers. The Parker Hardwares are disappearing, and Home Depot is so determined to put these stores under, they are rolling out their 40,000-square foot Villager Hardware stores into areas where they cannot fit in a superstore.
"I don't make predictions over the long run, but I think America is tremendously over-stored, and eventually Home Depot and Lowe's will hit the wall also—having grown too big and too greedy. They will fall from their own weight.
"For Home Depot, Knoxville is just another pin on the map."
—Betty Bean

Knoxville's neighborhood hardware stores refuse to be left in Home Depot's sawdust.
by Betty Bean
Downtown Knoxville circa 1950 was chock full of hardware stores. Green's Hardware and W.W. Woodruff and Dick Wright's were right on Gay Street, and there was even a hardware—George Home Center Store—in the high-toned confines of S.H. George and Sons Department Store. The Farm and Home Store and Simpson's Seed and Hardware were both on Market Square, and Parker Brothers was on Walnut Street behind the Square. Several wholesale hardware operations occupied warehouses on Depot Street next to the railroad yards, and Oliver Wright was on Willow; Major Cocrum and J.S. Cooper and Calloway Farmer were on McCalla Avenue.
Hardware men dotted North Broadway and North Central and West Cumberland and Chapman Highway and all the major arteries in and out of town. In fact, there were 42 retail hardware stores listed in the yellow pages that year, not counting Stormer's, which was in East Knox County, out Asheville Highway.
By 1970, with growing pressure from such discount hardware departments as Kmart and Zayre, that number had dwindled to 30, and there was only one real hardware store—Green's—left on Gay Street. Dick Wright was holding down a spot on Depot, but Parker Brothers had moved to Forest Park Boulevard in Bearden. Stores had begun to band together into buying cooperatives, and one store had already discovered the late 20th-century concept of niche marketing by mounting a high-end campaign advertising Jacuzzi parts and service.
This year's yellow pages list 14 Knox County hardware stores, and the Farmer's Co-op on Willow is the only one downtown. Nearly half of the listed businesses are primarily building supply houses or variety stores that sell a line of hardware on the side. Most have affiliated with buying co-ops such as Ace or True Value, which gives them access to larger inventories and better prices. They're a crafty lot, these few who have survived this deep into the age of Home Depot, and they've hung on by tempering their natural-born reverence for tradition with a willingness to search out and seize the main chance, no matter how it presents itself. Here is a look at four Knoxville hardware families with an aggregate of 200 years experience among them—all pillars of their communities, and all aware that they are facing extinction at the hands of "the big boys."
When the owner of a dilapidated fruit and vegetable market got annexed and applied for a liquor license in order to open up the first and only package store in Halls, many of the neighbors saw a community nuisance.
Lee Mynatt saw an opportunity.
"When they started raising all that controversy over the liquor store, I realized they weren't going to reopen the produce market," says Mynatt, who took over running Mynatt Brothers Hardware in the mid-'70s when his father, Walter, retired. What Lee decided to do was start selling produce—as local and as fresh as produce gets, right in the front of the 50-year-old hardware store. Now, the produce business is booming, and the peaches, particularly, were a spectacular success.
"They call that niche marketing," Lee says. "You find your little niche that you can fill. That seems to be what's ours now."
Walter Mynatt, who has to be the sharpest-dressed man in Halls since his retirement, still drops in regularly. He absolutely approves of the new merchandising scheme.
"I figure if Krogers can sell screwdrivers, we can sell produce," he says.
Lee Mynatt said the Wal-Mart just down Maynardville Highway makes for tough competition and forces him to look for new ways to stay in business.
"They hit us good. They like to pick over a line of merchandise and pick out the best movers and put them in their store at cut-rate prices. They'll be very selective and leave out the slower-moving items. I guess I'm fortunate in that (my wife) Judy and I don't need as much to live on as we did when the kids were young."
What would happen if Home Depot came to Halls?
"I don't want to say," he says. But he looks grim. "But this isn't just about hardware stores. You could go and write the same story about any small independent business. The big boys are taking them over. Drive around and see how many little independent businesses you can find." His says his biggest problem has been created by the way he chooses to do business.
"The thing that has bothered me is that I have tried to have a level of service that is second to none, and there have been times when I've had too many people on the payroll. I remember my mother and grandmother would talk about going to Sears and complain about the service. 'You can't find nobody to wait on you,' they'd say. And now, when people come in this store, I'm not able to see every one of them when they walk through the door. That bothers me more than anything else."
One of Halls' oldest families, the Mynatts have always been church and community mainstays. Years ago, Walter's father, Tel Mynatt, sold Granny Bright Spring to the local water company. There's a road named for him, and the family is a big Halls success story. Lee followed his father and uncles into the hardware business and says that, except for a stint at Rohm and Haas, he has always been a hardware man.
"It's all I ever wanted to do," he says. "I started here when I was 13 years old, summer vacations and Easter vacations..."
But he knows that neither of his grown children—Jeff Mynatt and Judy Wolfenbarger—is likely to follow him into the family business.
"I don't think there's a good living for either one of them here in the hardware business anymore," he says. "Everybody thinks I'm the richest man in Halls. That makes me so mad I can't stand it. They ought to see what I get by on."
Out at Stormer's Hardware in the east end of the county (on Asheville Highway just past Four-Way Inn), owner Cecil Lee decided that the best way to deal with Home Depot, which had opened near East Towne, was to go shopping. So when the home improvement giant held its grand opening, complete with its customary predatorily-priced "opening specials" (a practice meant to undersell and starve out the locals), Lee got up his family and took them down to the Depot.
"I've been in Home Depot twice," he says. "I found out they were selling four-packs of G.E. lightbulbs for a dime and air filters for 15 cents and box fans for $5. They'd put a limit on it, but I'd go down there and get the limit and get two or three people to go with me and get their limit, too. I bought it and sold it."
He has owned Stormer's for 30 years, and worked there for 10 years before that. He's seen a lot of changes since he bought the store from its original owner, Howard Stormer, who started the business with his brother when they were a couple of young GIs who pooled their "muster and out" pay to buy a hardware store after World War II.
"What I remember most about the way things used to be is the day before Christmas—that was our biggest day of the year. Everybody'd be looking for that little red wagon, or a tricycle. We sold toys and small appliances then, and the question wasn't so much pricing as inventory. If you had it, you could sell it. Today, everything is geared around price, and you're constantly hunting something to sell that the big boys don't want to fool with. But if you need a pound of nails or a shovel or an ax, I'm your man."
Lee is cautiously, modestly optimistic about the future.
"I just got to keep a'looking for something I can do that the big boys don't do. It's getting harder and harder to find, that little thing, but I keep a'looking. Fortunately, I've got my store and my stock paid for."
Up front, 21-year-old Dusty Lee works on a computer and sports the sort of neatly trimmed facial hair that you might see on MTV. There's something oxymoronic about the notion of an updated, hip-looking new-age hardware man, but that's what he is. He worries about some of the same things the old guys do—losing the personal touch, grabbing hold of a niche—but he exudes a qualified confidence in the future.
"It would take something major to shut us down," he says, peering into the computer screen. "I finally talked [Cecil] into letting me put all our accounts on the computer. It's been a battle." Stormer's is open Monday through Friday 8-6, Saturdays 8-4, "And I'm here every one of those hours."
Does Dusty Lee ever take a vacation?
""No Ma'am. I have no desire to go on vacation. This is my life. This is where I want to be, and long as I can open the doors, I have no intention of retiring."
What may be the slickest hardware survival trick perpetrated hereabouts happened just the other day over at Parker Brothers, where Chuck and Linda Lee are fighting for their lives against developers who are trying to put together a deal to bring a Home Depot to Bearden. The developers had been claiming to have the consent of everybody in the targeted residential neighborhood off Weisgarber when the Lees found out about a lone hold-out, an octogenarian who had signed a petition supporting the developers' request for a rezoning but has since decided that he just doesn't want to move.
So the day after the developers' request for a 90-day postponement was rejected by the Metropolitan Planning Commission, Chuck Lee went to see him.
"He is 83 years old and has been in that house since 1951. He didn't want to move, but had signed the petition saying it's OK to rezone. When I saw him, I recognized him right off—he's been a customer of ours for years. We sat down and talked, and I got a four-year option from him, and he also recanted his approval of the rezoning."
There is talk now that the Home Depot developers are looking at other potential locations—maybe the site of a car dealership on Papermill or the shopping center at the corner of Papermill and Kingston Pike. But as long as Home Depot locations are swirling around Bearden, the Lees will remain vigilant. For now, though, they know one place Home Depot won't go.
Parker Brothers was founded in 1923 by Linda's grandfather, Lloyd "Pappy" Parker and his brother, H. Deadrick Parker. Her mom, Helen Parker Thompson, remembers riding on a mule-drawn wagon to help make deliveries. As a teenager, she worked after school in the original Walnut Street store, and, along with some cousins, inherited the business when the original Parkers died. Tennessee Turf and Toro was a subsidiary of Parker Brothers, which opened branch stores in Fountain City and Norwood, and even published its own seed catalog.
Components of the Parker Brothers businesses were divided up among cousins as older family members passed away, and the Lees decided to take Parker Brothers Hardware, since, as Linda says, "I love this old store." Chuck quit his job as a real estate broker, and they were set for business on Forest Park Boulevard until landlord Gene Monday died and his heirs decided to sell the location to Bruno's supermarket.
The Lees didn't have a lease and had operated on a handshake deal with the old man. They fought their eviction with a petition drive and got 10,000 signatures. But it was to no avail, and they had to scramble to find a place to relocate. In January 1993, they moved into the old Shoney's on Kingston Pike, where they are today. They have what appears to be the most lucrative business of all the local hardware stores and, now, perhaps the most threatened.
They have converted their office into a war room, and the phone lines are humming with strategy sessions. Chuck has compiled information packets that he gives out to customers who ask what they can do to help.
But, busy as they are with local politics, they don't neglect the neighborhood concept. Linda weeds abandoned flower beds and plants flowers in front of vacant buildings along Kingston Pike. They carry food to the man whose property they've optioned. A Friday afternoon farmer's market in the back parking lot has become a popular feature, particularly around 3:30, when Linda serves iced tea and home-made molasses cookies. On Saturdays, they have a breakfast bar with coffee and chess squares.
Like other hardware people, they worry about the future. Their grown children have their own careers and little interest in the family business.
"I don't know what we're going to do," says Linda. "The kids have just had better things come along."
The Mayor of South Knoxville comes down to chew the fat at Colonial Hardware on Chapman Highway most every day. He parks his lift van and rolls his high-tech, teal green motorized wheelchair through the front door, grabs a cup of coffee and starts in on the serious business of dispensing opinions on politics and Tennessee football, sometimes even pausing to help direct a customer or two to the wing nut bins when owners Roy and Gerry Garnett are busy.
"Roy's Number One, even if he is from Alabama," says Bobby Huffaker, who has rolled his chair over into the corner of the store where George Wolliver's sitting on an old church pew facing a bench made from a wagon seat.
"You go to Home Depot or Lowe's and you get lost," says Wolliver.
"You can't get a cup of coffee at Lowes," Huffaker chimes in.
Roy's too busy waiting on customers to pay much attention to the guys in the amen corner, but he's clearly glad they're there, and he goes out of his way to accommodate them. Colonial is a smaller store than Mynatt's or Parker Brothers or Stormer's, and the personal touch is extra important here. That's what helped him outlast the Lowe's that moved in south of him along Chapman Highway about seven years ago. Lowe's shifted farther south to a super store in Sevierville last year, and Garnett is grateful for the loyalty of his customers.
"South Knoxville's sort of a close-knit community, and we're a neighborhood hardware store—the old mom and pop operation. I'm not bitter," he says. "We have to be able to go with change, but it looks like the big boys could leave us a little piece of the pie."
Roy and Gerry Garnett have owned Colonial Hardware for 21 years. He is from Decatur, Alabama, where he grew up around his uncles' hardware stores. He taught industrial arts in Georgia, and it was an easy transition to go into the hardware business in Knoxville, Gerry's home town. Roy credits their business longevity to personal service and fair prices.
"We know our regular customers on a first-name basis, and they seem to appreciate it. If they come in and buy a dime's worth of screws, we're going to smile and say thank you, same as if they bought an expensive power tool."
For several years, Colonial was known for its Friday afternoon jam sessions. Musicians and singers would come in to pick and sing, and the crowds followed them. It was a piece of East Tennesseanna that attracted loads of attention. So much attention, in fact, that music fans who packed the store and the parking lot squeezed out paying customers. Roy had to stop the music.
"It got huge," George says. "Yeah. It got so nobody could shop," says Bobby. "It was going to cost Roy his living if it kept up like it was.
"And if he had to close, I'd miss coming down here awful bad."

September 14, 2000 * Vol. 10, No. 37
© 2000 Metro Pulse