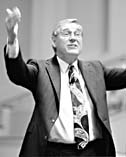 Doug Sager's combination of advertising and evangelism has made his church one of the biggest in Tennessee. But to what end?
The brightly-lit stage at First Baptist Church of Concord is empty. It's about halfway through the second of the Farragut church's two Sunday morning worship services, and senior pastor Doug Sager has left the elegant white pulpit to pace the plush carpet in front of the first row of pews. He's introducing the congregation to an obscure Old Testament character named Hobab.
"How many of you have ever heard a sermon preached on Hobab?" Sager asks in a friendly, informal tone, looking over the audience of nearly 1,000 people for any raised hands. There aren't any. After a brief, emphatic pause, Sager resumes his message. "Well, you're getting ready to hear one," he says.
For the next few minutes, Sager tells Hobab's story. A brother-in-law of Moses, but not an Israelite, Hobab joined the Jews in their journey toward the land promised them by God after their release from slavery in Egypt. That's Sager's starting point for a series of lessons on the spiritual journey of modern Christians.
Twin 20-foot video screens on either side of the baptismal behind the choir project Sager's image as he exhorts the assembled to become better members of the body of Christ. "I'm not asking you to come with us to look at the ride," he says, punctuating the words with his hands. "I'm asking you to help pedal, or row the boat, or carry the load."
Part of the journey, Sager continues, includes active membership in a thriving, growing church—one like First Baptist Concord, which has a membership of 5,500 people. "There ain't nobody who can keep up with 5,500 people," Sager tells the audience, his voice shifting into an aw-shucks, good ol' boy tone. "I can barely keep up with myself. But in a Sunday School class, we can stay connected. That should not be optional. We ought to be there because that's where ministry happens."
For Sager and his congregation, church growth is one of the most important parts of Christian ministry. And they're certainly fulfilling that. Since he came to the church from Birmingham, Ala. in 1993, attendance at First Baptist Concord has nearly quadrupled. It's one of the largest Baptist churches in the state, and even on weekdays it's full—for youth fellowship, Bible study, free counseling, a K-8 school, music specials and self-help classes. There's a walking track, a weight room, and exercise classes. The Wednesday night youth service "Solid Rock" is one of the most popular teen destinations in Farragut, with hundreds of suburban kids singing and praying together for a couple of hours every week. In 1998, the congregation moved into its new $7 million, 3,000-seat auditorium, and still has to hold two services each Sunday morning to accommodate the crowds. Members regularly cross the globe for evangelism, and noted conservative Christians Alan Keyes and Jerry Falwell appear at the church this month as part of a lecture series. The church's annual budget is $4.5 million, and Sager says another $8 million comes through the church every year to fund missionaries and charities. And the church owns three airplanes—one of them a Lear jet.
Sager, a former president of the Tennessee Baptist Convention, and the members of his church perceive their growth and prominence as a blessing from God. But it's not quite that simple. The church, located in one of the highest-growth areas in Knox County, takes full advantage of the affluent suburban demographics that surround it by appealing to young families. Sager, in turn, has perfected a mass-market style of evangelism that promotes big numbers and offers a Christian alternative to contemporary pop culture. There's a foundation of conservative Christian theology underlying everything at the church—the Bible as the inerrant word of God, opposition to women preachers, opposition to gay rights and abortion, support for proselytizing efforts aimed at Mormons and Jews—but, in large part, it's the slickly packaged casual atmosphere that draws the crowds. The line between marketing and evangelism seems to have disappeared at First Baptist Concord. Sager doesn't seem to think that line was ever there.
Doug Sager was born in Bessemer, Ala., in 1939. He attended a Baptist church with his family as a child, and it was there, he says, that he was called by God into the ministry. "I knew from the time I was 11," he says, leaning back comfortably in a wingback chair in his office. He's wearing a black golf shirt, black leather loafers, and neatly-pressed khaki slacks. A painting of a man on his knees, his hands clasped and his head tilted toward the starry night sky, hangs on the wall behind him. "I had had some stirrings in my spirit that I didn't understand, and I talked to my pastor. I told him that I had this strong desire to preach, and I thought it was kind of unusual. I didn't know what to do with it. I just had this urge to preach and share. He said, 'Well, it may be God calling you to preach.' I basically decided that day that if that's what God wanted me to do, I wanted to do it, and I've been at it for almost 50 years now."
After he graduated from Fairfield High School in 1957, Sager turned down a scholarship to the University of Alabama to attend the Baptist-run Howard College in Birmingham, which is now Samford University. While still an undergraduate, he started preaching at Trinity Baptist Church and married Faye Thompson, with whom he has three grown children. Sager stayed at Trinity until 1964; after graduating from Howard in 1961, he and three other students drove all night, every Sunday night, to attend classes at New Orleans Baptist Seminary, where he received a master's degree in 1965. He led a series of churches—including First Baptist Church in Alcoa, from 1971 to 1984—and earned a doctorate in ministry from Luther Rice Seminary in Georgia in 1975, before finally landing at First Baptist Concord in 1993. At First Baptist Alcoa and Roebuck Park Baptist Church in Birmingham, where he served from 1984 to 1993, Sager engineered significant church growth, leaving each with attendance of more than 1,000 people a week.
"From my perspective, there are some people who God has gifted with very special gifts of leadership," says Dr. Walter Taylor, director of the Knox County Association of Baptists. "Doug Sager's one of those people. You can take Doug Sager and put him down anywhere to pastor a church, and because of the creative energy he has, you can see that God is using him."
Sager's a skilled orator, animated in the pulpit—or pacing the floor down in front of it, or even walking up the center aisle among his congregants. He's mastered the bombast of a Baptist preacher, though he seldom needs it. More often, he relies on self-deprecation and a carefully crafted conversational tone. His sermons seem spontaneous, even if he delivered the same message two hours before at the early Sunday service. "When you go into a worship service, you can tell that a lot of planning and prayer went into what's going on that day," Taylor says. "Sure, it's spontaneous, but they know what the plan is when they go in there."
Sager's calculated, low-key presentation reflects the casual atmosphere of worship at Concord. Sport shirts are more common than suits and ties, even on Sunday mornings. Stodgy old hymns have been updated, and contemporary music is common. And much of the heavyweight symbolism of traditional Christianity—crosses, altars, stained glass—has consciously been removed from the sleek, ultramodern design of the new auditorium. A single cross hangs above the baptismal pool behind the choir.
"We try, in a sense, to cross that bridge where everyone can feel somewhat comfortable with the music, with the service," Sager says. "We made a decision before the new building was built to continue with the traditional choir, traditional service, based primarily on the effectiveness of it. Quite honestly, we felt like if we're not meeting needs we should look at doing something different. It's interesting that the thing that drives us, the thing that motivates us, is not numbers. It's not the programs. It's trying to fulfill the great commission of Christ, of reaching the world with the Gospel. We adapt and we change as needed to fulfill the major purpose that we see for us being here."
It works: Every Sunday morning, affluent suburbanites fill the church's parking lot with shiny new sedans and sport utility vehicles. Traffic cops have to steer traffic into the lot from Kingston Pike's westbound lane, where cars are often lined up for hundreds of feet to turn left across the equally jammed eastbound lane. Hundreds of casually dressed young families loiter around the church entrance before Sunday School and worship, each member carrying a personal Bible.
But drawing those people in has also built the church into something resembling an evangelistic empire. First Baptist Concord's 24-acre complex of six buildings and adjacent parking are an imposing presence on Kingston Pike, just west of Campbell Station Road; it seems as if it was built to demand a response from bypassers. There's even a spinoff church—WestLake Baptist Church—targeted specifically, Sager says, at 35-and-under suburban couples. "We began WestLake as a ministry to try to touch that area of our population," Sager says. WestLake now has a congregation of a few hundred, but it's growing quickly; the church will dedicate its first building at the intersection of Westland Drive and Pellissippi Parkway later this month.
First Baptist Concord has a paid staff of 230 people, including 11 full-time ministers or ministry directors—youth ministers, children's ministers, seniors' ministers, recreation ministers. Concord Christian School, a response to the supposed secular humanism of public schools, has 800 students, from kindergarten to eighth grade. The church has long-term missions relations with churches in Brazil, El Salvador and several small countries in Southeast Asia, where church members (and Sager) travel on a regular basis.
Sager—whose compensation, with his housing allowance, comes to $109,000—also maintains a busy schedule of personal speaking engagements; on a recent Wednesday afternoon, he flew from Knoxville to a church in Carrolton, Ga., to speak, then flew back to Knoxville. The church's three planes were all donated, but the sheer cost of storing and flying them would tax the yearly budget of almost any other church in East Tennessee. Sager defends the cost: "It keeps me from having to spend so much time on the road and away from home," he says.
And they have access to more than just those three. On a recent Sunday morning, Sager asked the audience at the conclusion of the second morning service if anyone had access to a pressurized Lear jet. Arkansas Gov. Mike Huckabee, a former Baptist preacher, is scheduled to fly into Knoxville later this month to speak at the "Awesome August" lecture series, but he's required as governor, for safety reasons, to fly only in pressurized planes. Since Concord's Lear jet is unpressurized, Sager explains, they'll need to borrow a pressurized plane for Huckabee. A member at the front of the audience quickly threw up his hand to tell Sager he could get them one.
The church's high profile—and Sager's own conservative doctrine—catapulted him to the presidency of the Tennessee Baptist Convention in November of 1997. While Sager won the election handily over Earl Wilson of First Baptist Church in White Pine, Sager's one-year term wasn't without controversy. He was nominated by Dr. Jerry Sutton, pastor of Nashville's Two Rivers Baptist Church and a member of the conservative group Concerned Tennessee Baptists. The fight between conservatives and moderates in the TBC mirrors the larger battle that has scarred the national Southern Baptist Convention for 20 years. Conservatives swept the denomination's national offices in 1979 with the election of conservative patriarch Adrian Rogers. Since then, moderates say the SBC has shifted away from the historic Baptist principles of theological freedom and the autonomy of local congregations toward an insistence on doctrinal integrity and centralized authority. Conservatives say they've simply taken a stand against the creeping liberalism that had infected the convention's six seminaries and, in so doing, have returned to old-fashioned Biblical values.
Conservatives are largely winning the political fight. A conservative has won the presidency of the national convention every year since Rogers' ascension, and moderates have formed the Cooperative Baptist Fellowship to support their missions programs.
Unlike other denominational bodies, the state and national Baptist conventions don't have strict authority over member churches. "It's an honorary position," says Sutton of the TBC presidency. "It has influence but no power. Basically, the only clout it has is the clout of influence." But that's changing—and that's what troubles moderate Baptists, enough so that the Texas state convention is considering a halt to its funding of the national convention.
Over the last 20 years, faculty at SBC seminaries have been required to adhere to the denomination's statement of faith, which has been substantially altered to reflect the conservative shift of the SBC. The most recent changes were a direct reference opposing ordination of women as pastors and a passage urging women to "submit faithfully to your husbands." Both are based on passages from the letters of Paul.
"I agreed totally" with those changes, Sager says. "I see a wife and husband as complementary. They complete each other...I do not believe that what Paul wrote was a situational, cultural ethic. Everybody does not have to be the same. There's nothing wrong with being different."
A similar debate about school autonomy erupted during Sager's term as president of the TBC. In April of 1998, the Board of Trustees at Carson-Newman College in Jefferson City voted to appoint its own members. Trustees to the Baptist-affiliated school had traditionally been appointed by the TBC. Following the board's vote, at the TBC's annual meeting in November of 1998—the week that Sager's term expired—the state convention voted to cut off $2.5 million in annual funding for the school. Sager supported the decision. He says the trustees' vote had already dissolved the relationship between the school and the TBC. "What they basically did was sever their ties to the convention," Sager says. "Our relationship had been one of trust. While the convention didn't tell the institution how to do their job, the way the convention exerts some control is the election of trustees. So the convention no longer had any area in which they could exercise any control."
But many Baptists resist the impulse to control what they see as matters of individual faith. "[I]n reality Baptists are the most broad-minded of all people in religion," wrote Dr. David Hull, senior pastor of First Baptist Church in downtown Knoxville, in a message on the church's web site responding to the growing unrest in the SBC. "They grant to every man the right that he shall be free to believe as he wants. But they insist upon the same right for themselves. The moment that a Baptist seeks to coerce another person—even another Baptist—in matters of religion, he violates the basic belief of Baptists."
In person, Hull is quick to clarify that his message wasn't meant to be divisive. "I think Doug Sager and I would agree that our calling as ministers is to be sowers of the seed," Hull says, pointing to an illustration in his office of a man dropping seeds into the ground. "We may have different styles, and we certainly do it in different settings, but one's not better than the other. One's bigger than the other, but I have nothing against what they've done."
Sager hasn't demonstrated quite the same "clout of influence" in local politics as in religious matters. While Sager and Farragut mayor Eddy Ford publicly proclaim their regard for each other, plans for the church's new auditorium led to a tense, protracted battle of wills over some of the toughest zoning restrictions in the state. Drainage issues related to the parking lot delayed construction longer than many church members thought was appropriate. In seeming response—though Sager did not acknowledge any participation in the campaigns by either himself or the church—two members of First Concord ran for alderman in the fall of 1998. Both Steve Williams and former UT and NFL placekicker Fuad Reveiz lost in the election, but their place on the ballot as pro-development candidates indicated the church's willingness to enter local political fights. When asked about Sager's involvement in the election, Ford says only, "You've done your homework, haven't you?"
First Baptist Concord's location—right in the heart of one of Knox County's richest, fastest-growing areas—has been a central part of the church's growth the last seven years. For all his demurral, it's been under Sager's leadership that the church has become such a popular destination. Evangelism efforts at First Baptist Concord share the same sleek mass appeal as the worship services. One of the most popular mid-week events at First Baptist Concord is Solid Rock, a Wednesday gathering for junior high, high school, and college students. Most of them are members of the church, but others come simply for the social occasion.
"The people here are fabulous," says Aaron Wade, a tall, thin 16-year-old from Farragut High School. "The atmosphere is really welcoming. It's a place to come fit in, but it's more than that. I come in on Wednesday, and it's like a pit stop. Sometimes you need sort of a touch from God."
And Solid Rock's reach stretches beyond the church walls, into the comfortable havens of surrounding West Knox subdivisions. It is, in fact, one of the church's most potent outreach programs for new members. "I've been coming here for five years," says 16-year-old Lindsey Parrott, following a Solid Rock service. "I started coming for Vacation Bible School, and I came so much that my parents started coming."
But Solid Rock is also where some of the church's inherent contradictions are most apparent. At one service, 200 teenagers dressed in T-shirts and shorts softly repeat the slow refrain, "You alone are father/You alone are good/You alone are savior/You alone are God," over and over again, accompanied by the soft playing of an electric piano. Some, in the very back, whisper to each other and giggle, but most have their heads bowed or are watching the projection screen above the stage where the lyrics are displayed.
When they finish singing, the lights come up and a young man in an Abercombie & Fitch T-shirt walks down the center aisle toward the front of the chapel, carrying a paperback Bible with him. He's excited about his faith and reads a passage from the New Testament to illustrate the insights he's brought back from Bible camp in Panama City.
It's the story of Jesus chasing merchants from the Jewish temple. Enraged that the merchants were selling sacrificial animals inside the holy building of Judaism, he turns over the tables and runs the merchants out. "It's one of the few times we see Jesus express emotion," the young man says. "And he gets fired up. It lets us know that Jesus was real. Jesus got on a real cross. Jesus got so emotional that he flips over all these tables. He says, 'I give this temple to you as a gift, and this is what you do to it. How dare you turn my father's house into a market?'"
But the speaker never makes the connection between Christ's outrage and the commercialization of religion, from "What Would Jesus Do?" bracelets to Christian rock charts and bestseller lists. For him, the modern equivalent of the Jewish temple isn't the building where he stands now, but his own body—as in another well-known biblical phrase. "Am I using my body, my temple, for my own personal credit?" he asks. "Or am I using every second, every minute, for the glory of God?" It's a strange leap of logic from Christ's condemnation of moneymaking in a church to an energetic call to worship.
A few others get up and share similar brief messages. A few more songs are sung, a closing prayer is recited, and the youth minister makes announcements about upcoming events. As the kids are picking up their Bibles to head out for pizza with their friends or a late movie, the minister makes one last announcement: the group's college-age music director, who plays in a Christian rock band, has CDs for sale for $10.
Sager's still pacing the floor in front of his congregation. He's reaching the end of his sermon, and his voice has become stronger, more emphatic. The conversational tone is gone, replaced by the timbre of a professional preacher. He's making the final point, the ultimate lesson that he's learned from the story of Hobab. It's also a pointed defense of the way things are done at First Baptist Concord.
"A church can slick everything up, use the best Madison Avenue techniques and the best bells and whistles," he says. "But there will never be a time when you don't need the hand of God in the place, because you can't do it without him. You'll never get good enough that you don't need God.
"How many churches have you seen with God's hand on it, and they vote according to somebody's pocket book, or somebody's opinion, but not God's will?" Sager continues. "It becomes a desert place after that. It's our responsibility as church men, as leaders in this church, to see that that doesn't happen. That's our obligation, our responsibility."

August 10, 2000 * Vol. 10, No. 32
© 2000 Metro Pulse