Seven Days
Wednesday, Aug. 2
* Records show Lt. Gov. John Wilder is the state Senate's top fund-raiser, accumulating $300,000 in campaign cash even though nobody is running against him. Nice to know there are some parts of the Legislature that aren't having a budget crisis.
* A collision between an oil truck and a cattle car on I-40 kills six Holstein cows. "For you to see cattle suffering like this, it's just a real stress on you," KPD Lt. Steve Tinder says. No word on where the KPD crew went to lunch.
Thursday, Aug. 3
* Braving beautiful weather and mild humidity, thousands—maybe even hundreds—of Knox County residents troop to the polls to cast ballots in county elections and state primaries. Nearly 10 percent of registered voters participate (and that's not counting absentee and paper ballots!). Veteran politicos note that even if you discount the people who stand to directly benefit via jobs or favors, at least a few dozen citizens showed up.
Sunday, Aug. 6
* About 150 marchers come to the annual Hiroshima Day march sponsored by the Oak Ridge Environmental Peace Alliance to protest bombs and things that kill people. A group of counter-protesters, uh, counter-protest, playing songs including "Praise the Lord and Pass the Ammunition." Nobody actually deploys any nuclear weapons, to the relief of local police.
Tuesday, Aug. 8
* Another NCAA investigator comes to the UT campus to look at athletes' academic records. UT officials continue to be shocked that anyone would suggest athletes have academic records.
---
Knoxville Found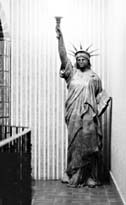 What is this? Every week in "Knoxville Found," we'll print the photo of a local curiosity. If you're the first person to correctly identify this oddity, you'll win a special prize plucked from the desk of the editor (keep in mind that the editor hasn't cleaned his desk in five years). E-mail your guesses, or send 'em to "Knoxville Found" c/o Metro Pulse, 505 Market St., Suite 300, Knoxville, TN 37902.
Last Week's Photo:
This week's winner is none other than celebrity architectural professor and frequent Metro Pulse quote source Mark Schimmenti. He correctly identified the ornate grate as covering a vent at the downtown post office on Main Street—not at the Tennessee Theatre, as most laypeople thought. As our Grand Prize winner, Mr. Schimmenti will receive a copy of The Real Las Vegas: Life Beyond the Strip edited by David Littlejohn. Congratulations, Mark!
---
Meet Your City
A calendar of upcoming public meetings you should attend
Metropolitan Planning Commission
Thursday, Aug. 10 * 1:30 p.m. * Main Assembly Room of the City County Building
MPC will consider the proposed NC-1 preservation overlay for Fort Sanders before making a recommendation to City Council next month.
Public Building Authority — Public Hearing
Wednesday, Aug. 16 * 5:30 p.m. * Main Assembly Room of the City County Building
This is the second public hearing on the Worsham Watkins International plan for downtown redevelopment. How creatively PBA or WWI will actually listen to any of the public input is anybody's guess. Look for lots of "pro" voices to be rallied this time as a counter-attack against the overwhelmingly skeptical voices at the last hearing.


Home Depot Blues
Bearden residents want to undo generic strip development. Home Depot has other plans.
In March, Bearden residents met with the Metropolitan Planning Commission to bring the ideas of New Urbanism—pedestrian-friendly walkways, combinations of retail, residential, and office space, and a reduced emphasis on automobile traffic—into the suburban community. Two months later, Brookview Lane Partners applied to MPC to rezone property on Northshore Drive for a new Home Depot location in the heart of Bearden. So how will another big-box development affect a community that's trying to renew itself?
"To me, Bearden has some incredible opportunities. [Brookview's] use doesn't fit. It's an inappropriate use," says Finbarr Saunders, president of the Westwood Homeowner's Association, as he points to a preliminary design for the Home Depot development. The design has one large building for the store, surrounded by a parking lot with a capacity of 500 cars.
Saunders is one of several Bearden residents involved with MPC's Bearden Area Opportunities Plan, also known as the Bearden Village plan. The community—its rough borders are Interstate 40 on the north, the railroad tracks on the south, Northshore on the west, and Sutherland Avenue on the east—has upper- and lower-income housing, retail and office space, and dozens of restaurants. But Saunders would like to see its congested suburban development turned around.
Bearden also has traffic from the interstate and Kingston Pike to contend with. The proposed Home Depot site, on the west side of Northshore, is technically outside the boundaries of the village plan. The 10-acre lot is currently undeveloped and covered with trees, but it sits between an office complex and a string of strip developments—TGI Friday's, Burger King, and Walgreen's. During peak hours, it's already nearly impossible for a northbound car to cross traffic into those parking lots. Saunders says traffic snarls could push more cars into surrounding neighborhoods.
In addition, a Home Depot could threaten existing, locally-owned businesses. Stores like Mayo Garden Center and Parker Brothers Hardware—the kinds of stores that New Urbanist developments are built around—will have a tough time competing with a home improvement superstore. Both stores have a petition available for customers to sign in opposition.
"There are enough people here to support the businesses that are here," says Claxton Mayo Jr., part-owner of Mayo Garden Center.
Mayo, Saunders, and other Home Depot opponents have a temporary reprieve. The rezoning hearing—originally scheduled in July, then pushed back to Aug. 10—has been postponed again, this time until the MPC's November meeting. "We need more time to work on it," says John David Roddy of Brookview Lane Partners. "We obviously have some issues with the homeowners, and we need to continue to work on that."
MPC executive director Norman Whitaker says his staff will, in the meantime, look at any potential impact of a Home Depot in Bearden before making a recommendation to City Council.
"The staff's really looking at the direct physical impact of the Home Depot," Whitaker says. "But there's another issue that's going to be fair game for discussion by the planning commission and City Council, and that's the impact on businesses that are already there...That's a concern. It probably won't be the basis for the recommendation, but it's going to be considered."
—Matthew T. Everett
Protecting the Square
Market Square property owners consider historic overlay zoning
As developers push to have the city buy out Market Square and lease it back them, the square's current property owners are looking at protecting the buildings through a historic overlay.
Surprisingly, Knoxville's most historic block is not yet protected by the historic overlay, the intent of which is to preserve the historic character of buildings.
Andie Ray and Emily Dewhirst, members of the Market Square Association, met recently with the Metropolitan Planning Commission's Ann Bennett to talk about getting historic (or H-1) overlay on the square. Ray says she's now circulating a petition among property owners and businesses to gather support for it.
"It's way of ensuring the architectural integrity is protected. It's a travesty that it hasn't happened before," Ray says.
When an H-1 overlay is approved, the city—working with property owners—determines standards and guidelines for external renovations and new construction, says the MPC's Bennett, the local expert on such ordinances. Then, when a property owner wants to renovate the outside of a building or build new, the Historic Zoning Commission would have to approve the plans, based on the standards. Any demolition would likewise have to be approved by the commission. Appeals could be made through the court system.
It's uncertain how historic overlay could affect Worsham Watkins International's $600 million downtown redevelopment plan, which calls for all property on Market Square to be taken by eminent domain, and then leased to the developers.
Earlier this year, WWI had considered putting a dome over the square for their proposal. Although they've backed off from that radical suggestion, they have not guaranteed the square would not be covered in any way. They've also suggested cutting through some of the buildings to connect Market Square more directly with Gay Street and development off Walnut Street.
Historic overlay would likely prohibit any covering. "Because of damage that could do to the buildings and the change in appearance it would cause in the square, I suspect the Historic Zoning Commission would not approve that," Bennett says.
Cutting through the buildings might still be possible, but more difficult under H-1 overlay, she says. "This is really conjecture, because I don't know what (the plan) is going to look like," she says. "But if the cut-through were done in a way that what you were still seeing is the facade of the building, it could conceivably be done. It would be hard."
Ron Watkins could not be reached for comment. However, he told the News-Sentinel that he needed to learn more about H-1 overlay before deciding whether to support it.
Ellen Adcock, the mayor's administration director, says historic overlay makes sense for Market Square, and she didn't see it interfering with WWI's plan. "I can't imagine that this would be a detriment," she says. "I think everyone's interested in preserving the character of Market Square."
Whatever happens with the Worsham Watkins plan, Ray says she is in favor of the H-1 designation. "Regardless of what happens in the future, whether I continue to own my building or not, Market Square should absolutely be under historic overlay."
—Joe Tarr

AUGUST 10, 2000 * Vol. 10, No. 32
© 2000 Metro Pulse