Seven Days in June
Wednesday, June 7
The "yes new taxes" state Senate approves a budget. The "no new taxes" state House votes it down.
The fab refurbished Miller's Building opens as the new HQ of KUB. A few hundred visitors ooh and aah over the central atrium and swanky executive suites. Most overheard comment: "Hey, they did something right."
Thursday, June 8
Leaders from the state House and Senate sit down to try to work out their differences. The meeting lasts five minutes. Then everyone goes home.
Geo. W. Bush flies in for a little public schmoozing with his old college pal Victor Ashe. The secret Skull and Crossbones handshake (or noogie, or whatever they do) presumably takes place out of camera range.
Friday, June 9
Legislative leaders consider a radical idea to balance the budget: taxing people who make the most money (a 5 percent income tax on individual earnings above $100,000 a year). "Some people like [the idea], some people don't," Rep. Tommy Head says. Gee, which "some people" would those be?
Saturday, June 10
The state Senate says it can pass an income tax. The state House keeps trying to count to 50 (the needed majority), but never quite gets there. Lots of people exercise their constitutional right to honk car horns outside the Capitol (it's in the First Amendment—"freedom to beep").
Monday, June 12
A House-Senate committee agrees on an income tax, sending it for approval to both houses. Two representatives are rushed to the hospital with health problems during the discussion. Did anyone check the anti-tax mob outside for voodoo dolls?
Owners of Regas Restaurant vote to close their Gay Street landmark. The same question is on the lips of power-brokers everywhere: "Where will Harry Moskos eat?"
---
Knoxville Found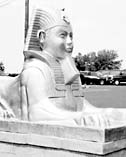 What is this? Every week in "Knoxville Found," we'll print the photo of a local curiosity. If you're the first person to correctly identify this oddity, you'll win a special prize plucked from the desk of the editor (keep in mind that the editor hasn't cleaned his desk in five years). E-mail your guesses, or send 'em to "Knoxville Found" c/o Metro Pulse, 505 Market St., Suite 300, Knoxville, TN 37902.
Last Week's Photo: David Atkins of Knoxville correctly identified the colonial-looking fellow as a statue of Gov. John Sevier, located behind The Foundry on the World's Fair site. Caretaker Don Alt of the John Sevier Bicentennial Association says the statue of white Vermont marble was carved in 1959 by artist Edgar Bowlin, and was previously located in the Home Federal Building in Kingsport. The organization hopes to some day place the statue in a replica of the original state capitol in downtown Knoxville. As our Grand Prize Winner, Mr. Atkins will be awarded a genuine bar of "Fight Club" soap from the controversial movie of the same name. Congratulations, David!
---
Meet Your City
A calendar of upcoming public meetings you should attend
Metropolitan Planning Commission NC-1 Public Workshop
Thursday, June 15 * 6:30 p.m. * Laurel Theatre
This is the first in a series of public workshops on the proposed historic preservation overlay zoning for Fort Sanders. MPC will offer information and listen to comments on the guidelines and boundaries of the proposed NC-1 designation.
Knox County Commission Finance Committee
Wednesday, June 21 * 8:30 a.m. * Main Assembly Room of City County Building
The finance committee is scheduled to consider a proposed resolution to suspend construction of the downtown Justice Center and preserve the money for future tax relief. If approved, the resolution would go before County Commission for a final vote.
Knox County Commission
Wednesday, June 21 * 1:30 p.m. * Main Assembly Room of City County Building
A showdown looms over the county budget, with school board demands for more funding meeting political pressure for a tax rollback. The county's proposed five-year capital improvement plan is also on the agenda.


Old School
Unable to afford its upkeep, what will Knox County do with Old Knoxville High?
Covering a full city block and adorned with a soaring neoclassical entrance flanked by massive Greek columns, Old Knoxville High is undoubtedly one of the grandest public buildings ever built in Knoxville, visible to thousands of motorists every day on I-40. But it's a building in trouble.
Currently, the grand entryway is closed off with a chain-link fence after engineers discovered one of the columns was cracked and settling—and potentially a hazard to pedestrians. In addition, two rooms with water and smoke damage are still sealed off after a November 1998 arson fire—and the more than $1 million in last year's budget to re-roof the building was diverted to pay for teacher raises. The growing laundry list of repairs has County Commissioner John Schmid concerned. "We're never going to have enough money to renovate it," he says. "We're slowly demolishing the building by keeping it in the school system."
That, according to Schmid, is precisely why the county should make the building available for redevelopment. Tucked in between the Old City and Fourth and Gill, Old Knoxville High is, says Schmid, "in an area that is rising upward for its redevelopment potential" and the building itself "has incredible development potential—it's a beautiful building that a quality developer could turn into a first-rate project." Schmid has first-hand experience with renovated school buildings; he works in one. An associate broker with Holrob Commercial Realty, Schmid's office is in Tyson Place, local developer Sam Furrow's transformation of the former Tyson Junior High School into executive office space.
Mike Cohen, spokesman for the Knox County Schools, agrees that a county-funded restoration of the 140,000-square-foot building, built in 1910 and listed on the National Register of Historic Places, is an unlikely scenario. "We're never going to be able, as a school system, to do that level of restoration," he says point-blank.
"We have," says Cohen, "a huge list of maintenance needs and a limited number of dollars. Every year we get farther and farther behind." In May, when a half-million dollar appropriation of contingency funds to repair the settling porch column came before the Intergovernmental Committee of County Commission, Schmid suggested the county look into selling the building, leading to some speculation that Schmid was acting on Holrob's behalf.
Schmid says that is not the case. "I based my comments off of what they've done here (Furrow's renovation of Tyson Place) and with Kendrick's Park Place (a condominium complex in the former Park Junior High)." Schmid also points out that he works for Holrob's real estate marketing arm, not Holrob Investment, which is a separate real estate development company.
Fellow County Commissioner John Griess, also a broker with Holrob Commercial Realty, seconds Schmid's statements: "In simple terms, there's a development arm and a marketing arm. Our (Holrob Commercial Realty) function is to lease and sell. We're strictly a real estate company." Ironically, a source with Holrob Investment confirms that, unknown to Schmid, the development firm has been discussing a school renovation project with the county, although not Old Knoxville High.
Schmid says his statements were based on a concern for the county's bottom line and the revitalization of downtown. "For me it was an opportunity to ask the school system to be open to that idea. It's a great deal and if it's a money maker for the schools, why not look to private development for solutions to saving these schools?"
The chief hurdles to private development are the 800 to 1,000 adult students a week who pass through the building for GED programs or other adult programs like the Center School. In addition, the building houses school security, "Vision Services" and other administrative functions. Relocating any of these programs runs into a familiar obstacle: dollars.
"County schools typically take care of K-12 first and that's understandable," says Emma Lou Elkins, Adult Education Supervisor. "We're an adult program so we have to wait for what's left over." Cohen agrees that adult education is not the school system's priority, but points out that they are vital programs nonetheless. "Whether they're older or 18- [or] 19-year-olds who've made bad choices or dropped out and are stuck in a job that doesn't pay squat, the Center School means that they can get a diploma, maybe go to Pellissippi or UT, and move up." For the moment, Cohen sees the programs remaining at Old Knox High: "[W]e don't have any other facilities where we have that kind of space."
"You can always find space for those programs," counters Schmid. "It doesn't hurt to test the market."
Cohen tentatively agrees. "That's an exercise we need to go through," he says, "to find out if there are other options."
—Matt Edens
Soccer Mom Reformer
Shannon Wood tilts at political windmills. Can she topple one of the state's biggest?
U.S. Senate hopeful Shannon Wood looks like anything but a fringe candidate on a recent Saturday afternoon during preparations for Knoxville's annual gay pride rally at Market Square. Amid the drag queens and decorations, Wood, a mother of two, wears a trim red blazer and the simple wash-and-go hair style popular among on-the-run suburban moms. She looks like a beacon of middle-class normalcy.
But Wood, 42, isn't a normal candidate. A Nashville Democrat, she may very well be the first major-party candidate for a statewide office to appear at a gay pride rally in Knoxville, but that's not what really sets her apart. What makes Wood unusual is that with limited funding and even less political experience (she has never held elected office) she's taking direct aim at the Senate seat held by Republican Bill Frist. Frist's first campaign in 1994 cost $10 million, and he has given every indication that he'll spend just as much, if necessary, to keep his seat.
But Wood, owner of Nashville's Darkhorse Theater, thinks the system that favors "incumbents with an unlimited source of money" is unfair. "We've reached a point where we determine the viability of a candidate by the amount of money they have for a campaign," Wood says. "It's an auction instead of an election..."
Understandably, finance reform is central to Wood's campaign. But she also supports traditional Democratic issues, such as equal treatment for gays and lesbians, abortion rights, handgun control, and universal health care. She wants better funding for public schools, an improved Medicare program, and even has strong opinions on issues that are well below the sound-bite radar of the conventional political media. That's what got her campaign started a year ago.
"I got involved in this last summer because I was unhappy with the voting records of our senators. They both voted against the Nuclear Test Ban Treaty, even though a majority of Americans and Tennesseans support it," she says. "I talked to my kids, and I realized they pay attention to what you do, not just what you say. If I want to change things that are unfair, I need to be a good role model and work for that change."
It's a quixotic effort, but Wood refuses to admit she's got no chance of unseating a powerful Republican incumbent who's heavily supported by both the health industry lobby and the gun lobby. She won't give details about the size of her campaign fund, explaining that "we're not going to beat him at the game of money." And she insists this isn't an attempt to create name-recognition for a later attempt at another office.
"That's not the goal here. There just wasn't anybody with the money and the recognition who was able to take the risk...I'm not willing to back down from democracy just because I don't have as much money."
—Matthew T. Everett
Down to the Dregs
The pint glass may be drained for Knoxville's only microbrewery
Despite the popularity of its brews among the Metro Pulse staff and assorted other local beer snobs, New Knoxville Brewing Company president Ed Vendely says the company may stop production of its hand-crafted beers if $350,000 in long-needed capital isn't raised by the end of June.
"We've done everything we can do the last four years to try to get where we need to be," Vendely says, just minutes after posting a desperate plea for help on the K2K Internet discussion group. The company has grown since its inception in 1996, and, according to Vendely, now outsells national brands Sierra Nevada and Samuel Adams in the local market. But it needs cash, and quick.
New Knoxville was involved in plans, along with members of the Regas family, to purchase and reopen the Great Southern Brewing Company on Gay Street. That location, and the sales generated from it, Vendely says, would allow the company to fully support its production and begin to turn a profit after four years of financial support from private investors. But negotiations for the property have been delayed, and Vendely fears there may not be enough time to start over.
"The brewpub tie-in was part of our business plan from the start," Vendely says. "We had an opportunity to get into Great Southern and it was a way for us to attract investors and make it over that hump."
Now, in order to keep the company afloat until negotiations can restart, Vendely is seeking a cash investment of $350,000. His new plan calls for a limited liability partnership to raise that money for the purchase of the Great Southern location. Once that's happened, he says, New Knoxville can borrow an additional $400,000 to finally implement its long-term marketing plan and establish itself among beer drinkers from Georgia to Virginia.
"Is this a legitimate way to save the company? Yeah, I think it is," says Chuck Morris, one of six partners in the marketing firm that has worked with New Knoxville for the past two years. "We've been hammering at this for two years, but they've always been undercapitalized. But if we can get 300 people to kick in a grand, we might be able to figure it out."
"It's been real frustrating trying to start a new business in this community," Vendely says. "There have been a lot of positives. A lot of people have tried to help. But it's tough to get the big thing financed."
—Matthew T. Everett

June 15, 2000 * Vol. 10, No. 24
© 2000 Metro Pulse