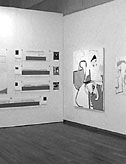 As we bid farewell to 13 graduating UT Art and Architecture students
Don't let the nondescript black-on-gray invitation fool you. Announcing this year's faculty-selected BFA and fifth-year Architecture Student exhibitors, it's a bit boring. Yet the event it publicizes is anything but. Comprised of paintings, sculpture, and architecture projects—with a video installation and graphic design piece thrown in for good measure—the current Honors Show serves to remind us that things are abuzz year-round in that massive concrete structure on Volunteer Boulevard. And metaphor stretching permitted, we're the proverbial beekeepers come to check out the yield of the hive (or, more accurately, we're sampling the results of dedicated professors' inspiration and guidance).
The painters included exemplify differing approaches, and I'm encouraged to see no faddish connection between them. After all, in a close-knit and impressionable art school setting, three women who have likely had adjoining studios and/or taken various classes together might well end up producing stuff that looks alike. Instead, Laura Baldree, Lara Waters, and Robyn Winston, however similar their names, have chosen separate trajectories from a shared point of origin.
Winston's canvases are perhaps the most informed, borrowing judiciously from the likes of Jennifer Bartlett, Jean-Michel Basquiat, and Susan Rothenberg—to name just a few possible influences who spring to mind. With a nod to "New Image Painting" (so-named in the late '70s), Winston hints at narrative, although what she's accomplished can as easily be considered semi-figurative abstraction or process painting. Lines ghosted by white paint energize their more present counterparts, and colors are bold without being predictable. On the other hand, Waters' work appears quite finished. Her sirens sporting high-heels are too subtle to be feminist commentary, and what could be a mod illustration for "Little Miss Muffett" does little to evoke the spider's bite. Waters' piece de resistance is clearly her image of a ready-to-assemble-in-3-D house, with tabs like those on paper doll clothes. As far as I know, the idea is hers, and it's a brilliantly simple yet highly symbolic one.
Baldree presents one work, but it's a doozie: a standing oil painting-in-the-round that's approximately six feet high with panels facing inward. One thus "enters" the space formed by the painting and is surrounded by what's presumably a metamorphosing self-portrait. A goddess-like figure becomes an older woman, a dominatrix, a schoolgirl, and various other permutations if we read the canvas from left to right. Baldree's painting is skilled and confident, and her subject matter is captivating enough to keep us in her sphere, so to speak, for more than a minute or two.
Like Baldree, Chris Lowe (who was recently mentioned as a participant in "The Fort" film series) exhibits only one piece. An installation with eight aged and mismatched television sets, Lowe's work represents one of many forms of "video art." Although he's generated the material seen on two of the sets, the others rage with "snow," creating more a noisy form of sculpture than a piece one would watch. Which may be a good thing if we agree with Calvin Tomkins' 1981 essay called "To Watch or Not to Watch," in which the critic has written, "Museum-going is a tiring business, granted, but nothing brings on a nap quicker than a semi-dark room, a sofa, and a little video art...visual artists, who are trained to deal with space, often have a very uncertain grasp of time, and of the importance of time-defined arts such as theatre." If we do watch, we're treated to such things as 20 minutes of two young men in their skivvies, donning vinyl bags and exercising mechanically. Says Lowe, "I am interested in the gimmick of [fitness videos] and body wraps. It's pretty intense because at the end, we essentially try to suffocate ourselves."
As the only sculptor in the exhibit, Shane Kelly doesn't disappoint. His numerous objects, mostly metal, remind one of detritus from some sort of inter-galactic battle. Then there's a pair of steel frames housing vaguely perverse constructions resembling male and female anatomy, and the amusing "R.U.D.Y. (R U Done Yet)" with its odd shape and wool fringe. Kelly's "24 Stanzas of Fury" is made up of two identical "suitcase" forms, each transport for charred wood posts that look like something from the set of F Troop.
Graphic Designers Alison Johnson and Kelly Hitzing display the expected (a well-conceived mock-up of a magazine for musicians called "Transistor") and the unexpected (a wall hanging made of cross-stitch frames anchoring the top ends of long strips of muslin). Yes, Virginia, textile art can be graphic, too.
Which brings me to the six selected architecture students. I've admittedly not left much space to cover a range of intelligent proposals, possibly because my knowledge of the discipline is somewhat limited. I'm also easily impressed. You could show me plans for a bordello in outer space, and I'd marvel at the notion. If nothing else, these folks have put in a hell of a lot of hours. Looking at Brian Adams' design for a Russian consulate/cultural center, Matthew Hall's "Park City Welcome Center," Phoebe Patton's elegant (equestrian) dressage training facility, Jason Lenhardt's "Natural History Education Center," and Maria Russafova's proposal for a spiritual retreat and learning center in Hot Springs, N.C., (Curtis Lesh's project cannot be seen before this column goes to press), I was as struck by the variety of ideas as I was by their plans' execution. Despite the prevalence of what I'll call "New Brutalism" in architectural design (an approach reflected in some of the above projects with stark expanses of wall, industrial materials, and a no-nonsense lack of frivolity), I'm fascinated by these individuals' efforts and, as usual, would like to see them become a reality.
Kudos to all. You, devoted readers, should enjoy this one.

May 11, 2000 * Vol. 10, No. 19
© 2000 Metro Pulse