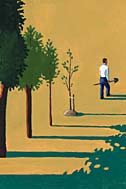 Illustration by Jonathan Evans
Golden Flowers
A hobby blooms into a nationally-known business in the Tennessee hills
Secret Gardens
The wildest, prettiest places just under Knoxville's nose
Yard Work
UT's trial gardens are growing like a weed
Getting Dirty
Beardsley Farm teaches people how food grows
Resources
You already know the why — here's the who, what, and where

UT's trial gardens are growing like a weed
Linda Gombert doesn't look like she just came out of a meeting. Wearing blue jeans and a gray sweatshirt, with sunglasses pulled down to shield her eyes from the mid-morning sun, she looks like she's dressed for yard work rather than a long day at the office.
For Gombert, however, yard work and office work are often interchangeable. As curator of the University of Tennessee Institute of Agriculture Gardens, known more familiarly as the trial gardens, Gombert manages 10 acres of new and experimental plants, more than 2,000 varieties in all, on the school's agriculture campus, located along Neyland Drive.
The UTIA Gardens are one of 34 official All-America Selections trial sites in the United States and Canada, where new varieties of plants—mostly annual and perennial flowers and herbs—are tested before reaching the commercial market. Hundreds of samples of up to 30 new plant varieties are tested here each year by a small team of UT staff and faculty, including Gombert and Dr. Susan Hamilton, a professor of ornamental horticulture and official AAS judge. Gombert says she planted and tended a crop of more than 1,600 tulips this fall for the trials.
To a great extent, the gardens' tests help determine what new seeds will be made available to both commercial growers and backyard gardeners throughout the country, since only AAS-approved plants are selected by major gardening retailers. The most successful plants tested each year are then sold the following year at gardening outlets throughout the country.
"That's a fairly prestigious association," Gombert says of the gardens' relationship with AAS. "We have a say in what becomes a successful plant on the market, because if it doesn't make it here, it isn't going to be out there."
Lately Gombert has spent more time than she likes inside, planning a volunteer program with the local non-profit community group Friends of the Gardens, which has offered financial and volunteer support to the UTIA Gardens since 1992.
"I haven't been out here as often as I usually am," she says, rubbing the toe of her hiking boot in the dirt around a small, bright pink flower called a Carolina moonmist in the tree-and-shrub garden. "Most of my time has been involved in the volunteer program, but working out here is a lot of fun. You get all hot and sweaty, but it's satisfying. My knees have about had it, but I feel I'm doing something worthwhile."
Despite Gombert's attention to her administrative responsibilities in recent weeks, the gardens are already vivid in mid-March, six weeks before the peak of springtime color. Vivid yellow, pink, purple, and white flowers are in early bloom throughout the gardens, their soft scents noticeable from just inside the entrance arch.
Gombert first became involved with the gardens in 1996 as a graduate student in UT's department of ornamental horticulture. The university created a part-time curator position the next year; then, with funding support from the Friends of the Gardens, the position became full-time. Now, Gombert is responsible for the day-to-day operation of the gardens as both a trial site and as public display gardens, handling everything from tours to grant-writing to the actual hands-and-knees digging, planting, and cultivating of plants. She also selects and tends the seeds for the AAS trials, as well as for the gardens' long-term collections of trees, shrubs, ground covers, herbs, shade plants, and vines.
Since 1983, when the UTIA Gardens were established, researchers and testers have evaluated new plant varieties based on their ability to thrive in East Tennessee. Hamilton and Gombert agree that the climatic conditions here—hot and humid summers and moderately cold winters—make this area an ideal trials site. The extreme seasonal variations are harsh enough on plants to test their durability just about anywhere.
"It's a challenging place to be a plant," Hamilton says. "We know we have heat, so we evaluate heat tolerance, but with the winter months, since we're in a transition zone between the north and the deep south, it's kind of unpredictable. I've seen a lot of things killed off by a late freeze. If it can make it through here, it's a good, hard, durable plant."
Hamilton acknowledges that the same environment that makes the area a perfect site for evaluations also limits the number of plants that are ideally suited for the area. While most plants can grow and even thrive here, few plants can actually produce their best specimens in East Tennessee, she says.
"You can grow just about anything, but you can't get the most beautiful specimen of a plant that you've ever seen. It's marginal," she says. "You can grow Kentucky bluegrass here, but it's not like you'd find it in Kentucky, Indiana, or Ohio."
But those broad conditions have allowed the gardens to become more than just a commercial testing center. The gardens' extensive regular collection of flowers, herbs, trees, and shrubs offers plenty of information about the viability of all sorts of plants to both serious researchers and casual gardeners looking for tips on new types of plants to grow.
"We like to have things that haven't grown here before to see how they do, just to try them out," Gombert says. "We're not really doing a scientific evaluation, just growing them to see how they do, if it's noteworthy. Like I said, it's pretty unscientific."
Only a small percentage of space in the gardens, in fact, is used for the annual AAS trials. Just inside the entrance is a collection of more than 800 shrubs and trees, some of them grown from cuttings from the National Arboretum in Washington, D.C. Beyond that is the herb garden, which currently emphasizes the ornamental appeal, rather than medicinal and culinary uses, of more than 300 familiar and exotic herbs. Gombert encourages visitors to brush their hands through the herbs—old favorites like thyme and oregano, as well as a few more exotic selections—to release their scents.
There's also a shade garden; collections of vines and ivies; a demonstration of ground covers and grasses surrounded by a round wooden framework, referred to affectionately as "Woodhenge," to show off innovative hanging plant varieties and designs.
"It still has the basic function of the annual trials every year," says Mary Collins-Shepard, president of the Friends of the Gardens. "But in addition it's become more of a display garden. You can see the plants that, in general, do well here, and it's certainly a good educational facility for students as well."
The Friends of the Gardens is a big part of the gardens' evolution from a strict trial center to a growing public destination. Through its annual fundraisers—the popular "Secret Garden Tour," which takes visitors to six notable local gardens, will be held on May 20 and 21, and commemorative plaques for a new adopt-a-bed program are expected to be available by Mother's Day—the 550-member organization generates enough money to substantially supplement the gardens' budget. Collins-Shepard says the group raised $25,000 in 1999, enough money to allow the university to create Gombert's full-time position.
Collins-Shepard says the role of the gardens has subtly changed in the last few years, especially under Gombert's care. And she hopes that the university and private donors will continue to support the gardens' gradual expansion from a test center into a valuable resource for local gardeners.
"It's just a lovely place to visit. But in addition to that it offers a great deal of information for home gardeners as well as commercial folks," she says. "It offers information on how various plants perform, but it's not necessarily about how individual plants perform. It's about how to combine various things together in a bigger perspective in their own yards."

March 30, 2000 * Vol. 10, No. 13
© 2000 Metro Pulse