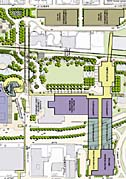 Introduction
What are these buildings going to look like?
Who's going to run all these things?
How are we going to pay for all this?
What's going to happen to Market Square?
How can the public give input? And who's listening?
Worsham and Watkins: Who are these guys?

Introduction
Last week, the Public Building Authority unveiled its long-delayed proposal for private development to complement the city's planned $160 million convention center on the World's Fair Park.
It calls for massive new public and private investment and envisions everything from a major tourist attraction on the Park itself to several blocks of retail and office development through the heart of downtown. Ambitious in scope but lacking in detail, the plan raises both hopes and questions. In the sections listed in the menu to the left, we have tried to break down some of its major components.