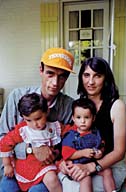 'This Is One Thing'
People end up working with refugees through any number of avenuesÑchurch groups, friends, chance meetings. But their experiences tend to be remarkably similar.
One weekend not long ago, Sherburne Martin got back to Knoxville from a trip to Lexington at 8:30 in the evening. Her phone started ringing almost as soon as she got in the door. On the line was the father of a family of local refugees she had been working with. The family had found a new apartment but didn't have any transportation to get there.
"He said, 'Oh, you're back, we're waiting to move,'" Martin says with a laugh. "And my husband and I went and got in the truck and moved [them] until 10:45."
A perennial volunteer, Martin has worked with groups from the Red Cross to her children's parent-teacher organizations. She came to Bridge Refugee and Sponsorship Services looking to help out, and soon found herself designated the coordinator of all Bridge volunteers. She makes sure there's someone to drive refugee families to doctor's offices or the Social Security department or English classes.
"It's just whoever calls and who has a need," she says.
It's a cliché to say the work is its own reward, but it has given Martin moments she'll clearly remember for a long time. After meeting the Liberian family of Guanue and Bendu at the Knoxville airport, she drove them to the home of Guanue's sister, already settled here. Guanue, who is working toward ordination, gave an impromptu sermon.
"We literally had a nice worship service for about 40 minutes," Martin says. "Everybody was just in tears. He began to sing, 'What a Friend We Have in Jesus,' and that just wiped me out."
The Rev. Steven and Jana Martin of Oak Ridge were based at a small Methodist church in Unicoi, Tenn., when someone from Bridge Refugee and Sponsorship Services called. A Bosnian family was coming and needed a sponsor. Although the church was small, only 300 members, the congregation agreed. What began as a three-person family—a Bosnian mother and two grown children—grew into sponsorship of a whole clan including the grown son's wife and child and finally the family's father, too.
It was November and chilly when the first group arrived, Jana Martin remembers, but the sponsoring family noticed the Bosnians were sleeping with their windows wide open. It was to hear the gunshots, they said, so they would know if they had to flee.
"We told them, no, it's safe, you don't have to worry about gunshots," Martin says. "The things we take for granted..."
When the Kosovo war escalated, the Martins—now at First United Methodist in Oak Ridge—got together with six other families and formed a sponsorship group. They're expecting up to 12 members of an extended family, although only one—a 19-year-old named Xhevdet (pronounced "Zhefdet")—has arrived.
Steven Martin, an associate pastor, thinks it's apt that so much of the assistance for the Kosovars—who are largely Muslim—is coming from Christian organizations.
"I don't see any kind of theological justification for Christians only helping Christians," he says. "When Jesus told us to welcome strangers, I don't think he had any religious group in mind...At the same time, I think living openly what we believe will hopefully at least change their idea of what Christians are. You've got to remember these people have been persecuted by Christians for years. And I think it would be nice if people who have been persecuted by Christians could also be greatly helped by Christians."
It was at Westminster Presbyterian Church on May 16 that Ky Johnson decided to speak out.
"They said are there any other announcements, and I stood up and said, 'I can't stand what's happening in Kosovo and I want to adopt a family. I have temporary housing, but I need somebody to help me. Will anybody help me?' And it took off."
The Northshore Drive congregation ended up furnishing an entire house for the Hashani family, who arrived June 17. "It was really one month from 'Let's do it' 'til when they came," Johnson says.
An insurance agent—her company, Lanrick Group, gave her time off to prepare for the Hashanis' arrival—Johnson had previously worked with Cambodian and Hungarian refugees in New York and Connecticut. Having raised children as a single mother, she says she's amazed at the resolve she's seen among refugees to provide for their children under punishing circumstances.
On a walk through the house that one congregation member donated on a six-month lease, Johnson is quick to give credit to dozens of different people for various donations: furniture, toys, food, carpets. But while she says it was the work of "hundreds of people," her role as organizer led to an unexpected personal reward: her name on the sponsorship form along with the names of Avni, Merita, Roni, and Rita Hashani.
"It is an honor when I see my name on their official documentation," she says. "You know, you want to try to do something significant with your life in this world, and there are a lot of people doing a lot of things. I wish I could do more. But this is one thing."
Stuart Hall gets up every weekday at 5 a.m. and drives a Ryder truck to Atlanta, hauling auto parts for GM. Then he drives back to Knoxville, arriving home in his Westhaven neighborhood around 3:30 in the afternoon. The way he figures it, that gives him some spare time. For more than 20 years he was a cross-country trucker, on the road every day.
More settled now at the age of 54, he and his wife are active members of North Acres Baptist Church on Millertown Pike. A few years ago, Hall helped organize a church outreach program called the Here's Hope Mission. It started as an Appa-lachian charity, funneling donated goods to a mission store in Harlan, Ky., where local residents in need can come and take what they want for free.
The scope broadened considerably last year when a Ukrainian family moved in near the church and started coming to services occasionally. That refugee group turned out to have relatives who were also emigrating to America, and all of them needed assistance. The church opened its mission supplies to the family, and through them met volunteers from Bridge.
Now, Hall says, "We're like a secondary back-up for anything that they need." If a family comes in without adequate sponsorship or resources, Bridge workers will often bring them to North Acres. Guanue and Bendu, a Liberian couple who showed up with six children three months ago, outfitted almost their entire apartment with North Acres donations.
"Our church has been extremely good about, if I make an appeal, they'll come up with it," Hall says. "Refrigerators, beds, washing machines, appliances, you name it."
Like most who volunteer with refugees in Knoxville, he's been surprised at the number and diversity of them. Now, his relatively small church, with 300 or so members, is preparing to officially co-sponsor another Ukrainian family. Hall doesn't buy complaints that refugees place a burden on the U.S.
"With all the faults we have, we're still probably the most prosperous nation left in existence," he says. "We have the resources. And the way I look at it, I'm doing a family tree right now, and I go back three generations and I'm a refugee. We were all refugees. That's what the United States is."
To volunteer with or donate to Bridge Refugee and Sponsorship Services , call 540-1311.

From Kosovo to Vietnam, wars across the world have sent thousands of refugees to Knoxville's doorstep. But the challenges don't end when they get here.
It's quiet in the Knoxville offices of Bridge Refugee & Sponsorship Services, Inc. on a mid-June Friday morning. A phone rings occasionally, a few staff members poke their heads into the office of executive director Jennifer Searle to consult on one thing or another, but for the most part things seem calm, unhurried, even uneventful.
"That's deceptive," says Searle, with what can only be described as a very tired smile.
And how. This is the month of the Kosovars. A war that escaped the notice of most Americans until NATO planes started dropping bombs on Belgrade was now producing the most highly publicized stream of refugees in recent memory. And Bridge, a small Knoxville agency accustomed to knocking on doors in search of donations and sponsors, was suddenly flooded with clothing, furniture, media inquiries, and other welcomed offers of help. Searle, 32, who has run Bridge for only nine months, estimates the Kosovar-related phone calls at over 400.
What's both encouraging and frustrating for local refugee workers is that however many Kosovars end up settling here—at the moment, there are just 10 in the Knoxville area—they will be only a small portion of the local refugee community. By Searle's best guess, something like 2,000 displaced people have come to East Tennessee in the last decade or so, most of them with little fanfare and sometimes little support. There will be more. Searle and her small staff hope the visibility of the Kosovars will translate into greater awareness among Knoxvillians of the needs of refugees from all over.
"These people have a lot to offer us—not only their employable skills, which they do have, but their cultural heritage," Searle says, sitting at a desk crowded with government documents and official-looking forms. She pauses. "And their knowledge of witnessing the worst of humanity and what that does to people. I think that is something we can learn a lot from."
Lounging on a West Knoxville porch with Avni Hashani one breezy afternoon, it's difficult to match the surroundings to the stories he tells. Less than one week ago, the lean, handsome mechanic was living in a tent in a Macedonian refugee camp, crowded together with his wife Merita, their twin toddlers Roni and Rita, and his mother, brother, and sister. They had food, but not enough. The air was filled with the rumble of Apache helicopters.
They had fled the Kosovo capital of Pristina three months earlier, the day before the NATO bombing began. Serb police had stormed their neighborhood, looking for four local men they said they wanted to kill and warning Albanians to leave the country. The Hashanis left in Avni's brother's car, a small Alfa Romeo, carrying only a bag of baby clothes and 20 liters of milk. Knowing that if the Serbs saw two men together in a single vehicle they would shoot at least one of them, Avni let his brother go with his wife, children, sister, and mother, and caught a ride on a separate truck with other men. After crossing the Macedonia border and moving from one camp to another, the Hashanis had grown accustomed to close quarters and constant uncertainty about where they would go next.
Avni, 31, a Muslim Albanian by ethnicity and a Kosovar by birth, has snapshots from the camps, pictures he took there and had developed here. There's a younger man who looks much like him, sitting on a narrow bunk with an older woman wearing a blue headscarf: his brother and mother. When the chance came to move to what they assumed was just another camp in the United States, Hashani says in incomplete but clear English, the family was divided about whether to go. He shows another photo, taken the day before he left for America, a picture of his mother sitting alone. Her eyes are red.
"My mother," he says. "Crying...She don't want to go where I go."
For Avni and Merita, it was a question of where their children would be safer: on another continent, thousands of miles from the fighting, or back in Kosovo under whatever shaky terms NATO negotiated with Serb leader Slobodan Milosevic. It wasn't hard to decide. On June 15, the four of them boarded a plane for Ireland. More than 20 hours later, after stops in New York City and St. Louis, they flew in over Alcoa Highway to touch down at McGhee Tyson Airport.
As unlikely a destination as it might seem, Knoxville's air terminal serves as an admission gate to more than 100 refugees every year. Almost all of them come under the auspices of Bridge, which operates out of snug quarters in the Catholic Charities Building off of North Central Avenue. It's affiliated with Episcopal Migration Ministries and Church World Services, international organizations dedicated to refugee work. (Until last year, Catholic Charities also ran its own refugee program, but it closed to avoid competing with Bridge for limited funding.)
Some facts and figures: Refugees are a complex class of citizens, subject to a variety of international agreements, most notably the 1951 Geneva Convention. To qualify, applicants must show reason for fearing persecution if they return to their home. Even then, acceptance by another nation can be difficult. Most countries, the U.S. included, set limits on the number of refugees they'll accept each year. The quotas are often set by region—so many from Africa, so many from Europe, etc.—depending on the most pressing needs (and often on more political considerations). The vast majority of refugees live in temporary settlements adjacent to their homeland. Of some 22.3 million "persons of concern" identified by the United Nations High Commission on Refugees at the end of 1997, 40 percent were living in Asia, 29 percent in Africa, and 25 percent in Europe. Just 6 percent had settled in North America.
But if getting here is the hard part, starting a new life from nothing isn't exactly easy. The U.S. Immigration and Naturalization Service requires each refugee to have an official sponsor, anyone from a family member to an entire church congregation, who's responsible for helping the new arrivals find housing, health care, clothing, food, furnishings and jobs. Sponsors are recruited and matched with refugees by a number of agencies under contract to the INS. In East Tennessee—from Bristol to Chattanooga but based in Knoxville—it's Bridge.
In this decade alone, the agency has resettled families from Vietnam, Ukraine, Bosnia, Iraq, Somalia, Liberia, and other fractious, fractured countries.
"Before I worked at Bridge, I had no idea there were any refugees in Knoxville at all," says Selena Duncan, an outgoing, auburn-haired woman who works part-time recruiting refugee sponsors. "It's amazing that although it's really an international city, it really is, the average American-born Knoxvillian has no idea the resources that are here, and the diversity."
Everybody talks about the gratitude of refugees, that no matter what horrors they have seen, what people and places they have lost, or what country they come from, they are as a rule unfailingly thankful for whatever they receive. The danger of that generalization is that it can make the huddled masses sound like wide-eyed na•fs, child-like in their effusive appreciation of an old sweater or a black and white TV set. Combined with often limited English skills, it can lead to a patronizing attitude even among the well-intentioned.
"People that want to genuinely help can be paternalistic," Searle agrees.
The thankfulness that can seem like innocence is really anything but. It is a gratitude borne of the knowledge that everything you have, you can lose. It's not that refugees, who can range from farmers to college professors, have never had blue jeans or radios or well-stocked pantries before. It's that they have learned not to expect them.
Here's what Sherburne Martin remembers about meeting an African family at McGhee Tyson this spring: one suitcase. It was the family of Guanue and Bendu, a young Liberian couple with six children (four of their own, two adopted from other families in refugee camps).
"It was quite a spectacle when they got in, for lack of a better word, because of course they were wearing their native garb," says Martin, a spirited woman who volunteers several days a week with Bridge. "One thing that overwhelmed me was, we went down to the baggage check and the young lady says, 'How many bags do you have?' And [Guanue] says, 'One.' And she says, 'How many people do you have in your party?' And he says, 'Eight.' And she says, 'Oh, okay, so have eight bags.' And he says, 'No, we only have one.'
"I'm thinking, you traveled all this distance and you have eight people and one suitcase? How did you get everything in there? And then it hits me—that is everything they had."
That was in March. A few months later, things have changed somewhat for Guanue. A serious, soft-spoken 31-year-old man with a smooth, boyish face, he meets visitors on the cement doorstep of a northwest Knoxville apartment building with a formal handshake. "Welcome, welcome to my home," he says. His English—the official language of Liberia—is clipped but lyrical, with a flowing West African cadence.
It's warm in the small apartment's living room, so he turns on a window air conditioning unit. His wife sits quietly in a chair against one wall, while the children run or toddle in and out. There is a couch, a few chairs, some posters on the wall, all of them donated by local churches, particularly North Acres Baptist on Millertown Pike. Guanue himself is the son of a Baptist preacher and an aspiring minister.
He is apologetically vague about the conditions of his departure from Liberia nearly 10 years ago. Compact and broad-shouldered, he doesn't want his last name used or his picture taken. The civil war that ripped apart his homeland and displaced half of its 2.5 million people has subsided, but Guanue has heard stories of Liberian dissidents being tracked down and punished even overseas. (Current estimates put the number of Liberian refugees worldwide at about 475,000, the sixth highest number of any country in the world. The top five displaced groups: Palestinians, Afghanis, Bosnians, Iraqis, and Somalis.)
Guanue briefly sketches the last decade of his life. "The war started in 1989, December," he says. "We citizens of the country who were not armed, we were able to find our way out of the country. That was in 1990. I fled with my family, I went to Guinea, the border of Guinea."
Bendu, whom he had known since childhood in the Liberian capital of Monrovia, was pregnant with their first child. Several of her family members were killed in the fighting. And in the crush of refugees flooding into Guinea, she and Guanue were separated. It was three years before he found her again, in a refugee camp in neighboring Cote d'Ivoire. But life there was frustrating. Unable to speak French, Guanue could neither work nor continue the seminary studies he'd begun in Liberia. He went to Ghana, another neighboring state, in 1996 to pursue his education. But his family, which grew to include three more children, depended entirely on aid administered by the United Nations. So when Guanue discovered his sister had gained asylum in the United States—someplace called Knoxville, Tennessee—he started looking for a way to join her.
She made the arrangements, although Bridge was unable to find a full sponsor for the family. "We've been having problems finding sponsors for African families," Duncan says. In some cases—about 10 percent, Searle estimates—the agency itself will serve as the sponsor and pull together whatever resources it can. So it was Martin who met the family at the airport, helped them find an apartment, drove them to get Social Security cards, and took Guanue to his driver's license exam.
Refugees are expected to be self-sufficient within three to six months, and Guanue already has a warehouse job with Goody's. The work is mundane but not too tiring. Guanue shrugs when asked about it. "It's okay for the moment," he says. "I know I will do something else in the future. But it's okay for now."
"They come with the understanding they will work when they get here," Martin says. "That's one of the first priorities. I've had people say, 'I don't want all of those refugees coming over here because they're just coming here to get on welfare,' and that is not true. They're more willing to work than the people who live here."
For non-European refugees, however, there is the issue of suddenly being a racial minority. Guanue says it hasn't yet been a problem. But Martin, African- American herself, says the two of them have had some talks about it. "Several times, he's said to me, 'How do you manage to stay in a place like this? I do not understand.' I've said, 'Honey, you just live and learn and move on.'"
Africans are actually the smallest group of refugees in Knoxville. Searle estimates their current numbers at less than 100. In contrast, she says, there are probably 800 to 1,000 Vietnamese, 400 Bosnians, 300 Ukranians, and 200 Iraqis and Kurds.
None of that would come as a surprise to Nona Sisk. A quiet, friendly woman with daisy-blond hair, she manages the apartment complex where Guanue and his family are living. It is one of the largest concentrations of refugees in Knoxville (and accordingly, Bridge prefers that its name and exact location be concealed). At any given time, Sisk says, half of her 120 units are filled with families referred by Bridge. ("If we didn't have Nona, we'd be in deep, deep, deep trouble," Searle says.)
Some of them find other housing after a few months and move on; many others stay, forming small ethnic enclaves. The apartments, which range from $331 a month for one bedroom to $380 a month for three bedrooms, are clustered in a handful of nondescript buildings spread out around parking lots and flat lawns.
"I've really enjoyed it," says Sisk, standing behind the counter in her small office. She has managed and lived in the complex for 15 years. "It's made a lot more paperwork, but I've enjoyed the experience."
Her initial involvement with refugees was almost accidental; eight years ago, the owner of a local Vietnamese restaurant contacted her about a family he was helping relocate. After they moved into the complex, other relatives came to join them. Soon, the apartments became known as a place friendly to refugees. Although Vietnamese still make up the largest portion of her international community, Sisk is also landlord to Ukrainians, Bosnians, and Africans. Leaving aside some problems with a group of young Iraqi men a few years ago, she says the immigrants are model tenants. If there are any culture clashes, they tend to come from the American-born residents.
"They'll occasionally complain, but I don't pay it much attention," she says. "Everybody needs to hold onto their culture if they can. You do all you can to make the community work, and you're not going to tell somebody not to cook their country's food just because it smells up the hallway a little."
Sisk has even given jobs to a few of her refugee renters. She leads the way across the complex to a building where two Vietnamese maintenance men, Hanh Van Le and Ho Duc Nguyen, are cleaning an apartment in preparation for new tenants. Le, a small 56-year-old man toting a broom, takes a break to talk about his life. He has picked up functional English in the two and a half years since his arrival, and he processes questions with a kind of satellite time lag, scowling and then smiling as he works through the words. Born in South Vietnam, he joined the army in 1962 as a ranger and fought in the country's civil war for the next 10 years. At the end, after spending a few years in hiding, he was captured. "I was nine years in jail," he says, crossing his arms to indicate bars.
On his release, he worked as a farmer and a hotel manager, but he was always afraid of being returned to prison. "I don't like communists," he says with a broad grin. "Communists bad."
A church sponsored him and his wife to come to the U.S. as refugees. Later, their 25-year-old son joined them. His wife and son both work at American Clothing Company. Le started working for Sisk two months after arriving at the apartments in the fall of 1996. He has other grown children in Vietnam; he writes and calls them every week.
"Sometimes I want to go back to Vietnam," he says. "Just visit. If I live there long time, maybe I go to jail...I want to bring my children to come here, but I don't have any money."
Working in maintenance, he knows most of the other refugees in the complex. "I know them, but I don't understand [when] they speak. They like me. But I don't understand them." Still, he adds, "If anything is wrong, they call me."
And then there are the Kosovars. Avni, five days after arriving in Knoxville, stills seems dazed by the attention lavished on him and his family. When he, Merita, Roni, and Rita landed at McGhee Tyson June 16, they walked into a mob of some 60 people, some of them holding signs that said "Welcome to Knoxville" in Albanian. For a family expecting to be shepherded into yet another camp, it was stunning.
"My heart is now big," Avni says, stretching out his arms. "These people around me, big heart. I don't have, I don't have, to speak how I feel..."
"On the way from the airport here, we had a translator with us," says Ky Johnson, an insurance agent-cum-refugee advocate who spearheaded the sponsoring of the Hashani family by Westminster Presbyterian Church. "We would talk about something, and Avni would go back to thanking me for the warm welcome, and we would talk about something, and Avni go back to the warm welcome. He just couldn't say enough."
Other details of the Hashanis' flight from Pristina: Just 3.5 miles from the Macedonian border, they were stopped at a tunnel by the Serbian military. They stayed there for four days with no food, drinking water from a stream and carefully measuring out milk for the children. When they finally crossed, they found an abandoned town crowded with refugees. In one house was an oven and some left-over flour. Merita baked a few loaves of bread for the family. Macedonian troops trying to discourage the Kosovars intentionally split up families, scattering them among different camps. Avni's sister was separated from her husband.
Finally, out of sympathy for Roni and Rita, the border patrol allowed the Hashanis through. All of their milk and bread was gone. Avni flagged down a Swiss Red Cross truck and explained he had worked for the Red Cross in Kosovo. The truck driver refused to give the family a ride. Eventually, on foot, they arrived at a camp in Bojan, Macedonia. Later, they managed to find Avni's brother, sister, and mother in Stenkovec.
Johnson offers some perspective on why the Kosovo crisis in particular has sparked American sympathy. "I was a baby in World War II," she says. "People my age have grown up hearing about the Holocaust, and there wasn't much we could do about that. And I hear about situations in Africa, but I can't relate as much [as] to a European culture. This just seemed like the Holocaust all over again. I can't fix the world, but I can help one family."
By refugee standards, the Hashanis are now living luxuriously. They've been given a free six-month lease on a four-bedroom home in a lush, quiet neighborhood off of Northshore Drive. The house is stocked with furniture, food, toys for the children. When Johnson asked the family if they would want to buy a home like this, Avni said no—"It's too big."
More Kosovars are on their way to Knoxville. A group of seven families in Anderson County has agreed to take an extended family of 12. But with massive repatriation following the still tentative Kosovo peace accord, the worst of the flurry may be over.
That's both good and bad for Bridge. Because of the cycles of INS admissions, which are governed as much by Congressional budget years as by international crises, the largest wave of refugees tends to hit in the late summer. There's no way to know where they'll come from—"New and improved wars," Searle predicts sardonically. If refugees have faded enough from the public eye by then, Bridge may be hard pressed to place all the new arrivals.
"In August and September, we're going to start getting families in from all over the world, 'Non-Kosovar Families' we're starting to call them," Duncan says. "And we need sponsors for these families."
"That's the big challenge," Searle says. "Both Church World Services and Episcopal Migration Ministries have been trying to emphasize that this is sort of our chance. In recent history, never has there been such an outpouring of interest on this issue. And we have to take advantage of that."
Meanwhile, the refugees who are already here will continue making new homes for themselves. Some, like Le, have little hope or desire to return to their homelands. Others, like Guanue, are determined to. "There's nowhere like home," he says. "Everybody must have a home. It is my prayer, I don't know when, I believe some day I have to go back home. That's in the hands of God."
Avni and Merita, their sleep patterns still adjusting to Eastern Standard Time, haven't had much time to think about going back. But they're not in a hurry. "A long way [off], yes," Avni says. "But I think for my family and my children, it's better to be here for now. Because Balkans is not good. She have many problems."
He plans to hone his English and find work as a mechanic or driver, maybe even get training in computers. Merita, who started college in Kosovo, might continue her education. For now, they are glad to be here. Avni wears a small pin on his shirt pocket, a gift from a Westminster congregation member, with two flags on it: the black eagle crest and red field of Kosovo and the stars and stripes of the United States. Which of those, he is asked, will his children identify with?
Avni looks down at Roni, who has scrambled up into his lap. "I don't know," he says with a smile. "Ask him."