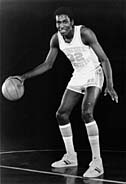 Bob Deck, Smarmy Talk Show Guy
World's Fair V.I.P. Hosts & Hostesses
John Majors, Vol Football Coach
Richard Lakin & Charles Williams, Restaurateurs of the Unusual
Reggie Johnson, UT Basketball Hero

Reggie Johnson, UT Basketball Hero
Quick now: Who held Tennessee's single-season men's scoring record until Allan Houston came along? Bernard King or Ernie Grunfeld or possibly Dale Ellis you might say. But you'd be wrong.
It was Reggie Johnson, whose 698 points led UT to one of its best seasons ever in 1978-79. It was the last time the Big Orange triumphed over the Big Blue in Lexington (until this year, of course), the only time Tennessee ever beat Kentucky three times in a single season, and the Vols' only SEC tournament championship since World War II.
Johnson moved on to a four-year career in the NBA followed by 11 seasons of professional ball in Europe where Barcelona was like a second home. "Two of my kids were born there, and we have many fond memories of that city," he recalls.
In 1994, Johnson settled back down in the Atlanta area where he'd grown up and launched a new career as a mortgage banker. He negotiates both commercial and residential mortgages for Alpha Mortgage Bankers and dabbles in real estate as a sideline.
"Things are working out real good for me, and I frankly wish I'd gotten started doing this sooner," this pin-striped banker says. He admits, though, "I don't like to wear a suit and tie too much, but a lot of times you have to."
Johnson, his wife Connie and their three children live in a three-level brick home in Stone Mountain where oldest son Marcus is averaging 17.5 points a game as a 6-foot-7-1/2-inch senior at Cathedral Academy. A 12-year-old daughter, Regina, and a 10-year-old son, Reggie Jr., are also aspiring ball players, Johnson says.
What's his favorite pastime at age 41? "I still play a lot of basketball." He admits his 6-foot-9-inch frame can't leap as high as it once did. "But I play a lot smarter," he says. Johnson warms to the subject as he starts talking about the success of his Ben Hill Recreation League Team made up mostly of chums with whom he played ball growing up. "We won the Georgia state 35-and-over championship last year and went to the national tournament in Venice Beach, Calif."
Does he ever get back to Knoxville? "Oh, yes. I come to the homecoming game just about every year. But I've missed seeing some alumni who really helped me when I was in school like Dr. Bob Overholt and the guy with the clothing store in the mall...I guess I'm getting old because I can't think of his name."
—Joe Sullivan