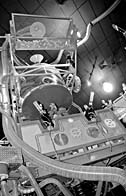 Regal Cinema's new FunScape center at West Town Mall may be a harbinger of amusing things to come
by Coury Turczyn
In the Fun Machine Family Interactive Play Area, all heck is breaking loose. The well-padded, self-contained room is bursting with scrambling, screeching children, their grinning parents, and (most importantly) balls—lots and lots of balls. The multi-colored foam spheres are being hurled, spat, dropped, sucked, shot, and ricocheted off of every available surface, human or otherwise. In the middle of the circular chamber, a giant humming apparatus stretches to the ceiling, a sort of Willy Wonka contraption crawling with kids who trigger its foam ball-spewing machine guns. Yes, it's every kid for himself in a chaotic, cacophonous celebration of childhood—and some of the kids are pushing 40.
If that sight isn't surreal enough, just walk outside the Play Area and you'll suddenly find yourself in an urban city block of two-story buildings, complete with a suspension bridge, a water fountain, a miniature Empire State Building, and an old-fashioned theater marquee adorned with bright neon lights. All under one roof.
As it happens, the Fun Machine is just one section of Regal Cinemas' FunScape complex, which adjoins a new state-of-the-art, nine-screen movie theater that opened here last week at West Town Mall. Packed into this 100,000 square foot facility is something along the lines of a 21st century carnival: electronic bumper cars, Bowlingo (sort of a cross between bowling and bocci ball), Sally Pistolero (an interactive wild west ride where you shoot banditos), a 3-D motion simulated theater, arcades of the latest video games, a food court, themed party rooms, and lots of items with "virtual" in the title—the Max Flight virtual roller coaster, virtual fly fishing, virtual paddle boating, virtual soccer, virtual golf, virtual skateboarding...
"It's an indoor entertainment theme park," suggests Phil Zacheretti, Regal's senior vice president of marketing and advertising, trying to define his company's newfangled amusement center. "It's Disney-esque but it's also carnival-esque, almost like your county fair but higher tech."
A cutting edge theater inside an electronic carnival inside a simulated city inside a shopping mall? What does all this have to do with showing movies?
The answer might be found in a few different trends—busier lives and shorter attention spans, new entertainment technologies, a more competitive movie exhibitor industry. But for Regal—which has pioneered this "indoor theme park" concept—it all boils down to the inclinations of one man: company president Mike Campbell. It was his decision to venture into this new family-oriented business, building the first FunScape in Chesapeake, Va. in 1995. It was also his verdict to open the seventh one in Knoxville, despite the fact that other cities offered more attractive demographics and population numbers.
"Flat out, it got built here because this is our corporate office, looks to remain our corporate office, and is Mike Campbell's hometown," says Zacheretti. "He wanted to give back to the community where he's from. We've heard for years, 'Oh gee, you've built one in Chesapeake, Va., you've got one in Rochester, New York—why not Knoxville?' Well, Knoxville's a little bit small, but when this opportunity came up, it was his decision to do so."
Most of the other FunScapes have Victorian design themes with cobblestone roads and a Dickens-like air. With the FunScapes in Knoxville and Nashville (which opened last month with a Bourbon Street theme), the company has started individualizing the amusement centers.
The architect responsible for designing the FunScapes' conceptual themes is Bruce Robinson of Bruce D. Robinson, Architecture * Design in Cincinnati. He has specialized in amusement architecture for the last 25 years, working on projects ranging from The World's Largest Shopping Mall in Edmonton, Alberta to Sevierville's Music Mansion. (Amusement design, he says, is in his blood: "When you do projects for entertainment, you can tell when people smile that they understand what you're trying to do. You're making fun for them. There's not a lot of metaphorical, designy kind of stuff—if they are enjoying themselves you know you've succeeded.") Robinson says Knoxville's "big city" theme was largely inspired by the space constraints of the new FunScape, located in the former home of J.C. Penny.
"It's one of the smaller FunScapes, but we wanted a tremendous variety of experiences, so we settled on a much more urban theme," says Robinson. "We wanted something that was exciting, that sort of brought movies to life. When you want to see shows and the latest thing, New York is really one of those places where you think, 'Ah, I want to go there.' So we wanted to bring New York to the complex, that Times Square experience. One of the things you'll find as you go through the FunScape in Knoxville is that you're looking up a lot to see what's going on."
For Robinson, who's made it his business to be on the "cutting edge" of amusement, the FunScape concept dovetails neatly with modern demands for quicker leisure time gratification. Entertainment centers are becoming more localized instead of regional, as in the traditional outdoor theme parks that boomed after Disneyland was launched in the '50s.
"When you go to an amusement park, it takes 10 hours to have all the fun you can possibly have," says Robinson. "Life today means not waiting three months to have 10 hours of fun. It means being able to take the time you have available and do something that's really fun—something closer to your home, something you can do more spontaneously as an impulse kind of thing. And that's really part of what the Regal Cinemas FunScape complexes are doing."
Does this mean that someday we'll all see FunScape-like centers around the country—sealed indoors, with one-stop-shopping for all our simulated entertainment needs? Is this really the wave of the future?
"I think it has many of the qualities of 'the wave of the future,'" says Robinson. "There are some places where it may not make sense. But there are other places where it can make your cinema experience more competitive in the market than the one down the street. As more and more movie centers come on-line, the competition gets harder, and how do you stick out? Something like the FunScape increases the critical mass of the whole facility and allows you to reach further for your demographic."
True enough, but FunScapes are expensive propositions. First, of course, there are the building costs—and the West Town facility was especially problematic for site architect A.D.W. because it had to build on top of existing tenants like Banana Republic without disturbing their business. It took nearly two years and an undisclosed amount of money. ("I don't know, I don't think I want to know, and if I did I probably couldn't tell you," says FunScape marketing manager Misty Cunningham. "I mean, they're not cheap—we don't put in four walls and throw in some games.") On top of that there are operation costs, which might also scare off other theater chains—though some are taking the plunge, such as Disney's DisneyQuest.
"I think you'll see more of them, but you won't see them on every street corner," says Zacheretti. "There's a tremendous amount of startup costs involved, then there's a tremendous staff cost. We can run the theater cheaper than the FunScape because you can get by sometimes with one cashier; you can't get by with that at the FunScape—you have to have somebody at every attraction every minute of every day. I don't think you're going to see a lot of people just risking millions of dollars hoping that they can get in on the concept, so they're kind of watching us to see how we do."
So far, according to Zacheretti, the FunScapes are doing well—though the profit margins aren't quite as good as the theaters'. Nevertheless, Regal is planning on continuing to build at least two a year; next up are FunScapes in Penbroke Pines, Fla. and Columbus, Ohio. But what will happen if customers get tired of simulated outdoor activity? What if the trends change and people no longer want to cram their leisure time into a short schedule? Will Regal still be committed to the FunScape concept?
"I think for the short term, yes. You start looking a year or two down the road, we'll see what changes happen," says Zacheretti. "Luckily, the moviegoing experience has been popular for a hundred years, so we think we're pretty safe in that. FunScapes have been pretty popular for the last couple of years in the few select markets they're in. We'll see. Obviously, in two years if people stop coming to them we'll stop building them. It is not the main part of our business, but as long as they continue to make some money—we'd like them to make a little more—we'll keep them open."