(back to cover story)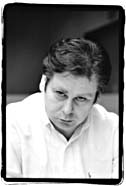 The Defendant
Tom Huskey, suspect in 11 rapes, three robberies, 14 kidnappings and four murders; already convicted of seven of those rapes. Thought to be Knoxville's first serial killer, Huskey was lean, muscular, dark and menacing when arrested in 1992. He was accused not only of the above-mentioned crimes, but of being the predator whom street hookers had nicknamed Zoo Man because of his penchant for taking them to a barn at the zoo and sadistically abusing them. After six years of solitary confinement, he is pale and pudgy and benign of countenance. His attorneys will seek to prove not only that his mental state fits the legal description of insanity, but that he is, in fact, suffering from disassociative identity disorder, or multiple personalities. They also say he didn't do it.
The Judge
Richard Baumgartner, a thoughtful, deliberate man who inherited this case in 1995 when Judge Ray Lee Jenkins discovered he had a conflict of interest. Jenkins would not comment publicly, but it is believed that his daughter, who teaches elementary school in Morristown, had one of the defendant's children as a student. The defense has filed at least three motions to remove Baumgartner from the case—once because Baumgartner lost his patience with defense attorney Herb Moncier and hurled his pen to the floor. The pen bounced, and Moncier contends it was a missile aimed at him.
The Prosecutor
Unlike most attorneys general in cities this size, Randy Nichols tries cases himself. And he clearly loves his job. Just as clearly, he hates Tom Huskey, whom he calls "the embodiment of evil." He has already secured convictions against Huskey in five rape cases carrying enough prison time to keep him incarcerated for 60 years. But Nichols is looking forward to the Main Event—Huskey's murder trial. He is seeking the death penalty: "Let's tee it up, Big Boy," he frequently tells Moncier, with whom he has titanic clashes. During one of the rape trials, Nichols sat and stared menacingly at Huskey while defense co-counsel Greg Isaacs was addressing the court. Incensed, Moncier positioned his chair to block Nichols' view. The two lawyers had a glaring contest, and Moncier filed a motion demanding that Nichols be removed from the case. The two are old friends, but the strain is showing.
The Detective
Lt. Larry Johnson of the Knox County Sheriff's Department is perhaps the most storied cop in East Tennessee (see profile).
The Defense Attorneys
Greg Isaacs, a dapper young lawyer sometimes known as Sweet Face, is a star on the rise (see profile).
Herb Moncier, depending on whom you talk to, is either Knoxville's most brilliant criminal defense attorney or its craziest. He subscribes to the post-Goldwaterian theory that extremism in pursuit of his client's liberty is no vice. Moncier is a zealot, a Shiite. He has gotten some legendary results. Judges are only half-joking when they say he's harmful to their health. But his devotion to this case exceeds anything anyone can remember, even from him. Although he and Nichols are old friends, Moncier is noticeably cool to the attorney general, to the point of snubbing him when they pass in the hallway outside the courtroom. When other lawyers discuss Moncier's work in the Huskey case, they use the word obsession.